Are you tired of receiving the same responses from ChatGPT every day while using it for your work? Well, guess what? It's time to shake things up and take control of your productivity with an incredible Chrome extension called AIPRM for ChatGPT.
The AIPRM extension for ChatGPT is here to save your day! Stop wasting money on buying prompts. Get ready for a game-changer that will save you hundreds of dollars. Yes, you heard it right.
With this incredible tool, you gain access to thousands of ready-to-use AI prompts that will transform your ChatGPT experience. Say goodbye to repetitive answers and hello to a whole new world of possibilities.
Unlocking the full potential of ChatGPT becomes a cakewalk with the AIPRM Chrome extension.
It provides you with an extensive library of prompt templates that are readily available for your use. AIPRM simplifies your workflow, boosts your creativity, and saves you valuable time.
What is ChatGPT?
ChatGPT is an advanced AI chatbot developed by OpenAI, an artificial intelligence company. Built on natural language processing, ChatGPT has the capability to generate text responses that resemble human-like communication.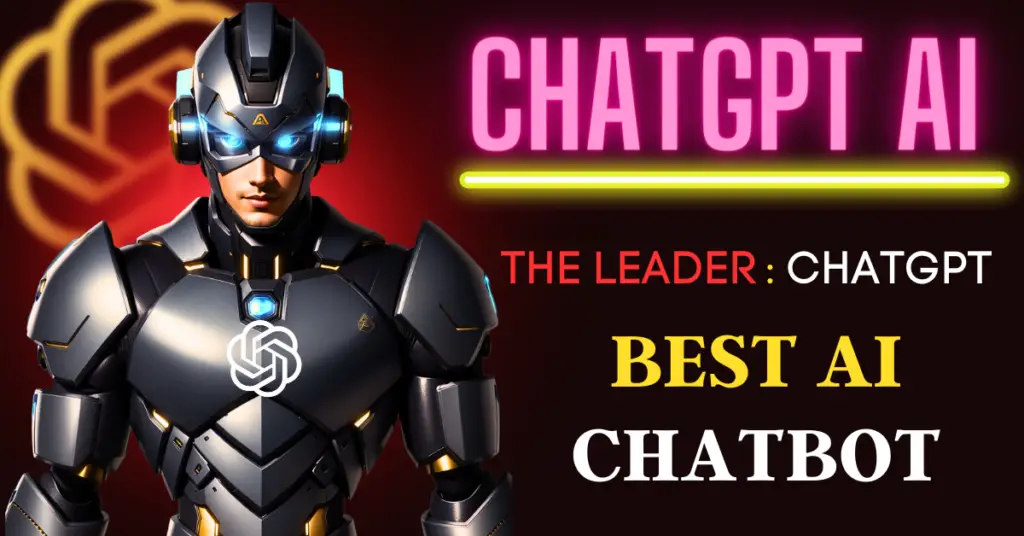 Its versatility has made it popular among users seeking assistance with tasks like answering questions, generating content, and providing recommendations, among other things.
However, fully exploring the potential of ChatGPT prompts can be a time-consuming and challenging process. That's precisely where AIPRM comes into play.
Boost Your Productivity by Using AIPRM – ChatGPT Prompts
AIPRM, which stands for AI Prompt Repository Manager, is a game-changing Chrome extension designed to enhance your experience with ChatGPT prompts.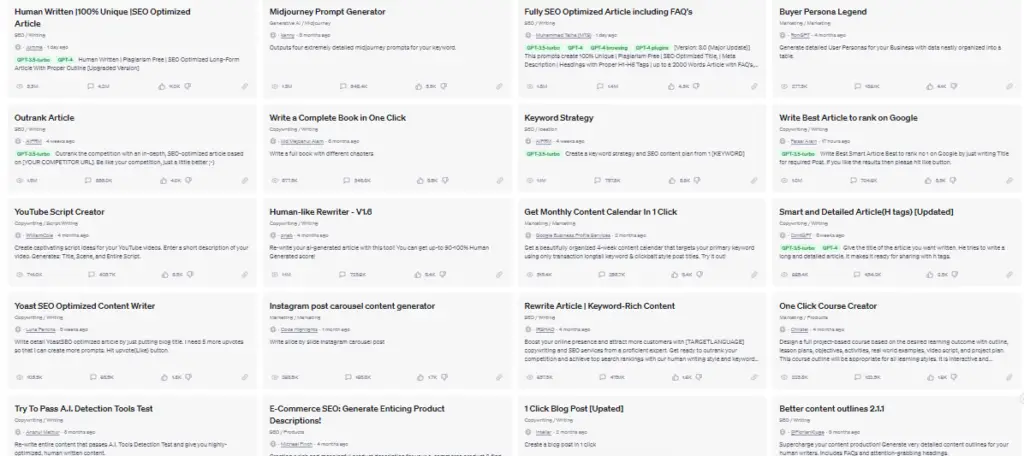 With AIPRM, you can supercharge your productivity, speed up your content creation process, and unlock the full potential of ChatGPT.
Let's dive into what AIPRM is and how it can revolutionize your workflow.
What is AIPRM?
AIPRM, short for Artificial Intelligence Powered Response Marketing, was founded by Christoph C. Cemper in 2023. It is an innovative AI-driven technology that provides prompt templates and responses for marketing and SEO purposes.
By using AIPRM, marketers and SEO professionals can take their strategies to the next level, supercharging their efforts to boost website traffic and achieve outstanding results.
AIPRM comes packed with full Ready-to-use ChatGPT AI prompts. You can rephrase and complete sentences effortlessly, ensure impeccable grammar with just a click and even get synonym suggestions to enhance your content.
Whether you're a content creator or a marketer, AIPRM is an invaluable Chrome extension that will elevate your game.
ChatGPT Rival is here
What is AIPRM Prompt?
AIPRM prompts are freemium pre-made templates that can be used with ChatGPT to generate high-quality content efficiently. These prompts cover various topics, industries, and writing styles, ensuring that you have a wide range of options at your disposal.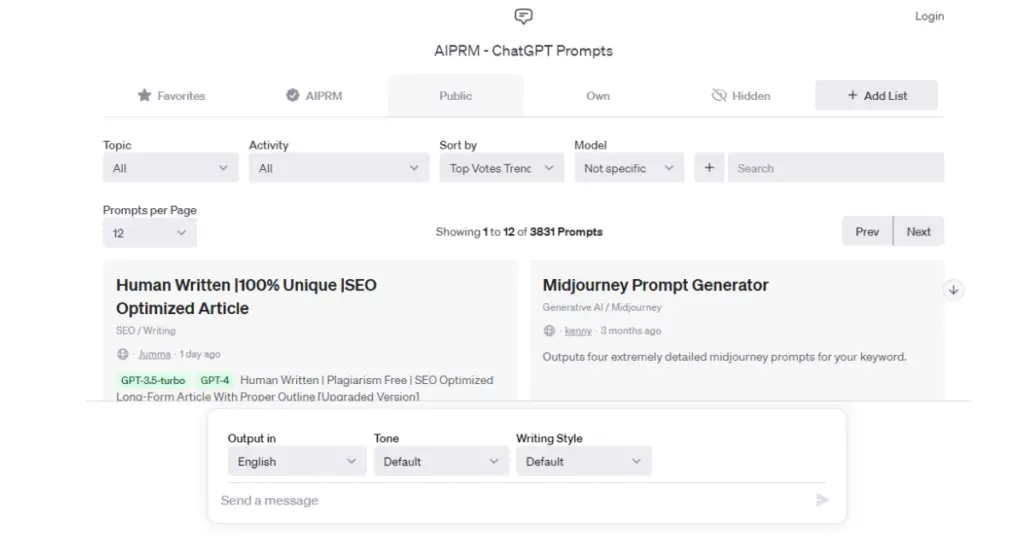 The prompts provided by AIPRM are carefully curated by a team of experts, ensuring their quality and effectiveness.
Stop Buying Prompts for ChatGPT
One of the standout features of AIPRM is the elimination of the need to purchase individual prompts for ChatGPT.
Instead of spending time and money searching for prompts or prompt packs, AIPRM offers a comprehensive library of curated templates. This not only saves you valuable resources but also provides you with a centralized hub for all your prompt needs.
What Problem Does AIPRM Solve?
AIPRM tackles several challenges that ChatGPT users often encounter.
Let's start with the most significant one: saving your precious time by eliminating the need to rack your brain for prompts. With AIPRM, you gain access to a vast treasure trove of pre-made templates that can kickstart your content generation process in no time.
What's more, these prompts are carefully curated by experts in the field, guaranteeing top-notch quality. AIPRM ensures that the prompts you choose are not only engaging but also accurate, aligning perfectly with your goals. And the cherry on top?
AIPRM Chrome extension provides a user-friendly interface that makes prompt selection a breeze. You'll effortlessly find the most relevant and effective prompts tailored to your specific needs. AIPRM truly has your back when it comes to prompt selection.
List of Best AI content writers
Who Should Use AIPRM?
AIPRM is a valuable resource for various professionals who utilize ChatGPT prompts in their work. Content creators, copywriters, marketers, SEO professionals, and anyone looking to enhance their content generation process can benefit from using AIPRM.
Content creators
Copywriters
Marketers
SEO professionals
Bloggers
Web Developers
DevOps Engineers
Social media managers
Digital agencies
E-commerce businesses
Small business owners
Installing the AIPRM Chrome Extension for ChatGPT
Getting started with AIPRM is a simple task. To install the AIPRM Chrome extension for ChatGPT, follow these simple steps:
Open Google Chrome on your computer.
Navigate to the Chrome Web Store.
Search for "AIPRM for ChatGPT" using the search bar.
Locate the AIPRM extension in the search results.
Click the "Add to Chrome" button.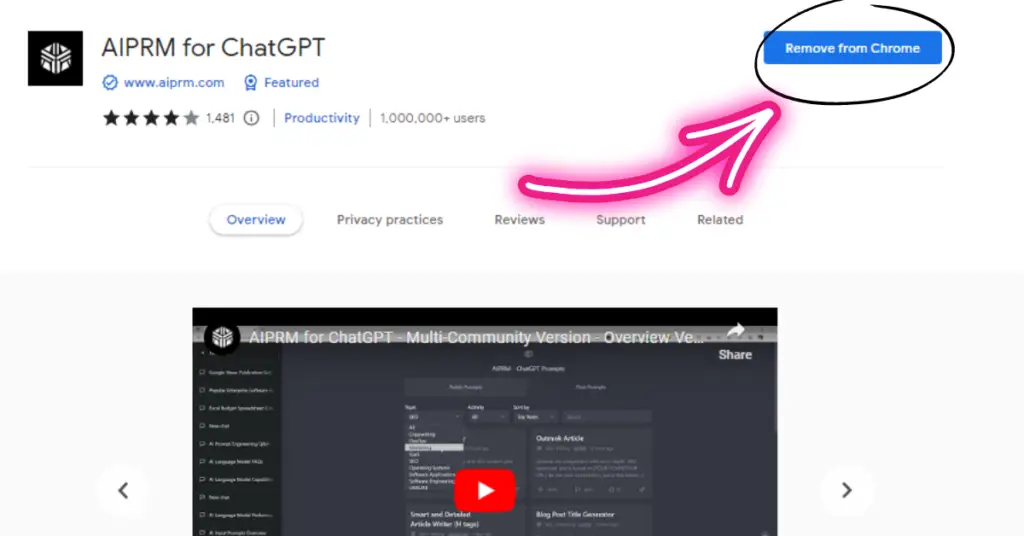 Confirm the installation by selecting "Add extension" in the pop-up window.
Now after installing "AIPRM for ChatGPT" hit the chat.openai.com link. You'll the below interface on the ChatGPT dashboard.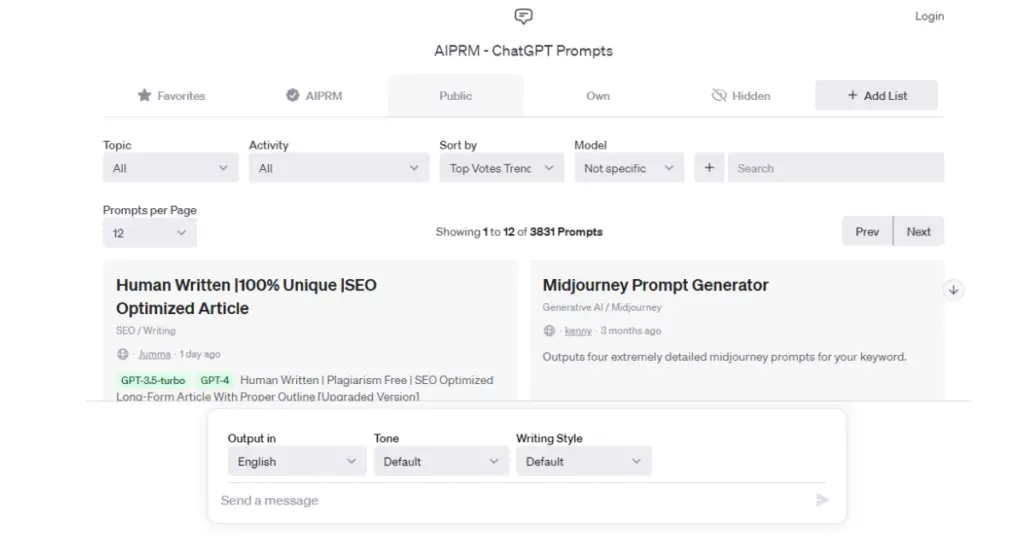 Now you can select any prompt of your choice and follow the instruction provided to get the most out of it.
Once installed, the AIPRM extension integrates with your ChatGPT interface, unlocking its powerful features and enhancing your content creation capabilities.
How to Create Your Own ChatGPT Prompt Using AIPRM?
Follow these step-by-step instructions to create your own prompt using AIPRM:
Install the AIPRM Chrome extension and open the link chat.openai.com.
In the AIPRM – ChatGPT Prompts, choose "Own".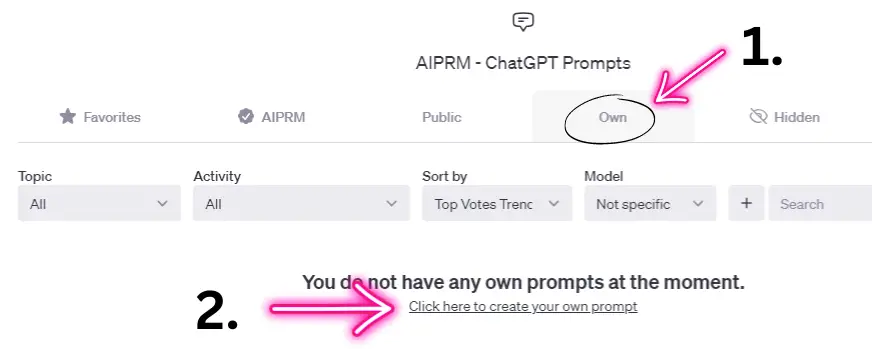 Click on "Click here to create your own prompt".
Fill in the following details to create your own ChatGPT prompt:

Prompt Template
Teaser
Prompt Hint
Title
Select the Topic
Select the Activity
Choose who can see this prompt: Private, Public, MyTeam
Select "Made for"
Author Name
Author URL

Once you have entered all the necessary information, click on "Save the prompt".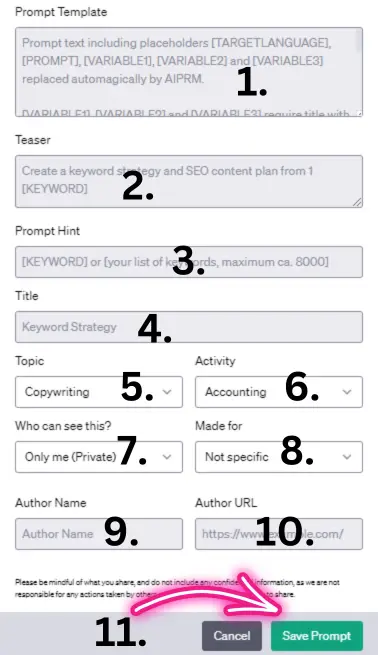 By following these steps, you can create your own ChatGPT AI prompt using AIPRM.
Benefits of Using AIPRM with ChatGPT
Using AIPRM in conjunction with ChatGPT offers numerous benefits that can greatly enhance your workflow and content creation process:
Time-saving: AIPRM provides a comprehensive collection of pre-made prompts, reducing the need to brainstorm your own ideas. This saves you valuable time and allows you to focus on other critical aspects of your work.
Quality improvement: The prompts curated by AIPRM's expert team ensure that the generated content is of high quality. This leads to more engaging, accurate, and impactful content that resonates with your audience.
Increased productivity: AIPRM's user-friendly interface and advanced features, such as custom lists and tones, empower you to work more efficiently. You can quickly find the most suitable prompts, customize them to your needs, and create content at a faster pace.
Enhanced creativity: AIPRM's wide range of prompt templates stimulates creativity by providing diverse ideas and perspectives. This encourages fresh thinking and helps you explore new angles for your content.
Improved SEO performance: AIPRM's prompt templates are specifically designed to optimize your content for search engines. By incorporating SEO-focused prompts, you can enhance your website's visibility and drive more organic traffic.
Why Should You Use AIPRM?
AIPRM offers a comprehensive solution for individuals and businesses seeking to leverage the power of ChatGPT prompts. By using AIPRM, you gain access to a vast repository of curated prompt templates, saving time and effort while enhancing the quality of your content.
Whether you're a professional content creator or a marketer looking to boost your SEO efforts, AIPRM can significantly streamline your workflow and deliver exceptional results.
AIPRM Pricing:
AIPRM offers both free and premium subscription plans, catering to the needs of different users. The free version of AIPRM provides access to a limited number of prompt templates, making it a great starting point for users exploring the tool's capabilities.
| Plan | Price | Features |
| --- | --- | --- |
| Free | Free | Access to a limited number of prompts, ability to create custom lists and tones. |
| Personal | $9/month | Access to a limited number of prompts, the ability to create custom lists and tones. |
| Business | $49/month | Access to all prompts, ability to create custom prompts, priority support, ability to manage multiple users. |
| Enterprise | Contact us | Access to a limited number of prompts, and the ability to create custom lists and tones. |
Please note that pricing and features are subject to change. Visit the AIPRM website for the most up-to-date information on pricing and subscription plans.
Final Summary:
To sum it up, AIPRM is an incredible tool that declares the true potential of ChatGPT prompts, giving users the ability to skyrocket productivity, enhance content quality, and simplify the entire content creation process.
With its extensive collection of carefully curated ready-to-use prompt templates and advanced features, AIPRM empowers marketers, copywriters, and content creators to achieve remarkable outcomes.
AIPRM has the power to revolutionize your workflow and take your content generation to unparalleled heights.
Don't wait any longer – install the AIPRM Chrome extension for ChatGPT today and witness the benefits firsthand. You won't be disappointed!
AIPRM Official: Click Here
Frequently Asked Questions (FAQs):
1. Is AIPRM compatible with other AI models apart from ChatGPT?
No, currently AIPRM is specifically designed for ChatGPT and integrates seamlessly with its interface.
2. Can I create custom prompts with AIPRM?
Yes, AIPRM allows users to create their own custom prompts, providing flexibility and customization options.
3. Can I use AIPRM for SEO purposes?
Absolutely! AIPRM offers prompt templates that are optimized for SEO, helping you enhance your website's visibility and attract more organic traffic.
4. Is AIPRM suitable for beginners?
Yes, AIPRM is user-friendly and accessible to users of all skill levels. Whether you're a professional or a beginner, AIPRM can assist you in generating high-quality content efficiently.
5. Can AIPRM help with multilingual content generation?
AIPRM primarily focuses on English language prompts. But it supports a wide range of languages.
6. Does AIPRM offer customer support?
Yes, AIPRM provides customer support to assist users with any queries or issues they may encounter. You can reach out to their support team via the AIPRM website.
7. What are community prompts?
Community Prompts are what helped make AIPRM famous. These classic prompt templates have been published and voted on by the AIPRM Community.