Today, we've got an exciting topic of Image upscale. You can use this AI tool to upscale your low-quality images to highly super-resolution images. We'll be diving into the world of AI image upscaling tools, and in particular, we'll take a close look at BigJPG AI.
If you've ever faced the frustration of trying to resize an image without losing its quality, then BigJPG AI Image Upscaler might just be the solution you've been waiting for.
We will explore its features, demos, pricing plans, and how you can get access to this powerful tool. I'm here to help you make the most of AI's positive advantages.
Now, let's get started!
What is BigJPG AI?
BigJPG AI is an impressive AI image upscaling tool. In simpler terms, it allows you to adjust the size of an image without losing its quality.
We all know how frustrating it can be when you need to upload an image to social media or any platform, and it just doesn't fit the required dimensions.
Regular image scaling often leads to a loss of quality, but that's where BigJPG AI comes to the rescue. By using the power of AI, it intelligently reduces noise and saturation in the image, enabling you to enlarge it without compromising on its clarity.
How to use DALL·E 2 AI Image Generator
Features and Demo
One of the key features of BigJPG AI is its use of the latest deep convolutional neural network. This AI Tool ensures that the AI reduces noise and saturation in the image, resulting in high-quality upscaled images.
To demonstrate its capabilities, let's take a look at a sample. Imagine you have a small, natural leaf image, and you want to upscale it.
If you were to manually increase its size, it would likely become noisy and lose its original quality.
However, with BigJPG AI's 8X upscaling and noise reduction, you can upscale the image while maintaining its clarity and details.
It's truly remarkable how AI tools like BigJPG are revolutionizing image scaling.
How to use BigJPG AI?
To access BigJPG AI, the first step is to visit the official BigJPG website and sign up or log in.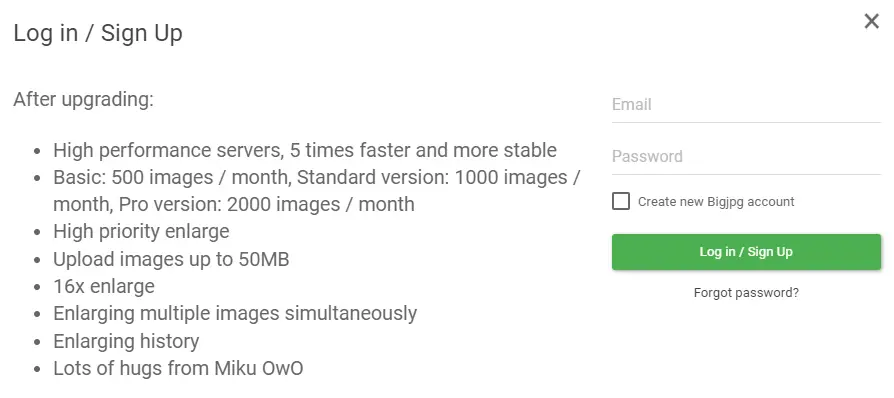 Once you're logged in, you'll see various pricing plans, and depending on your usage, you can select the one that suits you best.
There's a free option that lets you upscale a limited number of images, but if you need more you can upgrade to a higher tier.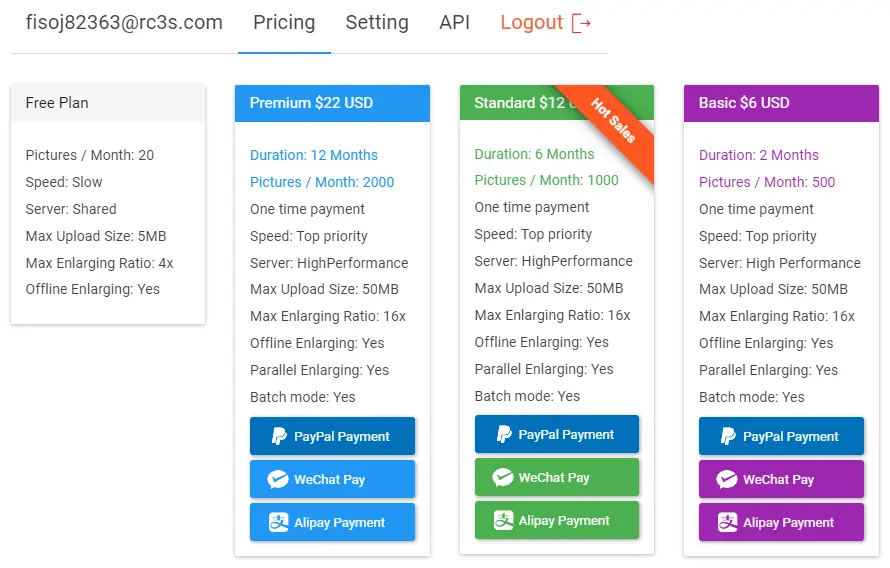 Now select the Image and Click on the Start button.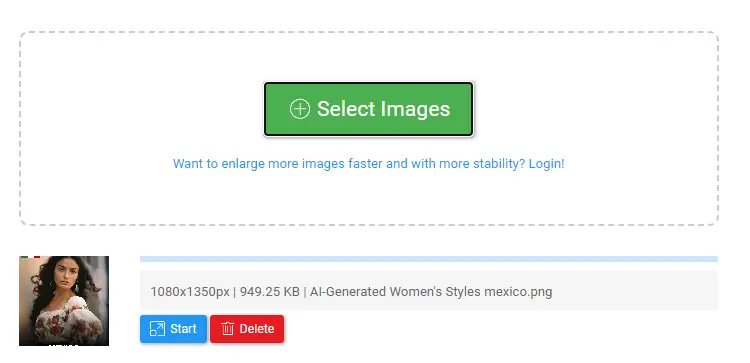 Now Adjust the settings like Image Type, Upscaling, and Noise Reduction and Click on "OK"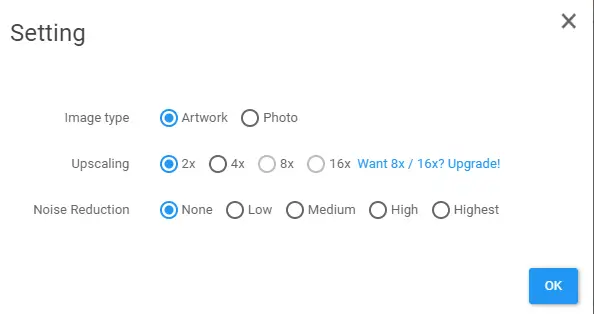 It will take a few seconds and upscale your image quality. Now you can click on the download button to download the image.

Pricing Plans
Now, let's talk about the pricing plans for BigJPG AI. While it might be a bit tricky to find the exact pricing details on their platform, as it mostly depends on usage and upgrades, here's what you can generally expect.
There's a freemium model, which means there's a free version available with some limitations.
| Plan | Duration | Pictures/Month | Speed | Server | Max Upload Size | Max Enlarging Ratio | Offline Enlarging | Parallel Enlarging | Batch Mode |
| --- | --- | --- | --- | --- | --- | --- | --- | --- | --- |
| Free Plan | – | 20 | Slow | Shared | 5MB | 4x | Yes | – | – |
| Premium | 12 Months | 2000 | Top priority | High Performance | 50MB | 16x | Yes | Yes | Yes |
| Standard | 6 Months | 1000 | Top priority | High Performance | 50MB | 16x | Yes | Yes | Yes |
| Basic | 2 Months | 500 | Top priority | High Performance | 50MB | 16x | Yes | Yes | Yes |
For more extensive usage or additional features, you might need to opt for a paid plan. Pricing usually varies based on the number of images you upscale and the level of service you require.
It's quite reasonable when you consider the value AI image upscaling brings to your projects.
BigJPG App Download:
Windows 64-bit and 32-bit: BigJPG offers support for both Windows 64-bit and 32-bit operating systems.
Mac App: Whether you're on a MacBook, iMac, or any other macOS-based device, you can now access BigJPG's advanced image upscaling tools.

iOS App: For all the Apple fans using iPhones and iPads, there's great news. BigJPG has an iOS app that you can download from the App Store.
Android App: BigJPG has developed a dedicated Android app, available for download on the Google Play Store.
Google Play: For all users on Android devices, you can head over to the Google Play Store to download the BigJPG app.
Final Words on BigJPG AI:
So there you have it – a comprehensive review of BigJPG AI, the image upscaling tool that can work wonders for your projects.
It's truly incredible how AI has revolutionized the way we handle image scaling, allowing us to maintain top-notch quality even when resizing images.
Remember, if you're interested in exploring more AI tools, our platform, DragGAN AI Tool, has over a thousand AI tools waiting for you to discover.
And don't forget, we have free AI tools available too, so don't hesitate to check them out for your image generation needs and more.
Feel free to leave your thoughts and experiences with BigJPG AI in the comments below, as your insights might help others in the community.
Thanks for joining me today, and until next time, peace and bye!
BigJPG AI Image Upscaler: Click here
FAQs:
1. How does BigJPG achieve image enlargement without losing quality?
BigJPG utilizes the latest Deep Convolutional Neural Networks, intelligently reducing noise in images. This unique approach allows for enlargement without compromising image quality. Check out the demo images to see the impressive results.
2. Does BigJPG offer API support?
Yes, API support is available on BigJPG. You can access it after logging in to the platform.
3. How does BigJPG compare to other image upscaling tools?
BigJPG sets itself apart from other tools by using neural networks with a specialized algorithm tailored for images' lines and colors. This results in significantly higher image quality with well-preserved colors, minimal 'glitter' or doubling, and reduced noise.
4. Which types of images work best for enlargement with BigJPG?
BigJPG works exceptionally well with anime images and illustrations, preserving colors, details, and edges impeccably. Regular photos are also supported and can benefit from the image upscaling process.
5. What are the maximum limits for uploaded images on BigJPG?
Currently, free users can upload images up to 3000×3000 pixels and 5MB in size, while paid users have a limit of 50MB for image uploads.