When I was first introduced to AI writing tools, my enthusiasm knew no bounds. It was like experiencing a complete shift in the way things were done.
Writing content for blogs is not as easy as it may seem. It demands a significant amount of hard work, knowledge, and time to create a single post.
However, today I am delighted to introduce Copy.ai, an AI-powered content writer that can make your life easier.
If you're curious about how copy.ai works and the incredible creations you can achieve with it, dive into our comprehensive Copy AI Tutorial.
Introduction to Copy.ai:
Copy.ai is an AI-powered content writer that provides a wide range of tools and generators to assist users in various writing and creative tasks. It is advanced AI natural language processing algorithms to generate content, refine writing, and help users overcome creative blocks.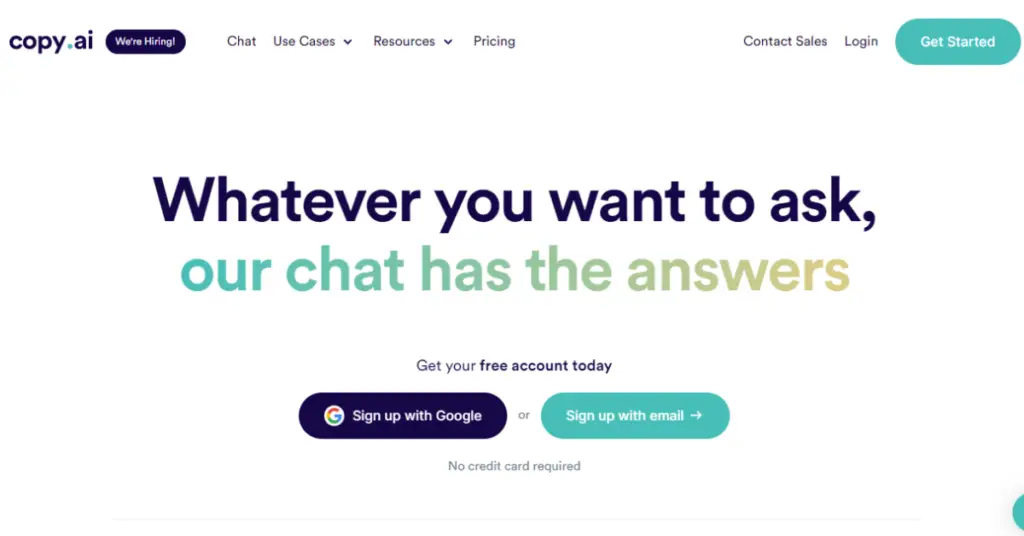 Copy.ai offers tools such as a Marketing Email Generator, Product Description Generator, Sentence Rewriter, Blog Title Generator, and many more. These AI tools are designed to help individuals and businesses create engaging content, improve their marketing efforts, generate ideas, and enhance their overall writing productivity.
Copy.ai is a helpful AI content generator tool for people who write or create things. It can make writing easier and help you come up with more ideas. It's like having a special AI tool that makes your writing better and faster.
Whether you need assistance with blog posts, social media copy, product descriptions, or email marketing campaigns, Copy.ai is designed to smoothen your content creation process.
What Problem Does Copy.ai Solves?
One of the primary challenges faced by content creators is the time-consuming nature of the writing process. Content writers are well aware of the significant effort required to craft a single post or article.
Copy.ai tackles these issues head-on by automating various aspects of content creation, enabling users to save time and effort. By using the capabilities of AI, Copy.ai empowers users to generate high-quality content quickly, efficiently, and effortlessly.
Who Should Use Copy.ai:
Businesses looking to enhance their marketing efforts can benefit from Copy.ai's ability to generate compelling email marketing campaigns, engaging blog content, and attention-grabbing social media posts. Content creators, whether professionals or aspiring writers, can use Copy.ai to refine their writing skills and explore new ideas. Educators can also find Copy.ai valuable for creating educational content for their students.
Content Writers: Copy.ai can assist content writers in generating creative ideas, refining their writing, and overcoming writer's block.
Marketers: Marketers can utilize Copy.ai to create persuasive ad copies, compelling email subject lines, engaging social media captions, and effective marketing emails.
Social Media Managers: Copy.ai offers tools like the Instagram Caption Generator and TikTok Caption Generator, which can help social media managers craft captivating captions for their posts.
Business Owners: Business owners can take advantage of Copy.ai to generate unique product descriptions, catchy slogans, engaging business names, and persuasive sales copy.
Bloggers: Copy.ai's Content Idea Generator and Blog Title Generator are valuable resources for bloggers who need inspiration for their next blog post or eye-catching titles to attract readers.
SEO Specialists: SEO Title Generator and Free Meta Description Generator by Copy.ai can assist SEO specialists in creating optimized headlines and meta descriptions to improve search engine rankings and click-through rates.
Email Marketers: Copy.ai's Free Email Subject Line Generator and Marketing Email Generator are useful tools for email marketers looking to enhance open rates and craft effective email campaigns.
Webinar Hosts: Webinar Title Generator helps webinar hosts come up with attention-grabbing titles to attract a larger audience to their webinars.
Product Managers: Product Description Generator and Product Name Generator can aid product managers in creating compelling descriptions and finding suitable names for their products.
Creative Professionals: Copy.ai's Free Hook Generator can be valuable for creative professionals such as musicians, authors, and artists who need catchy hooks or taglines for their projects.
Students and Researchers: Copy.ai's paraphrasing tool and Paragraph Generator can be useful for students and researchers who need assistance with writing, generating the content, or paraphrasing information.
Individuals: Anyone looking for creative ideas, inspiration, or assistance with their writing can benefit from Copy.ai's range of tools and generators.
How to Use Copy.ai (AI Content Writer):
Visit the Copy.ai website and create an account by signing up using your email or Google credentials.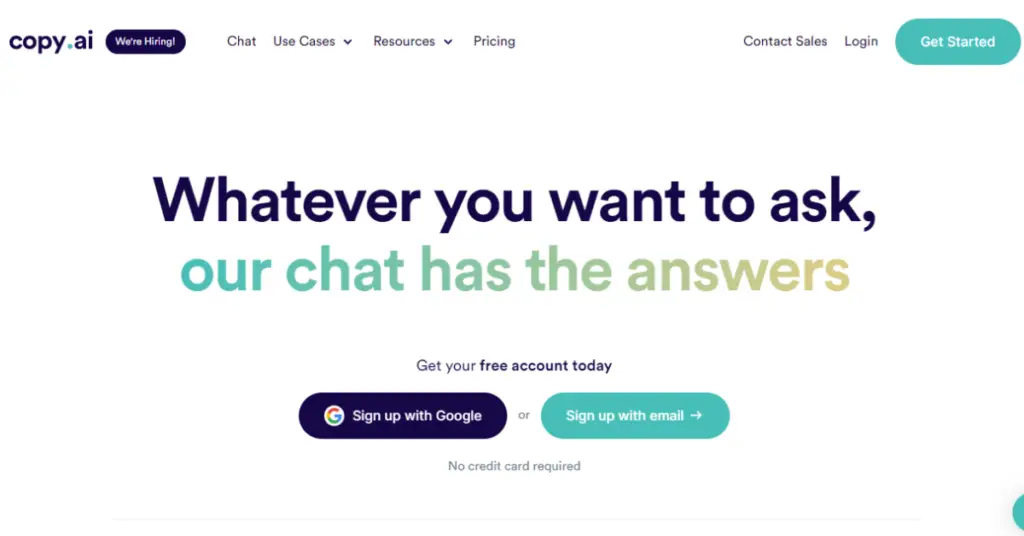 Once you have successfully signed up, you will be directed to your Workspace, where you can access various tools and features.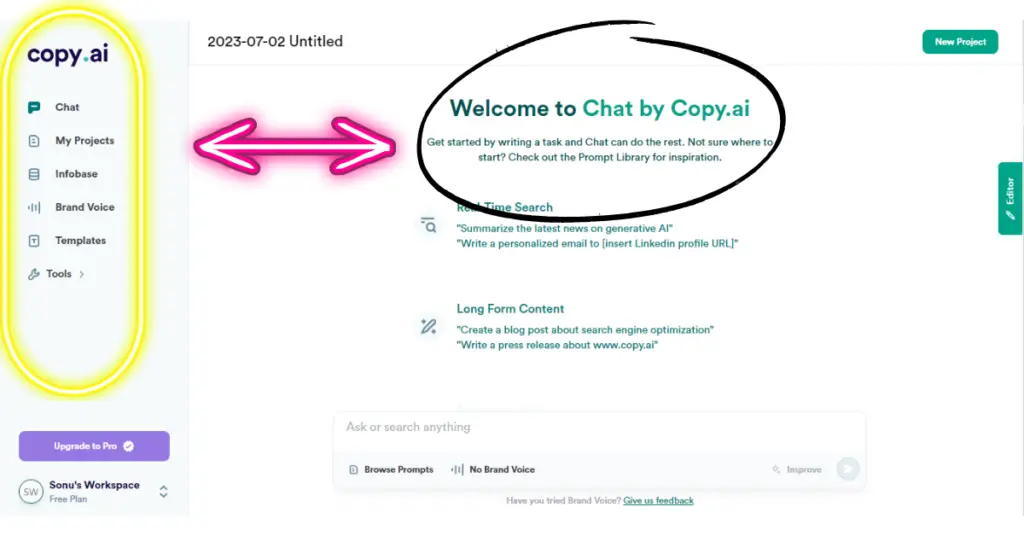 To start a new project, click on the "New Project" button located in your Workspace.
In the text input field, enter your desired idea or select a prompt from the available options.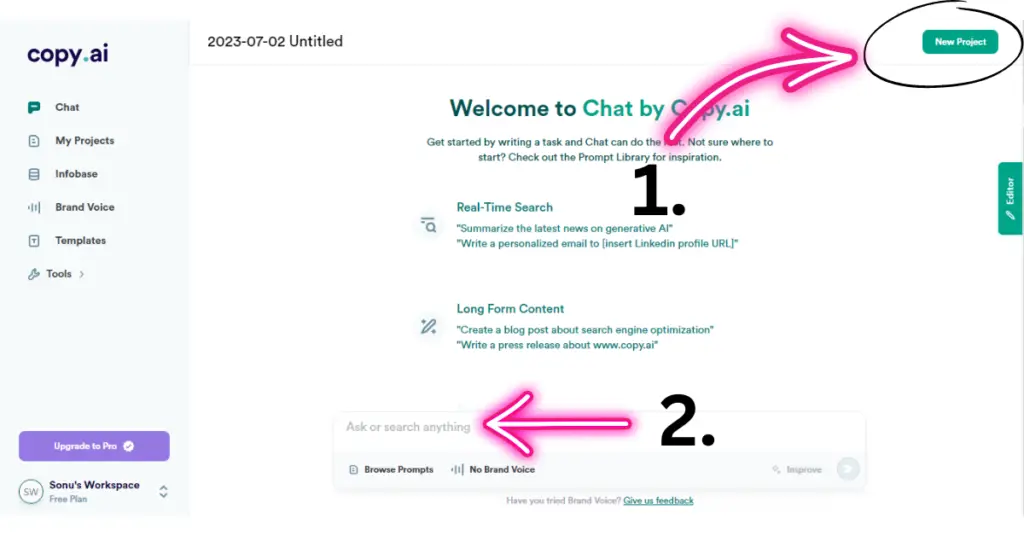 Once you have entered your input, simply press the 'Enter' button on your keyboard or click on the appropriate button on the screen.
Copy.ai will then utilize its AI-powered algorithms to generate great content for you in a matter of seconds.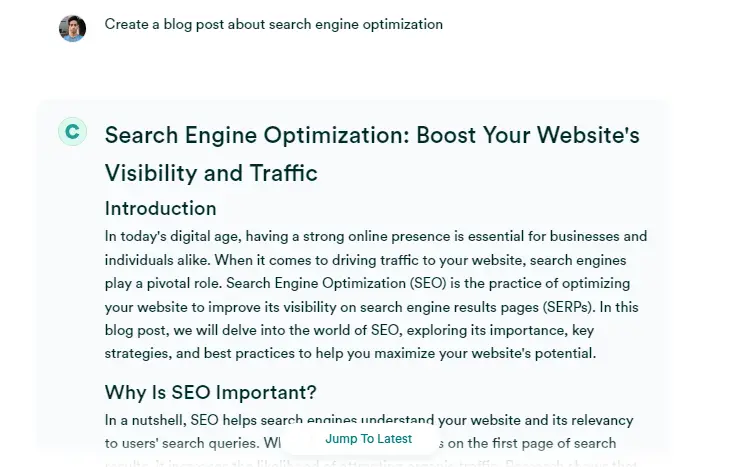 By following these steps, you can quickly generate high-quality content using Copy.ai's efficient and user-friendly platform.
Copy.ai Use Cases:
1. Email Marketing:
Crafting persuasive and personalized email campaigns can be a time-consuming task. Copy.ai simplifies this process by generating effective marketing emails in a matter of minutes, allowing you to connect with your audience more efficiently.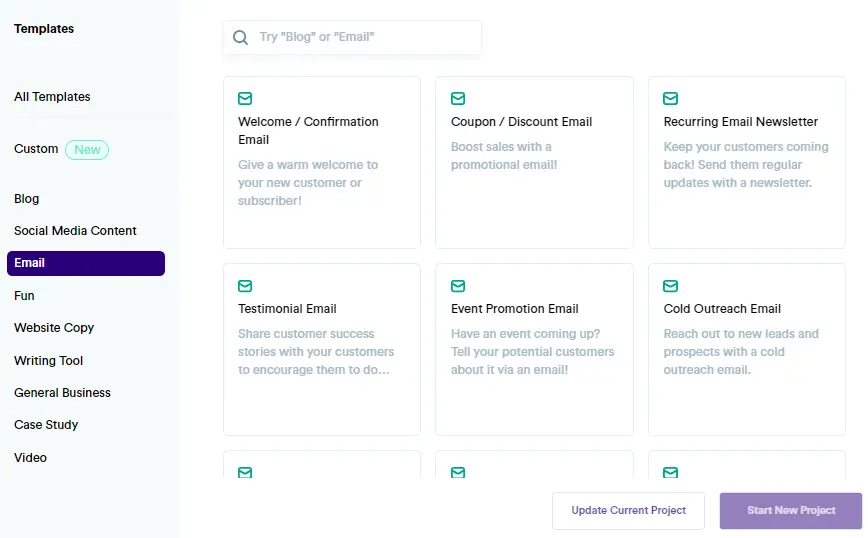 2. Blog Content:
Copy.ai can generate engaging blog posts, complete with well-structured paragraphs and attention-grabbing headlines. By providing clear instructions, you can tailor the generated content to your desired style and tone.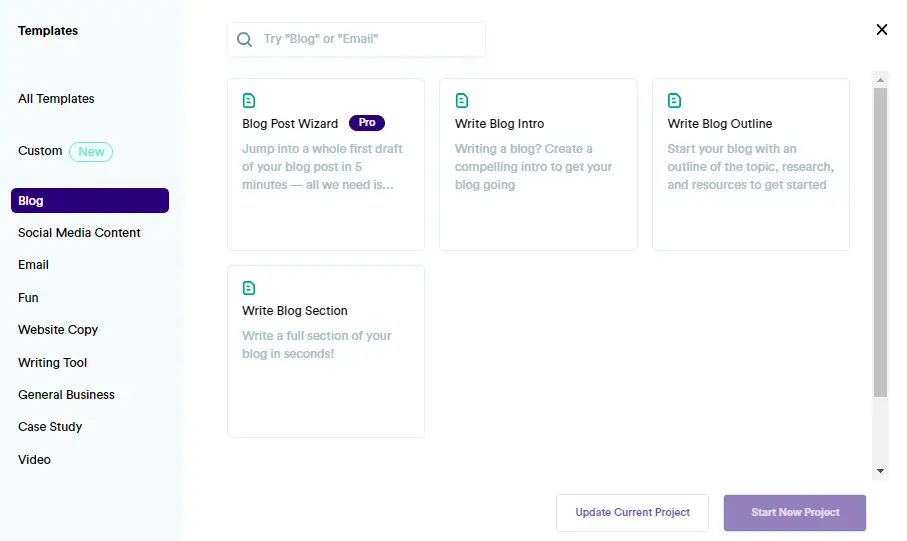 3. Social Media Posts:
Creating captivating social media content is essential for driving engagement and building a strong online presence. Copy.ai offers a range of templates and tools to help you craft compelling captions, hashtags, and attention-grabbing hooks for platforms like Instagram and TikTok.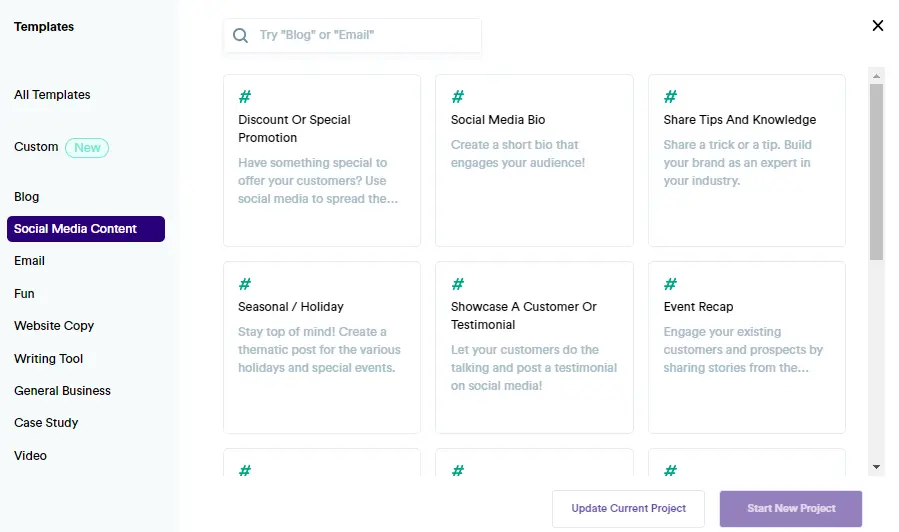 4. AI Translations:
Copy.ai's language model can also assist with translations, making it a valuable tool for businesses operating in multilingual markets. By providing the original text and specifying the desired language, you can obtain accurate and coherent translations in no time.
5. Teams:
Copy.ai is an ideal tool for collaborative content creation. Whether you're working in a small team or a large organization, Copy.ai allows multiple users to access and contribute to content projects seamlessly. It promotes collaboration, enhances productivity, and ensures consistency across different content pieces.
Features of Copy.ai:
Content Generation:
Copy.ai's AI-powered platform can generate a wide variety of content types, including blog posts, social media copy, product descriptions, and email marketing campaigns. With Copy.ai, you'll never run out of creative ideas.
Content Improvement:
In addition to generating content from scratch, Copy.ai can also improve existing copy. It offers suggestions for new words, phrases, and sentences, helping you enhance the quality and impact of your content.
Style and Tone Customization:
Copy.ai understands the importance of maintaining brand consistency. It allows you to specify your desired style and tone, ensuring that the generated content aligns perfectly with your brand's voice.
Research Assistance:
Copy.ai can assist with research by providing valuable information on various topics. It can save you time spent browsing multiple sources, allowing you to access relevant data right within the platform.
User-Friendly Interface:
Copy.ai's intuitive interface makes it accessible to users of all skill levels. You don't need to be a writing expert or have technical expertise to utilize the platform effectively.
Copy.ai Pricing:
Copy.ai offers three different pricing plans to cater to various user needs:
| Pricing Plan | Cost (Monthly) | Cost (Yearly) | Word Limit | User Seats | Additional Features |
| --- | --- | --- | --- | --- | --- |
| Free | $0 | N/A | 2,000 words | 1 seat | Chat by Copy.ai, 90+ copywriting tools, Unlimited projects, Blog Wizard tool, 29+ languages, Access to newest features |
| Pro Plan | $36 | $432 | Unlimited | 5 seats | Chat by Copy.ai, Brand Voice, 90+ copywriting tools, Unlimited projects, Priority email support, 29+ languages, Blog Wizard tool, Access to newest features |
| Enterprise | Request a Demo | N/A | Unlimited | N/A | API access, Custom Brand Voices, Prebuilt workflows library, Private company Infobase, Dedicated support & training, SOC 2 compliant, SSO |
Copy AI Other tools:
1. Free Instagram Caption Generator (Image to Caption Generator):
Elevate your Instagram game with our AI-powered Instagram Caption Generator. Create captivating captions for your photos effortlessly and watch your likes, followers, and comments soar.
2. Free Marketing Email Generator:
The power of email marketing with our Marketing Email Generator. Craft compelling marketing emails in minutes and supercharge your email campaigns.
3. Paragraph Generator:
Break free from writer's block with our Paragraph Generator. Simply provide the instructions, and our AI will generate complete paragraphs to help you quickly build unique content.
4. Paragraph Rewriter:
Transform your paragraphs with our Paragraph Rewriter. Give us the instructions, and our tool will rewrite your content, providing you with a fresh and unique version.
5. Product Description Generator:
Sell your products effectively with our Product Description Generator. Create beautiful and persuasive product descriptions that drive sales and captivate your audience.
6. Sentence Rewriter:
Revamp your sentences effortlessly with our Sentence Rewriter. Just provide the instructions, and our tool will rewrite your sentence, giving you a unique version tailored to your needs.
7. Free Outline Generator:
Conquer writer's block with our Free Outline Generator. From a blank page to a full blog post in under 5 minutes, this tool will guide you through the outlining process.
8. Free Cold Email Generator:
Craft personalized and impactful cold emails with our Free Cold Email Generator. Enter a LinkedIn URL and a few details about your company, and our tool will generate a customized email in seconds.
9. Free Meta Description Generator:
Boost your SEO efforts with our Free Meta Description Generator. Get higher rankings and click-through rates with well-crafted meta descriptions for your website—no fees attached!
10. Free Slogan Generator:
Create a memorable slogan for your company using our Free Slogan Generator. Stand out from the crowd and leave a lasting impression on your customers.
11. Free Email Subject Line Generator:
Make your email subject lines irresistible with our Free Email Subject Line Generator. Craft the perfect subject line for your newsletters, blog posts, and promotions to increase open rates.
12. Content Idea Generator:
Get inspiration for your next blog or social media post with our Content Idea Generator. Generate unique and engaging content ideas tailored to your niche.
13. Free Website Call To Action Generator:
Drive conversions and increase sales with compelling CTAs created by our Website Call To Action Generator. Improve your conversion rate and capture your visitors' attention.
14. Free Hook Generator:
Capture attention and grow your audience with catchy hooks generated by our Free Hook Generator. Perfect for social media, album names, book titles, or taglines.
15. Free Business Name Generator:
Discover the perfect business name with our AI-powered Business Name Generator. Find a name that resonates with your brand and captures its essence in seconds.
16. Free Bio Generator:
Craft an impressive social media bio in seconds with our Free Bio Generator. Say goodbye to the struggle of being clever and witty—we'll do the hard work for you.
17. TikTok Caption Generator:
Enhance your TikTok videos with captivating captions using our TikTok Caption Generator. Create engaging captions that complement your content seamlessly.
18. LinkedIn Headline Generator:
Engage your audience and boost traffic to your website with compelling LinkedIn headlines generated by our LinkedIn Headline Generator.
19. Free Blog Post Ideas Generator:
Overcome writer's block with our Free Blog Post Ideas Generator. Find inspiration and generate free blog post ideas across various niches, from health and fitness to travel and food.
20. Paraphrasing Tool:
Effortlessly rephrase any sentence with our Paraphrasing Tool. Save time and ensure uniqueness in your content by utilizing our powerful tool.
21. Free Ad Copy Generator:
Craft high-converting ad copies with our Free Ad Copy Generator. Create compelling ads that drive clicks and maximize conversions.
22. Free Resignation Letter Generator:
Compose professional resignation letters in seconds with our Free Resignation Letter Generator. Bid farewell to your job with ease and grace.
23. Sales Copy Generator:
Generate persuasive sales copy with our Sales Copy Generator. Tailor your content to your needs and create compelling copy that converts.
24. Free Instagram Hashtag Generator:
Optimize your Instagram posts with the best hashtags using our Free Instagram Hashtag Generator. Reach a wider audience and boost the visibility of your photos.
25. Free Product Name Generator:
Find the perfect name for your product effortlessly with our Free Product Name Generator. Generate creative and attractive names that resonate with your customers.
26. Free Motto Generator:
Create a powerful motto for your company with our Free Motto Generator. Showcase your brand's unique personality and inspire others with a catchy and memorable motto.
27. TikTok Content Ideas:
Discover endless content ideas for your TikTok videos with our TikTok Content Ideas Generator. Enter your niche and topic to receive inspiration tailored to your needs.
28. Blog Title Generator:
Craft catchy and SEO-optimized blog post titles in seconds with our Blog Title Generator. Drive traffic and engage your readers with compelling headlines.
29. Webinar Title Generator:
Brainstorm interesting and attention-grabbing webinar title ideas with our Webinar Title Generator. Ensure your webinars attract an enthusiastic audience.
30. SEO Title Generator:
Create captivating headlines for your blog, website, and marketing campaigns with our SEO Title Generator. Optimize your content for search engines and boost your online presence.
31. Free Acronym Generator:
Discover thousands of the best acronyms for your business, event, product, or team with our Free Acronym Generator. Find the perfect acronym that represents your brand effectively.
Final Words About Copy AI:
Copy.ai is a powerful AI writing tool that empowers users to create high-quality content quickly and effortlessly. This AI tool provides various AI tools with its user-friendly interface, versatile features, and customizable style and tone.
Copy.ai is suitable for businesses, content creators, educators, and individuals seeking to enhance their content creation process. Whether you're looking to save time, improve writing skills, or smoothen collaborative content creation, Copy.ai is a valuable tool that unlocks the power of AI for content creation.
Copy.ai official: Go Now
Read More Latest AI Tutorials: