Humata AI is a chatbot for PDF files that is ready to answer any question based on the provided PDF. Humata AI is a powerful tool designed to simplify the process of understanding PDFs in seconds.
In this step-by-step guide, we'll walk you through the process of using Humata AI to unlock the potential of your PDFs.
We'll guide you through the process of using Humata AI effectively, from signing up to exploring its features, and help you decide which version is right for your needs.
What is Humata AI GPT for your files?
Humata AI is a powerful AI tool that simplifies the extraction of information and answers from PDF documents. It's like a chatbot resource for researchers, students, and professionals seeking to efficiently access insights within their files.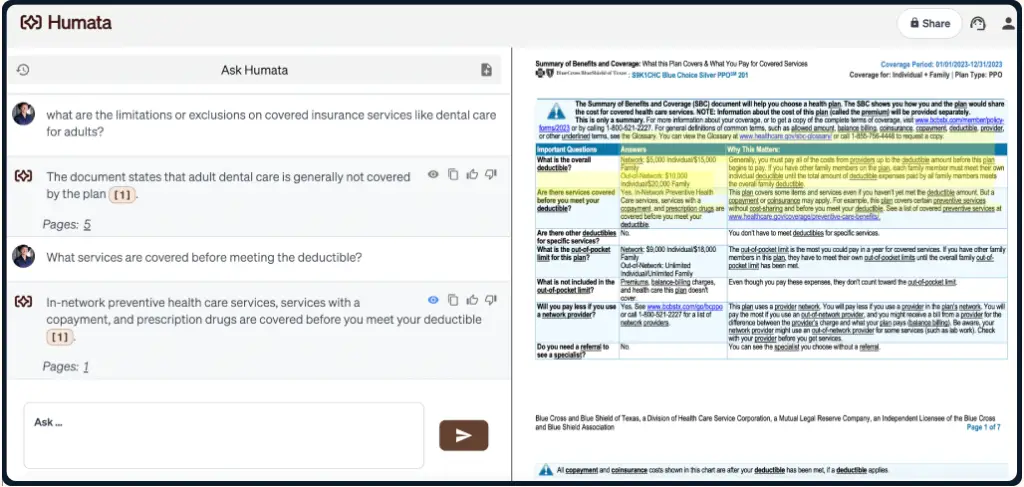 Getting Started with Humata AI
First things first, to tap into the power of Humata AI, you'll need to sign up.
Here's how to do it:
Visit Humata's Website: Open your web browser and go to humata.ai.
Humata AI Sign Up: Once you're on the website, you'll find a "Sign Up" button at the top of your screen.
Already Have an Account?: If you're like me and already have an account, simply click the "Login" button, and enter your credentials.
Log In: After clicking "Login," input your username and password, and click the login button.
How to use Humata AI: Step By Step
Now that you're logged in, you're ready to explore Humata AI's interface. It's a straightforward process, and here's how it works:
Step 1: Uploading Your PDF:
To get started, you need to upload the PDF document you want to ask questions about. Simply drag and drop your PDF file into the designated area.

Step 2: Analyze the PDF:
Humata AI will take a moment to analyze the PDF file, ensuring that it's ready for your questions.
Step 3: Ask Questions:
Once the PDF is loaded, you're good to go. You can ask questions by clicking the "Ask" button on the right side.
Step 4: Asking Questions:
On the left side of the screen, you can input your questions. Simply type in your query and click the arrow to ask Humata AI for an answer.
Step 5: Receiving Answers:
Humata AI will swiftly provide you with well-informed answers, making your PDF document much more accessible.
Asking Questions with Humata AI
Now that your PDF is loaded and ready for interaction, it's time to ask Humata AI some questions.
Click the "Ask" Button.
On the right side of the screen, you'll see the loaded PDF document.
On the left side, you can input your questions.
Type your question and click the arrow button to ask Humata AI for an answer.
In just seconds, Humata AI will provide you with a comprehensive response to your query.
Humata AI Use Cases:
1. Academic Research: Students and researchers can use Humata AI to quickly analyze the research and academic papers and extract the key points.
2. Document Management: Humata AI can help many businesses to efficiently categorize, search, and extract data from their extensive document repositories.
3. Content Creation: Content creators and writers can use Humata AI to gather information and insights from multiple sources, making it easier to generate high-quality, data-driven content.
Legal Analysis: Legal professionals can benefit from Humata AI's ability to parse legal documents, extract relevant clauses, and provide concise summaries for case analysis.
Exploring Pricing Options
As with any service, it's essential to know your options when it comes to pricing.
Humata AI offers two versions, each with its own set of features:
1. Free Version: This option allows you to upload up to 60 pages per month. It's perfect if you have occasional PDF needs.
2. Team Version: If you require more extensive PDF work, you might want to consider the Pro version. For $99 per month, you get the ability to work with 1000 pages. Additional pages can be added at a small cost.
| Plan | Monthly Cost | Key Features |
| --- | --- | --- |
| Free | $0 | Basic features, 60 pages, 10 answers |
| Student | $1.99/month | Basic features, 200 free pages |
| Expert | $9.99/month | Basic features, 500 free pages, 3 users, Premium support, Optional GPT 4.0 model |
| Team | $99/user/month | Basic features, 1,000 free pages, 25 users, Premium support, Optional GPT 4.0 model, Advanced user permissions |
The Pro version also offers a unique feature that can be a game-changer for those dealing with multiple documents:
Multi-File Q&A
The Multi-File Q&A feature is designed to help you save time and increase productivity.
With this feature, you can chat with multiple files simultaneously. Imagine how efficient you can be when you can ask questions and get answers across different documents at once.
Humata AI Features:
1. Effortless Document Navigation:
Your team may not have the time to read extensive documents, but Humata AI can. It skims through long technical papers, summarizing findings, comparing documents, and searching for answers, saving you time and effort.
2. Unlimited File Uploads:
Upload as many documents as you need, without worrying about file size limits. Humata AI provides lightning-fast answers, outpacing your reading speed.
3. Citation Integration:
Humata AI enhances trust by including citations in your source files. This feature allows you to trace the origin of insights, ensuring credibility and transparency.
4. Limitless Questions:
You can request shorter summaries whenever you need them. Humata AI can rewrite your summary until you're completely satisfied, accommodating your specific requirements.
5. Seamless Webpage Integration:
You can easily embed Humata AI into your webpage with a single click. Connect your customers with the valuable answers hidden within your documents, enhancing user experience and accessibility.
Choosing the Right Version
So, which version of Humata AI should you choose? The decision ultimately comes down to your specific needs and budget.
If you're a teacher, researcher, or someone who regularly deals with complex documents, generates detailed reports, or creates new content based on your files, then the Pro version is a worthwhile investment.
On the other hand, if your requirements are more straightforward, and you only need to ask simple questions or get a general overview of your files, the Basic version might be all you need.
Final Verdict:
In conclusion, Humata AI is one of the most useful AI tools available today for working with PDFs. To make the most of it, you must be able to ask relevant questions effectively.
Thank you for joining us on this journey to discover Humata AI, and read our latest AI tutorials.
Related FAQs:
Yes, Humata AI provides a free trial to explore the platform and allows you to try different functionalities.
2. What Is Humata AI Student?
Humata AI Student is a cost-effective subscription plan customized for students. It provides access to basic features, including the ability to work with up to 200 free pages.
3. What Are the Benefits of Humata Over ChatGPT?
Unlike ChatGPT, Humata AI is built to work with files. Humata AI will read every file you upload and will generate answers based on the content of your documents.