Are you searching for anyone who can design or make an online course for you? Now the wait is over.
Today we're going to review an exciting AI tool called LearningStudioAI—a remarkable tool tailored for the swift creation of online courses. By using this tool you can save your hours of time and money.
Whether you're an educator, a business professional, or simply someone eager to share your knowledge, LearningStudioAI promises to be your ideal companion in crafting engaging and informative online courses.
What is LearningStudioAI?
LearningStudioAI is a powerful tool designed to simplify the process of building online courses.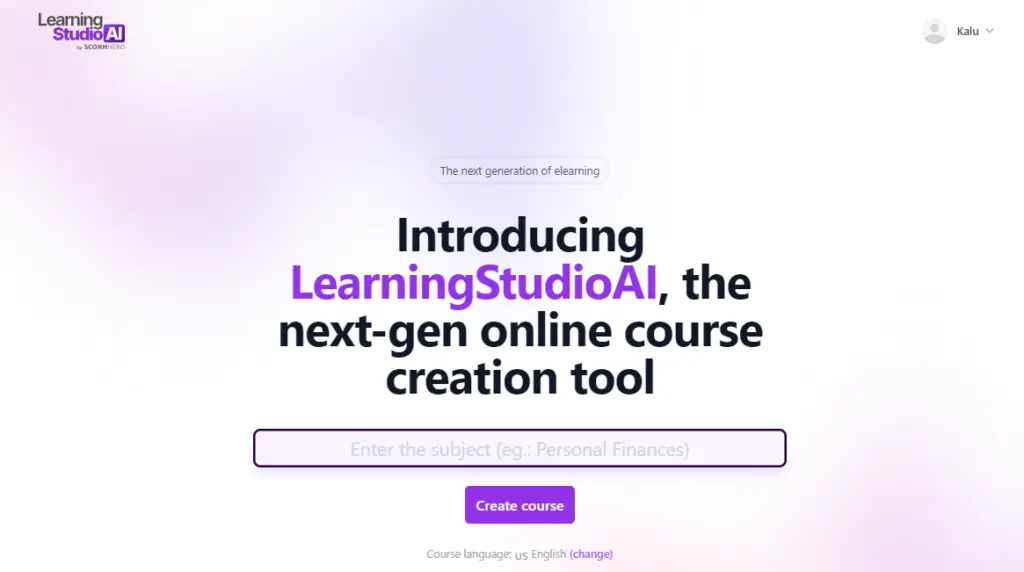 It empowers creators to curate content, organize it into coherent sections, and generate a polished course within a matter of minutes.
The user-friendly interface ensures that you don't need to be a tech genius to make the most of this incredible resource.
How to use LearningStudioAI:
Let's embark on an exciting journey together and explore how LearningStudioAI effortlessly constructs a course on "Fundamentals of AI".
Get ready for an exciting demonstration that highlights the enchanting magic of this tool!
Step 1: Visit learningstudioai.com
Create a new account or Sign up with a Google account.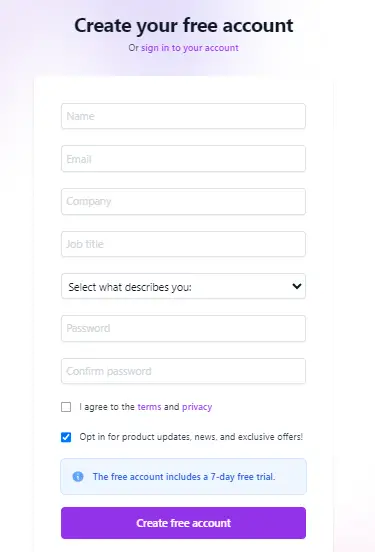 Step 2: Select Your Topic
Choose your topic, and enter the course topic or headline and the tool's intelligent algorithms kick into action.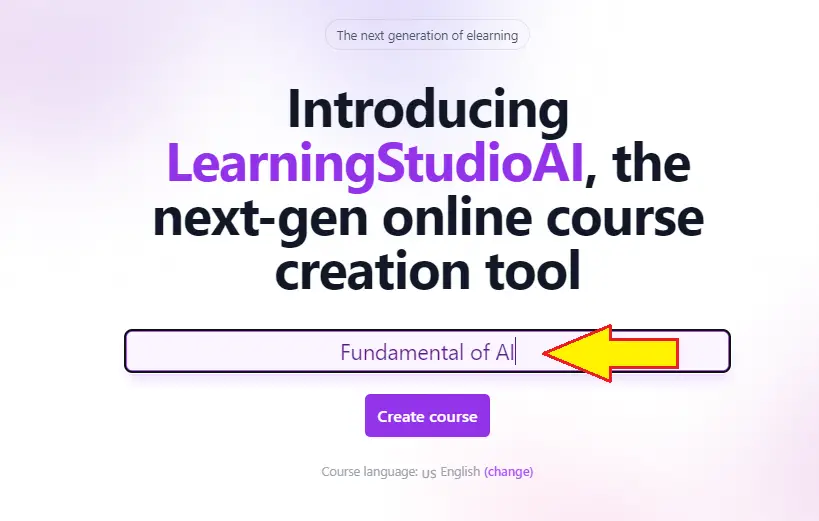 Step 2: The Creative Process Unfolds
In a matter of seconds, the course outline materializes before your eyes.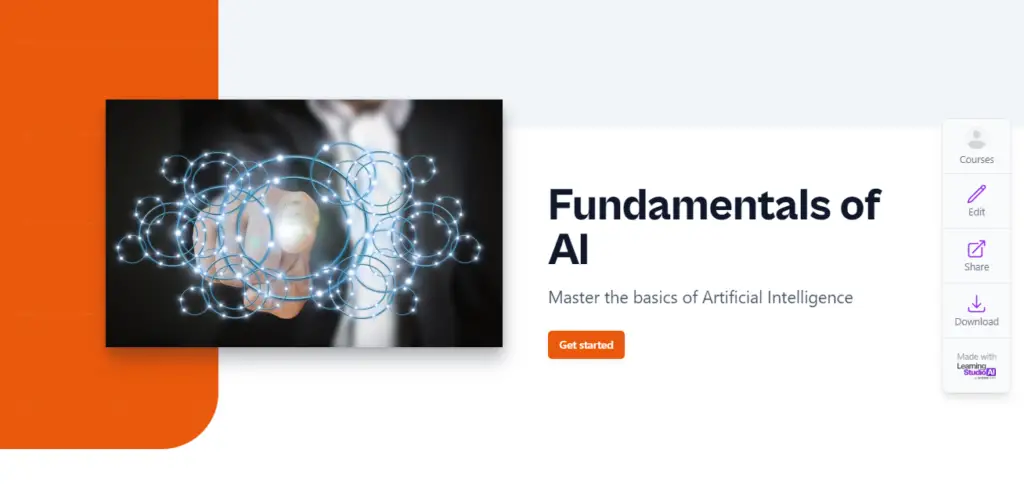 The tool organizes the content into well-structured sections, making it easy for learners to navigate and comprehend.
Step 3: The Result
Behold the result! Our "Fundamentals of AI" course stands ready, complete with six insightful sections.

Among these are three chapters focused on learning, a practice section, a wrap-up segment, and a final quiz to reinforce knowledge.
Step 4: Customization at Your Fingertips
LearningStudioAI goes beyond just creating a course; it allows you to tailor the content to your preferences.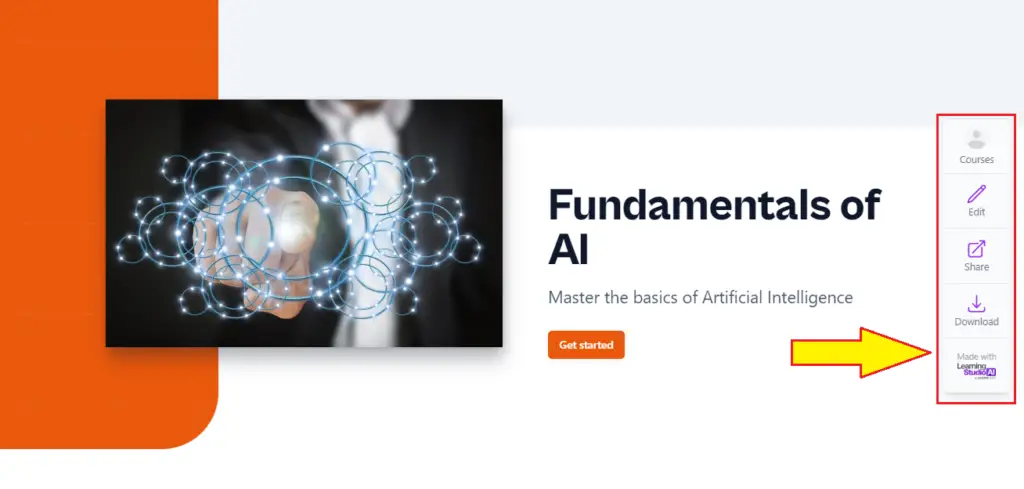 Edit and fine-tune the material until it aligns perfectly with your vision.
Step 5: Sharing is Caring
Want to share your knowledge with the world? LearningStudioAI makes it easy! Easily spread your course across social media platforms and reach a wider audience.
Step 6: Downloading your course
LearningStudioAI's convenience extends even further. After course completion, download it in a PDF or SCORM format—making it readily accessible to your students.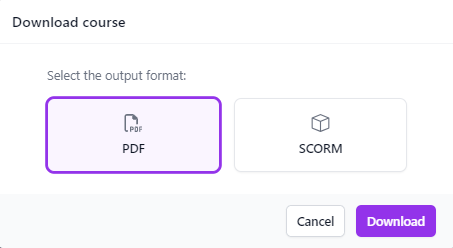 Click here to download the sample "Fundamentals of AI" course built by LearningStudioAI.
Is LearningStudioAI Right for You?
Now that we've seen LearningStudioAI in action, you might be wondering whether this tool aligns with your needs.
Let's break it down to help you make an informed decision.
1. General and Basic Education
LearningStudioAI shines brightest when it comes to crafting courses that offer general and basic education. Whether it's teaching introductory programming, explaining the principles of marketing, or offering insights into personal finance, the tool has you covered.
2. Educators and Subject Matter Experts
For educators and subject matter experts seeking to impart knowledge in a clear and structured manner, LearningStudioAI proves to be an invaluable asset.
Spend less time grappling with course design and more time engaging with your audience.
3. Business Professionals
Business professionals looking to share their expertise with colleagues or clients can utilize LearningStudioAI to package their insights into captivating online courses.
It's an excellent way to establish authority in your domain and expand your professional network.
4. User-Friendly Experience
LearningStudioAI caters to both tech-savvy individuals and novices. The intuitive interface ensures that creating a course is a delightful and straightforward experience, regardless of your technical prowess.
5. Time-Efficient Course Creation
With LearningStudioAI, time is on your side. Say goodbye to laborious hours spent crafting course materials and embrace the efficiency of rapid course generation.
Pros and Cons of LearningStudioAI:
Effortless Course Creation
User-Friendly Interface
Time and Cost Savings
Flexible Customization
Wide Range of Topics
Accessibility and Shareability
Limited Complexity
Limited Options
Not for video courses
Final words:
In conclusion, LearningStudioAI undoubtedly lives up to its name as the ultimate tool for building online courses.
Its ability to streamline the course creation process, coupled with the user-friendly interface, makes it a top choice for educators, business professionals, and knowledge enthusiasts alike.
Remember, learning is a gift that keeps on giving. Start crafting your course today with LearningStudioAI, and let your knowledge find its wings in the vast ocean of online education.
Latest AI Tutorials: