KickResume AI is a tool that helps beginners and professionals to create perfect resumes and cover letters in minutes. You can create a beautiful and attractive resume quickly with the help of Artificial Intelligence.
Today, we're diving deep into the world of KickResume AI – the ultimate tool that's about to make your resume-building experience.
If you've ever struggled to put together the perfect resume, worry not, because artificial intelligence is here to lend a helping hand.
What is KickResume AI?
KickResume AI is an online tool to assist users in creating impressive resumes and cover letters. By offering a range of customizable templates, the platform simplifies the resume-building process.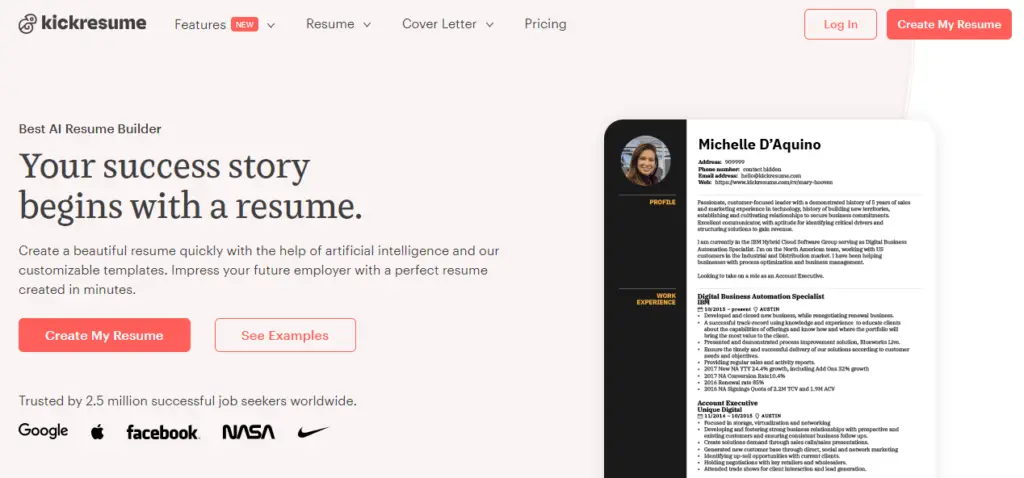 Users provide basic information and their desired job role, and the AI generates relevant content, such as profile descriptions and work experience summaries. This innovative approach enables users to quickly create professional resumes that stand out in the competitive job market.
Your Resume, Reinvented
Picture this: a website that not only simplifies but advances the way you create resumes.
Enter KickResume AI – your new best friend in the quest for that dream job.
This platform provides the art of resume crafting with the power of artificial intelligence, resulting in beautifully designed resumes that stand out in the crowd.
KickResume AI Resume Tools:
| Resume Tools | Description |
| --- | --- |
| Resume Builder | Craft your most impressive resume effortlessly. Elevate your chances of landing the job you want. |
| AI Resume Writer | Utilize AI to compose your resume content. Let technology tailor your qualifications for maximum impact. |
| Resume Checker | Receive instant evaluation and suggestions for enhancing your resume. Ensure it's polished and effective. |
| Resume Templates | Access a range of professionally designed templates, expertly created to appeal to recruiters. |
KickResume AI Cover Letter Tools:
| Cover Letter Tools | Description |
| --- | --- |
| Cover Letter Builder | Weave your narrative with a visually appealing cover letter. Captivate employers and communicate your story. |
| AI Cover Letter Writer | Using GPT-4 powered technology to generate a compelling cover letter. |
| Cover Letter Templates | Choose from cover letter designs that seamlessly complement your resume, creating a cohesive application package. |
KickResume AI: Let's Get Started
First things first, let's roll up our sleeves and start creating your masterpiece.
1. Visit the kickresume.com and create an account
First, create a new and fresh account if you don't have one.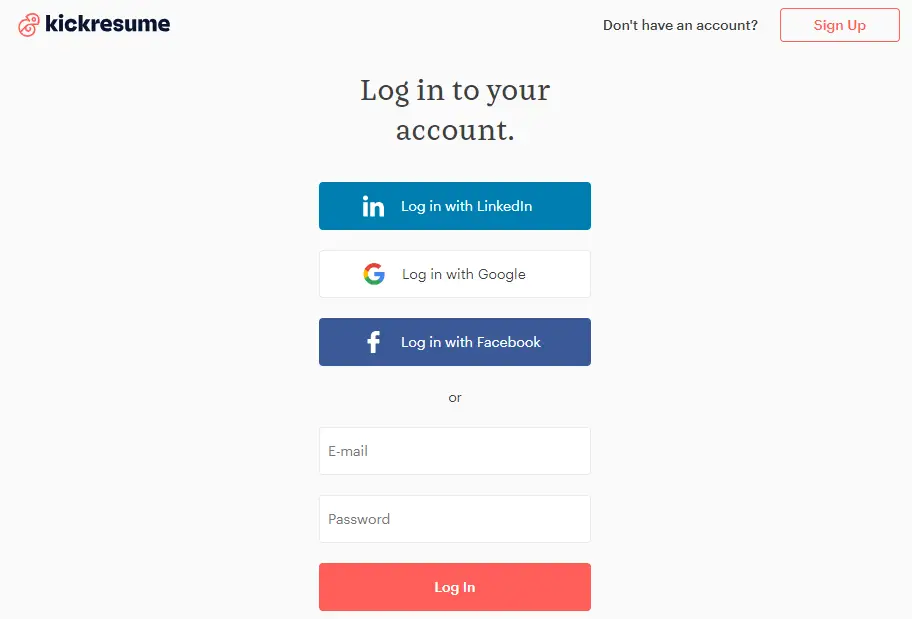 Once you've logged in, you'll be greeted by a sleek and user-friendly dashboard.
From here, it's as simple as clicking on "Create New Resume" to kickstart your journey.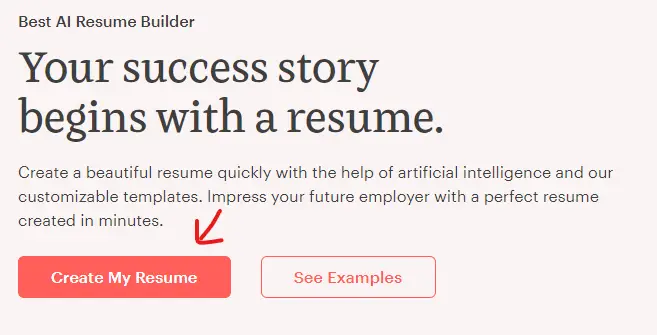 The AI wizard steps in, asking you a few friendly questions to get the ball rolling.
They'll want to know your name (easy-peasy) and your most recent job title.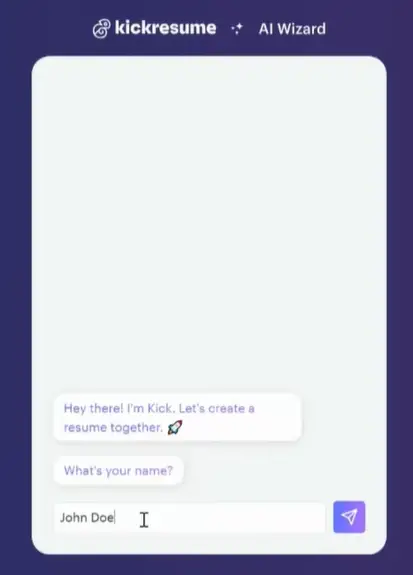 I'm going with "Analyst" for mine. And just when you thought it couldn't get better, KickResume offers you a selection of customizable templates.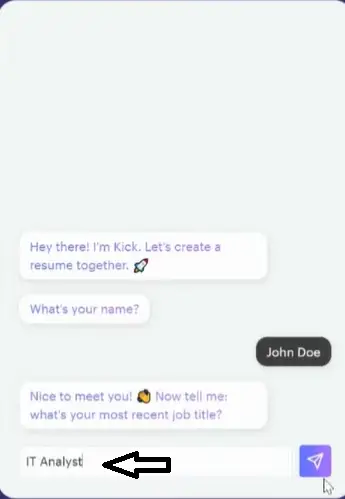 Choose from the latest three or take a tour through them all – the choice is yours.
2. Crafting Your Canvas
I know you're curious about what happens next. Drumroll, please, as the AI wizard waves its digital wand, and voila!
You're greeted with a jaw-dropping template that's both sleek and professional.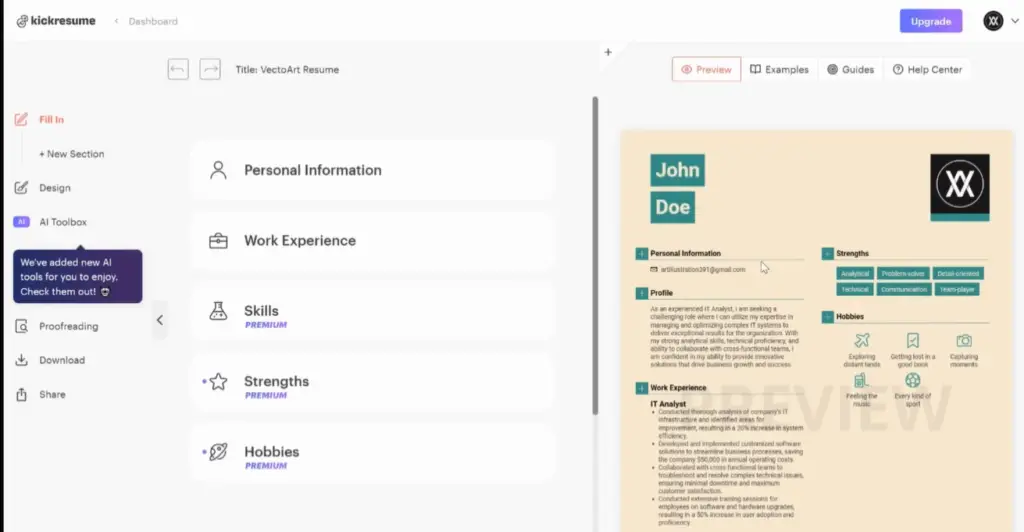 The template is divided into neat sections: Personal Information, Profile, Work Experience, Skills, Strengths, Hobbies, and more.
Let's take a stroll through each of them:
2.1 Personal Information
This is your introduction to the world – a snapshot of who you are. But that's not all; KickResume AI offers an AI toolbox and design options for the perfectionists in the crowd.
Once you're satisfied, hit the preview button and see your resume come to life before your eyes.
2.2 Profile
Your personal branding space – the AI has your back, generating a compelling profile description based on your chosen role. It's like having a personal marketing assistant!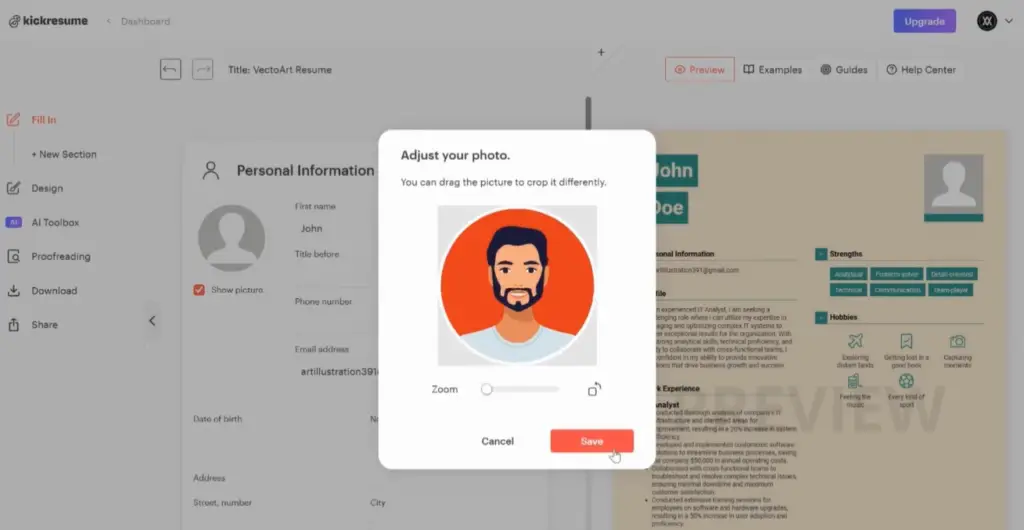 2.3 Work Experience
Time to shine a spotlight on your professional journey. The AI has already added a description of an IT analyst's role, making your life easier.
Enter your city, country, and time period, and watch your experience come alive.
2.4 Skills
Listing your skills can be daunting, but KickResume eases the pain. Predefined skills, curated for your chosen role, are already waiting for you.
Add, remove, or move them around – this is your space to shine.
2.5 Strengths
Remember those days when identifying your strengths felt like navigating a maze? With KickResume, it's a walk in the park.
They've already got you covered with strengths tailored for an IT analyst, but feel free to throw in your unique qualities.
2.6 Hobbies
Inject a bit of personality into your resume with hobbies. KickResume's got a plethora of icons to choose from – simply drag and drop.
Don't forget to pen down a short description to show the human side of you.
2.7 New Sections, New Possibilities
But wait, there's more! KickResume lets you add new sections like "Achievements," where you can showcase your accomplishments and awards.
The platform truly provides your individuality.
Navigating the Oasis
Creating a resume that speaks volumes about you can be a daunting task.
But with KickResume's AI-powered guidance, it's a journey of self-discovery and growth. Worried about getting stuck?
Fret not – the platform boasts video tutorials and a helpful support center to guide you through any roadblocks.
Wrapping Up
I hope you found this journey as fascinating as I did. If you're excited about this tool.
Remember, a resume isn't just a piece of paper; it's your gateway to new opportunities.
So why not make it stand out with KickResume AI's magic touch? Until next time, keep crafting those masterpieces!