Welcome to this comprehensive beginner's guide on how to make the most of Grammarly AI, your AI-powered writing companion.
Whether you're a student, professional, or anyone who communicates through text, Grammarly AI is here to ensure your words shine.
In this guide, we'll dive into each step, from setting up the tool to mastering its features.
So, grab your writing hats, and let's embark on this linguistic journey together!
What is Grammarly AI?
Grammarly is an AI-powered writing assistant that helps improve your writing by checking for grammar, spelling, punctuation, and style errors.
It offers suggestions to enhance your text and is available as a free web plugin, with a premium version offering advanced features for professionals and enthusiasts.
Getting Started with Grammarly
Grammarly is like a trusty sidekick for your writing, helping you breeze through grammar and spelling challenges with ease.
The best part? It's available as a free web plugin.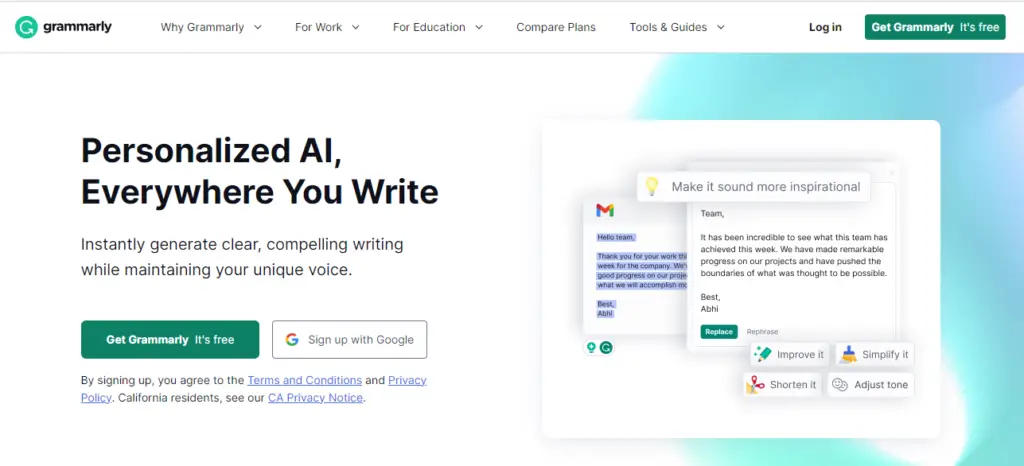 Whether you're a Google Chrome, Safari, iOS, or Android user, Grammarly has got you covered.
Getting the Plugin: If you're using Google Chrome, for instance, simply head over to grammarly.com, and the site will detect your browser, prompting you to add the Grammarly Chrome plugin.
The Power of Free: Grammarly isn't just about spell-checking; it's your writing companion. This AI-driven tool suggests alternative words, enhances vocabulary and polishes your text. It's the writer's version of a guardian angel, and it's all for free!
Unlocking More with Grammarly Premium
While the free version is impressive, let's explore Grammarly Premium's extra arsenal.
This version takes your writing to a whole new level, perfect for professionals or those looking to finesse their prose.
Elevating Your Writing:
Grammarly Premium offers readability checks, vocabulary enhancement suggestions, and other features to make your content shine like a star.
Affordable Options:
You can opt for the Premium plan on a monthly or yearly basis. Keep an eye out for deals that Grammarly frequently runs, making this upgrade even more enticing.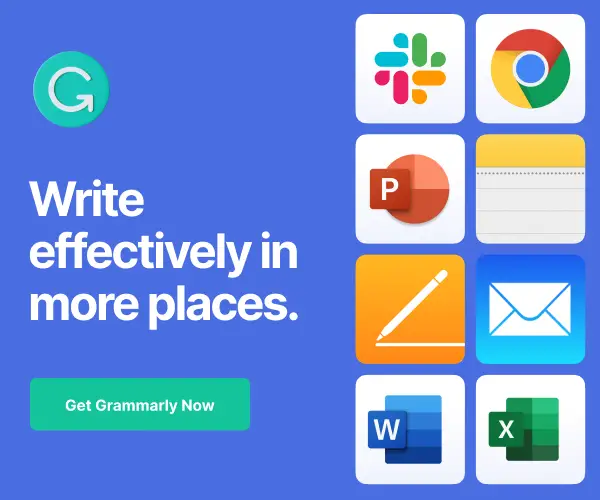 Copy AI: Best AI Content Writer
Using Grammarly on Different Platforms
Grammarly isn't confined to a single tool—it's a versatile tool that accompanies you wherever your words take you.
Desktop Apps: If you're on a Mac or Windows, Grammarly's got you covered. The desktop apps seamlessly integrate with your system, ensuring you don't miss a beat.
For Microsoft Office: For Windows users, there's Grammarly for Microsoft Office. It's like having an editor right in your documents!
Setting Up Grammarly on Your Browser
Ready to dive into the world of error-free writing? Here's how to set up Grammarly on your browser, whether you're a Chrome user or prefer a different browser.
1. Sign Up: Start by signing up on grammarly.com using your Google, Facebook, or email credentials. Don't worry; the process is as smooth as butter on a warm biscuit.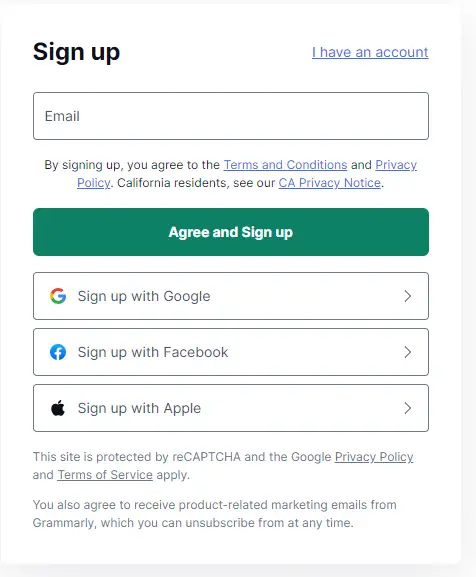 2. Install the Plugin: Once you're signed in, follow the instructions to install the browser extension. It's the gateway to your improved writing journey.

Exploring Grammarly's Features
Now that you're equipped with the tools, let's take Grammarly for a spin and explore its features.
Spell Check & Corrections:
The first thing you'll notice is Grammarly's keen eye for spelling errors. Underlined words are suggestions that you can easily accept with a click.
Grammar Improvements:
Beyond spelling, Grammarly helps you refine your grammar. Hover over blue underlines, and the tool guides you to grammatical correctness.
Real-Life Application:
Let's move beyond demos and jump into the real deal. In Google Docs, Grammarly ensures your writing is crisp and clear, offering suggestions to enhance your text.
Checking Your Text
Checking Your Own Text: To check your own text, click on the Grammarly icon. It'll take you to a clean slate where you can paste your content for a thorough review.
Fine-Tuning: You can tweak options like audience, formality, and tone to align Grammarly's suggestions with your writing style.
Premium-Exclusive: Grammarly Premium users enjoy advanced features, like identifying wordy sentences and providing precise corrections.
Grammarly Home: Your Writing Hub
Grammarly Home: Grammarly keeps your work organized. By clicking the plugin icon, you can access your Grammarly home, where all your documents await.
Managing Documents: Here, you can upload, create, or even print documents. It's your personal writer's haven.
Grammarly in Action
Social Media Mastery:
Grammarly isn't confined to formal documents. Whether you're crafting an email, drafting a tweet, or composing a YouTube video description, it's right there, perfecting your words.
Real-Time Assistance:
As you type, Grammarly instantly detects errors. It's like having an attentive editor watching over your shoulder.
Conclusion:
And there you have it, an in-depth guide on how to use the power of Grammarly for impeccable writing.
From setting up the plugin to enjoying premium features and using it across various platforms, you're now equipped to embark on your error-free writing journey.
Grammarly isn't just a tool; it's your writing ally, ensuring your words leave a lasting impact.
So, next time you're composing an email, drafting a document, or even crafting a YouTube script, let Grammarly AI be your guide to linguistic excellence.
Latest AI Tutorials: