As we can see, AI has been transforming human life in countless ways. From virtual assistants like Siri and Alexa to self-driving cars, AI plays a crucial role in every field right now.
But, if I were to ask, what about travel planning? Can AI really make our travel experience more enjoyable and hassle-free?
In this article, we will explore how AI is going to help you with travel planning using the Trip Planner AI tool.
Also, you can join me on my recent day trip to Oslo, Norway, as we put this innovative AI travel planner to the test.
Create Trip Plan for Free using Tripplanner AI?
Step 1: Visit Travelplanner.ai and Sign up with Google:
Let's get started. The first step in using Trip Planner AI is to create an itinerary for your trip. Visit Tripplanner.ai and Click on the login button. Now you can sign up with Google.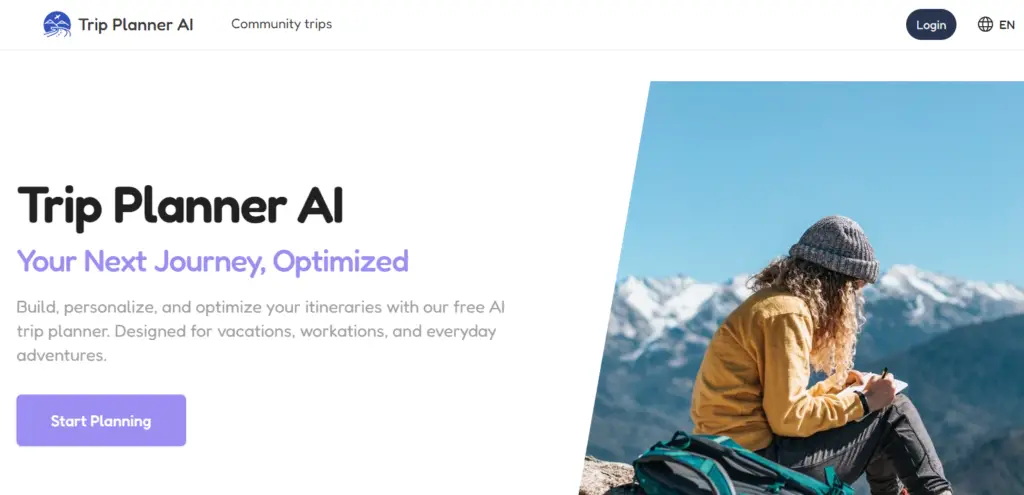 Step 2: Create an itinerary:
After successful signup, click on the "Create My First Plan" button.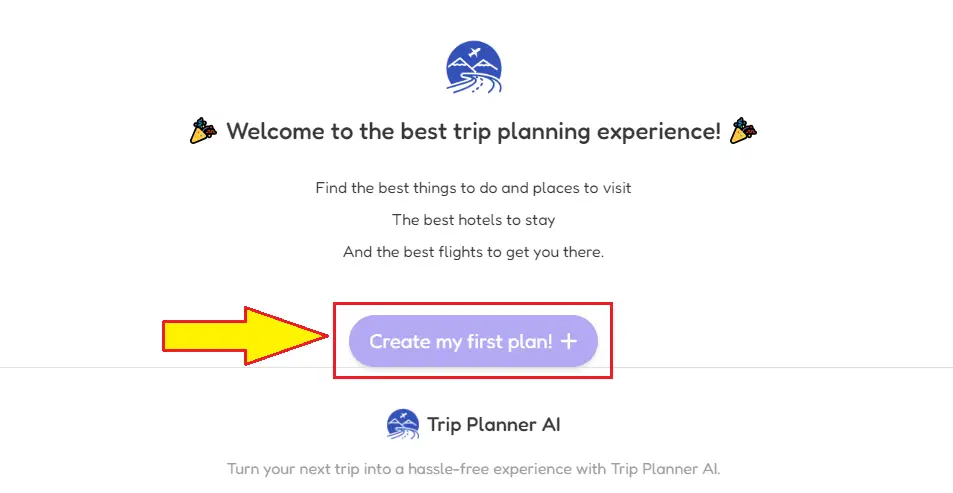 When you land on the website, you'll see a user-friendly interface prompting you to enter your destination city.
TripPlanner AI primarily focuses on cities, so make sure your desired destination is a city. For our adventure, we're selecting Oslo, Norway.
For this example, let's plan a day trip starting on a Saturday. You can customize the duration and number of people for your trip.
In my case, I'm planning a one-day trip for two people, with a budget of $100 per day. If you're a Pro user, you can get even more specific with your preferences, including meals and dietary restrictions.
Trip Planner AI offers both free and Pro plans, so you can choose the one that suits your needs.
Step 3: Fill in Other Travel details and Create your Plan:
When does your trip start?
How many days will your trip be?
How many people are going?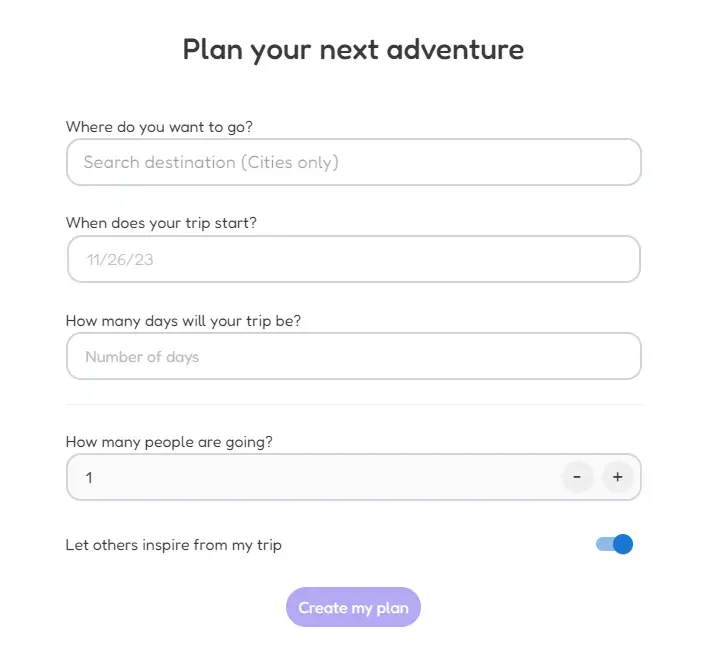 After filling in the travel details, click on "Create My Plan".
Step 4: Select your sights to visit:
Select the sights you would like to include in your visit. Tap on the checkbox button and it will show you the Total sight cost to visit.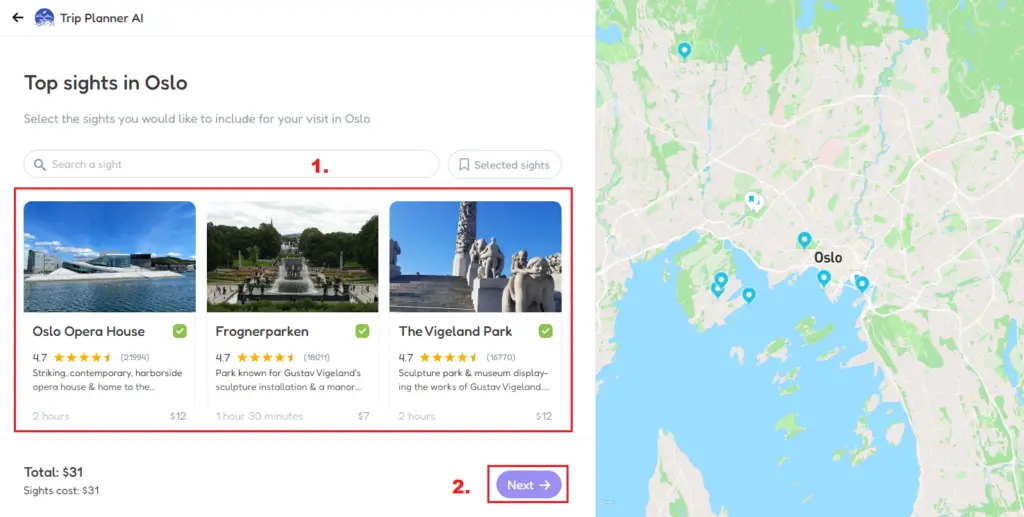 Click on the "Next" button.
Step 5: Meals preferences:
Select the meals you would like to include in your trip, your budget for it, and the type of food you prefer.
Select Meal Budget and Meals to include (Breakfast, Lunch, and Dinner).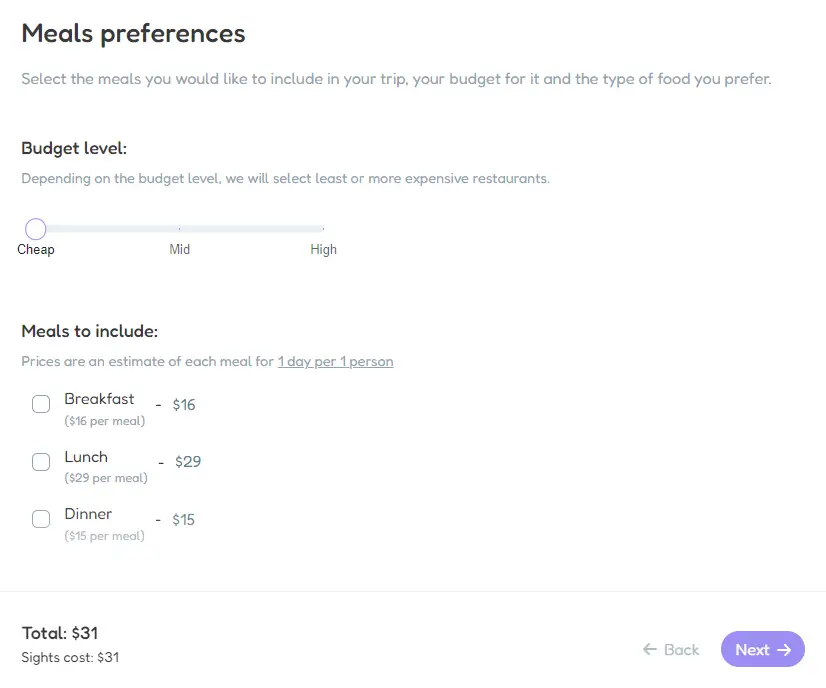 Step 6: Set your lodging (Optional)
You can search for your stay address or hotel name in the search bar and set your lodging.
Click on the "Build Your Trip" button.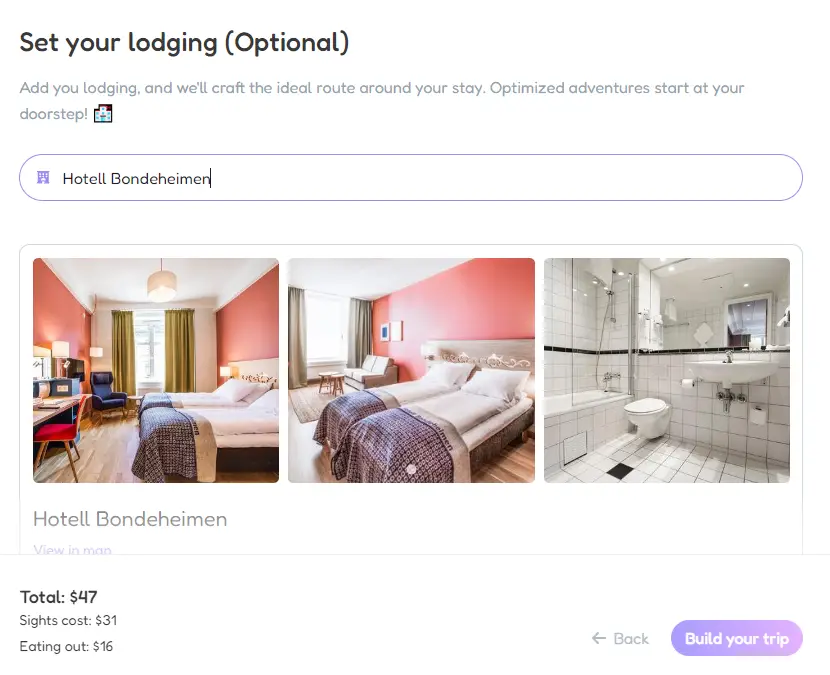 Generating the Itinerary: My Plan
Once you've input your preferences, it's time to let the AI work its magic. You can specify your interests, such as outdoor activities, art and culture, and historical sites.
Since we're blessed with great weather in Oslo, I'm leaning towards outdoor activities.
I've selected lunch for this Saturday adventure, and now it's time to hit the "generate" button and see what Trip Planner AI comes up with.
The AI quickly processes your inputs and generates an itinerary for your trip.
My Itinerary generated by Trip Planner AI
Let's take a closer look at the itinerary Trip Planner AI created for our day in Oslo:
9:00 AM: Viking Ship Museum
11:00 AM: Oslo Fortress
2:15 PM: Mama Pizza (Yes, pizza in Norway!)
4:00 PM: Royal Palace
6:00 PM: Frogner Park
6:30 PM: Ski Museum (Though we encountered a hiccup here)
One handy feature of Trip Planner AI is its ability to export the itinerary to your calendar, complete with addresses or coordinates to help you get to your destinations.
The Viking Ship Museum Adventure
Our first stop was the Viking Ship Museum, which we reached using Oslo's excellent public transportation system.
However, here's where we encountered our first challenge: the museum was closed until 2026.
It's a reminder that while AI is a powerful tool, it's essential to cross-check information and stay informed about any updates.
Oslo Fortress: A Historical Detour
With the Viking Ship Museum off the list, we decided to explore Oslo Fortress, which turned out to be a pleasant surprise.
The AI had recommended it, and we decided to take a guided tour.
The audio guide provided valuable insights into the historical artifacts, making the visit enjoyable, even for someone like me, who isn't a history buff.
Lunch at Mama Pizza: A Unexpected Delight
Lunchtime arrived, and we made our way to Mama Pizza. I have to admit; that I didn't expect to eat pizza in Norway but Travel Planner AI suggested it, so we gave it a try.
The food was not only delightful but also came in generous portions.
Don't judge me for using a fork and knife; the thin crust made it necessary, but I thoroughly enjoyed it.
The Royal Palace and Changing of the Guard
Next on the itinerary was the Royal Palace. The AI had recommended arriving at a specific time to witness the Changing of the Guard, and it turned out to be a fantastic suggestion.
Frogner Park: Oslo's Green Oasis
Afterward, we headed to Frogner Park which is the largest park in the world with sculptures all designed by a single artist. The park was bustling with people enjoying the sunny weather.
It was a great place to soak up the local atmosphere and appreciate the impressive sculptures.
Conclusion: Trip Planner AI
In conclusion, Trip Planner AI proved to be a valuable travel companion for our day in Oslo. While we encountered a couple of hiccups due to outdated information, it's important to remember that AI should complement your efforts and not replace them entirely.
Trip Planner AI's ability to generate customized itineraries based on your preferences and export them to your calendar is a game-changer.
Have you tried Trip Planner AI, or are you planning to? What other AI tools have you used for your travels, and how impressed are you with them?
Share your thoughts and experiences in the comments below. I personally respond to your questions and love keeping the conversation going.
Latest AI Tutorials: