This article is specially made for podcasters, YouTubers, and content creators! Today, I've got something truly exciting to share with you all. Are you searching for a free Best quality speech enhancement tool?
If so, you've landed on the right page.
You can now easily transform your raw voice recordings into polished, studio-quality sound, then stick around because Adobe has a fantastic solution for you.
Imagine having the ability to make your podcasts sound like they were recorded by a professional, without the hassle of complex audio editing software.
Well, get ready to be amazed by Adobe's Podcast AI Voice Enhancer!
Adobe's Podcast Audio Enhancing:
It is a tool that takes your audio from average to extraordinary, removing background noise, sharpening frequencies, and giving your recordings that professional studio finish.
Now you don't need echo-filled rooms or imperfect microphone setups anymore. Just forgot the traditional process of manually editing the podcast. Adobe's Podcast AI Voice Enhancer does it all for you with just a few clicks!
AI-coustics.com High-quality audio
What is Adobe podcast AI Voice Enhancer?
The Adobe podcast AI Voice Enhance Tool is a free solution that advances voice recordings by enhancing their quality.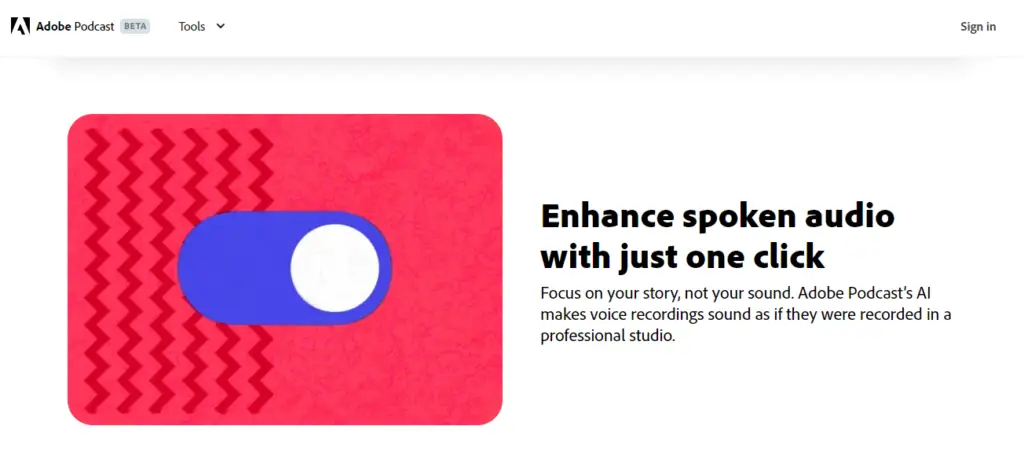 It employs speech enhancement techniques to create a professional studio-like sound, effectively eliminating background noise and refining frequencies.
This tool enables your recordings to attain the level of excellence found in top-notch recording studios, all without any cost.
Personal Experience: A Cell Phone Demo
Let's put Adobe's enhancer to the test, shall we? In this article, We demonstrate the power of this tool using nothing more than a cell phone.
We record in an untreated room with open windows, lots of echo, and external sounds seeping in.
The original audio showcases the challenges many of us face when recording on the go.
Sample Raw Audio Before Using Adobe AI Voice Enhance Tool:
After Using Adobe AI Voice Enhance Tool:
How to use Adobe Podcast AI Audio Enhance Tool?
Let's break down how you can achieve the same level of audio enhancement for your own podcast.
1. Get Your Adobe Account Ready
To get started, all you need is an Adobe account. Adobe is offering this Audio enhancer tool completely free of charge, making it accessible to all aspiring podcasters and creators out there.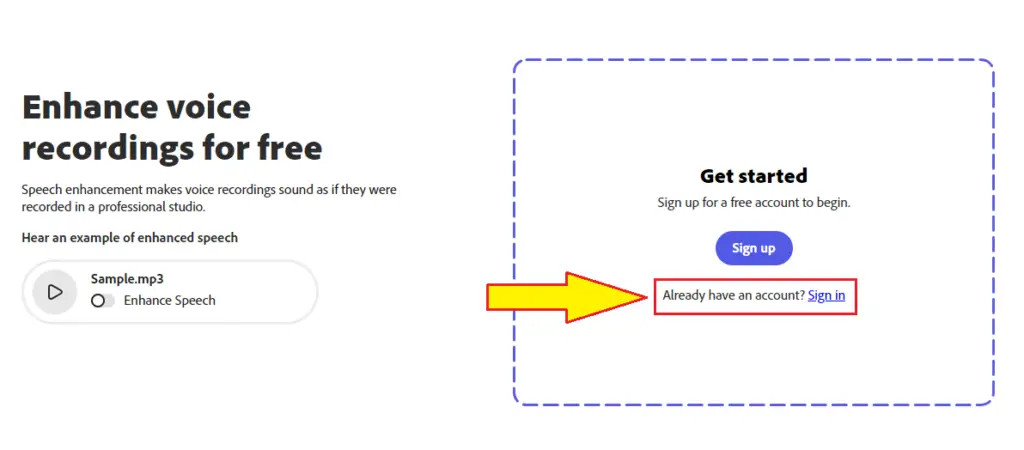 If you don't have an Adobe account, Click here to create one.
2. Access Adobe's Enhance Speech Tool
Once you've got your Adobe account up and running, go to podcast.adobe.com/enhance.
This is where the magic happens. Adobe's tool boasts the power to remove noise from voice recordings and enhance speech quality to professional studio levels.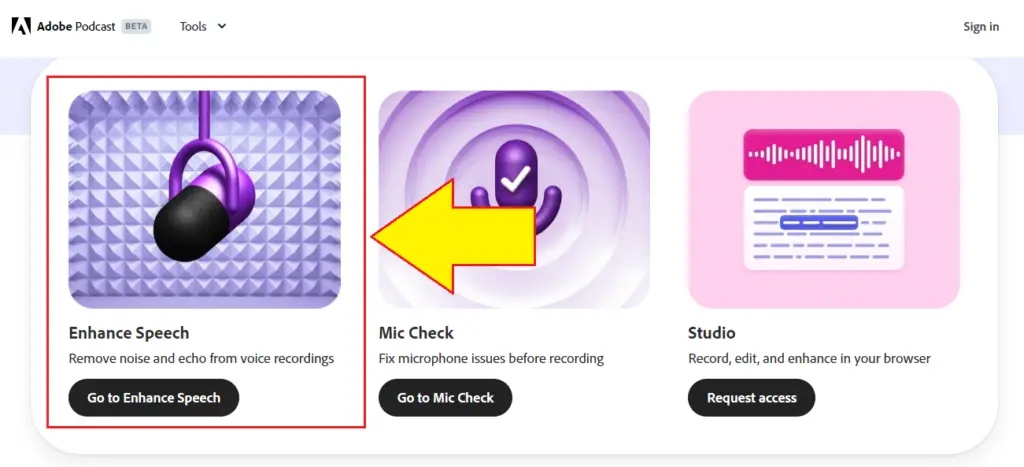 After visiting the podcast.adobe.com homepage, go to the Tool and select the Enhance Speech Tool.
3. Upload Your Audio
It's as simple as drag and drop. Upload your audio file – it accepts formats like .wav and .mp3.
And don't worry about the duration; Adobe allows up to one hour of audio for each file.
Plus, you can use the tool for up to three hours a day. That's plenty of room for those longer podcast episodes or recording sessions.
4. Let Adobe Work its Magic
Now, this is where the AI-powered magic kicks in. Click that enhance button and let Adobe's algorithm do its thing.
Depending on your file size, it might take a couple of minutes, but the wait is well worth it.
5. Preview Before Download
But wait, there's more! Before you finalize your enhanced audio, you get a chance to preview it.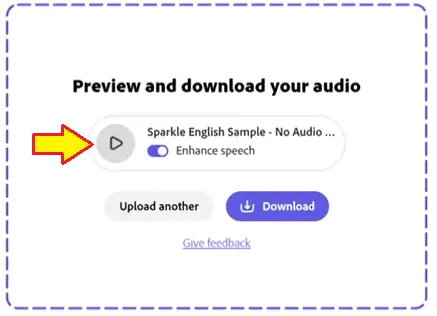 Toggle off the enhanced speech to hear the original audio, then toggle it back on to experience the remarkable transformation.
It's like having a studio engineer work their magic on your recordings.
6. Download Your Enhanced Audio
Once you're satisfied with the enhanced audio, hit that download button. What you'll receive is a crystal-clear WAV file that's a testament to the capabilities of Adobe's Podcast AI Voice Enhancer.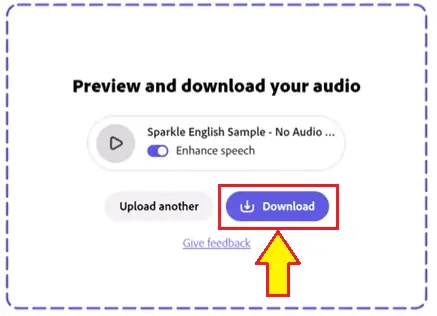 Use this file to elevate your podcast episodes, YouTube videos, or any content that relies on top-notch audio quality.
Features of Adobe podcast AI voice Enhance
1. Exclusive to Audio Files
This tool is made for audio files, ensuring that your voice recordings receive the attention they deserve. Whether you're working on a podcast episode, voiceover, or any form of audio content, Adobe Podcast AI Voice Enhance has you covered.
2. Up to 1 Hour Duration
Adobe understands the importance of accommodating longer recordings. With a maximum duration of up to 1 hour per audio file, you can confidently bring your comprehensive content to life.
3. Generous 500 MB Max File Size
Quality audio often comes with a larger file size. Fortunately, Adobe Podcast AI Voice Enhance recognizes this need.
Adobe podcast ai voice enhance tool provides a maximum file size limit of 500 MB.
4. Total Daily Limit: 3 Hours
Creativity knows no bounds, and neither should your audio enhancement capabilities. Adobe acknowledges that creators are driven to produce.
That's why they've set a daily limit of 3 hours, allowing you to enhance multiple recordings and maintain a consistent flow of high-quality content.
5. User-Friendly Interface
The user-friendly interface ensures that both beginners and experienced creators can effortlessly upload their audio files, apply enhancements, and download the refined output.
6. Studio-Grade Results
The most remarkable feature of all is the ability of Adobe Podcast AI Voice Enhance to transform your recordings into what sounds like professional studio-grade audio.
It employs cutting-edge technology to remove background noise, balance frequencies, and amplify your voice, delivering results that stand on par with recordings from the best studios.
Adobe AI Audio Enhancer Features Summary:
| Feature | Description |
| --- | --- |
| Audio Files Only | Designed exclusively for enhancing audio files only. |
| Max 1 Hour Duration | Supports recordings up to 1 hour in length. |
| 500 MB Max File Size | Accommodates larger file sizes without compromise. |
| 3 Hours Daily Limit | Allows enhancing up to 3 hours of content daily. |
| User-Friendly Interface | Easy-to-navigate interface for seamless usage. |
| Studio-Grade Results | Transforms recordings into professional quality. |
Wrapping Up:
And there you have it! Adobe's Podcast AI Voice Enhancer is the free tool you didn't know you needed. With a few simple steps, you can turn your raw recordings into polished audio that sounds like it came straight out of a professional studio.
So, whether you're a professional podcaster, YouTuber, or beginner, Adobe's Audio Enhancer promises to be your new best friend.
And remember, it's absolutely free to use as of now. Enhance your voice, enhance your content, and let your creativity shine with the power of Adobe's AI-driven audio magic.
Latest AI Tutorials: