Every content creator strives to produce high-quality content efficiently. However, achieving this goal is often easier said than done.
This is especially true for video podcasters who face the challenge of creating engaging video podcasts. They spend countless hours meticulously cutting, adjusting, and fine-tuning the audio and video elements of their podcasts.
Fortunately, I have discovered a remarkable AI tool that can revolutionize the way video podcasts are edited.
Autopod.fm AI Editor is an innovative solution that simplifies the editing process and makes the lives of content creators significantly easier. In a matter of seconds, Autopod.fm transforms rough video content into a polished masterpiece of the highest quality.
In the world of podcasting, video podcasts are gaining immense popularity. However, the process of editing video podcasts can be time-consuming and tedious. That's where Autopod.fm comes in.
With Autopod.fm, you can smoothen your editing workflow and unlock the full potential of your creative content. Let's explore how it can enhance your video podcasting journey.
Introduction to Autopod.fm:
Autopod.fm is an AI-powered tool that automatically edits video podcasts and shows in Adobe Premiere Pro. It can save you hours of time by automating the tasks of multi-camera editing, social clip creation, and jump-cut editing.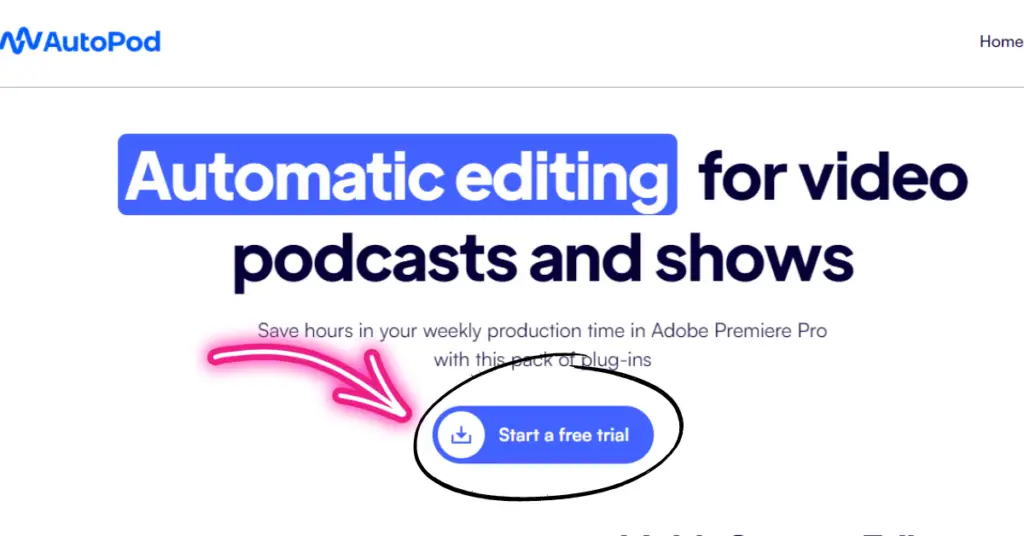 AutoPod.fm AI Editor is an innovative AI tool specifically designed to automate the editing process for video podcasts and shows, allowing content creators to save valuable time and effort.
What Problem Autopod.fm Solves:
Editing video podcasts can be a daunting task, especially when dealing with multiple camera angles and microphones.
Traditionally, this process required manual editing, which demanded significant time and expertise. Autopod.fm eliminates these challenges by using artificial intelligence to automate the editing process.
By doing so, Autopod.fm provides a seamless solution for content creators who want to focus more on the creative aspects of their podcasts and less on the technicalities of editing.
Who Should Use Autopod.fm:
Autopod.fm is an invaluable tool for anyone involved in creating video podcasts or shows. Whether you're an individual content creator or part of a production team, Autopod plugin can greatly simplify your workflow.
It is particularly beneficial for podcasters who produce content on a regular basis and want to continue their editing process, thereby increasing their overall productivity.
How do I get started with Autopod?
To get started with AutoPod.fm AI Editor, you will need to create an account and download the software.
Once you have installed the software, you can import your video footage and start editing.
How to Use Autopod.fm?
Visit the official website of Autopod.fm by typing "Autopod.fm" in your web browser's address bar and press Enter.
Once you are on the homepage, locate and click on the "Start a Free Trial" button.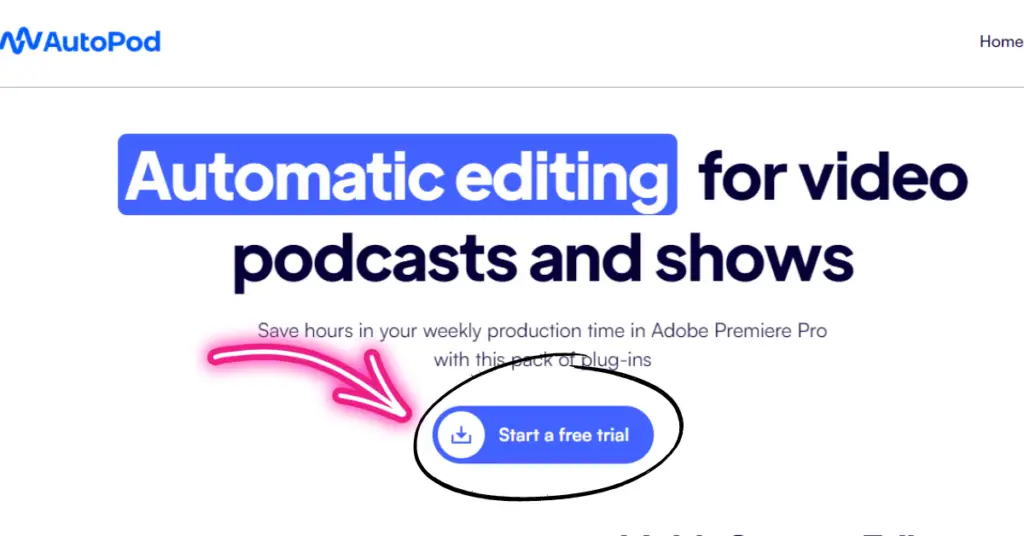 To avail of the 30-day free trial, simply enter your email address and payment details in the provided fields.
After successfully completing the payment details, click on the "Start Trial" button to initiate your free trial.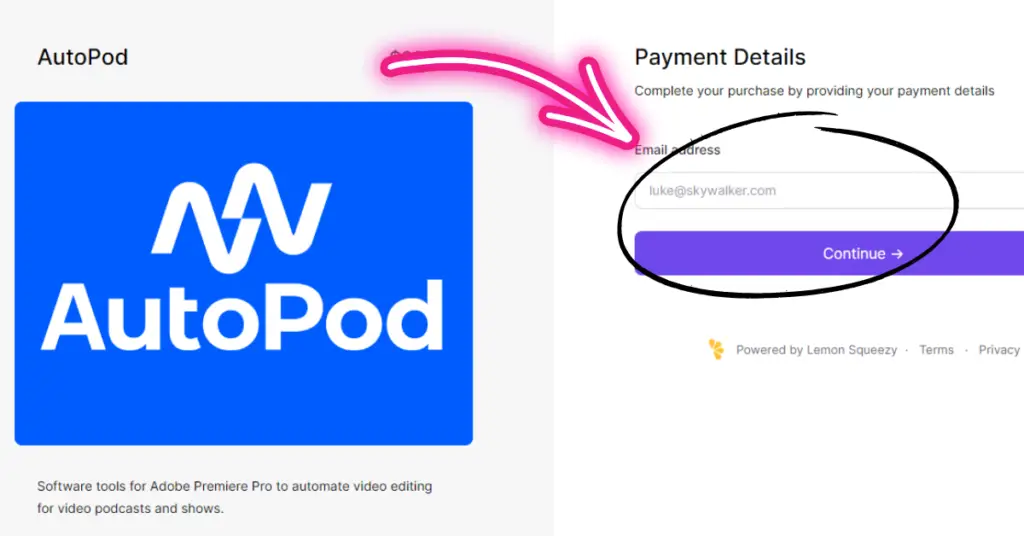 Now, open your email inbox, and you should find an email from Autopod.fm containing the download link for the Autopod software.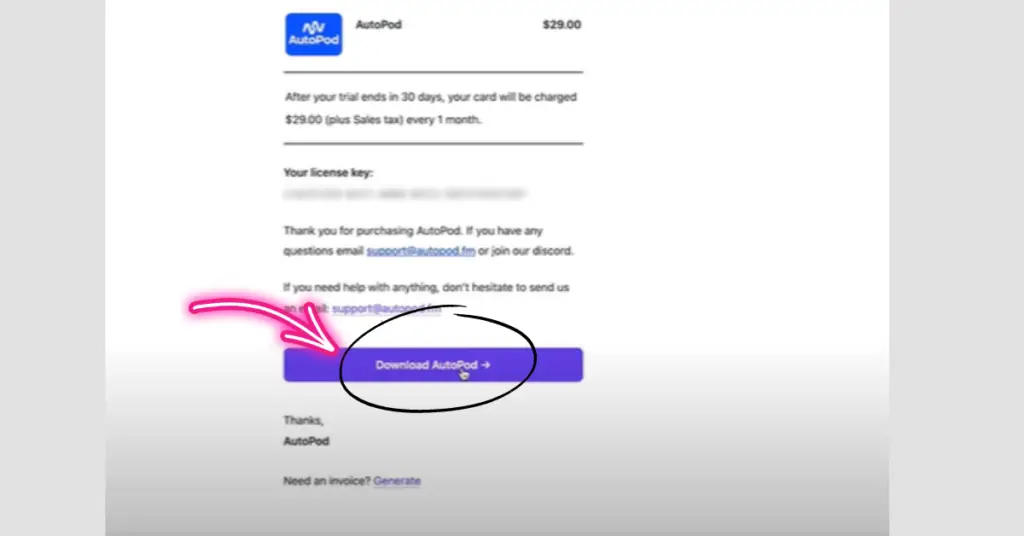 Click on the "Download Autopod" button provided in the email. Autopod is available for both Mac and Windows operating systems, so choose the appropriate version for your computer.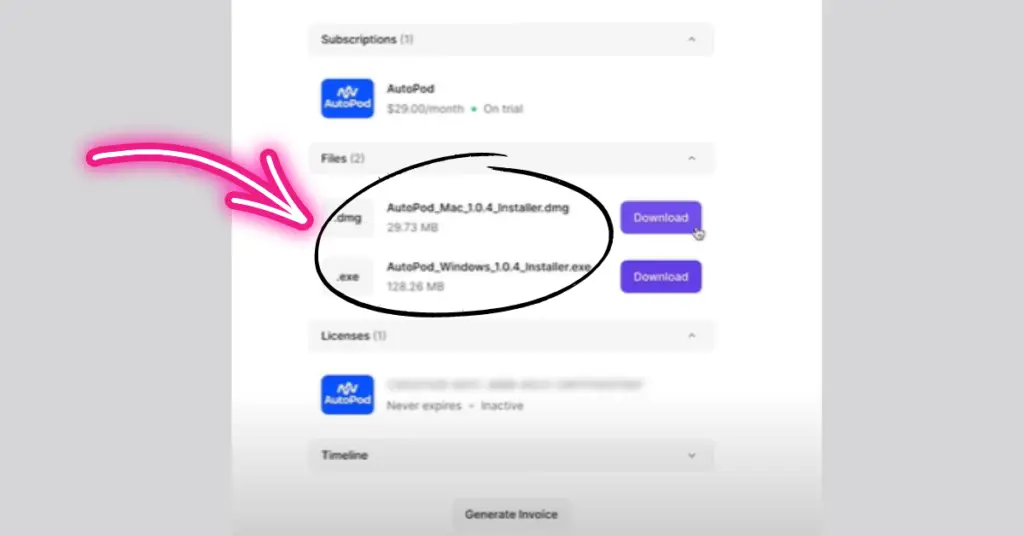 Once the Autopod software has finished downloading, locate the downloaded file and proceed with the installation process. Follow the on-screen instructions to install Autopod on your computer.
During the installation process, you will be prompted to enter a license key. Retrieve the license key from the email or any other source provided by Autopod and copy it.
After successfully installing Autopod, open Adobe Premiere Pro, and you will notice a new Autopod extension within the Extensions menu.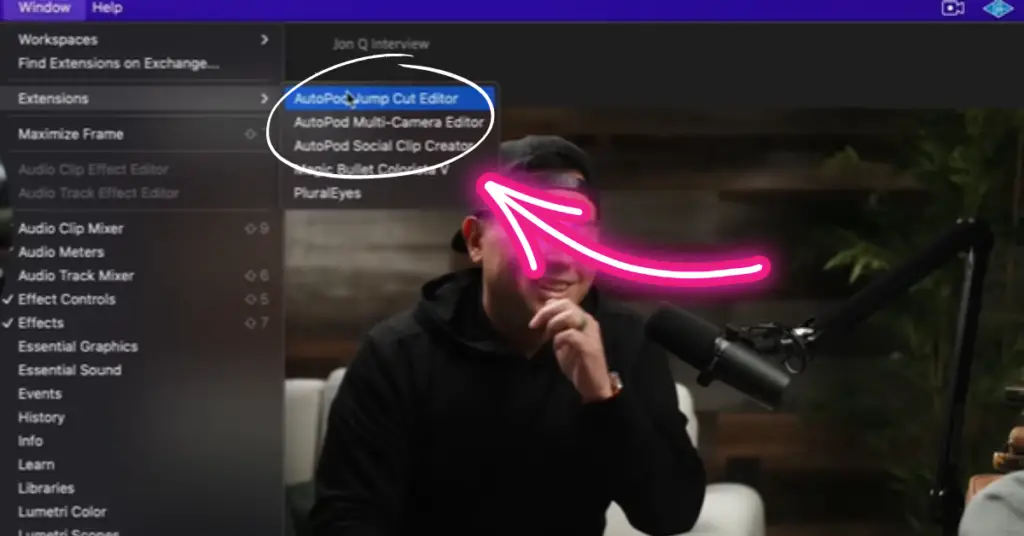 Congratulations! You have now successfully installed Autopod and integrated it with Adobe Premiere Pro.
Autopod.fm Working:
Autopod.fm's functionality is based on extensive analysis of thousands of hours of podcast footage. This wealth of data allows the AI tool to emulate the editing decisions made by human editors.
AutoPod.fm AI Editor takes into account factors such as who is speaking, the camera layout, and typical editing conventions.
By applying this knowledge, Autopod.fm can automatically edit a podcast in a manner that closely resembles the work of a skilled human editor.
Write High quality Content with Notion AI
Features of Autopod.fm:
Multi-Camera Editor:
Autopod.fm's Multi-Camera Editor is capable of automatically editing multi-camera sequences. It can seamlessly handle up to 10 cameras and 10 microphones, supporting various camera configurations.
Whether you have solo shots, two shots, three shots, four shots, or wide shots, AutoPod.fm AI Editor Multi-Camera Editor can effortlessly create a finished edit after running the program.
Moreover, it is customizable to work with any editing method, including standard cutting and multi-cam and allows users to save presets for consistent use.
5.2 Social Clip Creator:
Autopod.fm's Social Clip Creator simplifies the process of creating clips for social media platforms.
With a few clicks, it automatically generates clips in three popular aspect ratios: 1920×1080, 1080×1350, and 1080×1920.
AutoPod.fm AI Editor creates a new sequence based on user-defined in/out points, automatically adjusts the sequence settings and footage sizes based on the selected aspect ratio, and even includes features like auto-reframe, watermarks, and end pages if desired.
All the generated clips are conveniently stored in a folder and can be batch-exported with a single click.
Jump Cut Editor:
For those looking to create engaging social clips, Autopod.fm's Jump Cut Editor is a game-changer. This feature automatically creates jump cuts in footage based on moments of silence.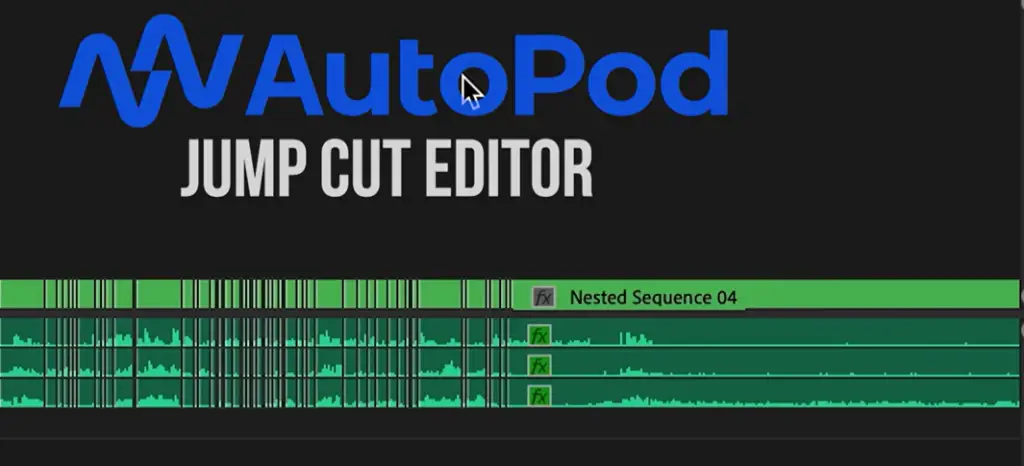 By inputting a decibel cutoff for the microphones used, users can easily generate cuts that keep the audience engaged. The Jump Cut Editor is especially useful when jump cuts are necessary to maintain viewer interest.
Benefits:
The benefits of using Autopod.fm are plentiful.
Saving Time: Firstly, it saves an immense amount of time by automating the editing process that would otherwise require hours of manual work.
High-quality Content: Content creators can now focus on producing high-quality content and growing their audience.
Eliminate Human efforts: Autopod.fm also ensures consistency in editing style, as it emulates the decisions made by professional human editors.
Customizable: Additionally, the tool is customizable, allowing users to adapt it to their specific editing methods.
More Reach to Audience: By reducing the time spent on editing, Autopod.fm enables content creators to produce more episodes, leading to increased audience engagement and potentially higher revenue.
Increased productivity: Autopod.fm can help you produce more videos by freeing up your time to focus on other tasks.
Autopod.fm Pricing:
Autopod.fm offers an affordable pricing plan that caters to the needs of individual users.
All users start with a 30-day free trial to explore the features and experience the benefits firsthand. After the trial period, the pricing is set at $29 per month per license, which includes access to the AutoPod Multi-Camera Editor, Social Clip Creator, and Jump Cut Editor.
This pricing structure ensures that Autopod.fm remains accessible to content creators of all scales, from individuals to production teams.
Summary of AutoPod.fm AI Editor
In conclusion, Autopod is an innovative AI tool that simplifies the editing process for video podcasts and shows. By using artificial intelligence, Autopod.fm automates tasks that would otherwise require significant time and effort.
With its multi-camera editing, social clip creation, and jump-cut features, Autopod.fm offers content creators a seamless and efficient workflow.
Autopo.fm Official: Go Now
FAQs:
1. What are the system requirements for Autopod?
Autopod requires Adobe Premiere Pro 2023 or a later version of Premiere 2022. If your computer can run Adobe Premiere Pro, you should be good to go.
2. Is Autopod.fm suitable for solo podcasters?
Absolutely! Autopod.fm is designed to cater to the needs of individual content creators. It smoothen the editing process, allowing solo podcasters to focus on creating content rather than spending excessive time on editing.
3. Can I customize the editing style in Autopod.fm?
Yes, Autopod.fm provides customization options to adapt to your preferred editing style. You can choose between standard cutting or multi-cam editing methods, and even increase the frequency of wide shots if desired.
4. How many cameras and microphones can Autopod.fm handle?
Autopod.fm's Multi-Camera Editor can work with up to 10 cameras and 10 microphones, accommodating various camera setups commonly used in video podcasts and shows.
5. Can Autopod.fm generate clips for social media platforms?
Yes, Autopod.fm's Social Clip Creator is specifically designed to generate clips for social media. It automatically creates clips in popular aspect ratios and provides options for adding auto-reframe, watermarks, and endpages.
6. Does Autopod.fm require an internet connection for editing?
No, Autopod.fm operates locally on your computer, so you don't need an internet connection while using the tool.
7. Can Autopod.fm be used with other video editing software apart from Adobe Premiere Pro?
No, Autopod.fm is currently compatible only with Adobe Premiere Pro. It is optimized to work seamlessly within the Premiere Pro environment.
8. Does Autopod.fm require any technical expertise to operate?
Autopod.fm is designed to be user-friendly and intuitive. While basic knowledge of video editing is helpful, you don't need advanced technical skills to operate the tool effectively.
9. Is there a limit to the duration of podcasts that Autopod.fm can edit?
Autopod.fm can edit podcasts of any duration. Whether it's a short episode or a longer show, the tool can handle the editing process efficiently.
10. Can Autopod.fm handle podcasts in languages other than English?
Yes, Autopod.fm is language-agnostic and can edit podcasts in any language. Its AI capabilities allow it to understand spoken content regardless of the language being used.