Have you ever wished you could transform your lengthy videos into amazing short clips that have the potential to go viral?
Your wish just came true with Opus.pro Clip AI video editor! You can create 10 viral YouTube shorts from Long video with just one click. This AI Tool will boost your productivity 10x times better.
In this step-by-step tutorial, I'm going to take you through the exciting process of using Free Opus Clip to turn your long-form videos into a series of engaging shorts that'll engage your audience.
Whether you're a podcaster, a marketer, a creator, or just someone eager to dive into the world of video content, Opus Clip is about to become your new best friend.
What is Opus.pro?
Opus.pro Clip AI is a powerful tool that uses artificial intelligence to transform long videos into shorter, engaging clips with the potential to go viral on social media platforms. It's a generative AI video Tool powered by OpenAI.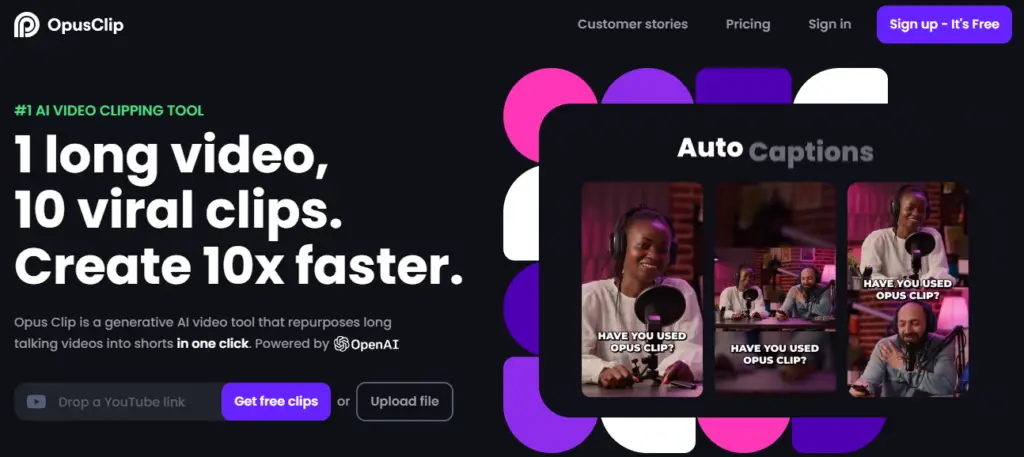 Why you should use Opus.pro Clip AI?
Maximize Video Views: Opus Clip Pro creates viral short clips strategically arranged to grab attention, increasing views significantly.
Boost Engagement Rate: With Opus Clip Pro's AI-powered features, like the Virality Score™, your clips become engaging magnets, driving likes, comments, and shares to amplify your engagement rate.
Extend Watch Time: Opus Clip Pro's Keyword Highlighter and Emoji Generator keep viewers hooked, leading to longer watch times by emphasizing crucial content moments.
Streamline Content Creation: The AI Co-Pilot and Active Speaker Detection simplify editing, allowing you to focus on content creation instead of tedious editing tasks.
Enhance Viral Potential: By using Opus Clip Pro's AI insights and Virality Score™, you're equipped to create content that's made for going viral, expanding your reach like never before.
How to use Opus Clip AI:
Step 1: Opus.pro Clip Sign up:
Firstly visit opus.pro and sign up for a free account. You can also use a Google account to register on Opus Clip AI.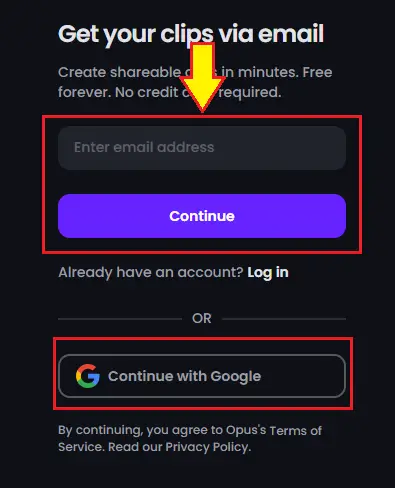 Step 2: Drop a YouTube Link or Upload a Local File
Alright, let's dive into the magic! As you fire up Opus Clip, you're greeted by a user-friendly interface that's designed with simplicity in mind.
First things first, you need your source material.

You can either drop a YouTube link of your favorite video or upload a local file from your computer.
Step 3: Customize with AI Copilot
Now, this is where the real fun begins. Opus Clip's AI copilot is here to assist you in creating your clips to perfection.
Suppose you want to clip only the first 8 minutes of your video.
No problem!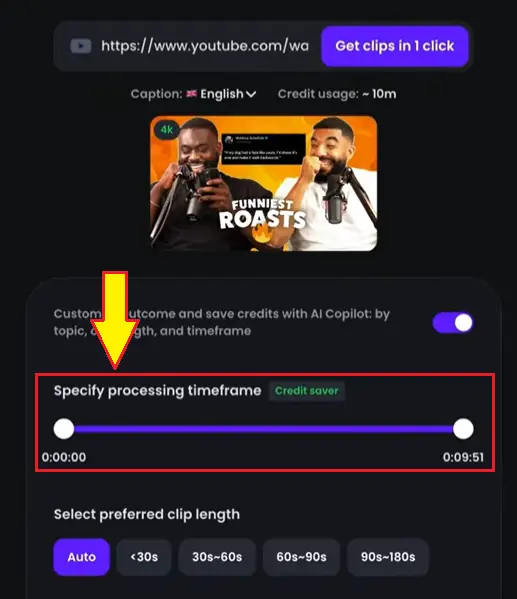 With just a few clicks, you can adjust the time frame, saving you valuable time while ensuring your outcome is nothing short of desirable.
Step 4: Craft Your Clips for Maximum Impact
Okay, You're crafting these clips for viral potential, and that's thrilling!
For instance, let's say you're creating a YouTube short. You set the clip length to less than 60 seconds.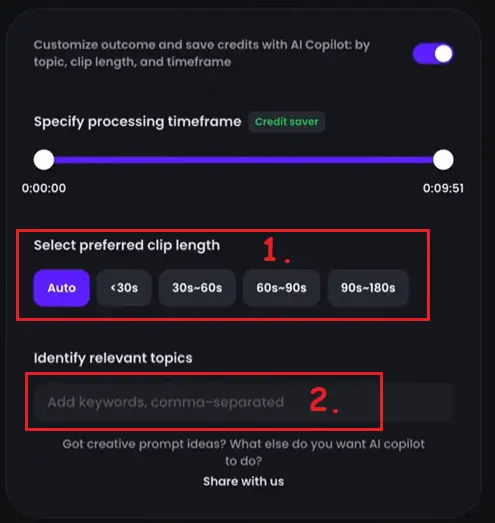 But there's more—by adding specific keywords, you help the AI pinpoint those golden moments that'll capture hearts and minds.
And you know what?
You've got the freedom to let the AI do its thing without keywords too. The anticipation builds as you hit that "Get Clips" button!
Step 5: Embrace Your Clips
Drumroll, please! Your clips are now ready. Depending on your original video's length, you'll be gifted a collection of clips—around 25 clips for an hour-long video.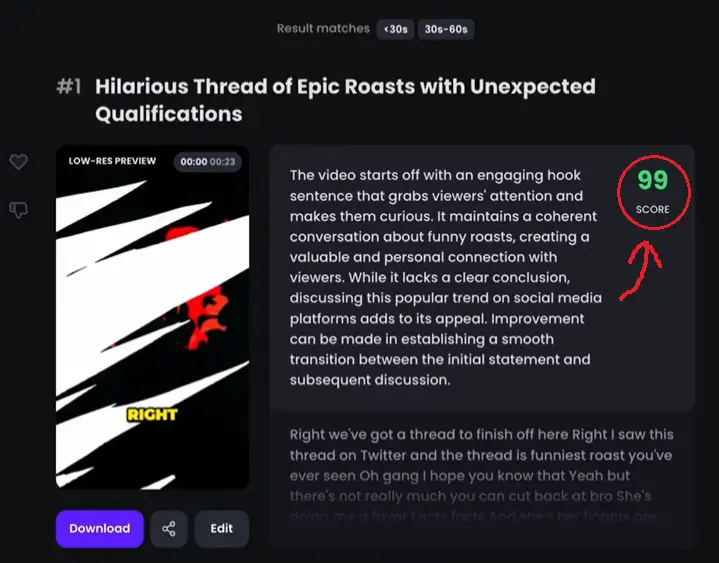 These clips aren't just randomly thrown together; they're ranked based on your virality score.
Can you feel the excitement?
The higher the score, the more potential for viral success on social media.
Step 5: Make It Your Own with Editing
Opus Clip believes in giving you complete control, so you can edit your shorts captions and style.
You're greeted by two sections: caption and brand. Captions?
Absolutely essential.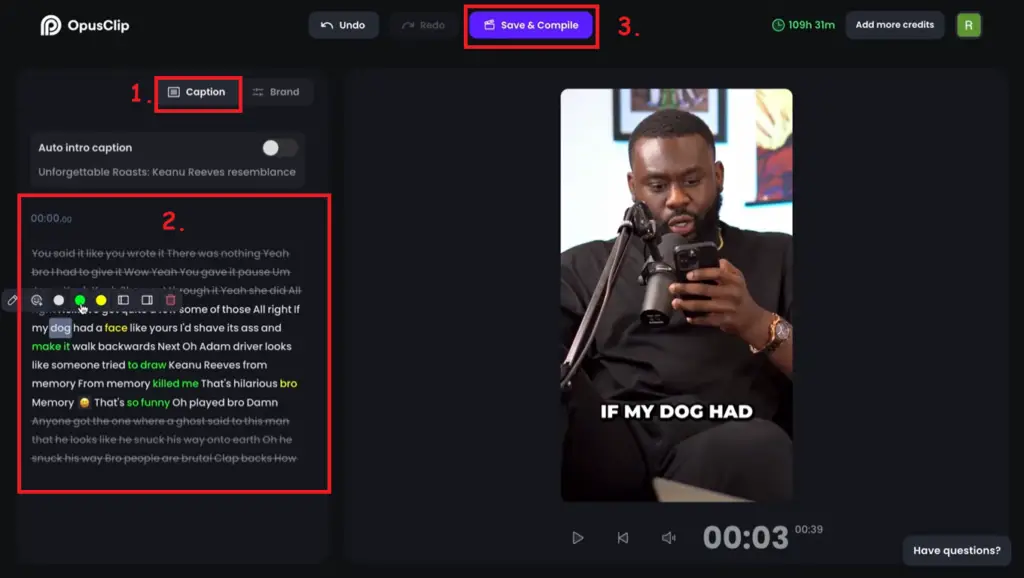 They're the magic words that convey context and emotion.
Dive in, add an auto intro caption (AI-generated, of course), and tweak the transcript.
Typos?
Correct them. Want to highlight a word?
Go for it. Add an emoji for that extra touch of personality!
Step 7: Bring Your Brand to Life
Now, let's talk about brand power. Opus Clip understands that every creator has their own unique style.
Captions, as important as they are, can be dressed up even more. Adjust the number of caption lines, play with positions, and tweak the font style to match your vibe.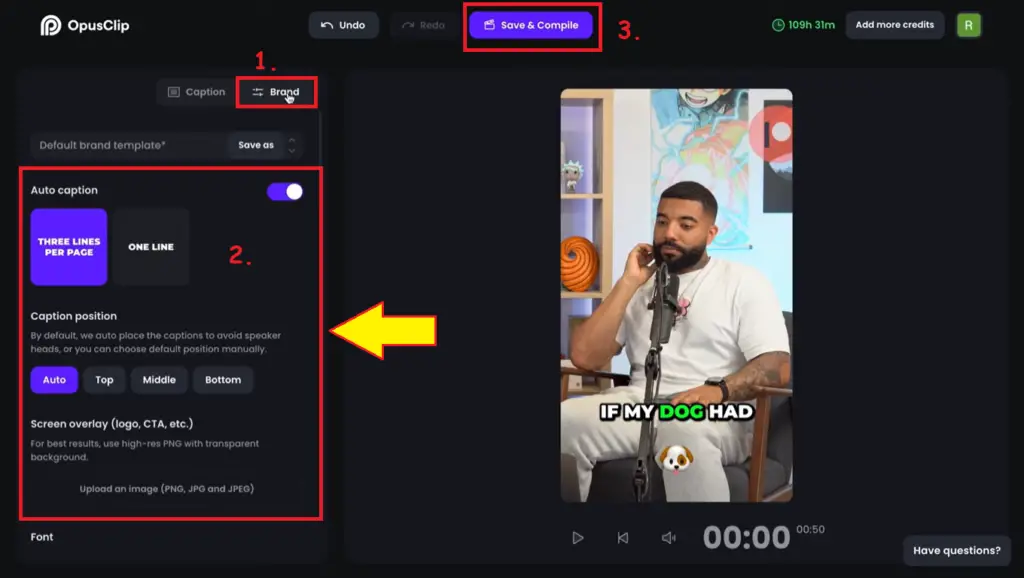 And hey, don't forget to edit your visuals with brand magic.
Upload overlays, and logos, and place them strategically to enhance that visual appeal.
It's all about showcasing your uniqueness.
Step 7: Layout Choices for Visual Excellence
Opus Clip gets it—you want your clips to be visually stunning. That's why they offer layout choices that align with your intentions.
Fit layout, fill layout, split layout—each designed to accentuate your content's strengths.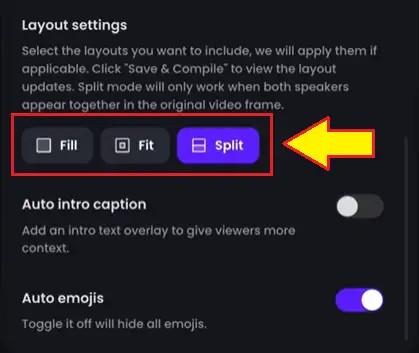 If your video includes screen sharing or you're eager to showcase your original visuals, the fit layout's got your back.
It's a canvas for creativity and the choice of aspect ratio. Yours to make.
Step 9: Saving and Compiling
Now, with everything set up to perfection, it's time for the final step. Click that save and compile button, and watch in wonder as your clip comes to life.
Imagine the impact these clips will have—they're short, sweet, and oh-so-memorable.
Step 9: Download the Opus Clip viral shorts
Here's where the journey truly takes off. Behold your masterpiece!
Each clip is a snippet of brilliance, brimming with the essence of your original video.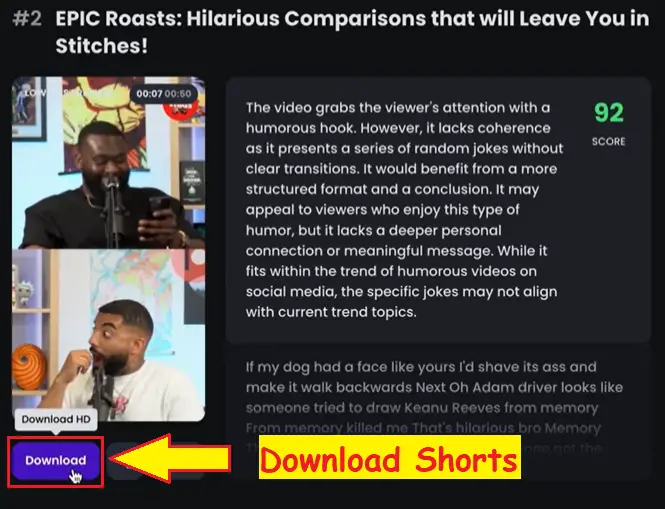 Sharing them is a cakewalk—download the high-resolution clip or connect to your favorite platforms like TikTok, YouTube, Instagram, Twitter, LinkedIn, and Facebook.
The reach is huge, and soon, a one-click post will whisk your clips away to their destined social media platforms.
Explore more Opus Pro AI Tools:
Auto Resizing: Adjust your video to the popular 9:16 ratio while ensuring the speaker takes the spotlight in full-screen glory.
Auto Transition: Opus Pro automatically adds smooth visual and audio transitions to enhance the flow of your clips.
Auto Caption: Boost viewer engagement by up to 45% with accurate captions generated by Opus Pro, capturing 97%+ of spoken content.
1080p Resolution: Enjoy the luxury of high-quality visuals with free 1080p resolution, ensuring your videos look impeccable across all screens.
Multi-language Support: Opus Clip speaks your language—literally! Currently supports German, French, Portuguese, and Spanish, with more languages on the horizon.
Customized Brand Kit: Infuse your videos with brand magic effortlessly. With Opus Pro, you can keep your content on-brand and visually captivating.
Trendy Templates: Promote your videos to professional levels with trendy, pre-designed templates that allow you to craft content swiftly and stylishly.
AI Re-layout: Your speakers always take center stage. Opus Pro intelligently re-layouts your content to ensure the focus remains on your engaging dialogue.
Opus Clip Pro Features:
| Features | Description |
| --- | --- |
| AI Curation (ClipGenius) | The AI dissects your video, picking out the most engaging moments and cleverly arranges them into viral short clips. |
| AI Virality Score | Each clip gets a unique score, reflecting its potential to go viral based on insights from thousands of successful viral videos. |
| AI Co-Pilot | Choose the exact clip timeframe or search for specific segments using keywords, molding the outcome as you desire. |
| Active Speaker Detection | Our AI ensures you and your guest always take the spotlight, keeping faces at the heart of the video frame. |
| AI Keyword Highlighter | This intelligent tool identifies essential keywords in your captions, driving a 65% boost in video watch time on average. |
| AI Emoji Generator | Automatically inserts fitting emojis to accentuate key content, contributing to a 42% increase in views on average. |
In Conclusion:
Opus.pro is a very useful AI tool to create 1 long video to 10 viral clips at 10x faster speed. By turning your long-form videos into shorts and consistently sharing them on social media, you're embarking on a path to faster growth and amplified exposure.
Give Opus Clip a whirl and unlock the potential of your content like never before. Remember, this isn't just about videos; it's about sparking conversations, forging connections, and making your mark in the digital landscape.
Thank you for joining me on this exhilarating Opus pro Review. Opus Clip is all ears—share your dreams, your ideas, and your desires for future features.
Until next time, keep creating, keep innovating, and keep spreading your unique story with Opus Clip by your side!
FAQs:
1. Is Opus Clip pro free?
Opus Clip pro offers a free trial with limited features and a monthly free plan for limited uploads.
Yes, Opus.pro Clip adds captions automatically with high accuracy.
3. Which languages are supported?
Opus Clip supports English, German, French, Portuguese, and Spanish.
4. What video types work best?
Opus Clip excels with talking videos, such as podcasts, reviews, educational content, and more.
5. Can Opus Clip boost virality?
Absolutely, Opus Clip enhances the potential for viral content with AI insights and a Virality Score™.