Are you a teacher looking for ways to save time on lesson planning, creating engaging materials, and grading assignments? Today, In this Almanack AI tutorial, we're going to introduce you to a fantastic tool that can help smoothen your teaching process and give you more time to interact with your students.
Almanack.ai is here to simplify your life and we'll show you how to make the most of it.
What is Almanack AI?
Almanack AI is an invaluable tool for educators, offering a seamless and time-saving solution for lesson planning and course material generation. Additionally, Almanack AI's grading assistant feature smoothens the assessment process, providing detailed feedback and allowing educators to prioritize effective instruction.
Whether it's creating worksheets, quizzes, tests, or incorporating relevant videos and interactive activities, Almanack AI empowers educators to enhance their teaching methods and boost student engagement.
How to use Almanack AI Tool?
Firstly, you'll need to go to Almanack.ai and log in with your free account. Once you're in, you'll see a range of features on the left panel, and we're going to start with lesson planning.
Plan a Course
Click on the "Plan a Course" button.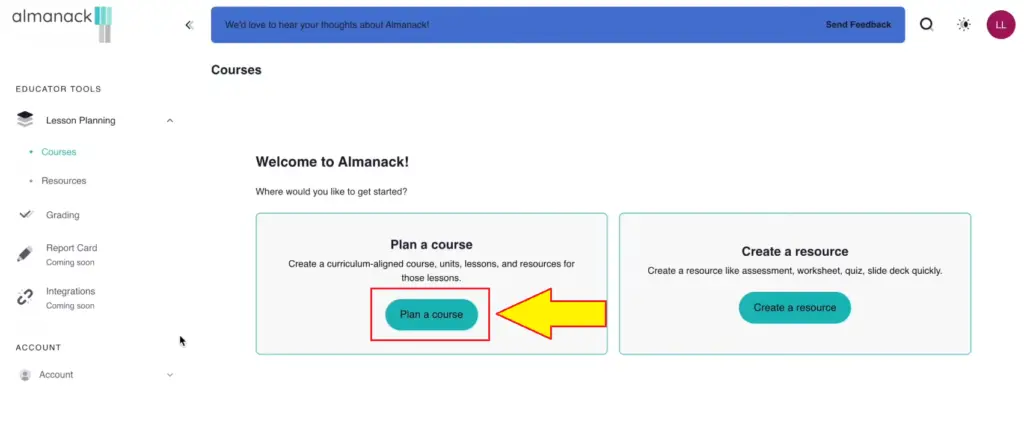 You can choose between using a standardized curriculum or adding your own.
Select the curriculum that suits your needs. For example, if you're a chemistry teacher, find the relevant course.

Add Units
Now, let's break down the process step by step.
Click on the course you've selected.
You can either manually add units or use AI to suggest units.
AI-generated units can be moved around or deleted as needed.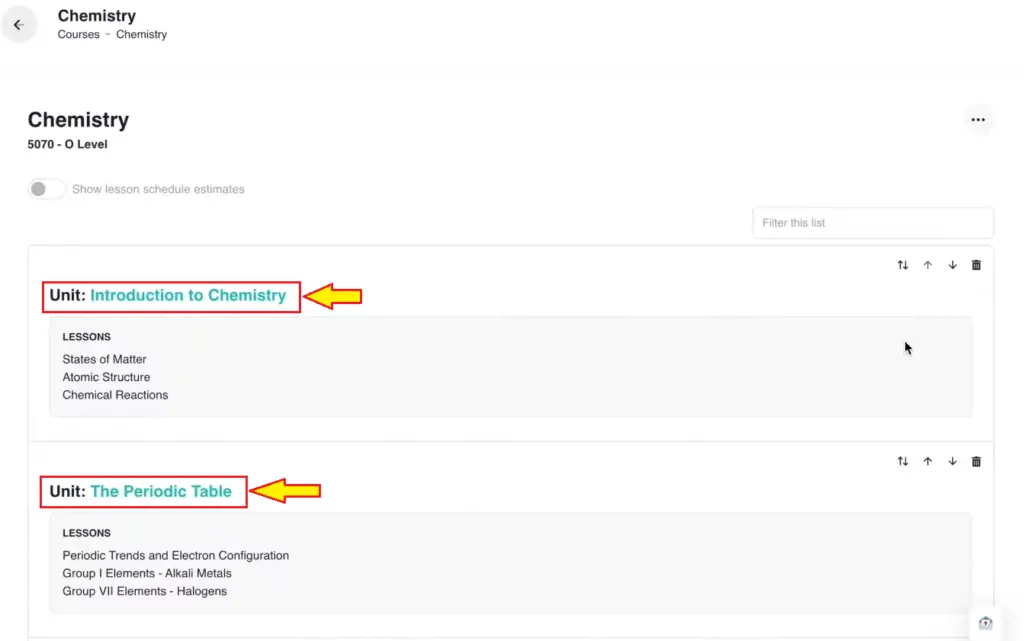 Add Lessons
Within each unit, you can add lessons. Here's how:
Click on the unit name in teal.
Review the lessons and modify the learning outcomes as necessary.
Almanack even lets you create your own learning resources for these lessons.
Create Resources
Almanack offers various resources for your lessons. These include common resources and AI-suggested resources tailored to the subject matter.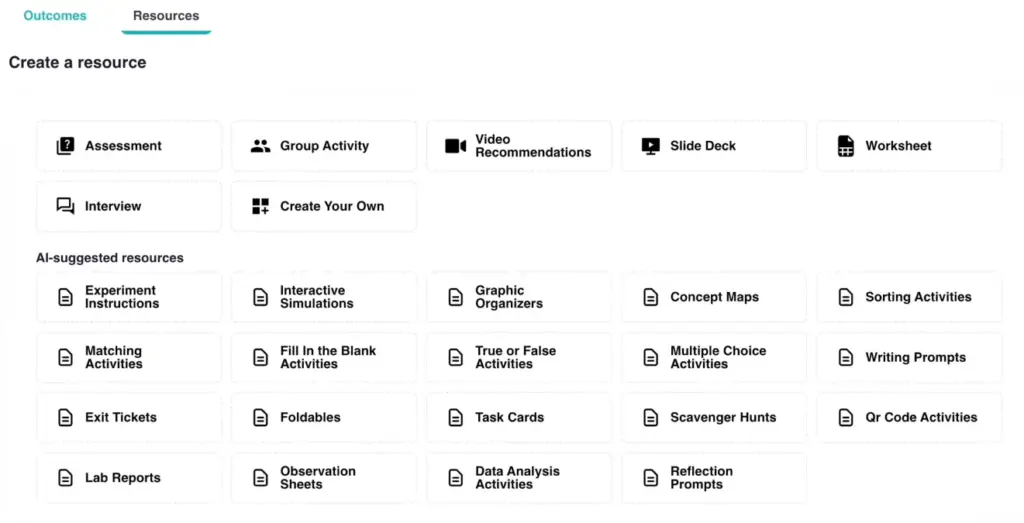 For example, for a chemistry lesson, you might find resources for experiments, data analysis, activities, and interactive simulations.
Create Lab Experiment
Let's create a lab experiment as an example:
Choose whether to base it on the learning outcomes or your own resources.
Add specific instructions as needed.
Click "Create," and Almanack generates a comprehensive lab experiment for you.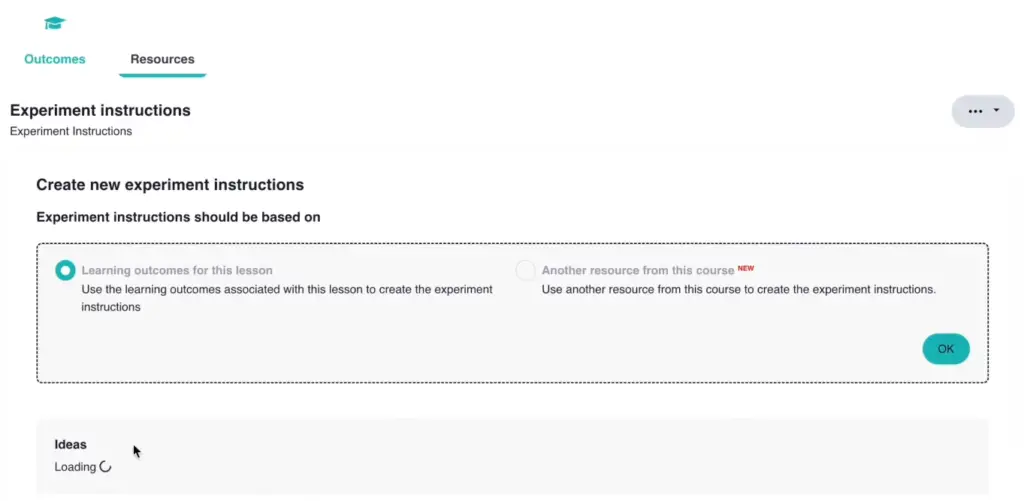 Lab Experiment Overview
This generated lab experiment covers objectives, materials, procedures, observation charts, discussion questions, and key vocabulary. You can export it as a PDF, Google Doc, or Microsoft Word document.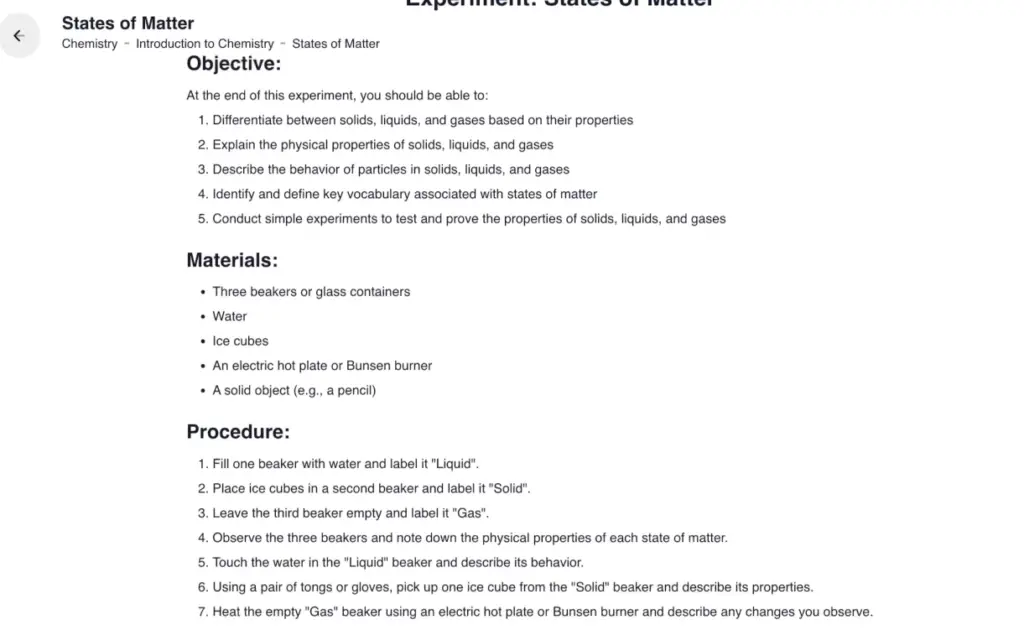 Video Recommendations
If you're looking for educational videos related to your lesson, Almanack makes it easy:
Click on "Video Recommendations."
Browse a selection of high-quality videos to include in your curriculum.
Create a Slide Deck
Preparing a slide deck for your lesson? Almanack can help with that too:
Click "Create."
Almanack will generate a formatted slide deck.
You can add more slides as needed, change images, and customize it to suit your teaching style.
Create a Worksheet
Creating worksheets has never been easier. You can customize them based on what you're covering in class and your student's interests.
Here's how:
Select the type of questions you want (e.g., multiple-choice, short answers, labelling).
Customize the worksheet by adding specific questions or instructions.
Click "Create" to generate your custom worksheet.
Export Worksheets
You can export the worksheet in various formats, including PDF, Google Docs, or Microsoft Word documents.
Schedule your lessons
Almanack allows you to schedule your lessons conveniently. Here's how:
Toggle the scheduling option at the top.
Input your start date and meeting times.
Almanack will automatically schedule your lessons according to your preferences.
Add More Courses
If you teach multiple subjects or grade levels, you can easily add more courses. For example:
Select another course you want to add.
Use AI to suggest units.
Customize the resources to suit your lesson plan.
Reference Past Resources
Accessing your past resources is a breeze:
Click on the "Resource" button on the left panel.
Find all your resources neatly organized in one place.
Grading Feature
Now, let's explore one of the most impressive features of Almanack—the grading feature. It simplifies the grading process for essays and assignments.
Uploading Your Document
Upload the document you want to grade.
Input your rubric or specific grading instructions.
Get Feedback
Click "Get Feedback."
Almanack will generate feedback based on your rubric.
Review the strengths and areas for improvement, and provide additional comments.
Spelling Errors
Almanack even highlights spelling errors for you, making it easier to spot and correct them.
Almanack AI Features:
Lesson Planning: Create dynamic lessons and course materials with AI recommendations.
Grading Assistant: Save time on grading with detailed feedback.
Curriculum Integration: Align with various curricula for a comprehensive learning experience.
Worksheets: Generate new worksheets from curricula or lecture notes.
Quizzes and Tests: Create original quizzes and tests quickly.
Video Recommendations: Access relevant videos to enhance lessons.
Slide Decks: Easily compile informative slide presentations.
Group Activities: Foster student engagement with interactive group activities.
Interviews: Formulate interview questions to assess students verbally.
Final Words on Almanack AI
In conclusion, Almanack.ai is a powerful tool that can transform your teaching experience. It simplifies lesson planning, resource creation, scheduling, and grading.
We hope you found this tutorial helpful. To get started with Almanack.ai, simply visit Almanack.ai.