Creating formative assessments and quizzes for students is a challenging task for teachers. If you're a teacher then this article is going to boost your productivity to the next level.
This Conker AI tool for teachers looking to enhance their teaching methods and engage students effectivley.
In this article, we'll explore how Conker AI, an innovative platform using AI to simplify the process of generating formative assessments and quizzes for educators.
Exploring Conker AI
Conker is an educational platform designed to empower teachers. It's worth noting that Conker is developed by the same team behind Mote Technologies which is another popular educational tool.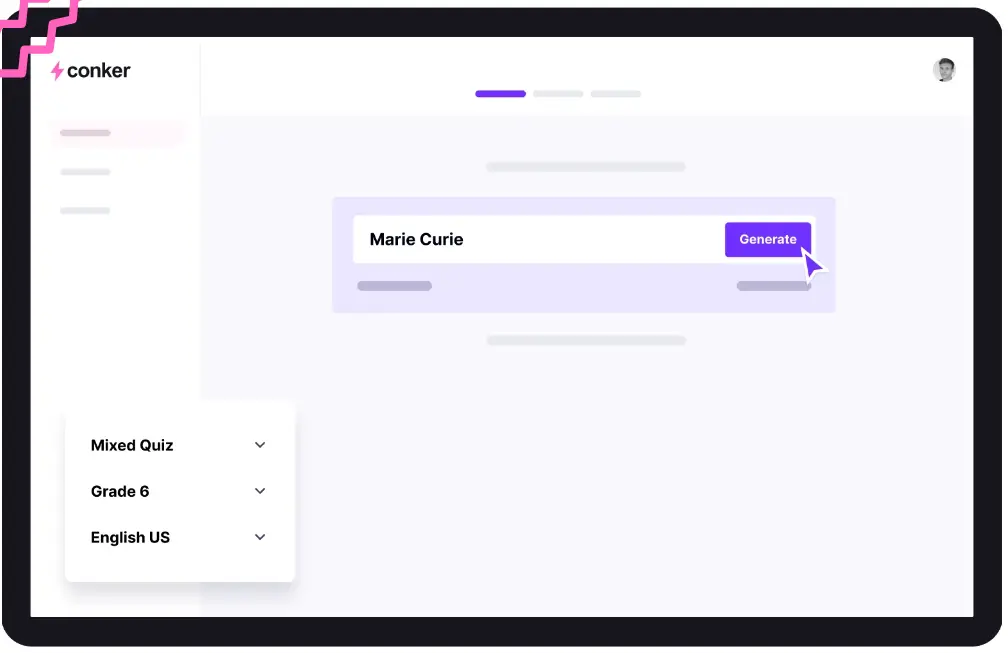 Conker's primary goal is to smoothens the creation of formative assessments and quizzes while making the process efficient and accessible for educators.
What is Conker AI exactly?
Conker AI is a customizable quiz-making platform that allows educators to create and customize quizzes to match their students' needs.
It offers a wide variety of question types, integrates with learning management systems like Canvas, and provides accessibility support.
How to generate quiz using Conker AI?
Visit Conker.ai and you'll notice two main sections: "Topic Idea" and "Reading Materials." Let's begin by exploring the "Topic Idea" section and discover how Conker can assist teachers in generating quizzes.
Topic Idea: Generating Quizzes with AI
Conker AI employs the power of AI to swiftly generate quizzes and formative assessments on a wide range of subjects.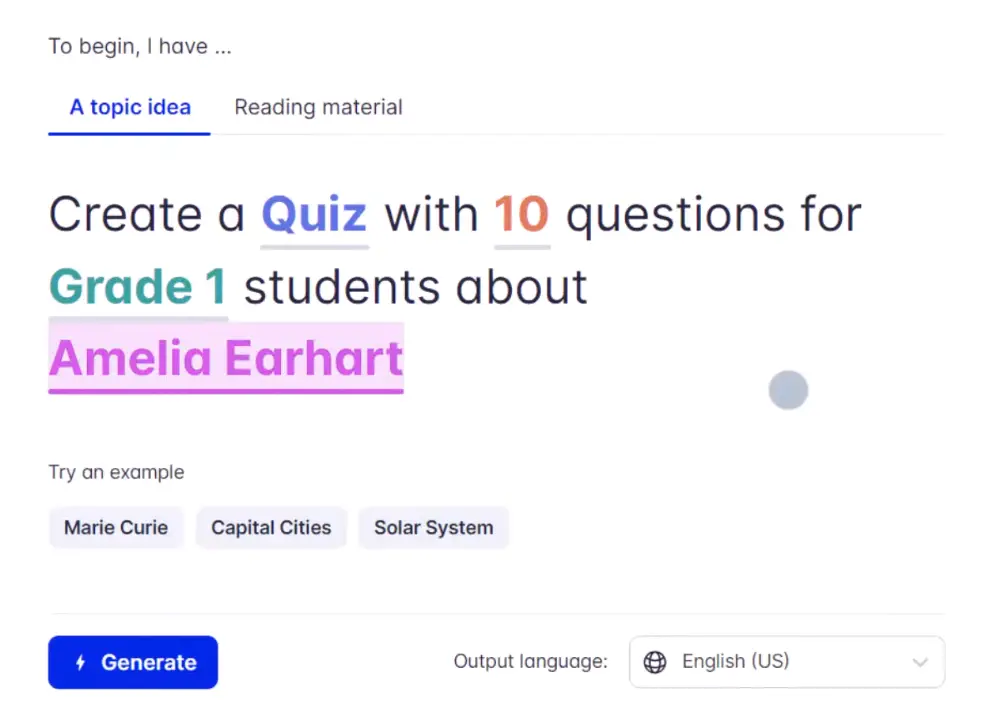 To get started, simply input your desired topic. Let's take a practical example by creating a quiz related to "Amelia Earhart" for grade one students.
Start by choosing the number of questions you'd like in your quiz. For this demonstration, we'll select ten questions.
Next, enter the topic you want to create the quiz about, which in our case is "Amelia Earhart."
Conker will instantly generate ten questions related to Amelia Earhart. These questions cover various aspects of the subject, such as favorite color, country of origin, and nicknames.
Now that you have the generated questions, you can further customize them to suit your needs.
You can manually edit the questions, change answers, and even modify the provided feedback for each question. This customization ensures that the quiz aligns perfectly with your teaching objectives.
Previewing and Sharing Your Quiz
Before sharing the quiz with your students, it's essential to preview it to ensure everything is in order. Conker allows you to do this seamlessly within the platform.
Moreover, Conker AI offers a unique feature—text-to-speech—that can be beneficial to students. It provides an audio option, making the quiz accessible to a broader range of learners.
Once you're satisfied with your quiz, you have multiple options for sharing it:
Assign Within Conker: You can assign the quiz directly within the Conker platform, making it accessible to your students through their Conker accounts.
Export to Google Forms: If you prefer using Google Forms, Conker allows you to export your quiz directly to this popular platform. This integration simplifies the process of sharing assessments with your students.
Print Answer and Question Sheets: If you prefer a more traditional approach, Conker offers the option to print answer and question sheets. This can be useful for in-class activities or assessments where students manually mark each other's work.
Analyzing Student Performance
After your students have completed the quiz, you can easily assess their performance and gain insights into their understanding of the subject matter.
Conker provides a comprehensive breakdown of results, allowing you to identify areas where students excelled and areas where they may need additional support.
Exploring Other Assessment Types
Quizzes are just one type of formative assessment that Conker can generate using AI. The platform offers additional assessment formats to suit your teaching needs.
1. Fill in the Blanks
If you want to test your students' knowledge by having them fill in the blanks in a given text, Conker makes this task hassle-free. You can select a passage or paragraph, and Conker will automatically generate a fill-in-the-blank assessment.
2. Read and Respond
For more advanced students, Conker offers the option to create "Read and Respond" assessments. This type of assessment is particularly useful for testing comprehension and critical thinking skills.
You provide a text, and Conker AI generates questions based on that text. This approach encourages students to read, analyze, and respond to the provided material.
Customizing Language Preferences
Conker recognizes the importance of accommodating diverse language preferences. The platform allows you to easily switch between language options, making it accessible to educators worldwide.
Whether you prefer US English, UK English, or another language, Conker's flexibility ensures a smooth user experience.
Conker AI Features:
| Feature | Description |
| --- | --- |
| AI-Powered | Conker AI is used to create unique quizzes with engaging question types, making quiz creation effortless. |
| Customizable | Customize quizzes to match student needs and differentiate between learner groups within your class. |
| Standards-Aligned | Access thousands of K12 standards-aligned assessments, including NGSS and TEKS, using Conker's free quiz maker. |
| Accommodations | All Conker quizzes offer integrated read-aloud functionality for improved accessibility, ensuring inclusivity. |
| Varied Question Types | Easily export Conker quizzes to Google Forms or share them directly from Canvas LMS, supporting various question formats. |
| Integrations | Conker AI integrates with different learning environments, providing a wide range of question types for stimulating assessments. |
Conclusion:
In conclusion, Conker is a powerful educational AI tool to creation of formative assessments and quizzes. It is offering various assessment types, customization options, and language preferences, Conker empowers educators to engage students effectively in the learning process.
Latest AI tutorials: