In this step-by-step guide, we will walk you through how to use Decktopus AI which is an AI-powered presentation creator. Decktopus AI is a productivity software that simplifies the process of creating relevant and engaging presentations.
With just a few clicks and by providing some context, you can create professional presentations quickly.
Let's dive right in!
How to download Decktopus AI PPT?
1. Open Your Web Browser
Open any web browser Google Chrome, Edge, etc.
2. Search for "Decktopus"
In the search bar, type "Decktopus AI" and press Enter. Click on the first link in the search results to access the Decktopus website.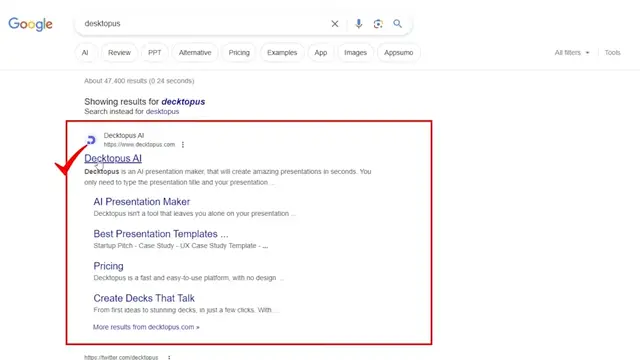 3. Create an Account
Before you can start using Decktopus AI, you need to create an account.
Click on "Get Started" to initiate the account creation process. You can log in using your Google account for convenience.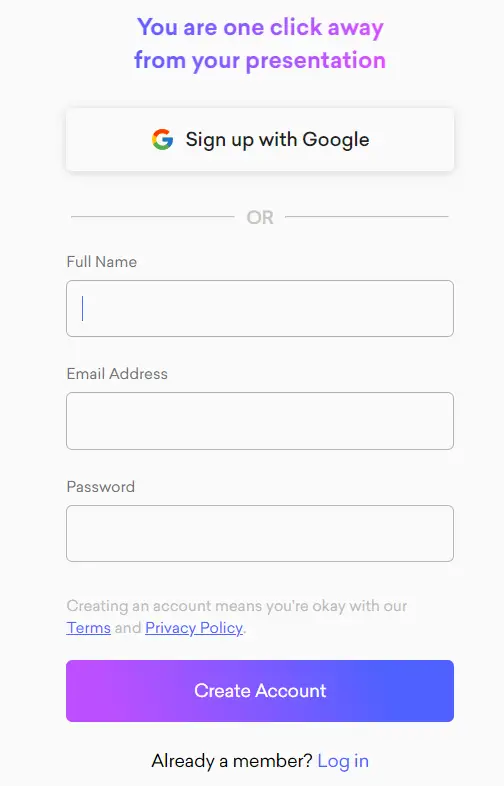 Creating a Topic
Now that you have an account, let's create a presentation:
4. Choose a Template or Start from Scratch
Decktopus AI offers two options to start your presentation: using a template or starting from scratch.

5. Enter Your Topic
Provide the topic for your presentation. In the video, the topic is "Difference Between Scalar and Vector Quantities." This step sets the foundation for your presentation's content.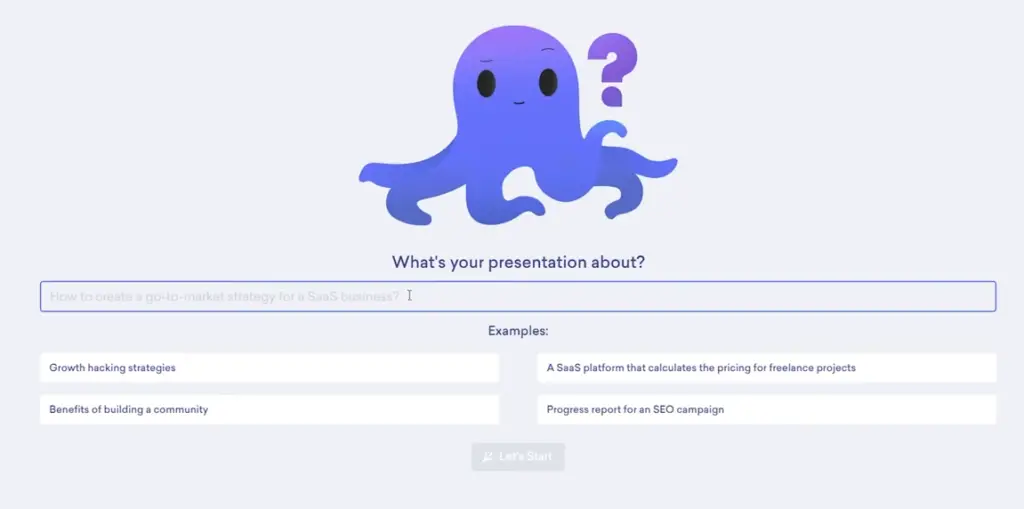 6. Define Your Audience
Decktopus AI will ask about your audience. This is crucial for tailoring the presentation. In the video, "Professionals in Aviation and Navigation" is chosen as the target audience.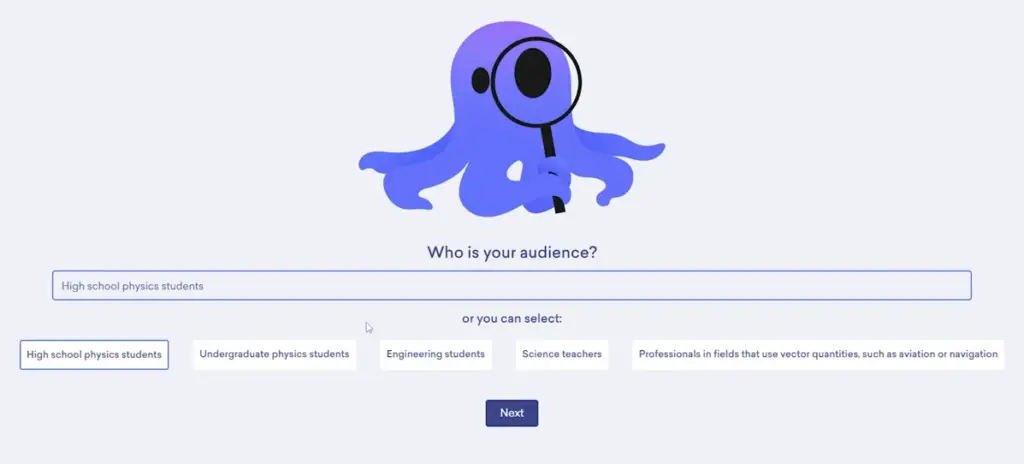 7. Specify Your Presentation's Objective
State your presentation's objective. You can select from predefined objectives or write your own. In the video, the objective is to "Educate professionals in aviation and navigation about the fundamental difference between scalar and vector quantities."
8. Set Presentation Duration
Choose the duration of your presentation. "40 minutes" is selected to allow ample time for a detailed presentation.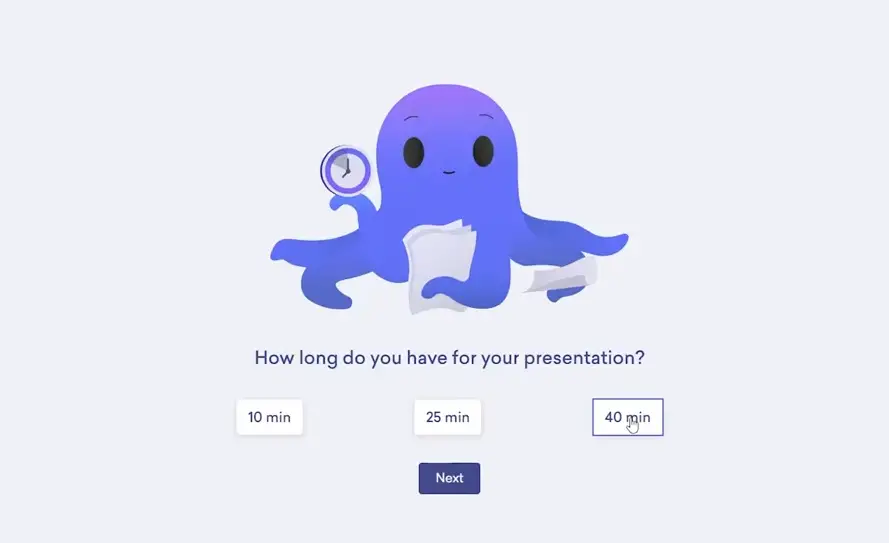 Result
Decktopus AI will now generate a presentation based on the information you provided:
9. Select a Template
You can choose from various templates to define the visual style of your presentation.
10. Review Your Presentation
Decktopus generates a presentation with slides and content tailored to your topic and objectives. Review the content to ensure it meets your requirements.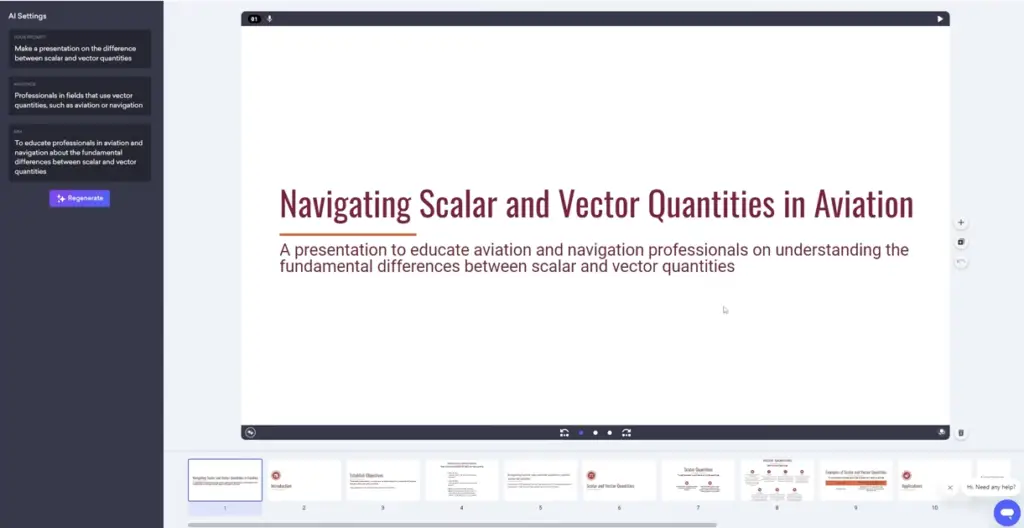 11. Customize Your Presentation
Edit, add images, and fine-tune your presentation as needed. You have the flexibility to make adjustments to fit your preferences.
12. Choose Your Style
Decktopus offers different styles for your presentation, allowing you to select the one that suits your theme and branding.
Decktopus AI Use Cases:
Sales Professionals
Sales professionals can use Decktopus AI to create visually appealing sales presentations. It enables them to quickly showcase products, services, and value propositions to potential clients.
Marketing Managers
Marketing managers can use Decktopus to create marketing collateral, including pitch decks, campaign presentations, and product launches.
It smoothens the process of conveying marketing strategies and results to both internal teams and external stakeholders.
Account Executives
Account executives can benefit from Decktopus AI by simplifying the creation of account-specific presentations.
Whether it's a quarterly business review or a proposal for upselling, Decktopus ensures that account executives have professional and relevant materials at their fingertips.
Business Development Representatives (BDRs)
BDRs can enhance their outreach efforts with personalized and visually engaging materials.
Decktopus AI allows them to create persuasive email attachments or documents that capture the attention of potential clients and set the stage for productive discussions.
Founders
Founders can use Decktopus to craft impactful investor pitches and startup presentations.
It helps founders communicate their vision, business plans, and key metrics effectively, increasing the chances of securing funding and partnerships.
Agencies
Agencies can streamline their client communication by using Decktopus AI to create client proposals, project updates, and campaign reports. It enables agencies to maintain a consistent and professional brand image across all client interactions.
Webinars & Conferences
Decktopus AI is a valuable tool for organizing webinars and conference presentations.
Speakers can easily create engaging slide decks that keep attendees focused on the content, enhancing the overall webinar or conference experience.
Customer Support & Success Executives
Customer support and success executives can use Decktopus to prepare training materials, onboarding presentations, and customer success reports.
Vocal Decks
Decktopus AI also offers a unique feature known as "Vocal Decks." This feature allows users to add voiceovers to their presentations, making them more engaging and interactive.
Vocal Decks are particularly useful for online courses, tutorials, and remote presentations.
Conclusion
Decktopus is a powerful AI-powered presentation creator that simplifies the process of making engaging and relevant presentations. By following this step-by-step guide, you can efficiently create presentations that captivate your audience.
Decktopus AI offers both free and premium plans, giving you the flexibility to choose the option that best suits your needs.
If you found this guide helpful and informative, please consider reading our latest AI Tutorials: