The Artguru AI Face Swap tool allows you to effortlessly swap faces, and it's completely free and doesn't require any account creation or sign-up. This tool simplifies the face-swapping process for users, whether it's with celebrities, anime characters, art, cartoons, or any other face style.
All you need to do is upload your source image and the image of the face you want to swap. Today, I'll walk you through a step-by-step guide on how to master face swaps using Artguru.ai.
Artguru.ai is a website that simplifies the process, making it accessible to everyone.
What is ArtGuru AI?
Artguru AI is an online platform that uses AI to provide a variety of creative tools for users. It offers a range of AI-powered features, including text-to-image generation, photo-to-art transformation, avatar creation, face swapping, background removal, portrait enhancement, and character generation.
Artguru AI is used to easily enhance, manipulate, and create visual content, making it a valuable resource for both individuals and businesses seeking creative solutions.
Artguru AI Features:
Text-to-Image AI Generator: You can transform text descriptions into AI-generated images, allowing you to visualize concepts and ideas effortlessly.
Photo to AI Art Generator: Convert your photos into stunning AI-generated artworks, exploring different artistic styles and effects.
AI Avatar Generator: Create personalized AI avatars from your photos, perfect for social media profiles, gaming, or online identities.
Face Swapper: Easily swap faces in photos, leading to humorous and entertaining results that can liven up your social media feed.
AI Background Remover: Effortlessly remove backgrounds from images, helping you isolate subjects and create clean, professional visuals.
How to use the ArtGuru AI Face Swap Tool?
Alright, let's dive right in. Here's how you can get started with Artguru.ai:
1. Visit Artguru.ai Face Swap page
Firstly go to Artguru.ai Face swap and Click on Face Swap.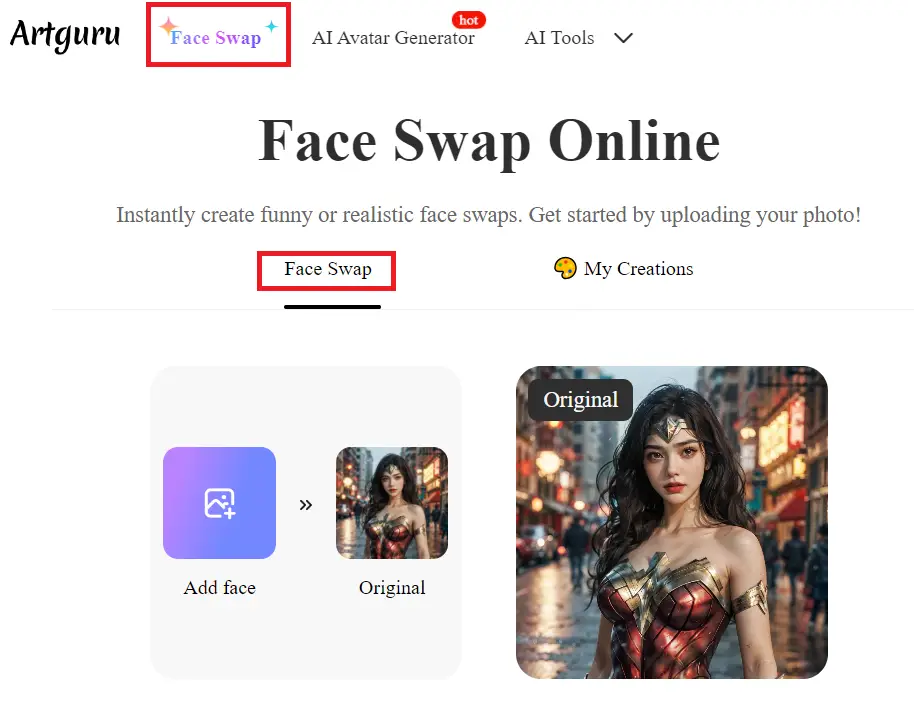 2. No Sign-Up Required
You don't even need to create an account if you're just dipping your toes into face-swapping. You can start right away without any hassle.
3. Sample Faces
On the website, you'll find a bunch of sample faces that you can play around with. Just pick any picture you like from the samples.
Let's Get Swapping!
Now, let's get to the fun part – swapping those faces!
Step 1. Click on "Add Face" and upload the source Image
After selecting your desired sample face, click on "Add Face."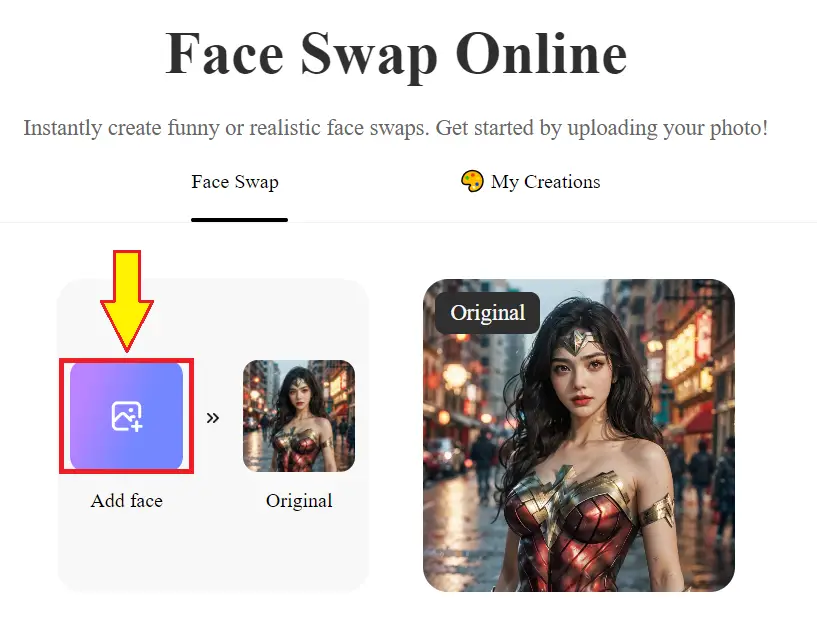 2. Choose Your Picture
Now, it's time to select the picture you want to swap. Just click on the image you want to replace with your face.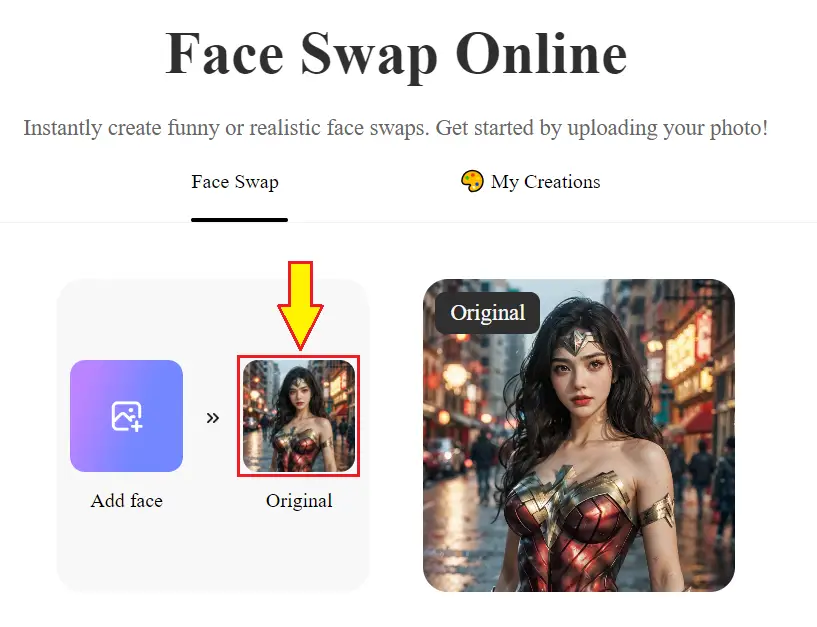 3. Hit "Generate"
Once you've made your selections, click on "Generate."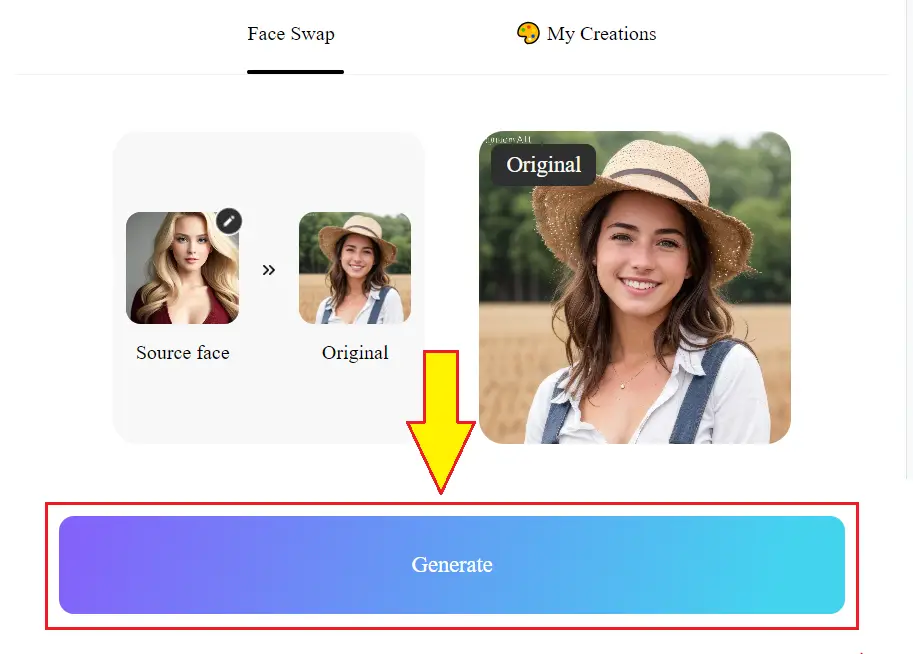 4. Wait for the Result
Artguru.ai will process your request, and in a matter of moments, you'll see the face swap result.
5. Download Your Creation
Now you can easily download your newly created image.
Artguru AI Face Swap Subscription Options:
Now, here's the deal. If you find yourself getting addicted to this face-swapping fun and want to do it more often, Artguru.ai does offer some subscription options:
Weekly: $1.99 per week
Monthly: $5.99 per month
Yearly: $59.99 per year
Troubleshooting Tips
1. Exceeding the Limit
If you happen to exceed the usage limit, you might see a notification. You can simply signing in with your Gmail account can solve this issue.
2. Have Multiple Accounts
Don't forget; that you can use multiple Gmail accounts if you want to keep things free.
Just sign in with another account, and you're good to go.
Artguru AI Tools List:
| Artguru AI Tools | Description |
| --- | --- |
| Text-to-Image AI Generator | Converts text descriptions into AI-generated images. |
| Photo to AI Art Generator | Transforms photos into artistic AI-generated art. |
| AI Avatar Generator | Creates personalized AI avatars from your photos. |
| Face Swapper | Swaps face in photos with ease for results. |
| AI Background Remover | Effortlessly removes backgrounds from images. |
| AI Portrait Generator | Generates AI-enhanced portrait images. |
| AI Profile Picture Generator | Tailors AI-generated profile pictures for users. |
| AI Headshot Generator | Creates professional headshots with AI. |
| AI Face Generator | Generates realistic AI faces for various uses. |
| AI Character Generator | Crafts unique AI-generated characters and personas. |
| AI Painting Generator | Transforms photos into AI-generated paintings. |
| AI Cartoon Generator | Converts images into AI-generated cartoon artwork. |
| AI Anime Generator | Generates anime-style illustrations from images. |
| AI Furry Art Generator | Creates furry-themed AI artwork and characters. |
| AI Pokemon Generator | Generates unique AI-rendered Pokemon characters. |
| AI Tattoo Generator | Simulates AI-generated tattoo designs on images. |
Experiment Away!
Now that you know the basics, feel free to experiment with as many pictures as you like. Want to see your face on Superman's body?
Or perhaps, you'd like to swap faces with a famous celebrity?
Artguru AI Face Swap Alternatives:
Conclusion
Artguru AI is all in one image editing or AI image generator tool. In this step-by-step guide to mastering face swaps with Artguru.ai. It's an incredibly fun and easy way to create memorable images.
FAQs:
Artguru AI is an online platform that uses artificial intelligence to offer creative tools such as image generation, photo transformation, and avatar creation.
2. Is Artguru AI free to use?
Artguru AI offers some free features, but it also provides subscription options for additional benefits and unrestricted usage.
3. How do I swap faces using Artguru AI?
To swap faces, select a sample face and the image you want to swap, click "Generate," and download the result.
4. Can I use multiple Gmail accounts with Artguru AI to avoid limits?
Yes, you can use different Gmail accounts to continue using Artguru AI if you reach the usage limit.
5. What types of AI-generated content can I create with Artguru AI?
Artguru AI enables you to generate images, portraits, avatars, character illustrations, and even transform photos into various artistic styles like paintings and cartoons.
Latest AI Tutorials: