IdeoGram AI is the latest AI Free Text to Image generator tool recently launched on 22 August. Today here, we're going to explore IdeoGram AI. This AI Tutorial is going to save your time and money by generating Hyper-realistic images in seconds by just writing the prompts only.
Here, I will share the complete process of generating Images by using IdeoGram AI. So, let's begin.
What is IdeoGram AI?
Ideogram AI is a creative text-to-image generation tool that allows users to effortlessly combine text with AI-generated visuals to create stunning and personalized artwork, logos, and designs.
It simplifies the process of adding text to images, making it accessible to a wide range of creative individuals, and offers a platform for users to explore, create, and share their visual creations.
You see, there's something extraordinary about Ideogram AI. It defies the boundaries of what we thought was possible.
While other tools may struggle to put text onto AI-generated images, Ideogram AI does it with breathtaking ease and speed. It's like having a digital Picasso at your fingertips, ready to craft your vision in seconds.
Image Styles
It supports a diverse set of image style tags, including Illustration, Typography, Poster, Photo, 3D Render, Architecture, Fashion, Product, Painting, Vibrant, Portrait Photography, Cinematic, Dark Fantasy, Wildlife Photography, Anime, and Graffiti.
IdeoGram AI Tool Highlights:
| | |
| --- | --- |
| AI Tool | IdeoGram AI |
| Category | Image Generator |
| Feature | Text to Image |
| Launch Date | 22 August 2023 |
| Version | v0.1 |
| Pricing | Free |
How to use IdeoGram AI?
You can follow the below procedure to create images using IdeoGram AI.
Getting Started with Ideogram AI
Now firstly, visit Ideogram.ai. Trust me; it's the only way to start your journey into the world of visual wonder.
IdeoGram Sign up with Google Account
Now, here's the best part – signing up is fast and straightforward. Just a simple click to sign up using your Google account.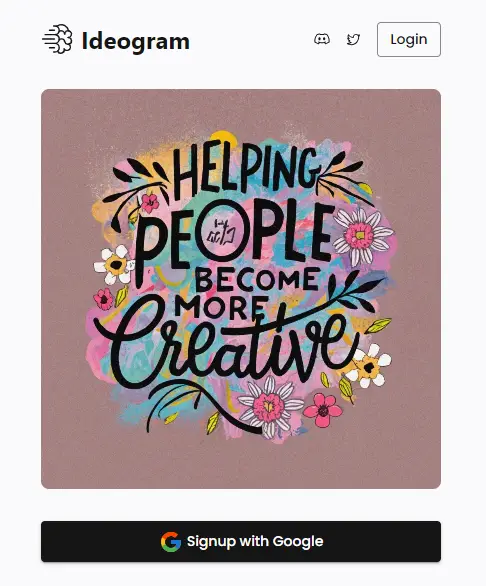 Within moments, you'll have your very own Ideogram AI account, ready to ignite your creativity.
Stepping Inside Ideogram AI
Now, let's step into the heart of Ideogram AI, where the magic truly happens. I'll log in to my account and give you a sneak peek into what lies within.
As you enter Ideogram AI, you'll notice something familiar yet utterly inspiring. You'll discover a world of creations by other talented individuals that will leave you in wonder.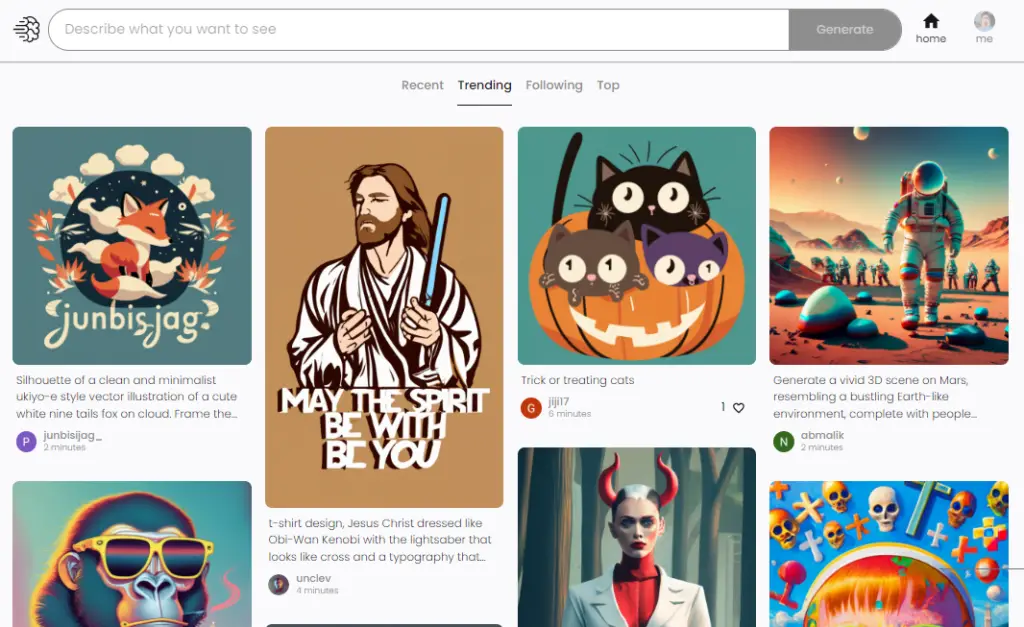 What sets Ideogram AI apart is its sheer simplicity and versatility. Creating stunning visuals is a cakewalk. In just a few seconds, I'll show you how to work your magic with this tool.
Navigating Ideogram AI
Now, let's take a quick tour. At the top, you'll find the latest creations.
Scroll down, and you'll discover trending artworks, giving you a pulse on what's hot in the Ideogram AI community.

Creating Your Image
Creating your artwork with Ideogram AI is a cakewalk. You'll be amazed at the possibilities at your fingertips.
The Art of Crafting Prompts
Now, pay close attention here – crafting the perfect prompt is key. It's the heartbeat of your creation. So, let's dive into a few exciting ways you can utilize Ideogram AI.
Method 1: Simplicity Rules
One method is keeping it simple yet impactful. Imagine you want to convey the message, "Never give up" Just type those words, and let your creativity flow.

Add elements like "stars" and "sky" to give your artwork that celestial touch.
Choose from various styles like typography, graffiti, or cinematic. Set your preferred aspect ratio and hit 'generate.'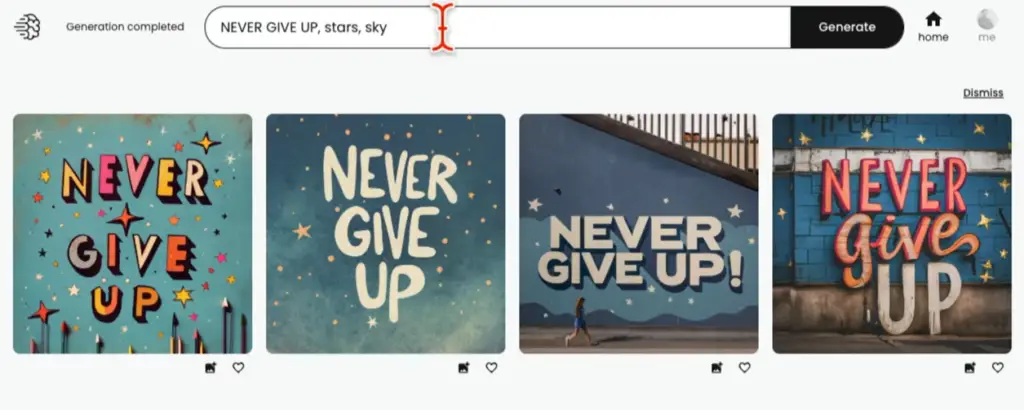 Method 2: Adding a Dash of Detail
But wait, there's more! Ideogram AI offers another approach. Let's say you want to create an image for "Work smart, not hard."
Start with "Text:" to indicate your desired message, and then add your text.

Enhance your prompt with descriptors like "sunrise" and "sky." Experiment with different styles and aspect ratios, and let the AI do its thing.

Method 3: A Touch of Storytelling
But what if you want to narrate a compelling story through your art? Ideogram AI can handle that too.
You can use prompts like "person holding the sign that says" and then add your text – in this case, "Live in the now."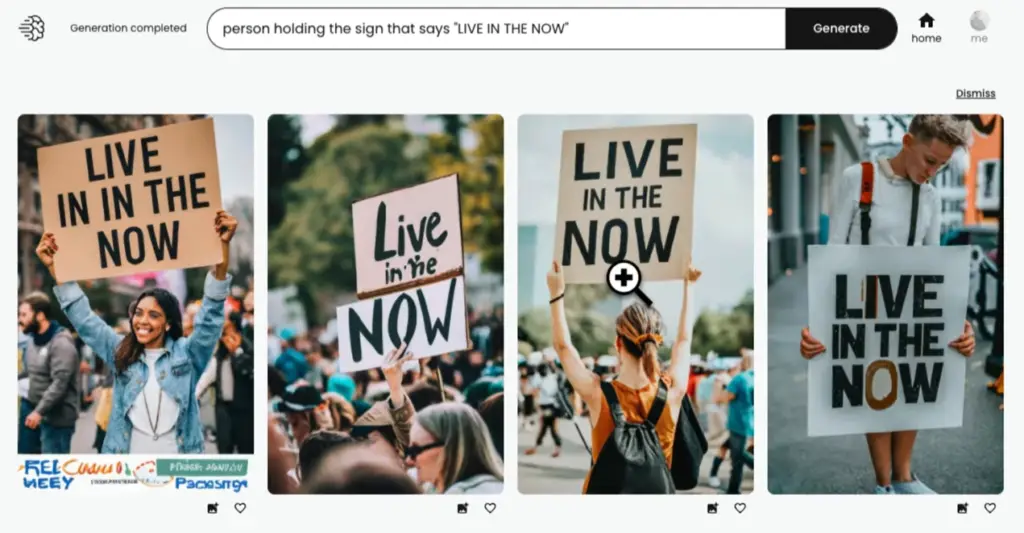 Specify additional details like "sunrise" and "sky." Adjust the style and aspect ratio to your liking, and watch the narrative unfold.
Free Mastery ChatGPT Prompt Engineering
Create Logos using IdeoGram AI
But Ideogram AI isn't limited to text alone. It can also help you create eye-catching logos effortlessly.
Imagine you need a logo for your marketing company, bearing the slogan "Let's do marketing."
Craft your prompt, choose a style, and let Ideogram AI weave its magic.
The Artistic Freedom
Ideogram AI isn't just a tool; it's a digital canvas where your creativity knows no bounds.
Explore, experiment, and push the boundaries of what you can achieve. Every creation you generate is saved under your profile, making it easy to revisit and refine.
IdeoGram AI Features:
| Feature | Description |
| --- | --- |
| Text-to-Image Generation | Generate AI realistic Images just by writing prompts. |
| User-Friendly Interface | Provides very easy interface to use. |
| Provides a very easy interface to use. | Users can choose from a variety of styles such as typography, graffiti, and cinematic to enhance their creations. |
| Aspect Ratio Customization | Ideogram AI allows users to set their preferred aspect ratio to match their specific design needs. |
| Regeneration for Refinement | Users can regenerate their creations to refine details until they achieve the desired result. |
| Creation Saving and Storage | All generated artworks and designs are automatically saved under the user's profile for easy access. |
| Logo Creation | Beyond text, Ideogram AI can assist in crafting professional logos. |
| Randomized Inspiration | Users can opt for the "Lucky Star" feature for random style selection, sparking creative surprises. |
Join IdeoGram AI Community
But Ideogram AI is more than just a tool; it's a community of creators. Follow fellow artists, discover their work, and draw inspiration from their creations.
It's a collaborative space where ideas flourish, and innovation thrives.
IdeoGram AI Alternatives:
Conclusion of IdeoGram AI
Ideogram AI is the new text-to-image generation tool that's turning heads in the digital world. It's not just about creating visuals; it's about crafting experiences, telling stories, and leaving your mark on the digital canvas.
But here's the beauty of Ideogram AI – it's a place of learning and inspiration. You don't just create; you explore.
Click on any creation that piques your interest, and you'll uncover the prompts and instructions that led to that masterpiece.
Visit IdeoGram AI here.
Latest AI Tutorials: