Are you also an artist or content creator and you're creating content for your YouTube channel or Instagram, as you already know how much hard work and time it takes to create content, even if we create content to grow our business. Let's explore.
If you want to create good content by reducing the time and effort to create content, then you can do this work comfortably with the help of AI tools.
Firstly, I have something to show you about how AI tools helping to content creators. Let's take example of some Instagram accounts, that grew very fastly by using AI Tools. Check the followers count in the below images.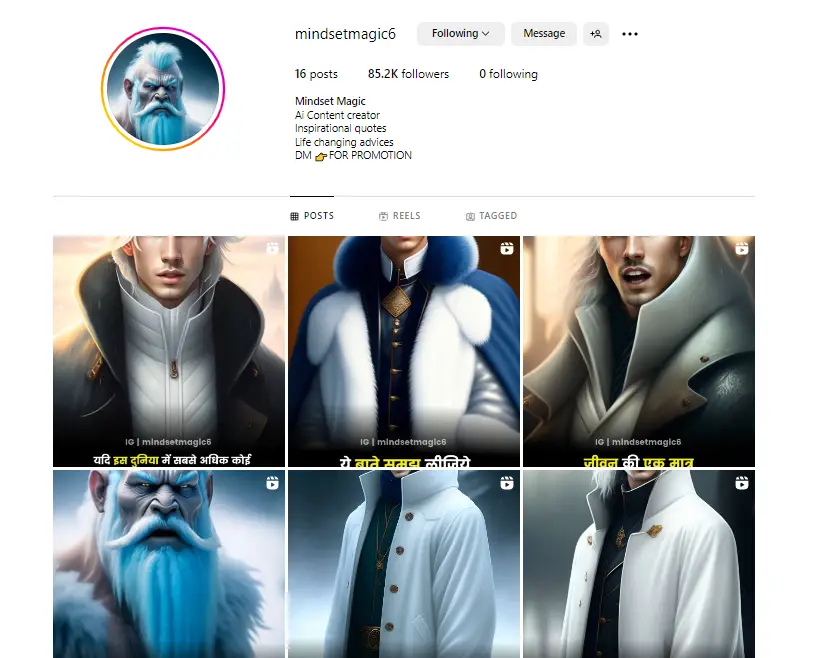 Now you can see clearly that these accounts reached 70k-80k followers by just posting 15 to 20 posts. You can see the potential of using the AI tools. You can also do the same by reading this article to the end.
As we are seeing that AI is being used in many places and there is a lot of trend of AI going on.
So, today I have brought an amazing AI video generation tool for you, with the help of which you can easily create engaging videos to promote your business or showcase your creativity.
The name of this AI tool is Kaiber AI. Kaiber is a video generation engine that allows you to convert your ideas into AI-generated videos using your own images or text description. Kaiber.ai Text to Video is the best AI tool to generate animated content.
Here's what I've created using Kaiber.ai.
In the next post, I will guide you on How you can use Kaiber.ai to create amazing AI videos. Join our Telegram for the latest updates.
If you are also an artist and want to show your creativity to the world, then stay connected with me in this post till the end.
In today's post, I would like to tell you the complete information about the Kaiber AI tool. What is it and how can it help you in creating content?
Kaiber AI Tutorial: How to Use (Full Guide)
I will tell you about all these things in detail in the post.
So let's start with What Actually Kaiber AI is?
What is Kaiber AI?
Kaiber AI is an innovative AI video generation platform that creates amazing videos. It enables users to craft captivating videos effortlessly. Whether you have your own images, audio, or videos, Kaiber AI empowers you to transform them into stunning visual stories.
You can also express your desired outcome through descriptions or utilize the pre-designed styles and prompt templates available. Once you are satisfied with your creation, you can easily download and share it with others.
Post you'll love to Read: Kaiber AI Guide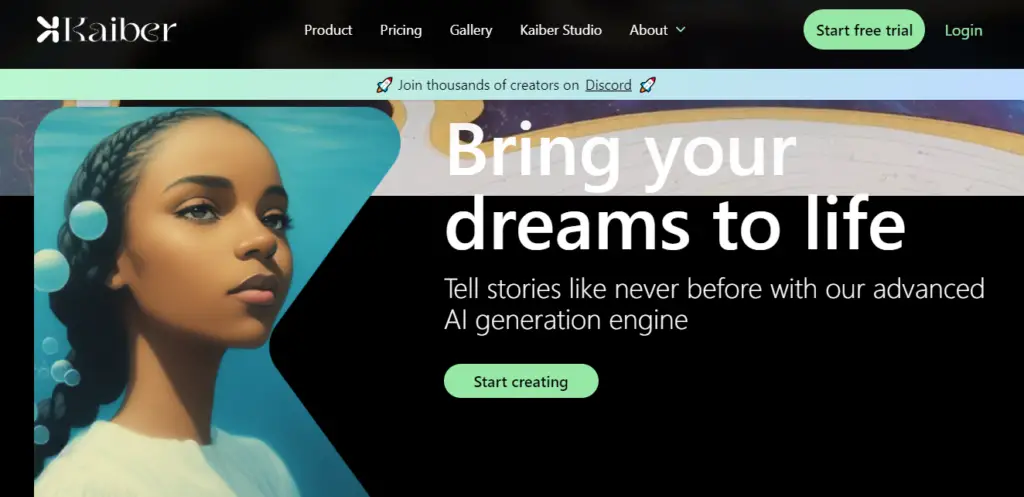 The magic behind Kaiber AI lies in its advanced artificial intelligence technology. This cutting-edge system generates videos of exceptional quality, combining impressive visuals with captivating content.
The best part is that Kaiber AI is designed to be user-friendly, making it accessible to everyone, regardless of their level of expertise.
Kaiber AI is helpful for artists, YouTubers, and content creators to produce outstanding videos without the complexities typically associated with traditional video editing software.
By using Kaiber, you can swiftly and effortlessly create videos that will leave a lasting impression on your audience.
Kaiber AI Founders:
| | |
| --- | --- |
| Co-Founder and CEO | Victor Wang |
| Co-Founder and CTO | Eric Gao |
| Co-Founder and Head of Creative | Jacky Lu |
| Co-Founder and Head of Marketing | Christine Zuniga |
| Head of AI Research | Mariya Vasileva |
| Head of Design | Ede Schweizer |
Alright, Now I am hoping that you've got some idea about Kaiber AI. So, now we're going to our next section to know why Kaiber AI is different from other AI editing software.
Benefits of Using Kaiber AI Video Editor:
The motto of creating any AI tool is to reduce human efforts and Kaiber AI is very good at it. Time and effort are conserved through the utilization of AI technology, allowing for the creation of high-quality videos effortlessly.
Elevate your music, art, or futuristic ideas by incorporating captivating visual narratives.
By using kaiber ai prompts you'll stand out from competitors by employing distinctive and attention-grabbing designs.
You can explore limitless possibilities to discover the ideal style that complements your project perfectly.
This will improve your online presence and engagement by presenting visually appealing content that captivates your audience.
If you're in this section, then I am supposing you're more eager to know more about this Kaiber AI tool.
So, now for whom Kaiber AI will be the best fit? Let's explore.
Kaiber use cases limited only by your creativity:
1. For Musicians:
Kaiber helps you create stunning visuals that enhance the overall impact of your songs, attracting more listeners and leaving a lasting impression. Make your music on Spotify more interesting by adding videos that look really cool.
2. For Artists and Creators:
Discover inspiration and bring your artistic visions to life with Kaiber.
Whether you're a Youtuber, Freelancer, Content Creator, painter, illustrator, or digital artist, Kaiber provides a platform to explore your ideas and transform them into unique and engaging video content.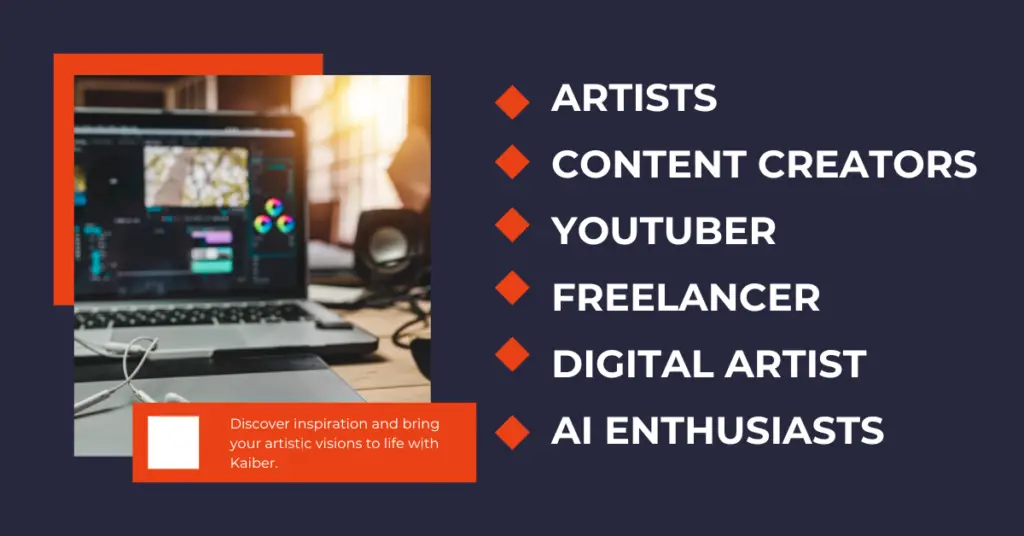 3. For Enthusiasts:
Use your imagination to create amazing videos from your ideas. With Kaiber, you can explore endless possibilities, experiment with different styles, and create visually stunning videos that showcase your creativity and storytelling skills.
Now coming to this part what features Kaiber provides to its users?
Key features of Kaiber.ai:
AI Capabilities and Quality of Output: Kaiber AI utilizes advanced AI technology to produce high-quality video output. With its AI capabilities, it generates visually stunning and engaging videos that captivate viewers, leaving a lasting impression.
Customization Options: Kaiber AI provides a wide range of customization options to create your videos according to your preferences. From choosing different styles, templates, songs, music, and visual elements to creating your own media assets.
Kaiber.ai offers flexibility to create unique and personalized video content.
Availability: Kaiber AI ensures a seamless user experience by providing readily available support. In case you encounter any difficulties or have questions, Kaiber's support team is there to assist you.
Easy To Use: Kaiber AI is designed to be user-friendly, making it accessible to beginners, professionals, and all skill levels. The platform offers intuitive tools and a precise interface, allowing users to navigate and create videos with ease and efficiency.
Unique Functions Offered: Kaiber AI sets itself apart by offering unique functions that enhance the video creation process.
This includes AI-powered editing, automatic transcription, digital avatars, and curated styles, among others. These features enable users to explore new possibilities, experiment, and produce exceptional video content.
Read also: DragGAN AI photo editor
So, Now let's understand how AI is being implemented in Kaiber. If you want you can skip to the next section. Because this section contains some technical things about Kaiber AI.
The Role of AI in Kaiber AI:
Artificial intelligence plays a vital role in video generation by automating various tasks and speeding up processes.
With AI, tasks like transcribing audio and editing videos can be done quickly and efficiently.
This technology also enhances videos by incorporating jump cuts, visual elements, and special effects, resulting in more captivating content that grabs the attention of viewers.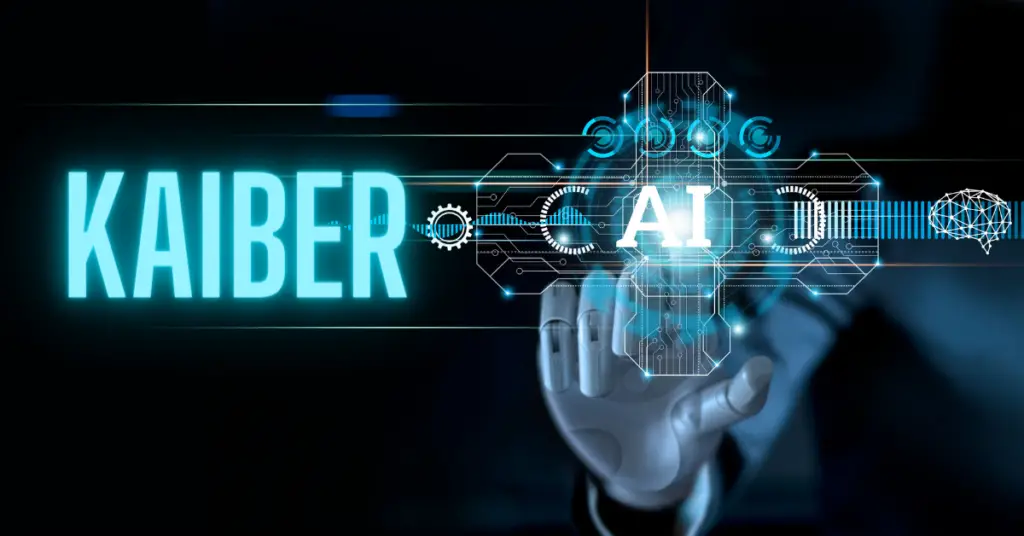 Another significant aspect of AI in Kaiber is the creation of digital avatars. Users have access to a vast library of body types and can choose and customize characters according to their preferences.
They can even assign voices to these avatars, resulting in personalized experiences for audiences. This technology transforms the way individuals produce captivating visual content.
I want to tell you that Kaiber AI is not free. It's a premium tool but they're offering a 7-day free trial.
Kaiber AI Subscription and Availability:
Kaiber is accessible to everyone, offering a range of subscription options to suit your individual requirements: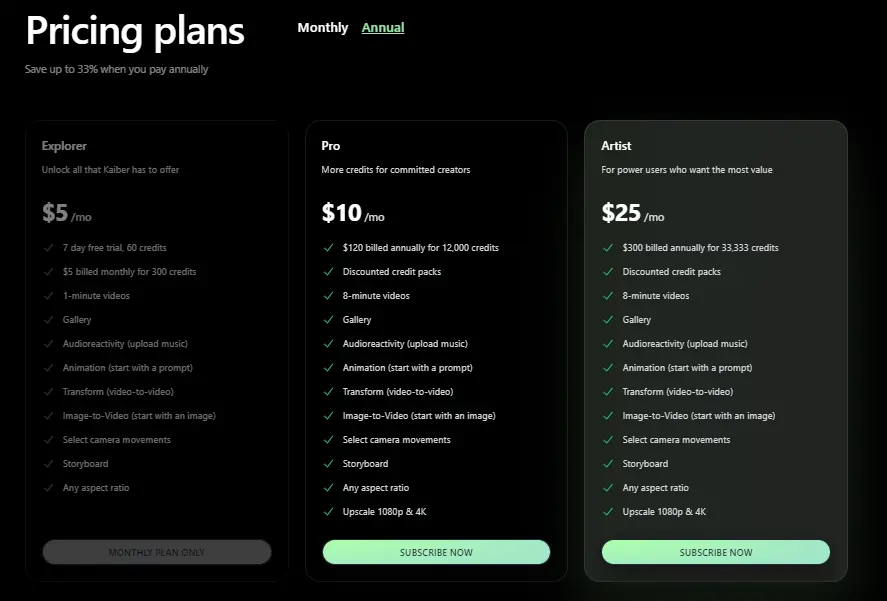 Explorer Plan:
By paying $5 each month, you can access the Explorer Plan and have 300 credits to use on the platform. This plan is perfect for those starting their video creation journey or seeking occasional use.
Pro Plan:
Upgrade to the Pro Plan for $15 each month to enhance your video creations. The plan includes 12,000 credits and is perfect for users who need additional resources and wish to create high-quality videos as professionals.
Artist Plan:
The Artist Plan costs $30 per month and gives you 33,333 credits to use for your creative projects, giving you the opportunity to freely express your artistic ideas.
These pricing options ensure that Kaiber caters to a wide range of users, from beginners to professionals.
Kaiber AI Tutorial: How to Use (Full Guide)
So, now this is the ending part of this post Kaiber AI where I explained about Kaiber AI Tool in detail. If you have any questions or queries drop a comment. Otherwise, you can directly contact me.
Join Our Telegram There I will share how you can use Kaiber AI freely.
Read Also about DragGAN AI:
FAQs:
1. How does Kaiber AI differentiate itself from other AI editing software?
Kaiber AI stands out by offering several unique features that enhance the video creation process. It provides AI-powered editing, automatic transcription, digital avatars, and curated styles, among others.
2. Who can benefit from using Kaiber AI?
Kaiber.ai is useful for people who want to create impressive videos. This includes artists, content creators, YouTubers, musicians, and anyone who is passionate about producing high-quality videos.
3. Is Kaiber AI offering any Free Trial?
Yes, Kaiber AI is offering its 7-day free trial.
4. What are the pricing options for Kaiber AI?
Explorer Plan is available for $5 per month
Pro Plan, priced at $15 per month
Artist Plan, costing $30 per month
5. What customization options does Kaiber AI provide?
Users can choose from different styles, templates, songs, music, and visual elements.
6. How can I use Kaiber Credits?
Kaiber Credits are used to access and perform different actions on the Kaiber platform. These actions include creating videos, utilizing specific features or tools, and customizing your video content.
7. Who Should Use Kaiber?
An Artist
Youtuber
Video Creator
AI Enthusiast
Video editing lover
8. What problem does Kaiber AI solve?
Kaiber.ai reduces the manual effort of complex video editing processes. It eliminates the need for extensive knowledge of video editing software and streamlines the creation of professional-quality videos.
9. Kaiber AI is free or Paid?
Kaiber AI is a paid AI Tool. But Kaiber offers a 7-Day Free Trial to its subscribers.