Hey content creators, As In my previous post, I provided you with the complete details about Kaiber.AI Tool, and how Kaiber AI helps YouTubers, content creators, or digital artists in creating visual AI content.
And in today's post of Kaiber AI Guide, I am going to tell you how you can make amazing AI animation videos or any kind of transformation videos using Kaiber AI. As you already know editing or creating a video is not a simple task.
For Instance, to edit any 5-minute video it takes about 30 minutes to an hour. Spending hours to make a single video is not easy. So today I am going to reduce your efforts to create AI visual content.
By using various features of Kaiber AI Tool, you can prepare content to grow your YouTube channel or business in just a few clicks.
Whether you are a beginner or a professional, in this post you will come to know how you can convert your idea into great visual content.
Here's Kaiber.ai demo video:
So let's start
Before knowing how to use Kaiber AI, it is very important to know what kind of content you can create with the help of this tool.
Kaiber AI provides a variety of features and tools on its platform, you can create amazing Visual content.
Whether you are a beginner or a professional creator, Kaiber AI's tools help a lot in creating engaging videos.
Read Also: DragGAN AI Apk Download
What you can create using Kaiber.ai?
1. Animation:
With the Animation feature, you can start creating AI videos by simply entering a written prompt or uploading an image.
You can create awesome AI animation videos and post them on social media.
Kaiber's AI technology takes care of the rest, generating a video based on your prompt details. This features saves your time and effort to create your video content.
2. Transforming Videos:
The Transform feature allows you to give your videos a whole new subject or style.
Just provide your source video and prompt, and Kaiber's AI engine will reimagine your videos, transforming them into something unique and exciting.
3. Kaiber.ai Music Video:
Audioreactivity helps you to synchronize your videos with music or audio tracks.
By uploading your own music file, Kaiber's technology dynamically adjusts the video elements to match the beats and rhythm, creating a visually immersive experience.
4. Storyboard:
You can create captivating videos using multiple prompts and media inputs as "scenes."
This framework breaks free from traditional storyboarding approaches, allowing you to bring your narratives to life in a whole new way.
Also, Read about the DragGAN AI photo editor:
5. Adjust Camera Movements:
This feature gives you control over camera movements within your videos.
You can choose specific camera angles, pans, zooms, or rotations to create dynamic and visually appealing video sequences that capture your audience's attention.
You can select different camera movements from:
Zoom In
Zoom Out
Rotate Clockwise
Rotate Counter-Clockwise
Up
Down
Left
Right
6. Upscale Video:
Kaiber.ai offers a tool to upscale the resolution of your videos to 1080p and 4K. This feature improves the quality and sharpness of your video, resulting in visually enhanced videos that look even better.
7. Aspect Ratio Customization:
You can choose any aspect ratio for your videos. Whether you need widescreen displays or vertical-oriented platforms, Kaiber adapts to your desired aspect ratio.
It's allowing you to prepare your content for specific platforms or display preferences.
8. Text-to-Image:
As part of Kaiber's video generation process, you'll receive the option "Preview Frames" which gives you an idea of what your video will look like.
These images are available to download also and not costs any credit, giving you a glimpse of the visual style and direction of your video.
9. Gallery:
In the Kaiber Gallery, you can share your creations, get inspired by others, connect with fellow creators, and refine your prompting skills.
I hope this breakdown of Kaiber AI's features and tools helps you understand what kaiber.ai has to offer.
Now let's explore our next part of How we can use Kaiber AI to create stunning AI videos.
Firstly, I want to tell you one thing Kaiber AI is a premium tool but a 7-day free trial plan is also provided by Kaiber AI, by using this free trial you can explore the tools and features of Kaiber AI.
How to use Kaiber Ai
Step 1: Visit the Website and Create an Account
Start by going to Kaiber.ai's website at kaiber.ai. Creating an account is easy and only takes a few simple steps.
Go to the Kaiber.ai sign-up page.
Enter your email and password.
Verify the password and click on the "Register" button.
Now Open your mailbox and verify your email address.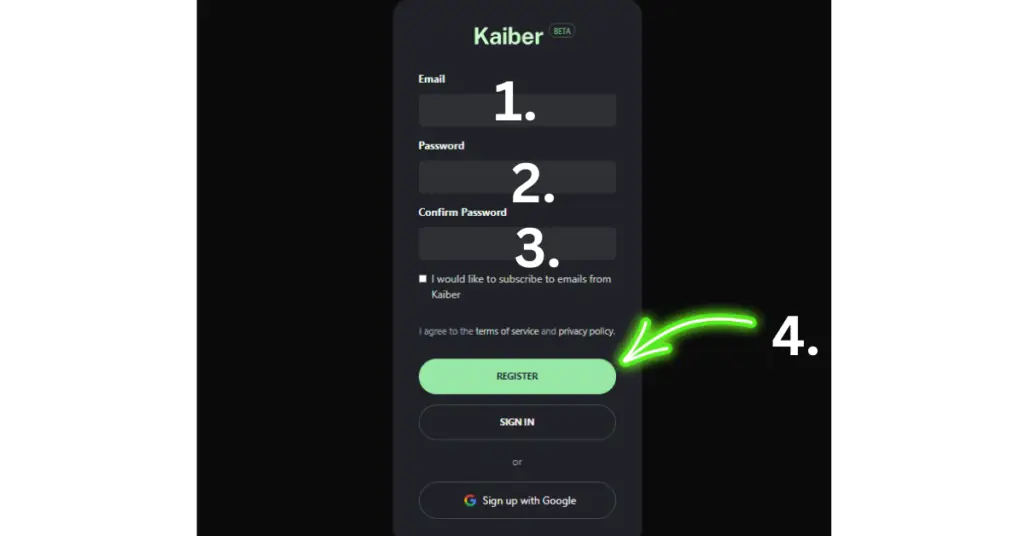 Just provide the necessary information and follow the prompts to set up your account. Once you're finished, you'll gain access to the exciting world of Kaiber.ai.
Read Also: GitHub code of DragGAN AI
Step 2: Sign Up for a Free Trial
As a new user, Kaiber.ai offers you a free trial to explore their platform. This trial allows you to experience firsthand what Kaiber.ai can do. To start the trial, you'll need a valid credit card.
Kaiber AI Login: First login to your kaiber ai dashboard.
Now click on the "Create Your First Video" button.
Now Click on "Start 7-Day Free Trial".
Enter payment details and click on "Start Free Trial".
The trial provides you with enough credits to fully immerse yourself in the platform and get a real sense of its features and capabilities.
By signing up for a Trial plan, You'll receive 60 credits to create amazing videos.
Step 3: Create a Video
Now that you're all set up, it's time to show your creativity to the world.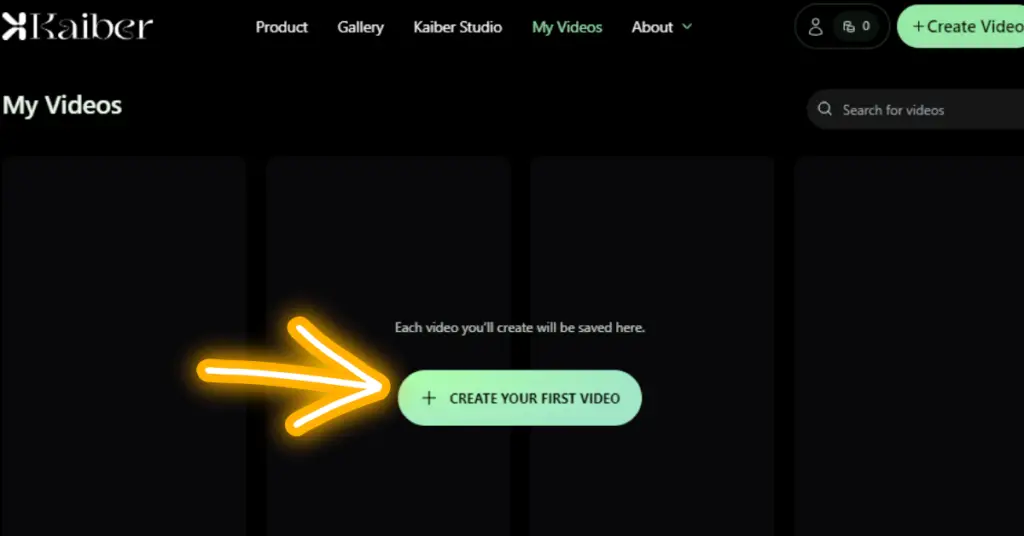 Log in to your Kaiber.ai account and Click on the "Create Video" button. This is where the magic begins. Click on it to start the process of creating your masterpiece.
Step 4: Express Your Creativity
Kaiber.ai gives you various ways to express your creativity.
1. Upload Image:
You can start with an image, a video, or even just a description of your vision.
Upload any high-quality image or video to start using kaiber.ai.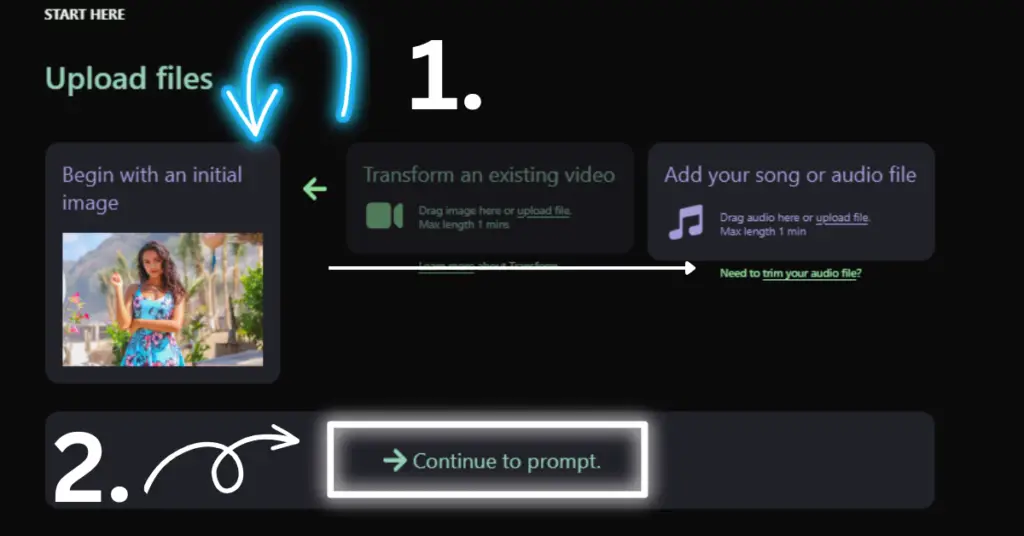 Click on "Continue to Prompt".
2. Kaiber AI Prompt:
Now enter a description of the video or select an idea.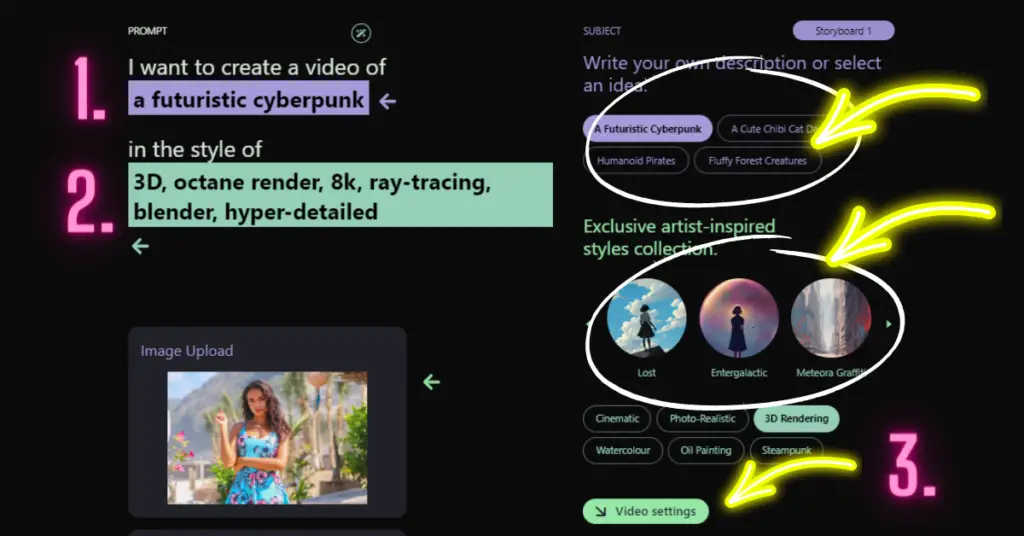 Click on "Video Settings".
3. Video Settings:
Now Select Video duration.
Select Camera Movement and adjust other settings accordingly.
Whether you have a specific concept in mind or want to explore new ideas, Kaiber.ai is ready to bring your imagination to life.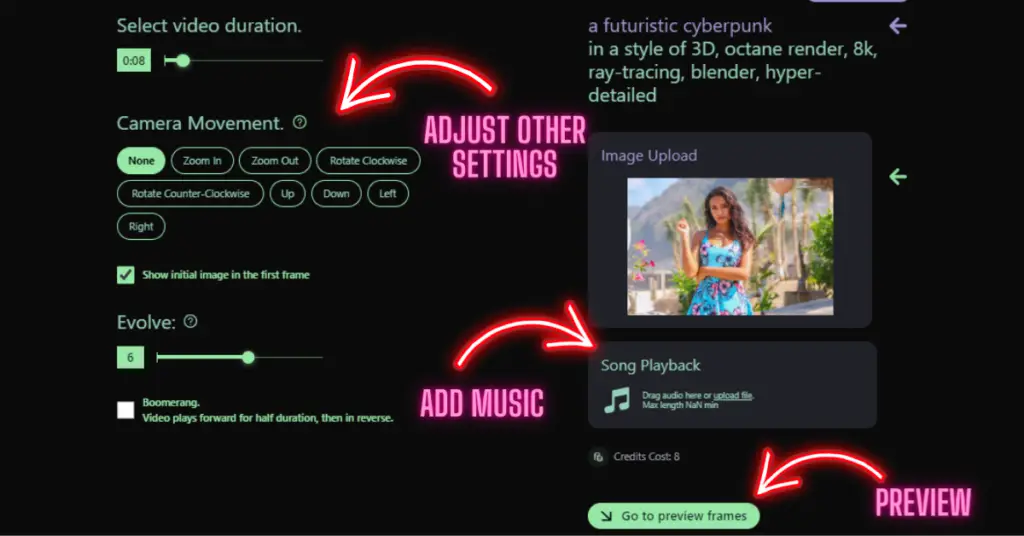 Step 5: Add Audio
Don't forget about the power of audio in enhancing your creations. Kaiber.ai allows you to add captivating soundtracks to your animations.
Click on "Go to preview frames".
By incorporating your own music, you can elevate your visual content and create an immersive experience for your audience. Choose the perfect audio that complements your vision and brings your creation to life.
Step 6: Enhance with Text and Styles
To add a personal touch and influence the AI's creative process, Kaiber.ai lets you include text in your pictures or videos.
This feature allows you to convey messages, tell stories, or provide context to your creations. Additionally, explore the artist-inspired styles offered by Kaiber.ai. These styles can take your visual content to the next level and make it truly unique.
Step 7: Select the Keyframe of your video
Kaiber.ai goes above and beyond to provide you with a range of settings to enhance your creations.
Take advantage of the multiple camera angles feature to add dynamic perspectives and grab your audience's attention.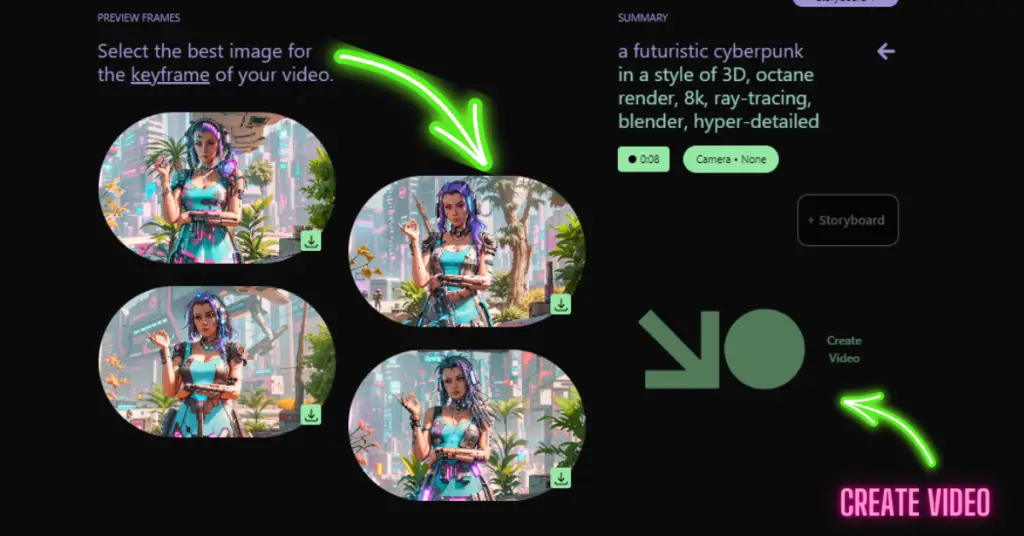 Experiment with creating a storyboard using different styles to give your visual content a multi-dimensional feel. Explore these settings and discover new ways to push the boundaries of your creativity.
At last click on "Create video".
Step 8: Enjoy Creating with Kaiber.ai
Congratulations! You now have a good understanding of the basic steps to use Kaiber.ai and create visually stunning content.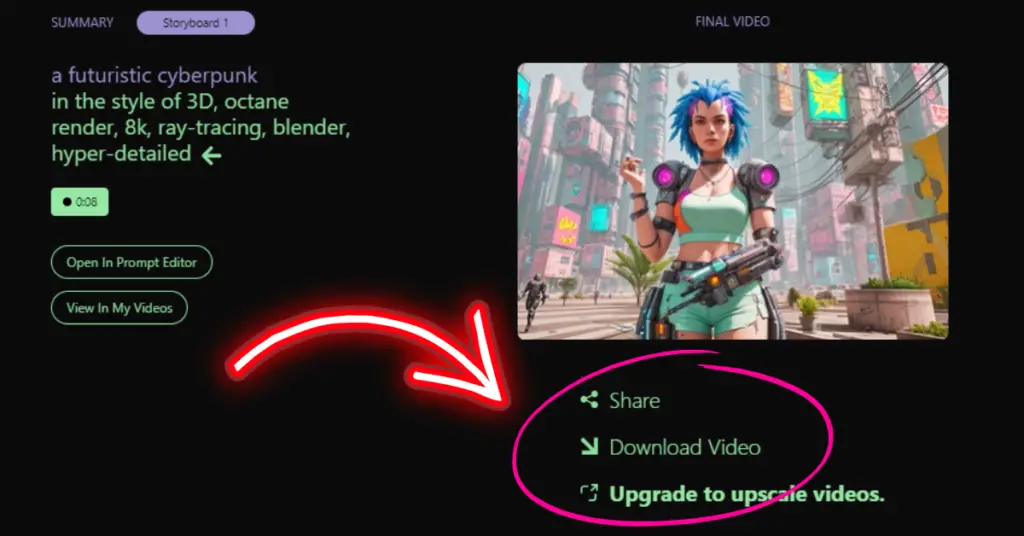 Now you can download it and share it with the world. It's time to let your imagination run wild and watch as Kaiber.ai transforms your ideas into captivating visual masterpieces.
Now I have some tips to maximize your content creation creativity using Kaiber.ai.
Maximizing Kaiber's AI for Incredible Visual Content
Use High-Quality Images and Videos: When creating your visual content with Kaiber AI, start with high-quality images and videos. Using crisp and clear visuals will ensure a polished final product.
Experiment with Templates, Styles, and Effects: Kaiber AI offers a wide range of templates, styles, and effects to explore. Try different combinations and variations to discover new creative directions and find the perfect visual style for your audience.
Create a Visual Story: To create engaging content, the ability to combine different visual elements within Kaiber AI. Mix and match images, videos, text, and effects to craft a cohesive and compelling story. Experiment with transitions and overlays to add depth and complexity to your visuals, enhancing the overall impact of your message.
Regular Update and Refine Your Content: To keep your audience interested and coming back for more, it's essential to continuously update and refine your content. With Kaiber AI, you can easily make adjustments, swap out elements, or create new variations of your visuals. Regularly refreshing your content ensures it stays relevant and maintains your audience's engagement.
Share your story with Others: Collaboration can be a powerful tool in maximizing Kaiber AI's potential. Work with other creators, designers, or colleagues to gain fresh perspectives and ideas. Collaborative efforts can lead to exciting and innovative visual content that captivates your audience.
Now I am finishing this tutorial. I hope you understand how to use the Kaiber.ai platform. For any queries comment below or Join Our Telegram for the latest updates.
Other Latest AI Tools Review and Guide: