Logos are the first and most important identity of your business and brand. There's no need to hire freelancers to create logos for your brand or company. Now, you can design 1000+ logos for free in just seconds.
In this article, we're going to explore the process of creating a free logo using IdeoGram AI. So, let's start on this creative journey together!
Step 1: IdeoGram AI Sign up
Go to IdeoGram AI's official AI Image Generator: ideogram.ai. If you're a new user, Sign up with Google Account.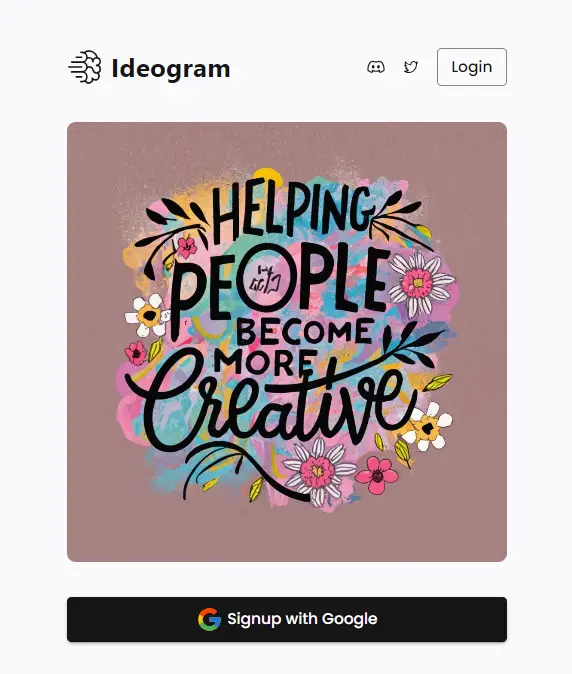 Step 2: Select Any Idea
First, you can Imagine a scenario where you've amazing logo design ideas for your coffee brand, "Foxy Beans Coffee Co."
As a coffee lover, you surely want a logo that captures the customer's attention at first sight.
Step 3: Enter the prompt
You can start by experimenting with keyword variations. Alternatively, You know that Chat GPT can generate some solid name ideas, so you dive right in.

Step 4: Foxy Beans Coffee Co. is Born
As we know, sometimes the simplest ideas are the best. ChatGPT suggests the name "Foxy Beans Coffee Co.," and it resonates with you immediately.

It's catchy, memorable, and embodies the spirit of your coffee business.
Step 5: The Visual Concept
Now comes the exciting part – bringing your brand to life through a logo. This initial concept has a natural flow, like a caffeine-induced brainstorming session.
Step 6: Exploring Styles
As you are already in the logo creation process, you realize that IdeoGram AI offers different styles and colors.

What's incredible is that you can adapt these styles with just the addition of the word "logo."
Step 7: Refining the Details
But why stop there? You can fine-tune your logo by getting more specific. The styles you used for those t-shirts work perfectly here too.
Step 8: The Power of Keywords
Keywords are like the secret sauce of logo design. They hold the power to shape and mold your vision.
Using keywords strategically can make your logo creation process more efficient and effective.
Step 9: Famous Logo Designers
If you want to take your logo to the next level, consider incorporating the styles of famous logo designers.
Their expertise and signature aesthetics can infuse your logo with a touch of professional magic.
Step 10: Adding Color
Choosing the right colors for your logos is a very important step in the making process. IdeoGram AI allows you to explore specific colors and color palettes, ensuring that your logo captures the essence of Foxy Beans Coffee Co.
Step 11: IdeoGram AI Versatility
What's amazing about IdeoGram AI is its versatility. The skills you've acquired in crafting logos can be applied to various design needs – posters, banners, book covers, app icons, coffee mugs, and more.
Final Verdict:
In conclusion, the journey of creating a free logo using IdeoGram AI is a blend of inspiration, creativity, and collaboration. It's about taking a simple idea, infusing it with keywords and style, and letting your imagination run wild.
So, whether you're starting a coffee business or creative art, remember that IdeoGram AI is your trusty companion in the world of design.