Today here, I have a great AI Presentation Maker tool called Gamma.app AI.
In this article, we will explore the AI PPT maker, Gamma.app, which can help you effortlessly create stunning presentations and websites. Whether you're a student, teacher, or content creator, this tool is going to save you a lot of time and energy.
In this step-by-step guide, we'll walk you through the process of creating presentations and websites using AI.
What is Gamma.app?
Gamma.app is your AI-powered content creation and presentation tool. It turns your ideas into polished documents, presentations, and web pages in seconds, so you can focus on your content, not formatting.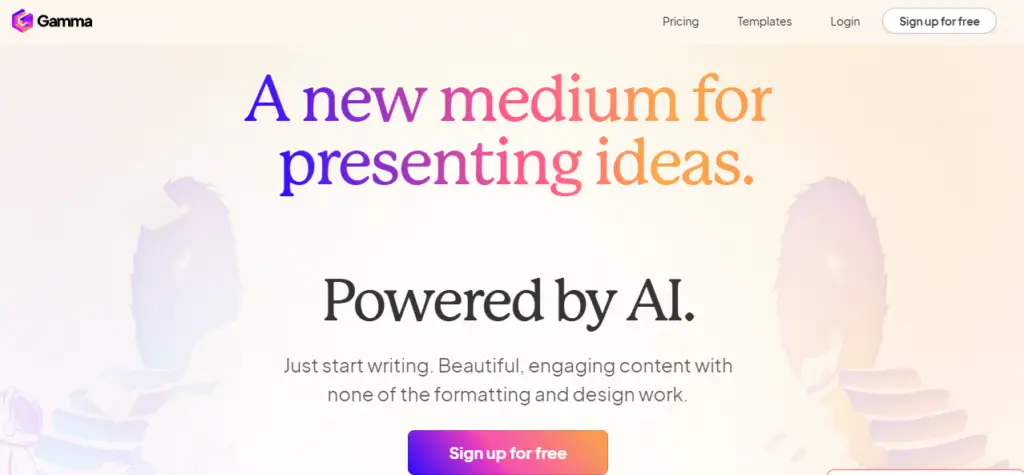 You can even present your work live and easily share it online. It's like having a helpful AI assistant for your creative projects.
How to use Gamma AI to create PPT?
Step 1. Sign Up
Go to the Gamma.app website.
You can choose to log in using your Google account or create a new account.
If you're signing up for the first time, be sure to check your email for a confirmation link and click it to complete the registration process.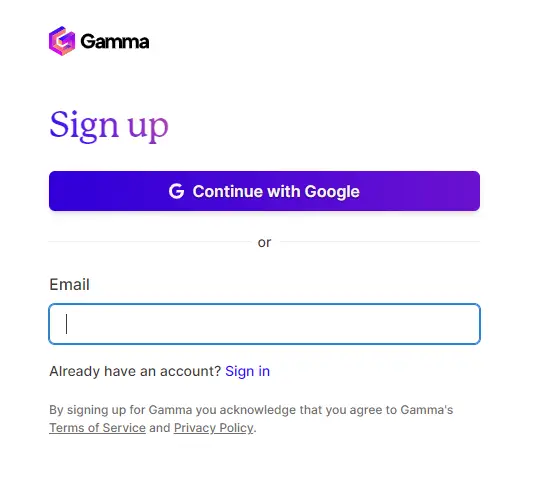 Creating a Presentation
Now, you can create your first presentation: After sign up create your workspace.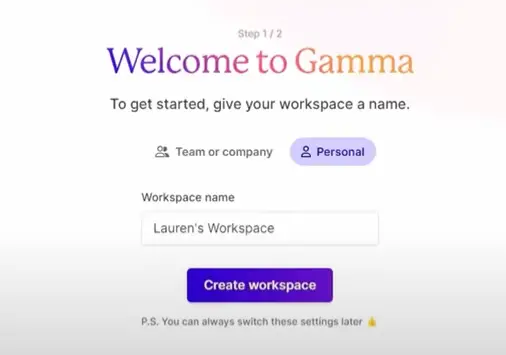 Step 2. Start a New Presentation
Once you're logged in, click on "New with AI" at the top of the screen.
Select "Presentation" from the options provided.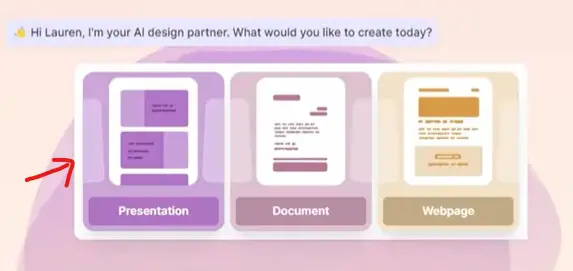 Step 3. Choosing Your Topic
Gamma.app will ask you what you want your presentation to be about. You can enter a topic of your choice.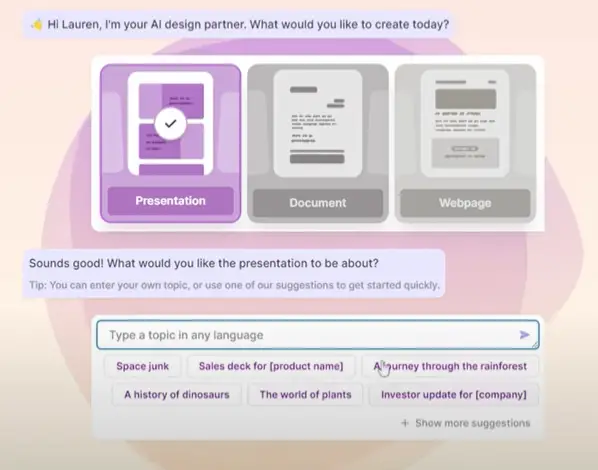 Step 4. Adding Content
You can input relevant keywords or phrases. For example, you can take words from your course book or any other source you'd like to include.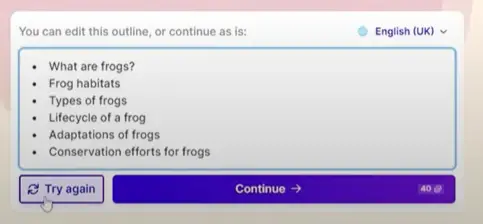 You can continue adding more words and information to refine your presentation's content.
Step 5. Select a Theme
Gamma.app offers a variety of beautiful themes to choose from. Pick the one that best suits your presentation.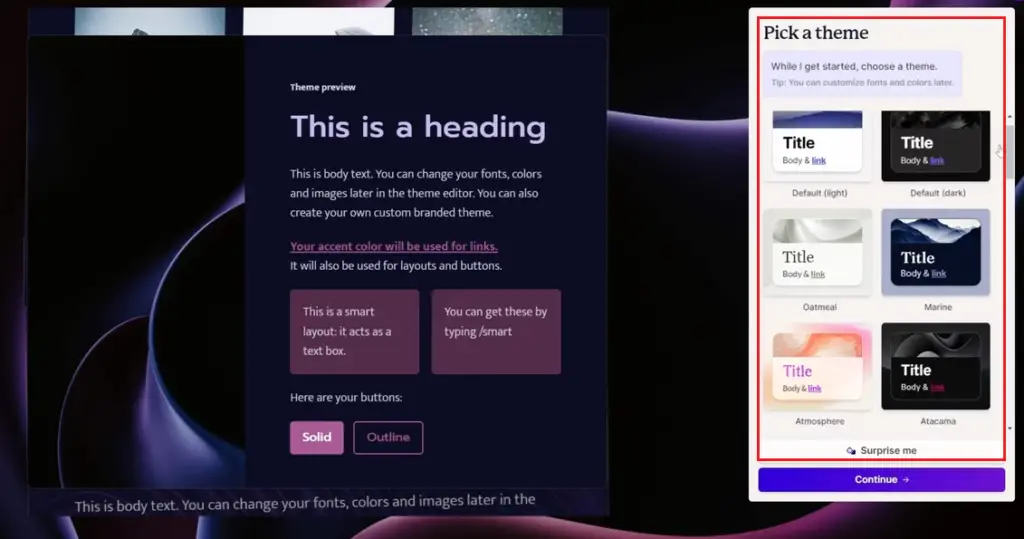 Step 6. Let Gamma.app generate PPT
Click "Continue," and Gamma app will begin processing your input to create a presentation.
7. Review and Edit
You'll be presented with a fully-formed presentation, complete with titles, summaries, and relevant content.
You can read through the slides and edit them as needed. Gamma.app often provides more information than you ask for, which is a great starting point.
Editing Your Presentation With AI
Gamma's AI makes it easy to edit and enhance your presentation.
Click "Edit with AI."
Type in the changes you want to make, and the AI will assist you.

You can make changes to text, images, and more.

If you want to replace an image, type your request and click "Send Request."

You can also ask the AI to suggest new images.

The AI will make the changes for you.
Additionally, you can add your images by clicking "Add Images" and either uploading your own, searching the web, or using free stock images.
Navigating the Dashboard
After creating presentations, you can manage your projects from the dashboard.
Access the Dashboard: Click the home icon in the top left corner.
Explore Templates: Check out ready-made templates for instant use.
Get Inspired: Find creative ideas for your presentations.
Customize Themes: Create your own theme to maintain a consistent style in your presentations.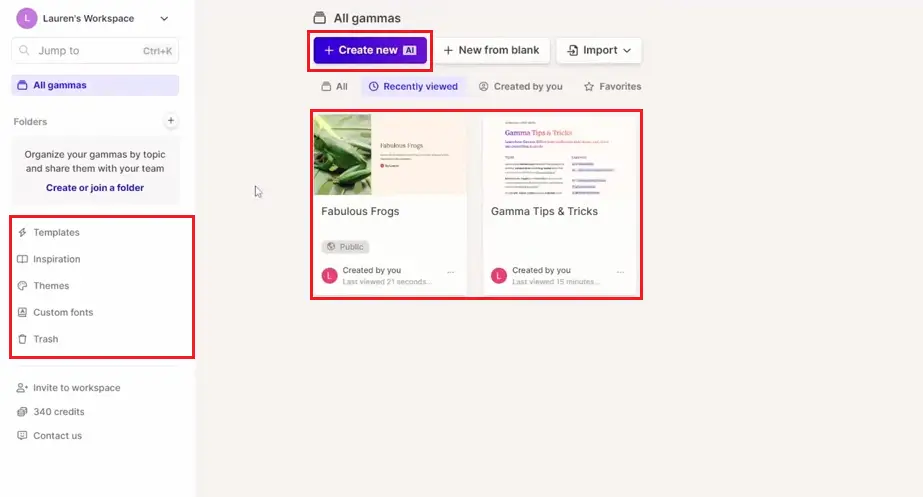 Creating a Website using Gamma AI:
Now, let's explore how you can create a website using Gamma app.
Again, click on "New with AI."
This time, select "Web Page."
Step 2. Choosing a Topic
Input the topic you'd like your website to be about. For example, let's go with "Famous Athletes."
Step 3. Adding Content
Gamma app will suggest a few athletes, but you can edit this list as you see fit. For example, you can add names like "Usain Bolt," "Michael Phelps," "Venus and Serena Williams," and "Wayne Rooney."
Step 4. Select a Theme
Choose a visually appealing theme for your website from the options available.
Step 5. Let Gamma.app Create Your Website
Click "Continue," and Gamma app will start crafting your website. This process might take a minute or two.
Step 6. Preview and Share
You'll receive a beautifully designed website based on your inputs.
You can click on "Present" to preview your website and ensure it meets your expectations.
To share your website, click on the three lines on the side, where you'll find options to navigate different parts of the site.
You can share your website with others by copying the link and even downloading it as a PDF.
Conclusion
Gamma.app is a powerful tool that simplifies the creation of presentations and websites. You can make your presentations and websites more attractive by adding GIFs, videos, and charts.
In summary, Gamma.app offers a user-friendly AI tool for generating presentations and websites with minimal effort.
Latest AI Tutorials: