In this article, I'm thrilled to introduce you to a brand new AI writing tool that I've never discussed on my Blog. It's a Free AI writer called Jenni AI.
If you've been following my posts, you know that I've been cautious about AI writing tools and their role in research paper.
However, Jenni AI caught my attention because it offers a unique way to enhance your research writing without compromising your content.
What is Jenni AI?
Jenni AI is an AI writer assistant that helps you supercharge your research papers, writing essays, literature reviews, personal statements, blog posts, and speeches by providing suggestions and assistance during the writing process.
But here's the twist: I'm not here to tell you that AI can revolutionize research writing.
Instead, I want to show you how to use AI, specifically Jenni AI, to write more efficiently while maintaining your distinctive voice and authenticity.
If you're ready to use Jenni AI, you can even enjoy a 20% discount by using the discount code "GRADSCHOOL" during your purchase.
How to Use Jenni AI?
Step 1: Visit Jenni AI and sign up for a new account
Firstly, you need to open your web browser and just type "Jenni AI" into Google and click on the first search result.
Now on the homepage click on the "Start Writing for Free" button and start your Jenni AI Free Trial plan. Now, you've got choices – sign up with your Google account or with your name, email, and password.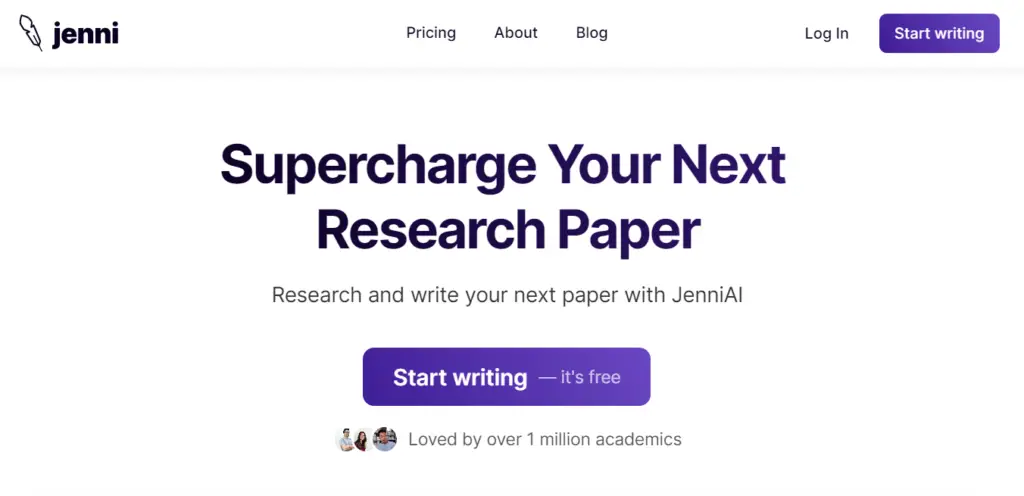 After successful signup, Jenni AI can help you research and write your papers. This AI tool already has a built-in plagiarism checker that will help you check the originality of your content.
Step 2: Select a Blank Document
Once you're in, you'll see your canvas on the left side. You'll start with a blank document.

The first step is to specify what you're writing about.
For example, if you're working on a research article, you can input your topic, and Jenni AI will even suggest an outline for you.
Step 3: Setting the Right Parameters
Before you start writing, it's very important to configure your settings to ensure a smooth writing experience. Here are two crucial settings adjustments I recommend: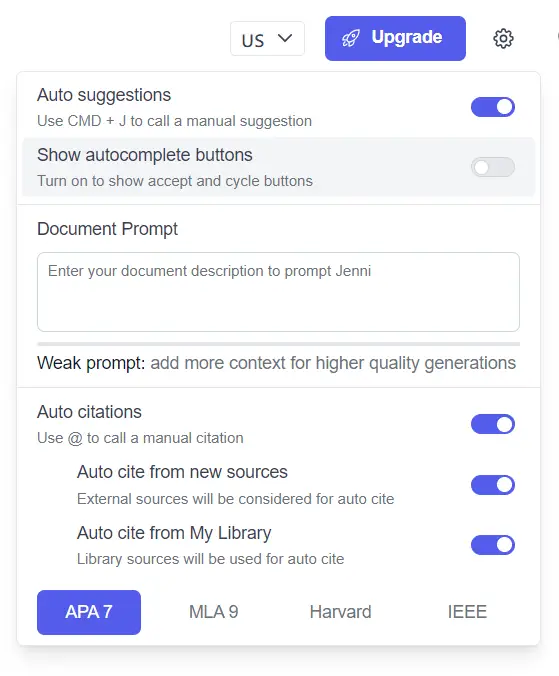 1. Turn Off Auto Suggestions
By disabling auto suggestions, you can write without constant interruptions from AI-generated suggestions. This is vital to preserve your unique voice and prevent AI from taking over your thoughts.
To use AI suggestions selectively, you can press Ctrl + J when you need assistance.
2. Choose the Content Tone
Now select the content tone that matches your academic context, such as an academic tone for research articles.
Step 4: Crafting Your Headings and Outline
With your settings configured, it's time to outline your research article. Writing clear headings and subheadings is crucial for organizing your thoughts.
You can customize everything. Add titles and subheadings – it's your canvas, paint it the way you like.
For example, you might have headings like "Introduction," "Methods," "Results and Discussion," and "Conclusion."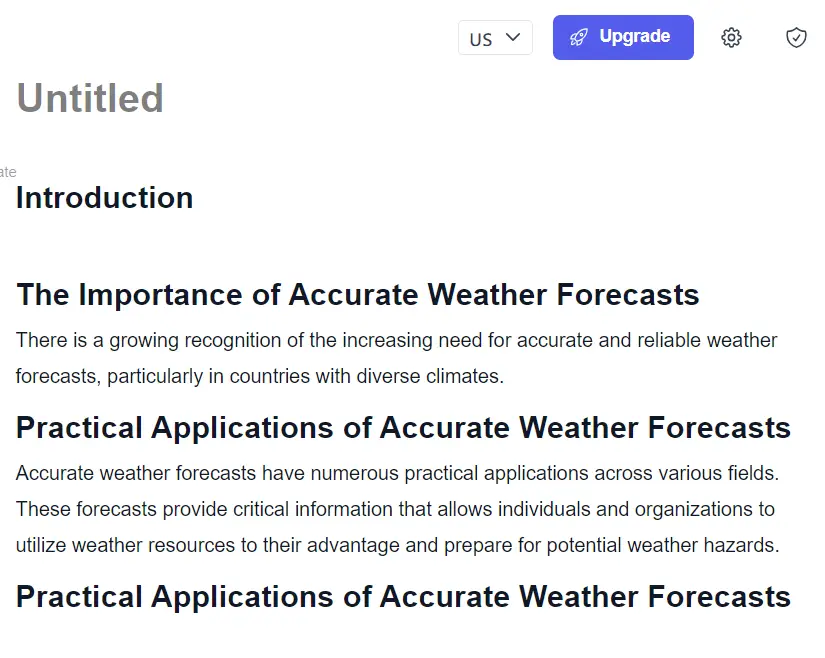 Subheadings can further break down your content into manageable sections.
Step 5: Writing with Jenni AI
Now comes the exciting part—writing with Jenni AI.
As you compose your research article, you may encounter some moments when you need a creative AI assistant.
This is where Jenni's AI suggestion feature comes into the picture. Simply press Ctrl + J, and Jenni AI will provide suggestions to keep your writing flowing.

For example, if you're discussing analytical techniques in your research, Jenni AI might suggest, "To overcome these challenges, various analytical techniques have been developed, including chromatography, mass spectrometry, and NMR."
You can either accept this suggestion or explore alternatives until you find the perfect fit for your voice and context.
What you can do with Jenni AI?
Essays: Save time on essay and thesis writing.
Literature Reviews: Discover and write about relevant research.
Research Papers: Enhance your research papers for higher submission success.
Personal Statements: Create compelling college motivation letters.
Blog Posts: Write blogs and articles faster with AI assistance.
Speeches: Craft compelling speeches in less time.
Jenni AI's Editing Power
Jenni AI offers valuable editing features that can improve the quality of your research article:
1. Paraphrasing and Simplifying
If you find your writing becoming complex, you can use Jenni AI to paraphrase or simplify your content.
This feature can help you convey your ideas more clearly.
2. Shortening and Expanding
When working on an abstract or trying to meet a word limit, the "shorten" feature can be a lifesaver.
Jenni AI generates shorter alternatives to your text, helping you to reach your target word count.
Jenni AI Features:
| Feature | Description |
| --- | --- |
| AI Autocomplete | Provides AI assistance during writing alongside you. |
| In-text Citations | Easily cite in various styles using the latest research. |
| Paraphrase & Rewrite | Paraphrase text and customize internet content to your tone. |
| Generate From Files | Enhance research papers with source-based content generation. |
| Chat to your PDFs | Quickly understand and summarize research papers. |
| Outline Builder | Get section headings based on your prompt. |
| Custom Styles & Tones | Choose writing tones to match your needs, from academic to persuasive. |
| Research Library | Save, manage, and cite research materials efficiently. |
The Ethical Use of AI in Research
It's important to emphasize that Jenni AI isn't a magic button for generating entire research articles.
Using AI in this manner would undermine the authenticity and rigor of your work.
Instead, Jenni AI should be seen as a supportive tool to enhance your writing process.
Jenni AI free alternative:
Conclusion:
In conclusion, Jenni AI isn't here to revolutionize research writing. It's a valuable tool that can assist you in crafting more efficient and well-structured research articles while preserving your unique voice and authenticity.
By using Jenni AI, you can enhance your research writing process and ultimately produce high-quality papers.
Latest AI Tutorials: