Are you tired of spending hours trying to create eye-catching patterns for your projects?
Do you wish there was a faster and easier way to design stunning patterns?
Well, your search ends here!
Today in this post, we're going to know about PatternedAI – the ultimate tool that allows you to create unique and stunning patterns with just a few clicks.
In this article, we'll take you through the ins and outs of PatternedAI, showing you how it works step by step.
So, let's get started
What is PatternedAI?
PatternedAI is an ingenious tool designed to empower creators, artists, and designers with the ability to effortlessly generate patterns for their projects.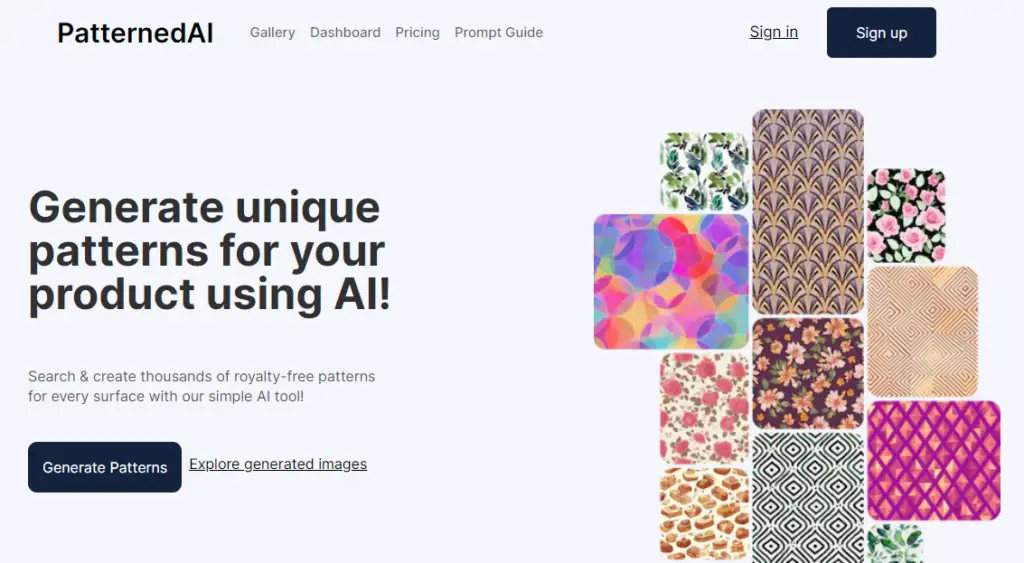 Whether you're working on graphic designs, fabrics, wallpapers, or anything that requires an attention-grabbing pattern, PatternedAI has got you covered.
How to use PatternedAI?
Creating mesmerizing patterns has never been easier, thanks to the user-friendly interface of PatternedAI.
Let's walk through the process step by step:
Step 1: Visit patterned.ai
Firstly visit patterned.ai and sign up with your Google account.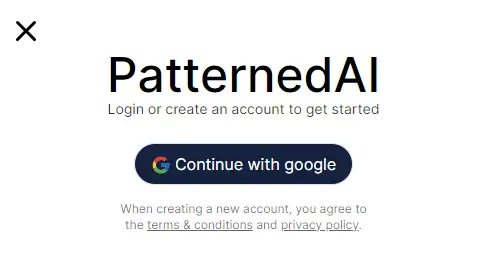 Step 2: Entering Your Prompt
To get started, head over to the PatternedAI dashboard. There, you'll find a simple prompt box where you can enter your ideas or keywords.

This prompt will act as the foundation for the pattern generation process.
Step 2: Tailoring the Settings (Optional)
The power is in your hands!
PatternedAI allows you to customize the settings to suit your preferences. From color schemes to layout options, you can fine-tune every aspect of your pattern.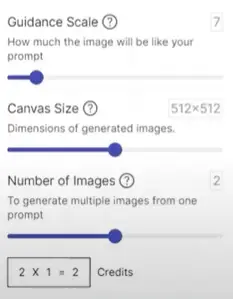 However, if you're in a hurry or not quite sure, you can always stick with the default settings.
Step 3: The Magic Button: Generate Pattern!
Once you've entered your prompt and made any necessary adjustments, it's time for the moment of truth.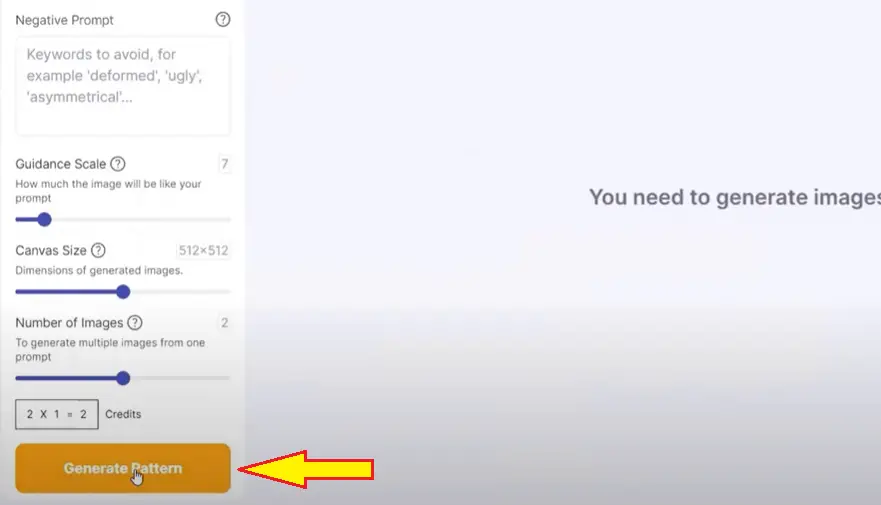 Hit the "Generate Pattern" button, and like magic, within seconds, you'll witness an incredible pattern take form before your very eyes. Brace yourself for the awe-inspiring sight!
Step 4: Your Patterns, Your Way
PatternedAI goes above and beyond basic pattern generation. With this ingenious tool, you're in full control.
After generating a pattern, you have several exciting options:
1. Add to Favorites: Found a pattern you absolutely love? Add it to your favorite collection, making it easily accessible for future projects.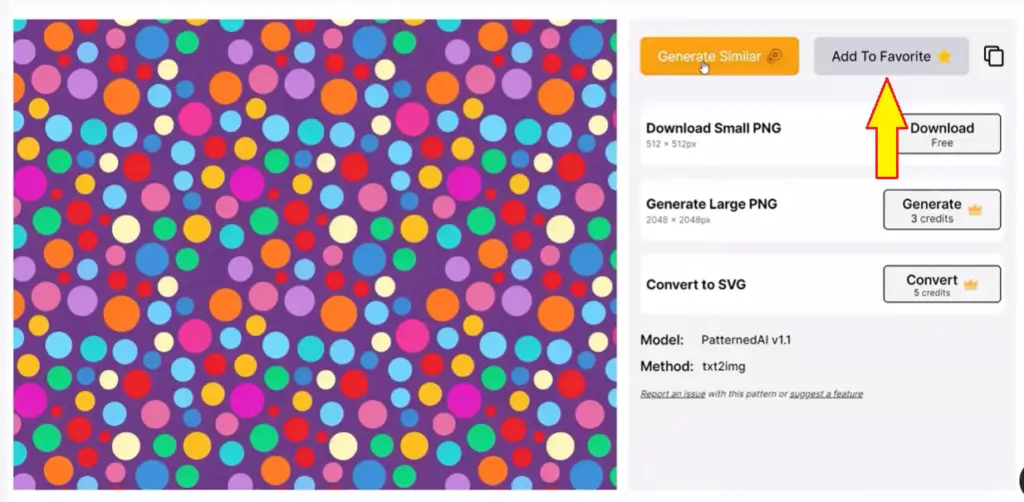 2. Download and Own: Download your freshly crafted pattern in all its glory. It's yours to use as you wish, without any restrictions.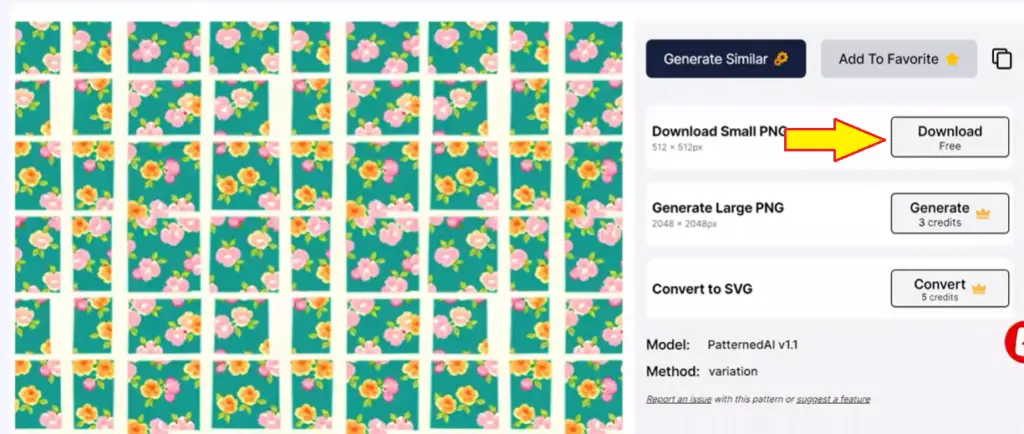 3. Explore Similar Patterns: If you've hit the jackpot with your current pattern, you can explore and generate similar patterns with just a click. Let your creativity flow!
Discover the Vast Pattern Library
PatternedAI isn't just limited to creating patterns from scratch. Its magic extends to a vast library of royalty-free patterns that you can explore.
Why start from scratch when you can find inspiration in this treasure trove of patterns for every surface?
Image Library: An Added Bonus
As if that wasn't enough, PatternedAI surprises you with an extra treat – an image library of royalty-free stock images.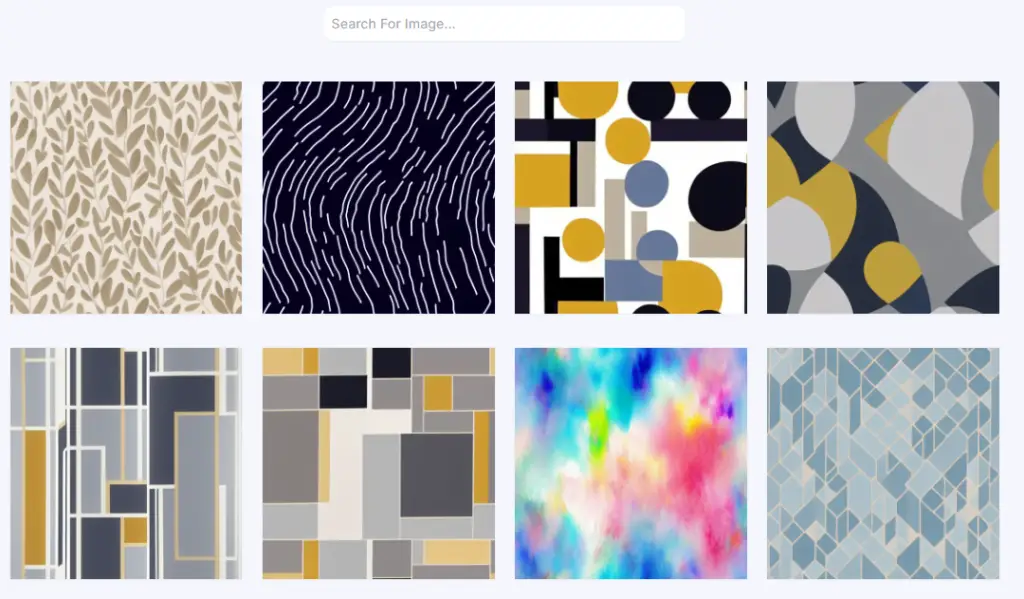 You can effortlessly search through this collection and download any images that tickle your creative senses.
Expand your artistic horizons with this well-curated image repository.
Writing the perfect prompt for your patterns
1. Core Prompt: The Foundation of Your Pattern
The core prompt is the central theme or subject that your pattern will be based on. It acts as the foundation of your design, so it's crucial to choose something that resonates with your vision. You can opt for various core prompts, such as animals, nature elements, or abstract shapes.
Here are a few examples:
Flower
Geometric shapes
Butterfly
Leaves
Palm tree
While a simple core prompt can produce nice patterns, a more specific and detailed core prompt can lead to more intricate and exceptional designs.
2. Style: Setting the Tone of Your Pattern
Choosing a style for your pattern is essential to ensure that it aligns with your creative vision.
The style adds a distinct flavor to your design and can make it stand out. You have the freedom to explore various styles, such as abstract, vintage, modern, or minimalistic. To incorporate a style into your prompt, you can use phrases like:
"A modern pattern of [core prompt]"
"A vintage-inspired pattern of [core prompt]"
"An abstract pattern of [core prompt]"
Here are some examples of prompts with different styles:
"A minimalistic pattern of leaves"
"A vintage-inspired pattern of flowers"
"An abstract pattern of geometric shapes"
3. Artist: Infusing Artistic Influence
Adding an artist's name to your prompt can help you achieve a specific look and feel for your pattern. It allows you to draw inspiration from renowned artists and their distinctive styles. Here are some artists whose names you can incorporate into your prompt:
Wassily Kandinsky
Piet Mondrian
Yayoi Kusama
Henri Matisse
By adding an artist's name to your prompt, you can make it more specific and unique. For example:
"A pattern of leaves inspired by Yayoi Kusama"
"A geometric pattern inspired by Piet Mondrian"
4. Finishing Touches: Adding Flourish to Your Design
Finishing touches are the extra details that add the perfect finishing flourish to your pattern. These elements enhance the overall aesthetic and can make your design truly exceptional. Some examples of finishing touches for seamless patterns are:
Subtle colors
Contrasting colors
High contrast
Bold lines
Fine lines
Organic feel
Geometric shapes
You can combine these finishing touches to make your pattern even more unique. For instance:
"A vintage-inspired pattern of flowers with bold lines and high contrast"
4. Prompt Weighting: Tailoring Your Pattern
Prompt weighting is a powerful feature of PatternedAI that allows you to control the prominence of certain elements in your pattern, such as colors or shapes.
You can use this feature to fine-tune and customize your designs to perfection. To adjust the weighting, follow these guidelines:
Use parentheses ( ) to increase attention to a word by a factor of 1.1.
Use double parentheses (( )) to further increase attention to a word by a factor of 1.21.
Use square brackets [ ] to decrease attention to a word by a factor of 1.1.
You can also specify a custom weighting factor by using (word:factor), where "word" is the element you want to adjust, and "factor" is the desired weight.
Time to Bid Farewell to Frustration
Forget the process when you'd struggle to create seamless patterns on your own, only to end up with unsatisfactory results.
Let PatternedAI shoulder that burden for you.
It's time to embrace efficiency and let technology do the hard work while you focus on bringing your visions to life.
Unlock Your Creative Potential with PatternedAI:
PatternedAI is more than just a tool; it's an ally that fuels your imagination and opens doors to a world of endless possibilities.
Whether you're an artist or a novice exploring the realms of design, PatternedAI will take your creativity to new heights.
Final words about PatternedAI:
PatternedAI emerges as the ultimate solution for creators seeking patterns without the hassle.
Its simple and intuitive process makes pattern generation a joyous experience, and the additional features, like the pattern library and image repository, sweeten the deal even further.
Discover the magic of PatternedAI and elevate your creations to unparalleled heights. Head over to PatternedAI today and unleash your creative potential.
Don't miss out on the latest and greatest AI tools! Visit aidemos.com for exciting video demos and stay at the forefront of innovation.
The future of pattern creation is here with PatternedAI.