I'm going to show you how to create amazing AI-generated images for free using an AI image generator tool called BlueWillow AI. Welcome to this step-by-step guide on how to use BlueWillow, a free AI image generator that's a great alternative to Midjourney.
In this article, we'll walk you through the process of getting access to BlueWillow, creating your own server, and generating AI art.
What is BlueWillow AI Image Generator?
BlueWillow AI is a free AI image generator that creates images based on text prompts. It can also be used for generating AI art, offering an alternative to paid options like Midjourney AI.
Get Access to BlueWillow AI using Discord:
Accessing BlueWillow is the first step in creating AI-generated images.
Follow these simple steps:
Visit the official website.
Click the "Discord" button on the website.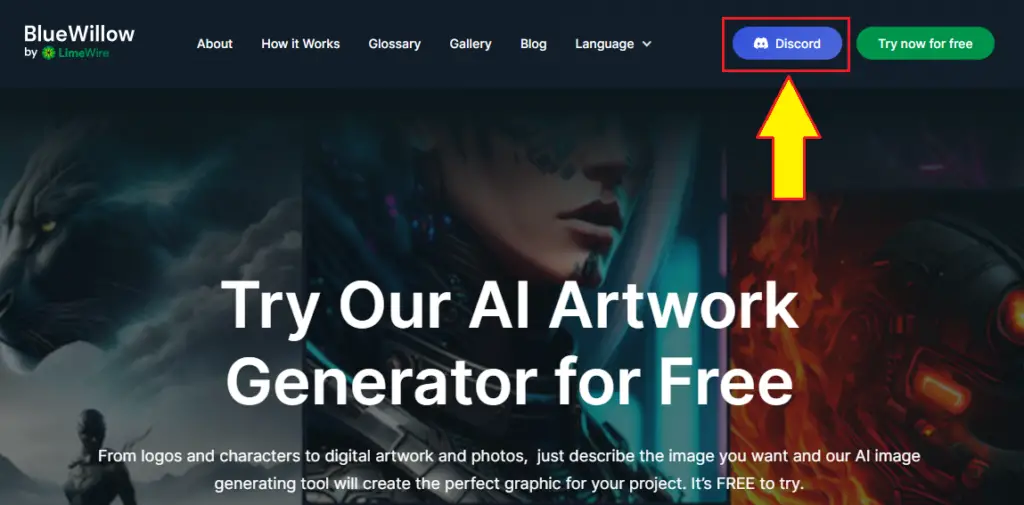 This action will connect the BlueWillow bot to your Discord account.
After verifying that you are human, you will gain full access to the server.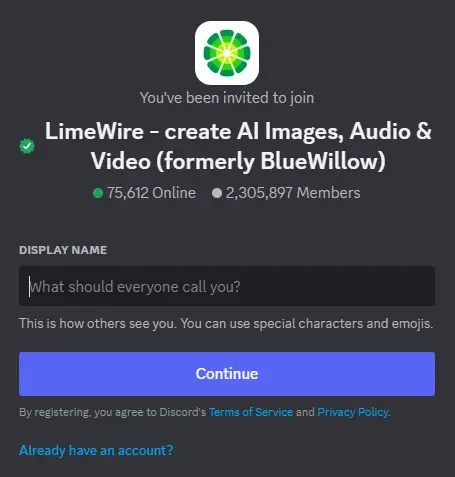 Please note that you need to have a Discord account, as BlueWillow is available on Discord.
If you don't have one, it's easy to create an account, but we won't cover that in this guide.
Create Your Own Server:
If you prefer not to share your AI-generated images with the public, you can create your own server and connect it to the BlueWillow bot.
Click the "Plus" button on the left toolbar.
In the window that appears, select "Create My Own Server."
Choose "For Me and My Friends."
Name your server as you like (uploading a photo is optional).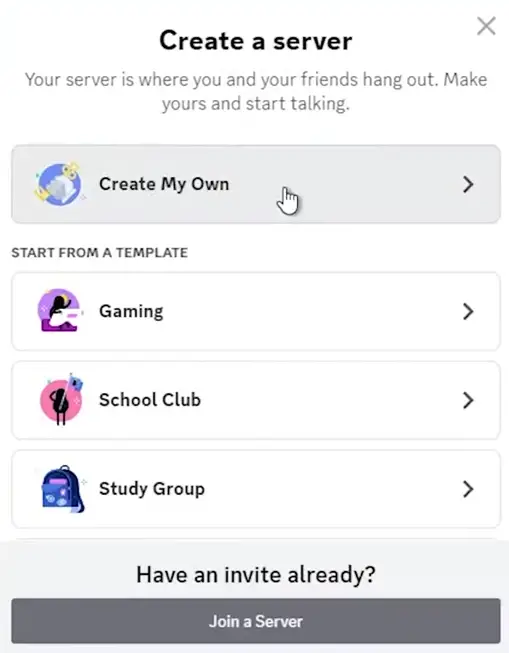 With these simple steps, you have your own dedicated server. To connect it to BlueWillow, follow these additional steps:
Go back to the BlueWillow bot.
Click on the "Show Member List" button in the upper right corner.
Click on the BlueWillow bot.
Click on the "Add to Server" button and select the server you've just created.
Now you have your own private space to generate AI art.
Generating Images with BlueWillow
Now that you're set-up, it's time to start creating images with BlueWillow. Follow these steps:
When connected to the server, use the command bar at the bottom of the page.
Type the command "Imagine," just like you would with Midjourney.
After typing the command, you need to provide a text prompt.
Keep in mind that BlueWillow may not be as fast as Midjourney, but it's free! In a short period, you'll receive four images generated from your text prompt.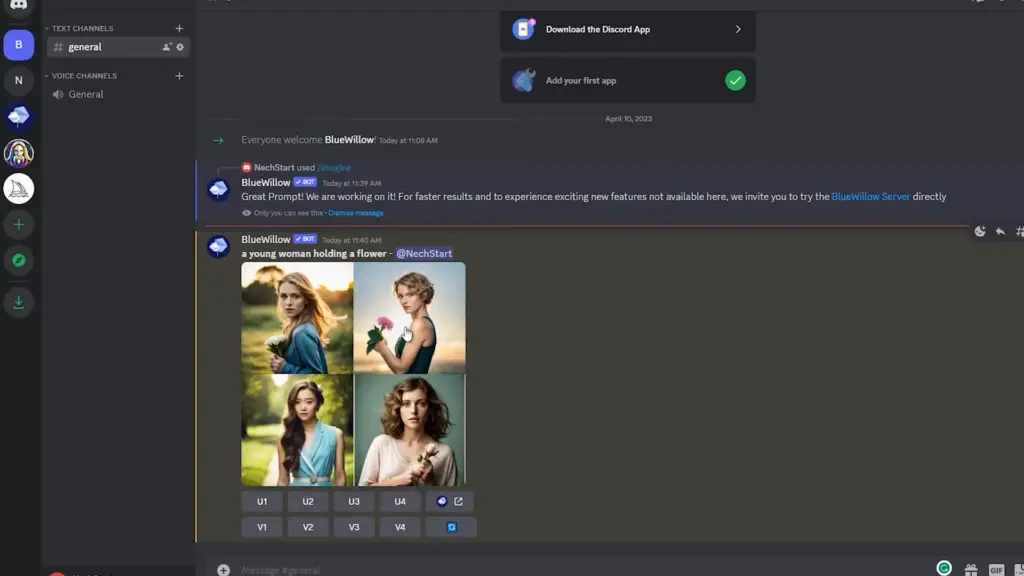 Comparing BlueWillow to Midjourney, you'll find similar options:
Upscale Images: You can make any image larger and more focused by choosing an option with "U" (where the number represents the scale factor).
Create Variants: To generate slightly different versions of an image, select an option with "V" (which stands for variants).
It's worth noting that while BlueWillow's images are good, they may not match the quality of Midjourney. However, this is an excellent option for those who don't want to pay for AI image generators. If you're selling AI-generated artwork on various marketplaces, you may prefer Midjourney for its quality.
BlueWillow AI Working:
Step 1: Enter a Prompt Above
Simply use the text input box to enter a prompt that inspires your artwork and click on the "Generate Artwork." This action will take you to AI Studio, where you can continue by entering your email.
Step 2: Generate AI Artworks
You'll receive a selection of images created based on your unique prompt. You can choose to refine or re-generate your artwork, ensuring you get the perfect result.
Step 3: Join Our Discord
Our free, friendly community platform is hosted on Discord. It's the place to be for staying updated on the latest news and announcements related to our AI Studio.
This guide was all about introducing you to a new, free AI image generator that allows you to explore the possibilities of AI art. If you have any questions or need assistance, feel free to use the comment section, and we'll do our best to help.
Conclusion:
In conclusion, BlueWillow is a free AI Image generator and art generator. It offers a great alternative to Midjourney, and with this step-by-step guide, you're well on your way to creating your own AI Images and art.
FAQs:
1. Is BlueWillow AI Free?
Yes, BlueWillow AI is currently free to use.
2. How Does BlueWillow Prompt Work?
BlueWillow uses text prompts to generate AI images. You input a prompt, and it creates images based on that input.
3. Is BlueWillow a Free AI Image Generator?
4. Where Can I Find BlueWillow Prompts?
You can find BlueWillow prompts by joining their Discord server after gaining access through their official website.
5. Is BlueWillow a Suitable Alternative to Midjourney?
BlueWillow can be a good alternative to Midjourney, especially for those looking for a free AI image generator. However, image quality may vary.