Are you looking for an AI-powered writing tool to enhance your writing and productivity? In this tutorial, we'll explore the power of Cramly AI, an AI-powered writing bot packed with features like a paragraph generator, essay generator, and even an Instagram caption generator.
Join us as we explore the capabilities of Grammarly AI and learn how to make the most of this powerful tool.
Introduction to Cramly AI
In this article, we'll introduce you to Cramly AI, an AI-powered writing assistant designed to boost your writing skills and productivity. This AI tool offers various features, including a paragraph generator, essay generator, sentence elongator, and much more.
By the end of this review, you'll have a clear understanding of how to use the power of Cramly AI for your writing needs.
What is Cramly AI?
Cramly AI is an AI-powered writing bot that can help you with a wide range of writing tasks. It's not just limited to grammar and spelling; Cramly AI can assist you in generating essays, cover letters, songs, holiday cards, and even Instagram captions. The focus of this tutorial will be on Cramly AI's paragraph generator, which is an invaluable tool for generating written content.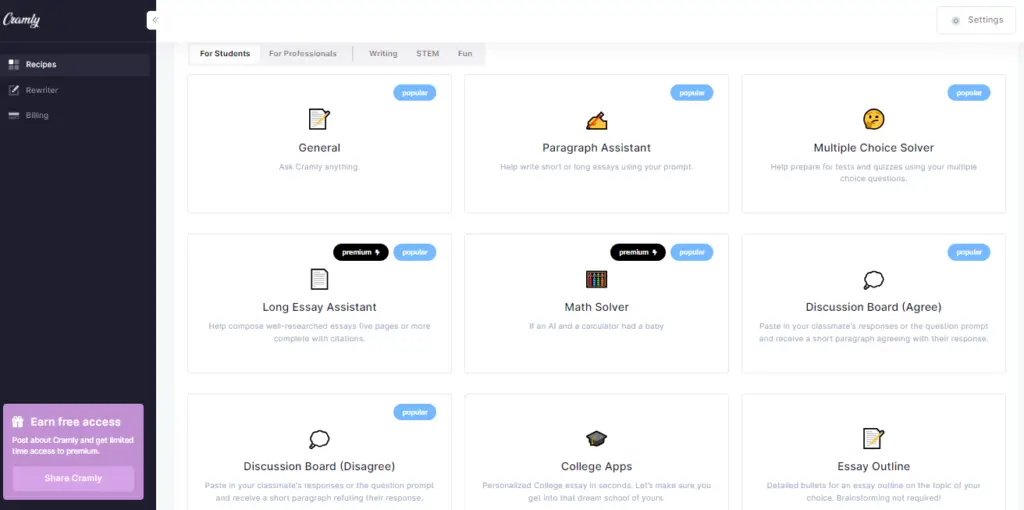 Paragraph Generator: As the name suggests, this tool helps you generate well-structured paragraphs of varying word counts on a wide range of topics.
Song Generation: Cramly AI can assist you in composing lyrics for songs.
Valentine Card Generator: For special occasions like Valentine's Day, Cramly AI can help you create personalized and heartfelt Valentine cards.
Instagram Caption Generator: You can use Cramly AI to come up with engaging and creative captions for your posts.
Plagiarism Checker: One of the standout features is the built-in plagiarism checker, which ensures the originality of your content.
Multiple Choice Question Solver: It can assist in solving multiple choice questions, making it a helpful tool for students.
Free Trial: Cramly AI offers a free trial, allowing users to explore its capabilities before committing to a subscription.
How to Use Cramly AI?
Step 1: Accessing Cramly AI
Log in to your Cramly AI account and access the dashboard.
Click on the "Paragraph Generator" option and get started.
Step 2: Generating Paragraphs
Once you're in the Paragraph Generator, enter your question or request. For example, you can input "Write a 100-word paragraph about Wikipedia."
Click on the "Ask" button to initiate the generation process.
Wait for a few moments while the content is generated for you.

The process typically takes around 5-10 seconds, so it's relatively quick.

Once the content is ready, you can format it according to your preferences. You can make text bold, italicize it, change fonts, and even alter background colors.
Additionally, you can check the generated content for plagiarism by using Grammarly AI's built-in plagiarism checker.

Step 3: Creating a Song
To create a song with Grammarly AI, return to the dashboard.
Select the "Song Generator" option.
Enter your topic; for example, "Create a song about Artificial Intelligence."
Click the "Ask" button and wait for the AI to generate the lyrics for your song.

The generated song may not be perfect, but it provides a starting point for your creative work.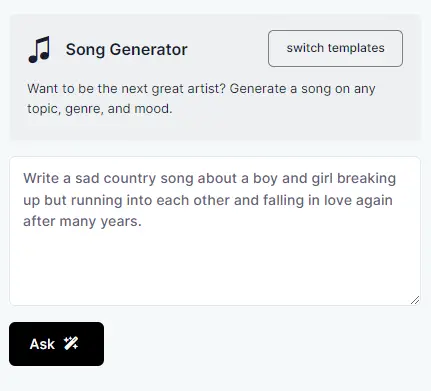 Step 4: Designing a Valentine's Card
For designing a Valentine's Day card, go back to the dashboard.
Click on the "Valentine's Card" option.
Enter a request like "Write a Valentine's Day card for my girlfriend, Elaine."
It will take some time and generate a lovely Valentine's card.
Cramly AI Detector:
Cramly AI Detector is a handy tool for checking the percentage of AI-generated content in a given text. Follow these simple steps to use it effectively:
1. Access the Cramly AI Detector Website
Open your web browser and go to the official Cramly AI Detector website at https://www.cramly.ai/ai-detector.
2. Paste Your Text
Copy the text you want to check for AI-generated content from your document or source.
On the Cramly AI Detector page, locate the designated text input field.
Paste your text into the input field.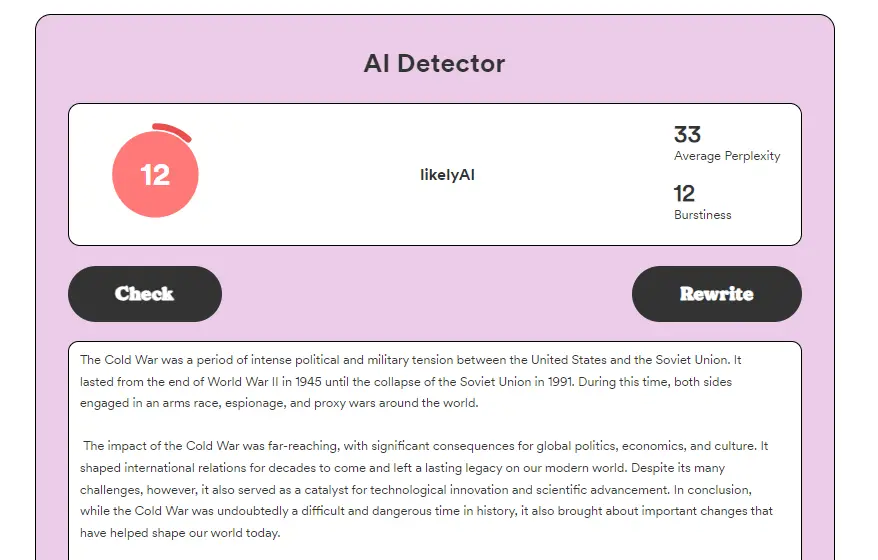 3. Check for AI Content
Once your text is pasted, click on the "Check" button.
4. View AI Content Percentage
Cramly AI Detector will promptly analyze the text and display the percentage of AI-generated content within it.

The AI content percentage gives you an indication of how much of the text was likely generated by AI.
Cramly AI Pricing:
Cramly AI offers affordable pricing options. You can use the tool for free during a trial period, or you can choose one of the following plans:
$1.49 per month: Billed annually, which amounts to $24 for the year.
$3 per month: Billed monthly.
Depending on your needs and budget, you can opt for the plan that suits you best.
Key Features of Cramly AI
Explain It to a Child: Simplify complex topics.
Article Summarizer: Summarize lengthy articles quickly.
Notes Generator: Generate notes efficiently.
Essay Paraphrase: Rewrite essays while maintaining originality.
Blog Post Generator: Create blog posts effortlessly.
Testimonial Generator: Generate testimonials for your products or services.
Cold Emails: Craft persuasive cold emails with ease.
Cramly AI also offers a one-week free trial that provides you with a taste of its capabilities. During the trial, you can enjoy benefits like unlimited questions, generating longer essays (up to 15 pages), a guarantee of unique output, and anti-plagiarism detection.
Conclusion:
In conclusion, Cramly AI is a valuable tool for students, freelancers, and professionals looking to improve their writing and productivity. With features like the paragraph generator, song generator, and Valentine's card creator, Cramly AI simplifies many writing tasks. Its built-in plagiarism checker ensures the content you generate is unique and free from potential issues.
Consider taking advantage of the one-week free trial to experience the full power of Cramly AI before making a decision. The pricing options, especially the $1.49 per month plan billed annually, make it an affordable and valuable investment for enhancing your writing skills.
FAQs (Frequently Asked Questions)
1. Is Cramly AI free tool?
Cramly AI offers a free trial, allowing users to explore its features. There are also paid subscription options available.
2. How much does Grammarly AI cost?
Grammarly AI offers two pricing plans: $1.49 per month (approximately $24 per year) and $3 per month (totaling $36 per year). The choice of plan depends on your payment preference.
3. What is the Cramly AI Article Summarizer?
The Cramly AI Article Summarizer is a tool that condenses lengthy articles or texts into shorter, more concise versions, making it easier to grasp the main points and ideas.
4. How can I cancel my Cramly AI subscription?
To cancel your Cramly AI subscription, log into your account, navigate to the subscription settings, and follow the provided cancellation instructions.
5. How long does it take for Cramly AI to generate content?
In general, it provides quick results, often within seconds, making it a time-efficient writing tool.
If you have any questions about Cramly AI, please don't hesitate to ask in the comments section below. Please consider to read our latest AI Tutorials: