Spotify has just introduced an exciting new AI-powered DJ feature that adds a unique twist to your music listening experience. This DJ AI mode creates unique playlists, unlike what you're used to.
If you want to try it, then you've landed on the right page. In this guide, we'll walk you through the steps to get started with Spotify's DJ AI mode. You will get to know how AI Judges your Spotify music and songs.
What is Spotify DJ AI?
Spotify AI DJ Mode is a feature that uses artificial intelligence to create playlists that combine your favorite songs with new tracks for an engaging listening experience. It's like having your own personal DJ who customizes the music based on your preferences.
How to get AI DJ Spotify?
Prerequisites:
Before diving into this exciting feature, there are a few prerequisites to ensure a smooth experience.
Here's what you need:
1. Spotify Premium: As of now, this feature is exclusively available to Spotify Premium users. If you're not already a premium member, you'll need to upgrade to access DJ AI mode.
2. Spotify App Update: Make sure your Spotify app is up to date. Head to your app store, whether it's the Google Play Store or the Apple App Store, and check for any available updates.
Even if you're not on the latest version, you should still be able to use this feature, as Spotify often rolls out updates incrementally.
With these prerequisites in place, you're ready to explore the world of AI-powered DJing. Let's get started.
How to use Spotify AI DJ?
Step 1: Update Your Spotify App
The first step is to ensure your Spotify app is updated to the latest version.

Here's how to do it:
Go to your device's app store (Google Play Store or Apple App Store).
Search for "Spotify."
If there's an available update, you'll see an "Update" button. Click on it to install the latest version.
Step 2: Access DJ AI Mode
Once your Spotify app is updated, open the application and follow these steps to access the DJ AI mode:
Launch the Spotify app.
In the top left corner, you'll find a music note icon. Tap on it to access the music section.
You'll be taken to a new page that introduces the DJ AI mode. Here, it will greet you with a "Good morning, DJ" message.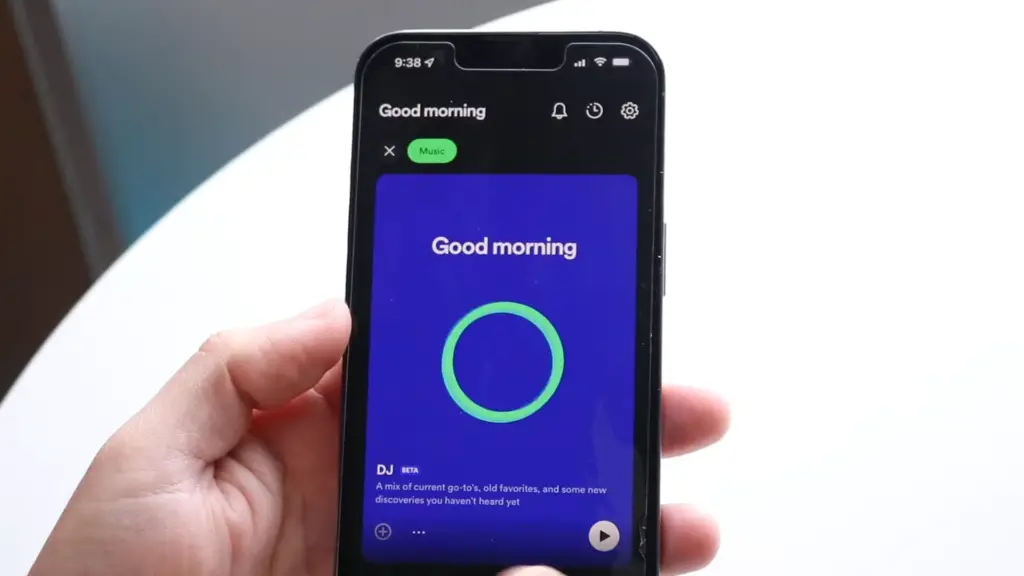 DJ AI mode is described as a mix of your current go-to songs and old favorites.
If you like a song, you can click on the three dots next to it, then choose to "Like" it or add it to your playlist by clicking the "Plus" button.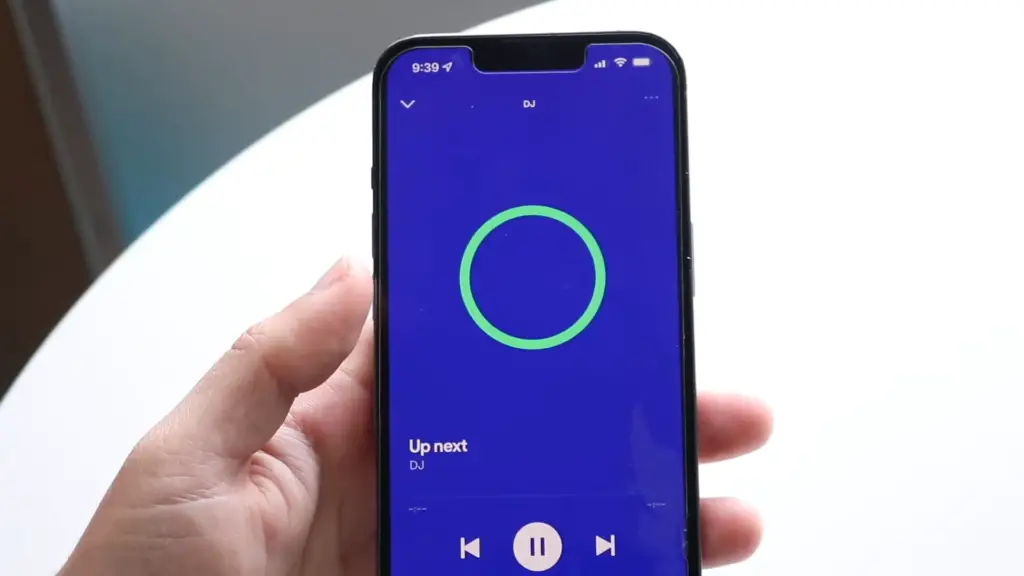 To start using DJ AI mode, you can click on the play button, or simply click on the song you want to play.
Step 3: Enjoy the DJ AI Mode
Once you've initiated DJ AI mode, you're all set to enjoy your personalized DJ-curated playlist.
Here's what you can do within this mode:
Skip Songs: You can skip songs as you normally would, giving you the freedom to choose what you want to listen to.
Discover New Music: DJ AI mode not only plays your existing favorites but also introduces you to new curated songs that you might not have come across otherwise.
Learn More About the Track: If you want to know more about the song currently playing, you can click on the song title to access additional information.
Explore the DJ Icon: At the bottom of the screen, you'll find a DJ icon. Click on it to access more information about DJ AI mode and explore its features.
With DJ AI mode, you can expect a delightful blend of familiar tunes and fresh discoveries. It's a fun way to enhance your Spotify experience.
Conclusion
Spotify's DJ AI mode is a great addition to the platform, offering a new way to enjoy your music collection and discover new tracks. By ensuring you have a Spotify Premium account and keeping your app updated, you can easily access this feature.
You can enjoy the Spotify AI DJ Experience and please consider reading our latest AI tutorials.