If you're a content creator, YouTuber, or video editor, you're well aware that dubbing a video is not an easy task.
It requires considerable effort and attention. However, today, I have something truly exciting to share with you – an AI tool that can boost your productivity to the next level.
We're talking about DubVerse AI, it can dub your videos in 60+ languages for free and can add subtitles to your videos in just a single click.
Here, we're providing a comprehensive tutorial on how to dub a video online for free using Dubverse AI.
So, join me in this exciting video dubbing tutorial.
What is Dubverse AI?
Dubverse AI is a freemium AI video dubbing platform that uses advanced technology to automatically dub videos, create subtitles, and convert text to speech. It simplifies the process of making your content accessible to a global audience by seamlessly translating it into different languages.
Understand Dubverse AI video dubbing:
In plain terms, Dubverse is your go-to AI tool for video dubbing. It takes your original video, recorded in one language, and transforms it into another language.
Yes, you can dub your YouTube videos in 60+ languages.
9 Hidden Methods to Make Money with ChatGPT
How to Dub a video using Dubverse AI?
Step 1: Getting Started with DubVerse
Visit dubverse.ai and create a new free account on the Dubverse AI app. If you already have an account do login.

Step 2: Create a New project:
Once you're in, it's time to dub your videos. Simply click on the "Create" button. You can choose to dub a video, add subtitles, or convert text to speech.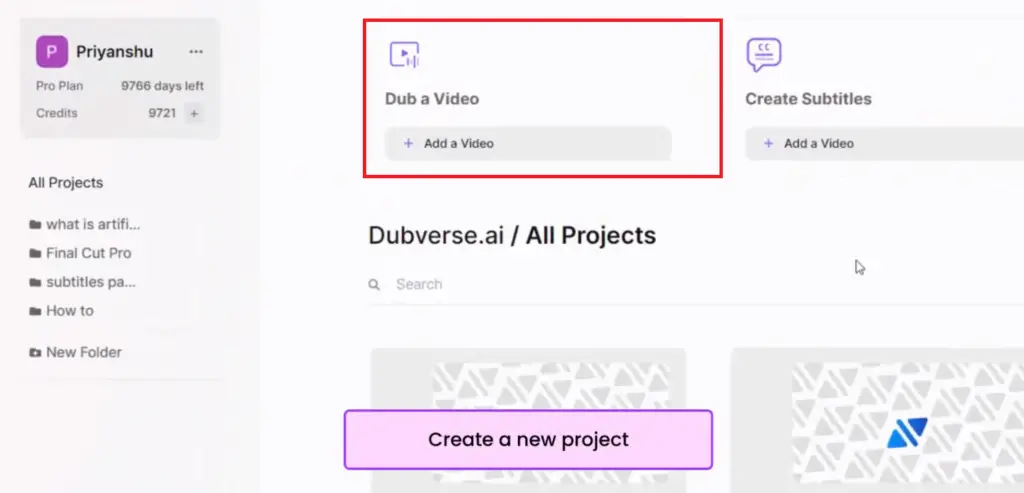 Step 3: Uploading your video:
Click on the "Add a video" button to upload the video. You can either paste a YouTube or Vimeo link or upload your video directly.
Step 4: Changing Voice and Language
Now, let's talk about the most important step – changing voices and languages. You've uploaded your video, and now you want to give it a fresh voice or language.
DubVerse allows you to change the voiceover effortlessly. If you want your video to speak Spanish, Russian, or Italian? No problem! Simply select the language and let DubVerse do the rest.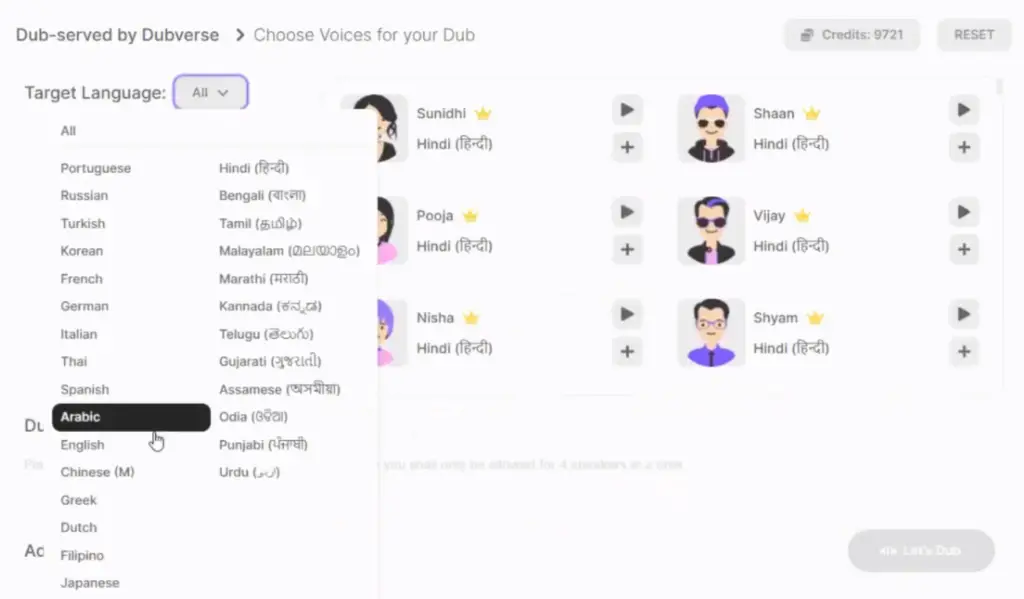 Step 5: Fine-Tuning the Dubbed Video
Let's be honest – perfection doesn't always come straight out of the box. You can re-draft sections of the script, fix any misspellings, or adjust the pacing.
You can even change the voices within the same video.
Step 5: Adding Subtitles for Global Reach
If you're a YouTuber you know that Adding subtitles to your video has never been easier. But Dubverse AI can help you add subtitles to your video.
This feature is perfect for those times when you want to ensure that every viewer, regardless of their language, can understand your content.
Step 6: Preview Your Dubbed Video
Click on the "Watch" button and see how your video has transformed. You can preview the dubbed video before downloading it.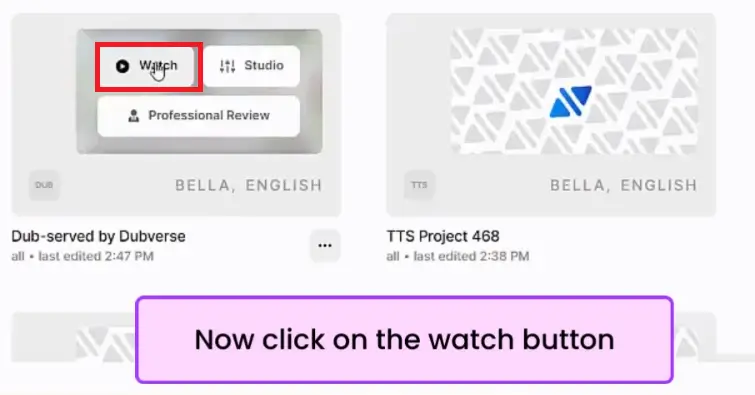 Step 7: Download Your Masterpiece
You've got your beautifully dubbed video! Click on the "Download" button.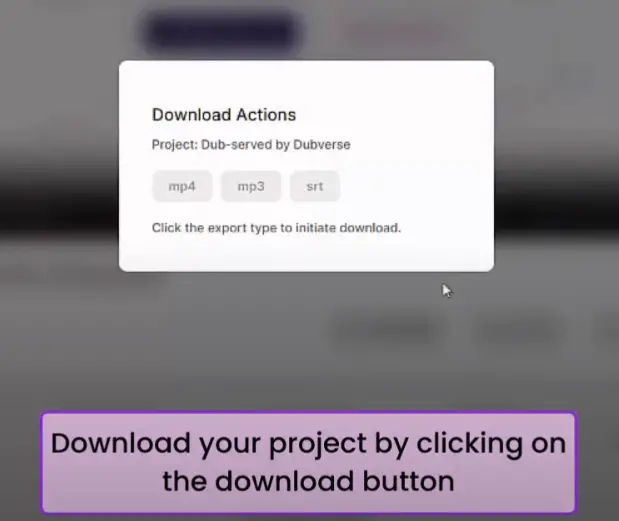 Here's one more and the best feature I want to show you about Dubverse AI's Text-to-Speech feature.
Dubverse AI Text-to-Speech Feature
DubVerse's text-to-speech feature allows you to convert written text into spoken words, creating a dynamic audio experience.
If you're creating a script using ChatGPT, then you can use it in your video using Dubverse AI. The result? A voiceover that captures your audience and delivers your message with clarity.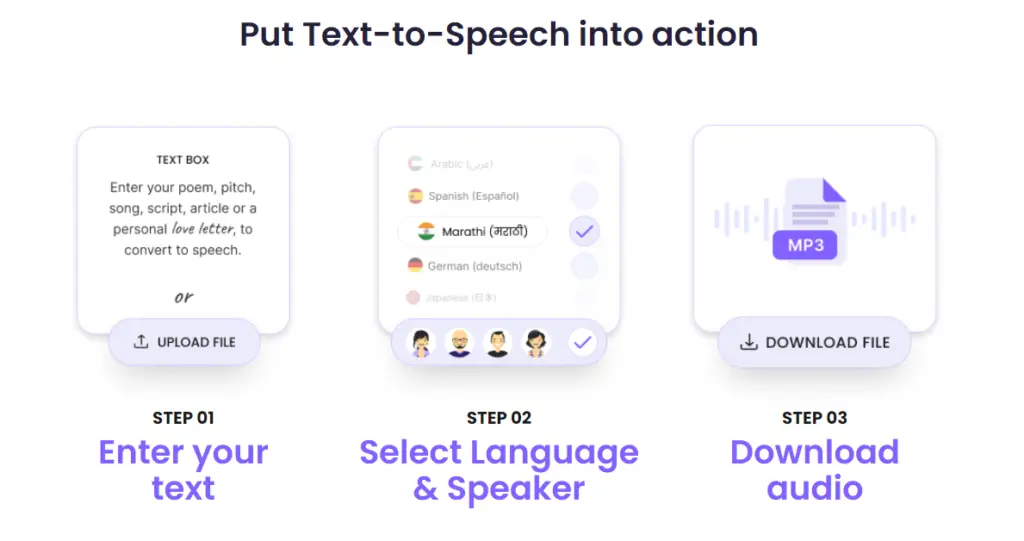 Whether you're typing, pasting, or uploading a document, you can convert text to speech for free. Here's how it works:
Step 1: Enter your text.
Step 2: Select your desired language and speaker.
Step 3: Download the audio.
Dubverse AI offers a wide range of options with 30+ languages and 200+ speakers. These speakers vary in age, gender, accents, and tonalities.
How to Add subtitles to a video?
Here's how to generate and add subtitles to your video:
Step 1: Click on the "+" button.
Step 2: In the "Get Subtitles" box, click on the "SUB" button.
Step 3: Insert your video link in the tab and click on the "Let's SUB" button.
List of Dubverse AI Features:
| Features | Description |
| --- | --- |
| Music Addition | Access a wide range of royalty-free tracks or use your own music. |
| Multi-speaker Content | Choose multiple AI speakers for diverse voices within a single video. |
| Lip Sync | Perfect synchronization of language dubs with on-screen pronunciation for a seamless viewing experience. |
| Speak in Different Languages | Enable your AI Avatar to speak in 60+ languages in your unique style and voice. |
| Playground | Join early adopters in exploring Dubverse's AI magic firsthand. |
| In-Video Text Translation | Translate written content within videos to expand accessibility and reach. |
Dubverse AI supported Languages:
Mandarin Chinese
Telugu
Kannada
Thai
Turkish
Tamil
Arabic
Spanish
Russian
Portuguese
English
Assamese
Marathi
Korean
Malayalam
Japanese
Italian
Hindi
Gujarati
German
French
Bengali
Oriya
Punjabi
Final Thoughts and Pricing
As we wrap up our journey through DubVerse, it's time to consider your options. With pricing starting at just $49 for a lifetime deal, DubVerse AI offers incredible value.
However, if you're not quite ready to commit fully, you can start with one of the lower-tier licenses or you can choose the Free Trial plan.
In conclusion, DubVerse AI perfect AI companion for content creators, educators, and businesses. It's an AI tool that can help you reach wider audiences, and break language barriers.
Latest AI Tutorials: