As we see every day, there are a lot of AI tools being launched. Each tool aims to save human effort and boost productivity. We also understand that creating video content often requires a significant amount of time and money.
But what if I told you there's a way to smoothen the video content creation, making it faster and more cost-effective?
You can now create high-quality videos using AI, and you won't need actors, cameras, or fancy setups.
Today, we are excited to introduce Synthesia.io, an innovative AI video generation tool. With this platform, you can easily convert text into video and generate high-quality content within seconds.
In this article, we will take a closer look into the features and functionalities of Whether you are a digital marketer, YouTuber, influencer, teacher, or a business owner looking to enhance your online presence.
Introduction to Synthesia.io AI Video Generator
Synthesia.io is an AI video creation platform that allows businesses and hobbyists to quickly generate high-quality videos without compromising on quality. By using this tool you can easily convert the text into video.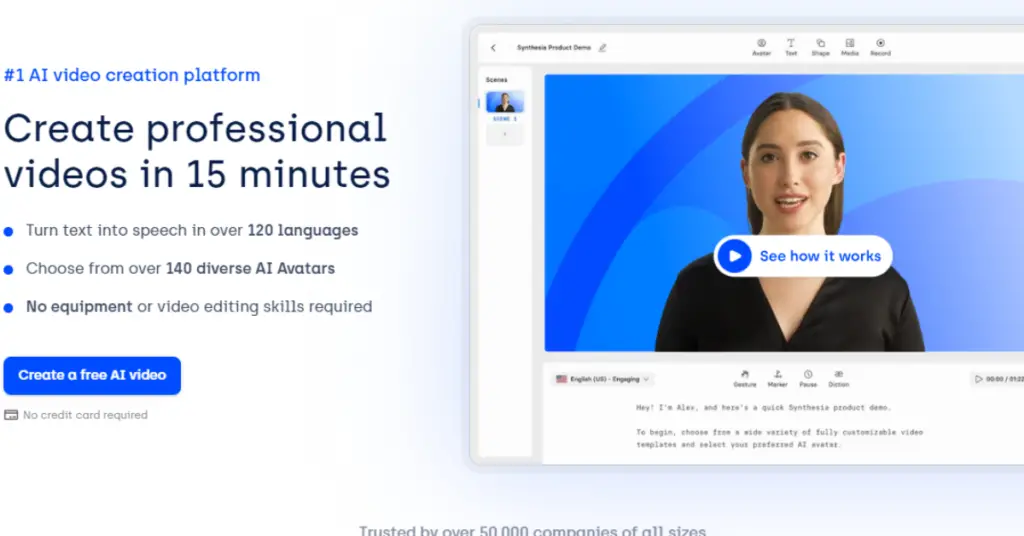 If you want to make videos for things like sharing on social media or teaching people, you can use different avatars and special characters to make them look really good.
What Problem Does Synthesia AI Solves?
Synthesia.io solves a fundamental challenge in video content creation – the need for a quick and cost-effective method to produce professional videos. Traditional video production requires significant investments in time, money, and resources.
Hiring actors, arranging elaborate sets, and investing in complex equipment can quickly become cumbersome and expensive.
With Synthesia.io, these challenges become a thing of the past.
Synthesia.io uses artificial intelligence to make videos quickly and easily. Instead of having to record people talking, users can just type out what they want the video to say, and the AI will make it sound like someone is speaking.
This saves time and money because there's no need to find people to act or set up big movie sets.
Who Should Use Synthesia.io AI
Whether you are a YouTube creator, digital marketer, recruiter, influencer, blogger, teacher, or digital store owner, Synthesia.io can significantly benefit your video production efforts.
YouTube Creators: Synthesia AI enables them to produce high-quality videos quickly, allowing them to focus on creating influential content and building their audience.
Digital Marketers: Synthesia AI video Generator provides marketers with a powerful tool to generate engaging videos that captivate their target audience and drive conversions.
Recruiters: Recruiters often need to create compelling job description videos to attract top talent. Synthesia AI video Generator simplifies the process by enabling them to create professional videos that effectively communicate job requirements and company culture.
Influencers and Bloggers: Influencers and bloggers can use Synthesia.io to create videos that enhance their online presence. From product reviews to educational content, Synthesia.io offers a solution for content creators looking to diversify their mediums.
Teachers: Educators can use Synthesia.io to develop engaging AI Tutorial videos, enhancing the learning experience for their students. By using customizable avatars and multi-language support, teachers can effectively communicate complex concepts.
Digital Stores: E-commerce businesses can use Synthesia AI to create persuasive product videos that showcase their offerings. By transforming product descriptions into visually appealing videos, digital stores can significantly enhance their conversion rates.
Text to Image Converter AI Tool
How to Use Synthesia.io's AI Video Creation Tool
Creating an AI talking head video using Synthesia.io is a straightforward process. While Synthesia.io offers various video creation options, we will focus on the popular AI talking head video format.
Here's a step-by-step guide to help you get started:
Step 1: Create a Free Video:
Go to Synthesia.io AI video generator and Click on "Create a Free AI Video".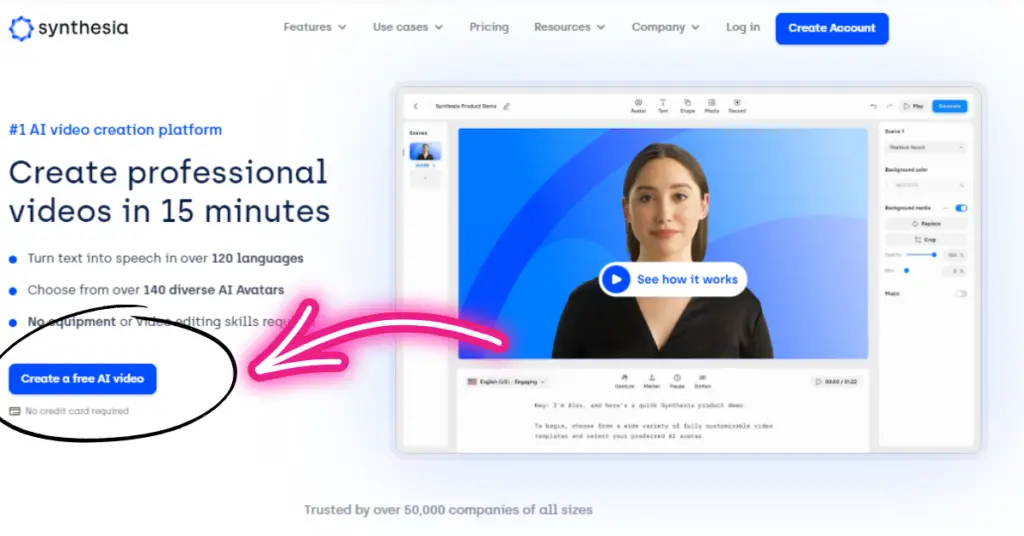 Step 2: Select Video Template
Begin by crafting a script for your video slides. Keep the content concise, focusing on conveying key information within 3-4 sentences per slide.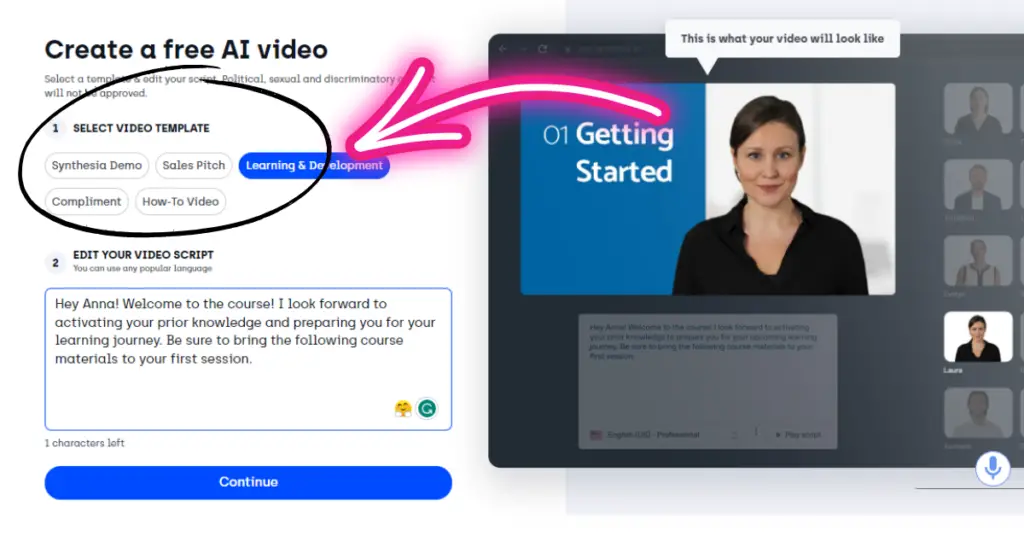 Step 3: Select an Avatar
Explore the wide range of available AI avatars and choose the one that best aligns with your video's topic and aesthetic. Synthesia.io offers over 60 AI avatars, ensuring you find the perfect fit for your video.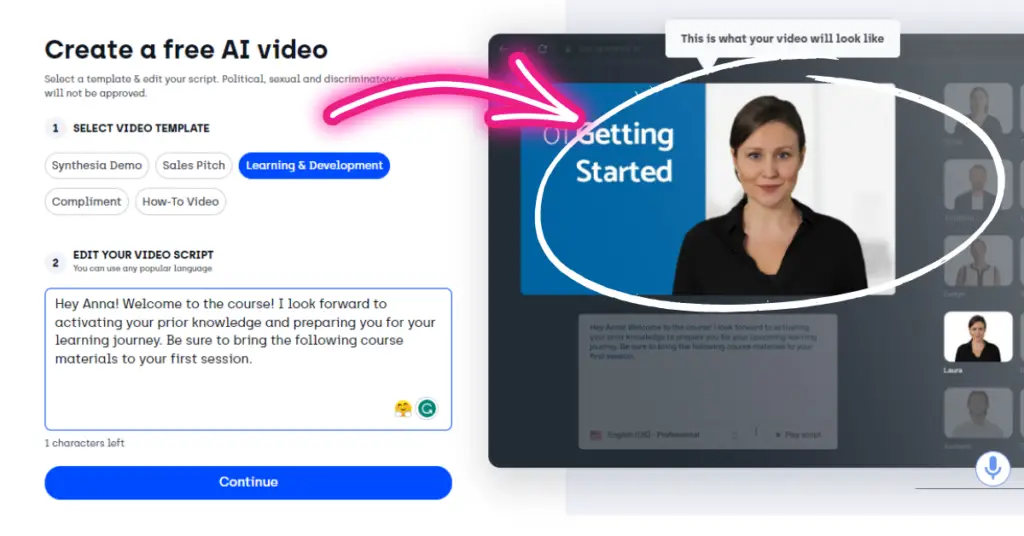 Step 4: Add the Script to Each Slide
Copy and paste the script into the designated script box for each video slide. Synthesia AI video generator automatically converts the text into audio, bringing your script to life.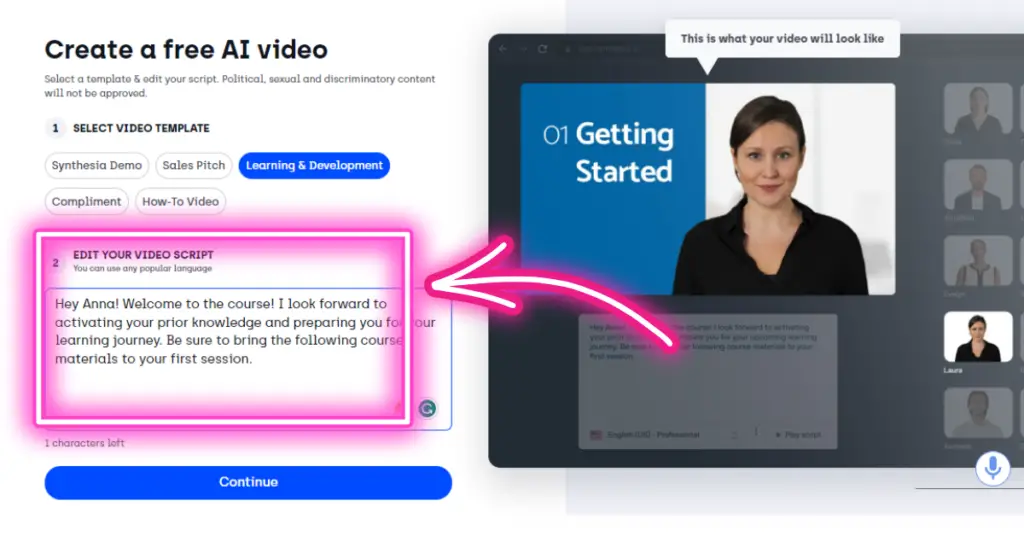 Step 5: Customize Your Video
Enhance your video's visual appeal by adding various effects. You can incorporate images, text, backgrounds, and even screen recordings to accompany the avatar's presentation.
Step 6: Generate the Video
Once you have edited and reviewed the content, it's time to generate the final video. Synthesia.io AI processes the content, allowing you to view and utilize the video according to your needs.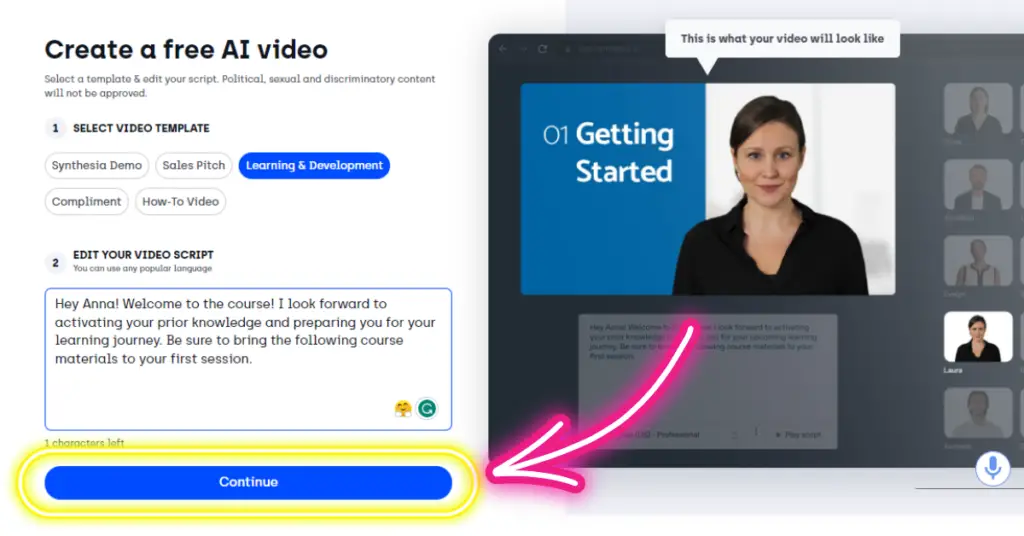 Key Features of Synthesia.io
Synthesia.io is an AI video generator that helps people make videos. It has lots of cool things you can use, like different characters and templates for your videos. You can also use different languages and add captions. It helps everyone make their own videos and makes it easier for people to make videos in a new way.
Let's explore some of its noteworthy functionalities:
a) Realistic AI Avatars: Instead of relying on traditional actors or appearing on camera yourself, Synthesia.io provides over 60 realistic AI avatars to act as presenters for your videos.
These avatars are designed to captivate your audience and deliver your message effectively. Additionally, Synthesia.io offers the option to create custom avatars customized to your brand, allowing for personalized and engaging videos.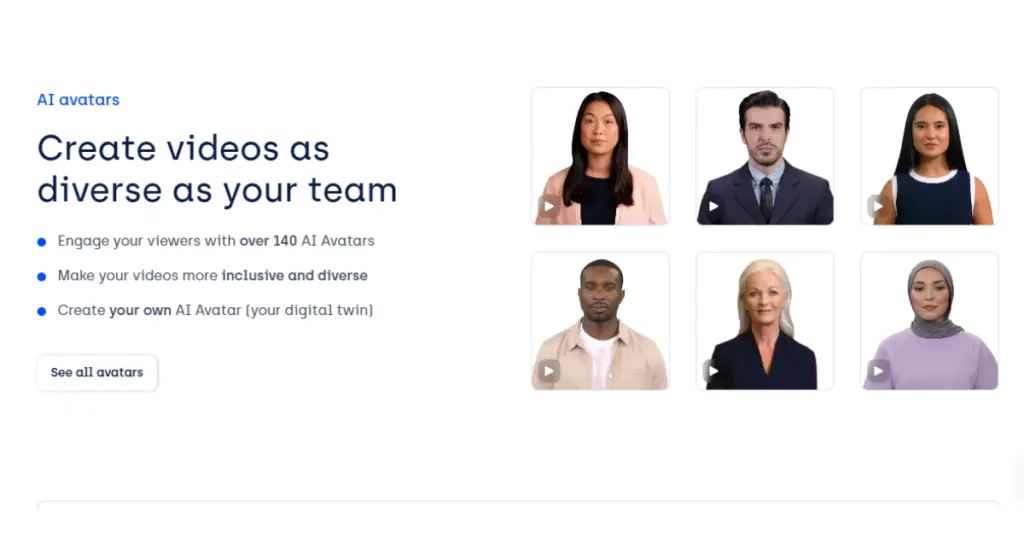 b) Multiple Language Support: With Synthesia.io, there's no need to hire voice-over artists for different language versions of your videos. The platform offers support for over 120 languages and accents, ensuring that you can communicate your message globally.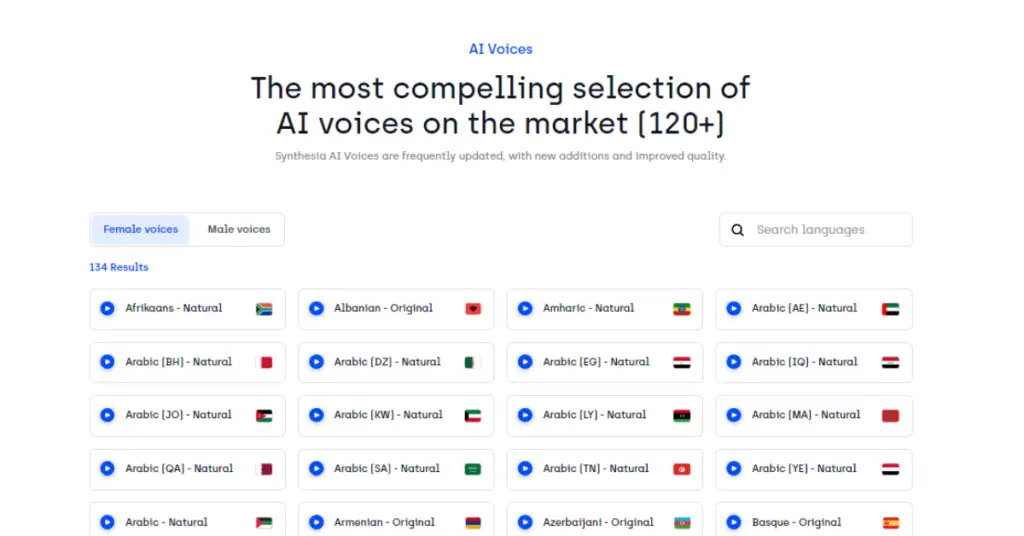 c) Video Templates: To simplify the video creation process, Synthesia.io offers over 50 customizable video templates. These templates cater to various themes and purposes, including social media videos, explainer videos, presentations, and promotions.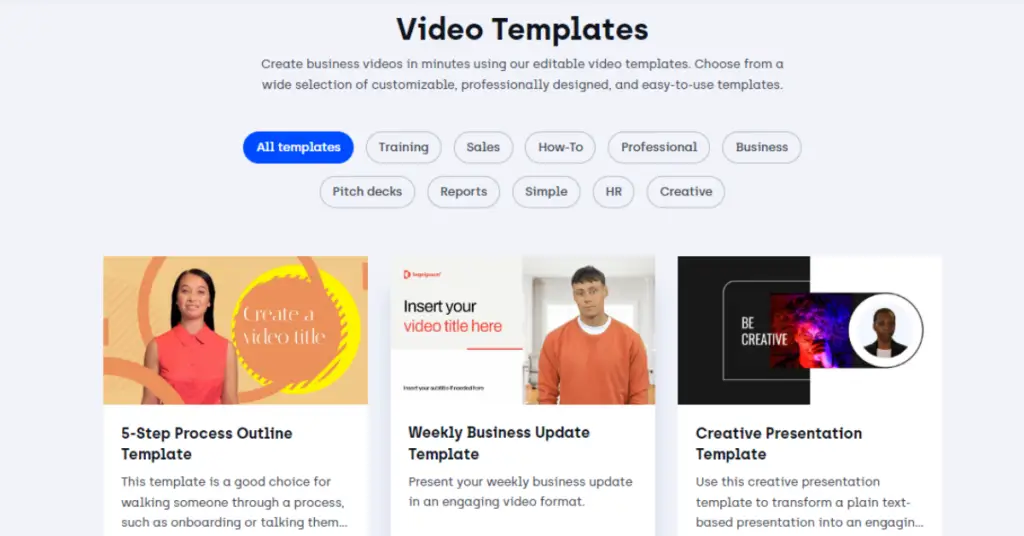 d) Free Media Library: Subscribers to Synthesia.io gain access to a free media library, which includes assets from reputable sources like Unsplash and Shutterstock.
e) Editing and Updating: Synthesia.io understands the importance of flexibility in video creation. The platform allows you to edit and update your videos whenever necessary, enabling you to adapt your content based on evolving requirements.
These key features demonstrate how Synthesia.io empowers users to create professional videos efficiently, regardless of their level of expertise.
Synthesia.io Alternatives
While Synthesia.io is an exceptional AI video creation tool, it's essential to explore alternative platforms that offer similar services. Here are a few notable alternatives to Synthesia.io:
a) DeepBrain AI: DeepBrain AI is another AI digital human avatar video generator tool.
b) Yepic Studio: Yepic Studio is a video creation and personalization tool that supports eight languages. It offers dynamic and engaging content options to elevate the impact of your videos.
c) Colossyan: Colossyan Creator is an innovative video generator that transforms your input text into narrated videos using AI actors. It provides over 70 available languages, catering to a diverse range of users.
d) Elai: Elai provides a selection of more than 25 AI avatars to narrate your AI videos. It eliminates the need for extensive technical skills, making it accessible to users with basic editing abilities.
e) Hour One: Hour One simplifies video generation with its user-friendly interface. By inputting text, the platform generates interactive and engaging videos narrated by virtual characters, saving time and effort.
These alternatives offer unique features and capabilities, catering to specific preferences and requirements. Exploring these options can help you find the AI video creation tool that best aligns with your vision.
Latest AI Tool Tutorials:
Final Words on Synthesia.io
Synthesia.io is an amazing AI tool for video creation. It uses artificial intelligence to help users create professional videos quickly and easily. Whether you are a YouTuber, marketer, influencer, teacher, or business owner, Synthesia.io has features to help you create better videos.
Synthesia.io is a powerful AI video generator that lets you create engaging and visually appealing videos without the need for traditional recording methods. With customizable avatars, support for multiple languages, and a free media library, Synthesia.io is a great option for businesses, educators, and individuals who want to create high-quality videos without the hassle.
So, if you're looking to elevate your video content creation and engage your audience, you can consider exploring the possibilities with Synthesia.io
Frequently Asked Questions (FAQs):
1. Can I use my own voice in Synthesia.io videos?
Currently, Synthesia.io does not support using your own voice. However, you can choose from a wide range of AI voices in multiple languages to narrate your videos.
Can I customize the AI avatars in Synthesia.io?
Synthesia.io allows you to select from a variety of AI avatars for your videos. While customization options are available, creating fully custom avatars is a paid add-on feature.
Can I add subtitles to my Synthesia.io videos?
Synthesia.io allows you to add subtitles to your videos, making them more accessible to a wider audience.
Is Synthesia.io suitable for professional video production?
Yes, Synthesia.io is suitable for professional video production.
Can I edit my Synthesia.io videos after generating them?
Synthesia.io understands the importance of flexibility in video creation. You can edit and update your videos whenever necessary, allowing you to adapt and refine your content over time.