This AI Tool is specially made for Students. Today we're going to explore the Caktus AI Tool which helps students to write essays, program codes, Language tutors, Maths and Science question solvers.
Caktus AI offers a comprehensive suite of AI tools designed to assist students in solving their daily homework assignments. Here, we'll provide a complete guide and review of Caktus AI. So let's get started
What is Caktus.AI?
Caktus AI is an AI educational tool and all-in-one study companion for school students. Caktus.ai helps students by writing essays and providing math and science solutions, to grasp the concept of each subject.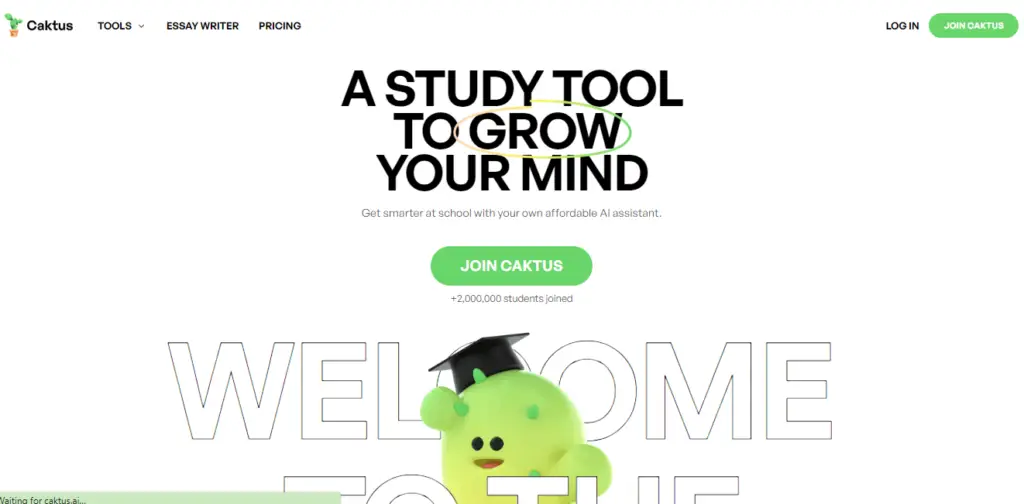 It's an AI assistant consisting of other 56 AI tools. It also provides programming solutions.
How to Use Caktus.AI?
Step 1: Visit Caktus.ai and sign up for new account
Visit Caktus.ai homepage and Click on the Join caktus button.
On the next page, enter your name, and email and create a new account.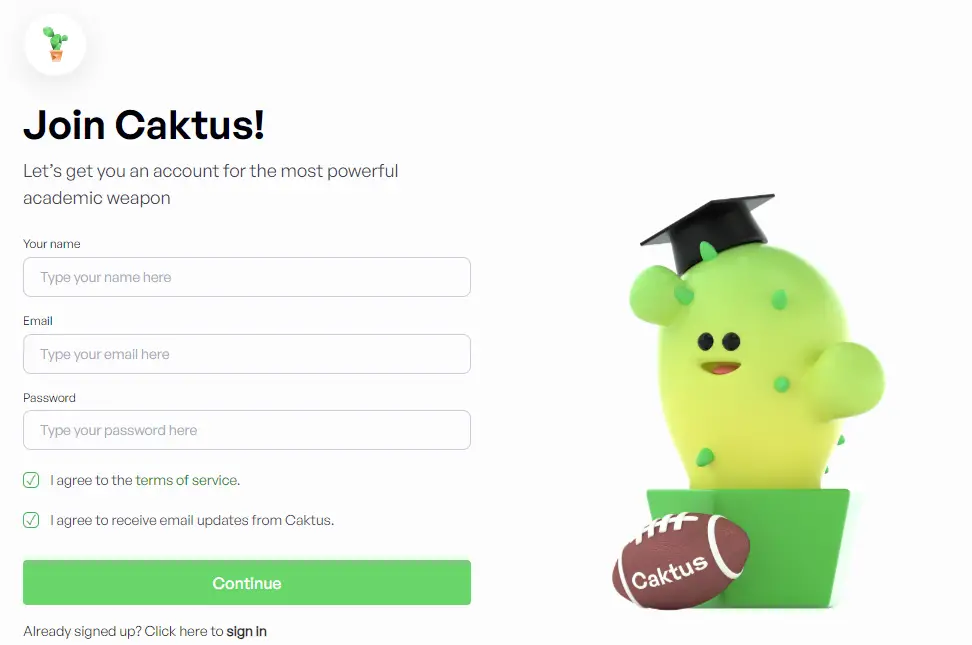 Step 2: Choose your Plan.
Buy a plan before using Caktus.ai tool.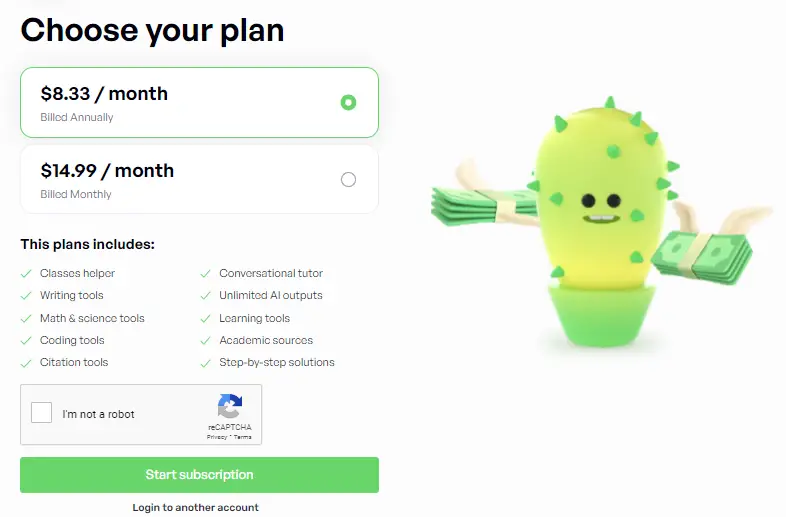 Step 3: Caktus.ai Dashboard
After successful signup, you'll see the Dashboard contains various tools in different categories like writing, coding, studying, language, fun, Arts, and many more.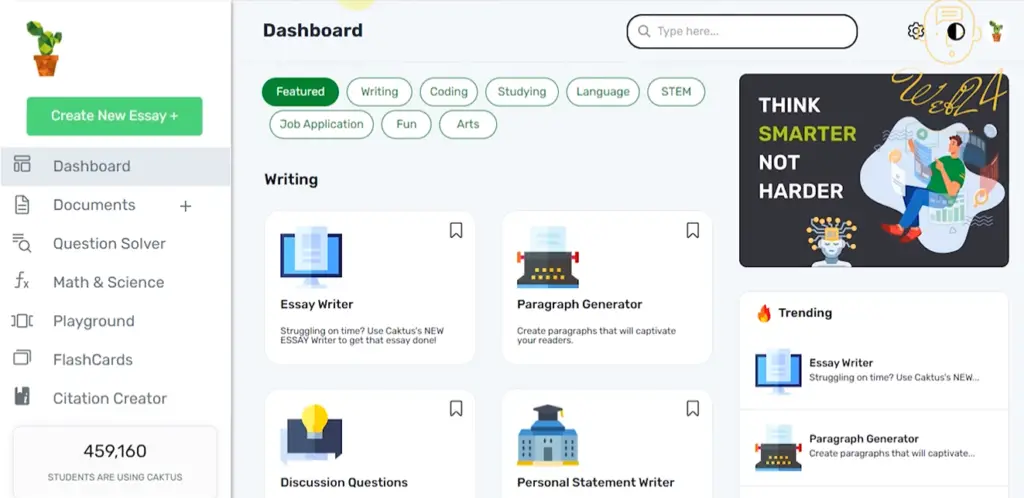 Step 4: Select your Tool
Now, it's time to pick the tool that suits your objective. Whether it's crafting written content, solving coding challenges, or enhancing your language skills.
Features of Caktus.AI
Polished Documents at Your Fingertips: With Caktus Text Editor, your text documents are in for a treat. You can easily format and refine your content.
The Gold Standard of Academic Sources: Thanks to integration with CORE, you'll find your references exclusively from trusted, published papers.
Personalize writing style to You: Personalization takes center stage with Caktus AI. By sharing a snippet of your actual writing, watch as Caktus adapts and crafts content that mirrors your unique style.
AI-Powered Chat Assistance: Think of Caktus as your ultimate study companion. Whenever homework woes strike, this AI buddy is right there with you, ready to lend a helping hand.
How to Access Caktus AI premium account?
If you're a student then you can easily use the Caktus AI free student plan. It's made only for students and you can access the Caktus AI premium account here.
Caktus AI 56 AI Tools List:
Writing:
| Writing AI Tool | Description |
| --- | --- |
| Blog Post Ideas | Generate creative ideas for blog posts. |
| Blog Post Outline | Create an organized blog post outline. |
| Text Summarizer | Summarize lengthy text with precision. |
| Paragraph Generator | Quickly generate paragraphs of content. |
| Creative Story | Craft engaging and imaginative stories. |
| Content Improver | Enhance the quality of your content. |
| Personal Bio | Create an impressive personal biography. |
| Persuasive Bullet Points | Generate compelling bullet points. |
| Hook Generator | Craft attention-grabbing hooks. |
| Sentence Expander | Expand sentences with depth and detail. |
| Email Writer | Generate emails for various occasions. |
| Grammar Fixer | Correct grammar errors in your writing. |
| Article Summarizer | Summarize articles for quick insights. |
| AP Style Formatting | Format content following AP style. |
| Email Responder | Craft responses to emails effectively. |
| Poetry Writer | Create beautifully composed poetry. |
| Script Writer | Generate scripts for different needs. |
| Conclusion Writer | Generate concluding statements. |
| College Apps Writer | Write impressive college applications. |
| Discussion Questions | Generate thought-provoking questions. |
| Discussion board post (Disagree) | Create well-structured disagreement posts. |
| Discussion board post (Agree) | Generate structured agreement posts. |
| Book Summarizer | Summarize books for quick overviews. |
| Ted Talk to Essay | Transform Ted Talks into essays. |
| Essay Writer | Generate well-structured essays. |
| Personal Statement Writer | Create compelling personal statements. |
| YouTube to Essay | Convert YouTube content into essays. |
| Article Explainer | Craft explanatory content for articles. |
Coding:
| Coding AI Tool | Description |
| --- | --- |
| Python Writer | Generate Python code snippets. |
| Bash Code Creator | Create Bash code effortlessly. |
| C# Writer | Generate C# code quickly. |
| Go Writer | Create Go programming code. |
| Java Writer | Generate Java code snippets. |
| Javascript Writer | Create JavaScript code easily. |
| Ruby Writer | Generate Ruby code effortlessly. |
| Rust Writer | Create Rust programming code. |
| SQL Writer | Generate SQL code snippets. |
| TypeScript Writer | Create TypeScript code efficiently. |
| Write a Python Docstring | Generate Python docstrings. |
| Javascript to Python | Convert JavaScript to Python code. |
Studying:
| Studying AI Tool | Description |
| --- | --- |
| Text to Notes | Convert text content into study notes. |
| Article Note Taker | Extract key points from articles. |
Language:
| Language AI Tool | Description |
| --- | --- |
| Spanish Tutor | Get assistance with Spanish learning. |
| Mandarin Tutor | Learn Mandarin effectively. |
| Italian Tutor | Get help in learning Italian. |
| Russian Tutor | Master Russian language with guidance. |
| Japanese Tutor | Learn Japanese language with ease. |
| French Tutor | Enhance your French language skills. |
| Arabic Tutor | Get guidance in learning Arabic. |
STEM:
| STEM AI Tool | Description |
| --- | --- |
| Present Value | Calculate present value for finances. |
| Derivative Calculator | Calculate derivatives for math problems. |
| Integral Calculator | Solve integrals with ease. |
| Chemical Analyzer | Analyze chemical compounds efficiently. |
| Reaction Balancer | Balance chemical reactions accurately. |
| Geometric Shifter | Manipulate geometric shapes with precision. |
| Geology Tutor | Get tutoring for geology concepts. |
Job Application:
| Job Application AI Tool | Description |
| --- | --- |
| Cover Letter Writer | Generate professional cover letters. |
| Resume Bullet Points | Create impactful resume bullet points. |
Fun:
| Fun AI Tool | Description |
| --- | --- |
| Class Absent Excuses | Generate creative excuses for absences. |
| Love Letter | Craft heartfelt love letters. |
| Songwriter | Generate lyrics for songs. |
| Caption Writer | Create engaging captions for content. |
| Text Responder | Generate text responses efficiently. |
Arts:
| Tool | Description |
| --- | --- |
| Movie Scene Analysis | Analyze scenes from movies effectively. |
Final Words:
Caktus.ai is such a great AI tool for school students. I hope you enjoyed this Caktus.ai tutorial. Here in this post, I've shared detailed guidance about the Caktus.ai tool.
In a nutshell, Caktus AI is a versatile and educational AI tool that boosts learning and creativity. With a wide range of features providing writing, coding, studying, languages, STEM, and more.
Caktus AI is more than just an assistant; it's a great tool for growth and success in an ever-evolving world of knowledge.
Caktus. AI FAQs:
1. Can Caktus AI be detected?
Caktus AI cannot be detected as it operates seamlessly to assist users.
2. Is Caktus AI better than ChatGPT?
Caktus AI offers specialized academic tools and personalization, making it more tailored for educational purposes compared to ChatGPT.
3. How can I use the Caktus ai free version?
You can freely use the Caktus AI Student trial version.
Read Latest AI Tutorials: