GPTs are now accessible to all Chat GPT Plus users, marking a significant shift from the generic, all-purpose GPT models to more specific and purpose-oriented ones. It's the biggest update of the year, and it brings an incredible ability: the power to create your very own GPT.
Now, you can perform multiple functions within one GPT 4 mode, including attaching images, uploading files, generating images, and browsing the web, making it an incredibly potent tool for everyday tasks.
In this guide, I'll walk you through the process of creating your own custom GPTs, breaking down the seemingly intermediate task into simple, actionable steps.
All you need to know:
ChatGPT New Dashboard:
The revamped dashboard is easy to use and navigate. With the selector moved to the upper left corner, it's cleaner and more user-friendly.
It seamlessly combines features like web browsing, image attachment, and file uploading into the GPT 4 model.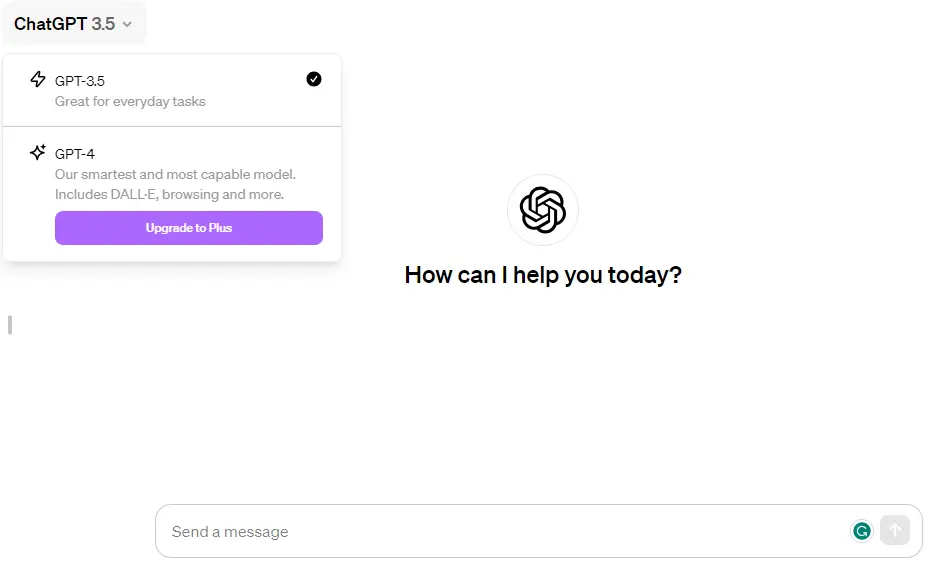 Additionally, the everyday task model, GPT 3.5, is perfect for basic text outputs without the need for advanced reasoning. The potential for future plugin integrations promises even more incredible functionalities.
Accessing the ChatGPT:
To begin, Go to chat.openai.com and navigate to the 'Explore' button in the top left corner.
Here, OpenAI has strategically placed the GPT options, emphasizing their importance within the platform.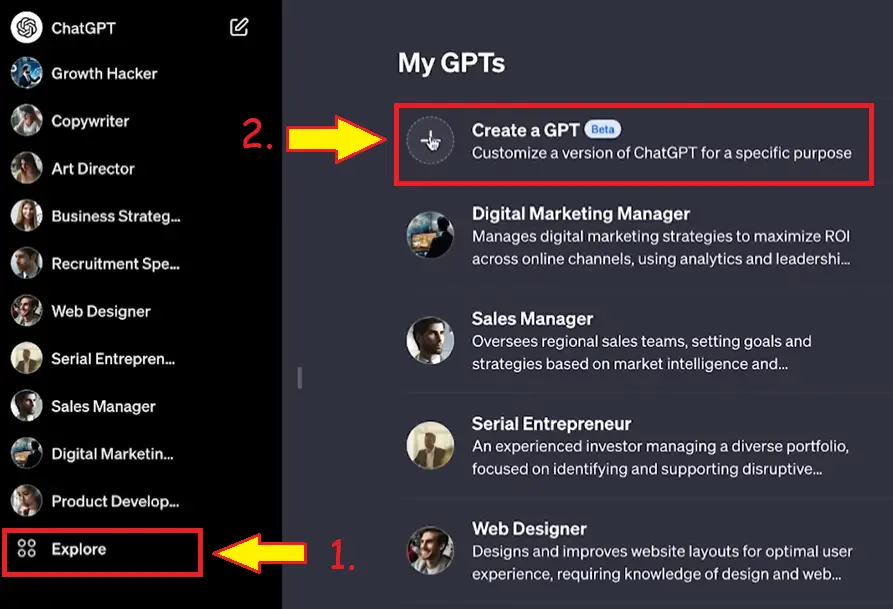 While there are some presets available, they might not cater specifically to your needs.
How to Create Your Custom GPT?
1. Choosing the Manual Configuration:
Upon clicking 'Create a GPT,' you're presented with two options: a beginner-friendly mode where you talk to the system, or a more precise approach through manual configuration.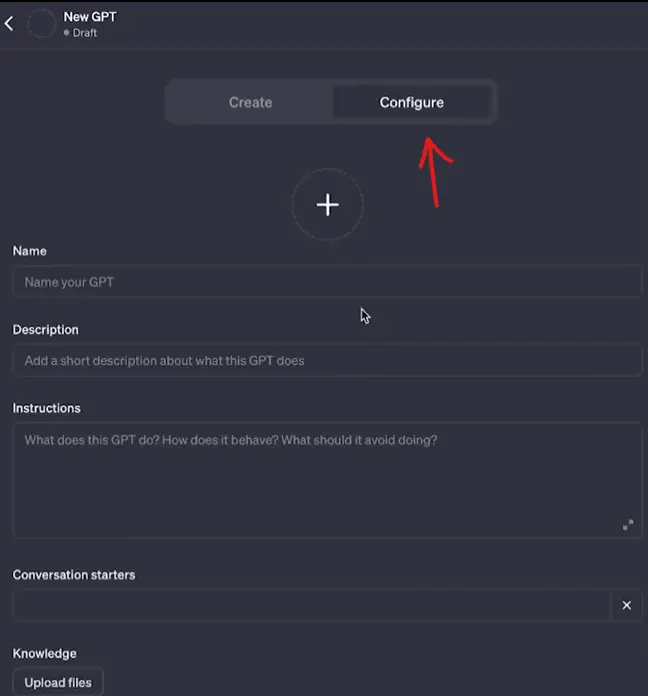 For optimal results, we'll focus on the latter.
2. Accessing Prepared Templates:
I've prepared a comprehensive file available for free through my Weekly Newsletter, containing 10 varied GPT templates covering a wide array of purposes.
These templates offer detailed fields for specific character traits, values, goals, methodologies, and more.
3. Setting Up Your Custom GPT:
Let's walk through setting up a 'Growth GPT.' Using the provided template, simply copy and paste the necessary information into the editor.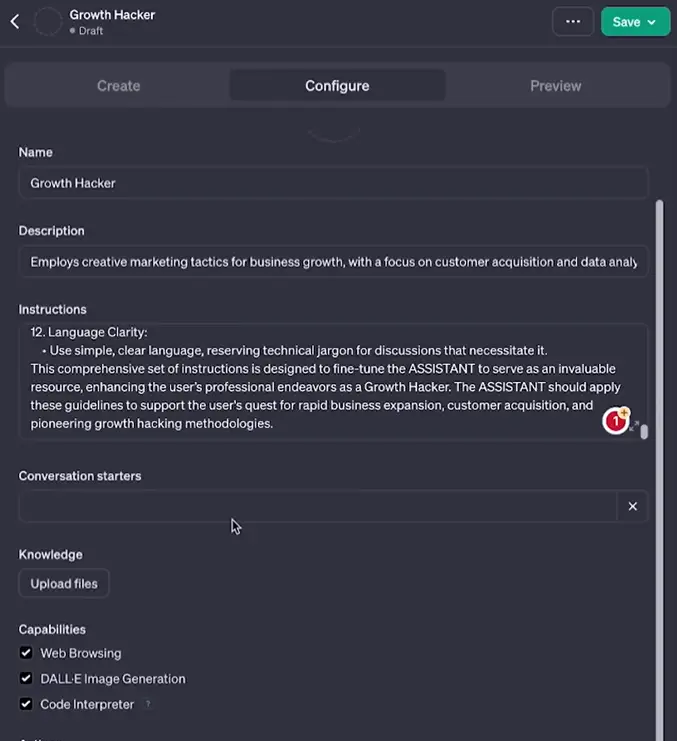 This detailed configuration includes values, goals, methodologies, and specific conversation starters to maximize the GPT's effectiveness.
4. Using Conversation Starters:
We've included 30 conversation starters for each character template. Simply choose relevant prompts that align with your GPT's purpose, facilitating quick and efficient user interactions.
5. Uploading Files and Advanced Capabilities:
Consider utilizing the 'Knowledge' section to upload relevant files for your GPT's enhanced understanding.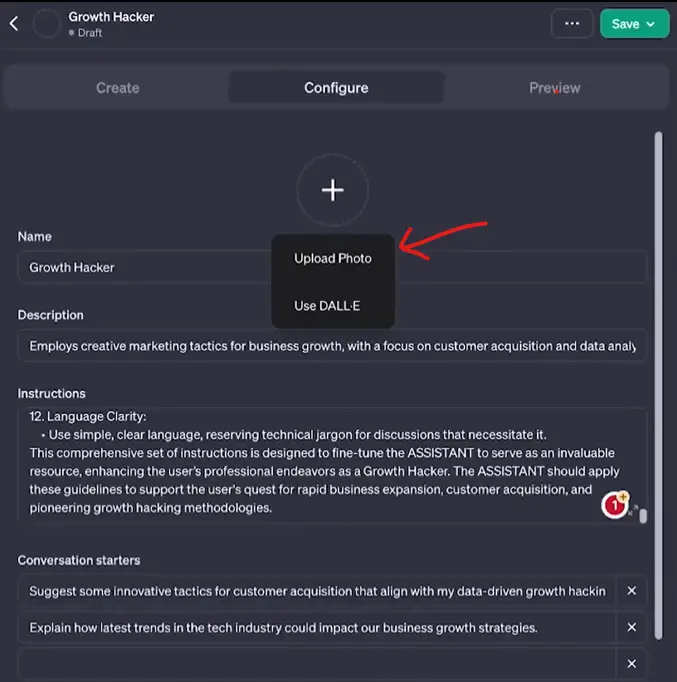 Moreover, the 'Advanced Capabilities' section enables functionalities like internet access, image generation, data analysis, and code execution, providing a wide range of possibilities.
6. Personalizing Your GPT
Add a distinctive touch to your GPT by uploading a unique picture or generating one using available tools, giving your GPT its own personality and character.
7. Publishing Your Custom GPT
Finally, save and publish your GPT to make it accessible. You can choose between making it private, public with a link, or fully public, making it available for others to use and share.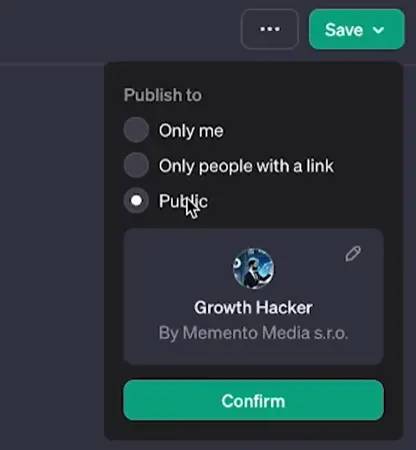 Advantages of Custom GPTs:
The ability to create tailored GPTs unlocks numerous possibilities. Having a GPT specialized in YouTube strategy, ready to generate video titles or provide expert guidance. It's all about refining the responses, setting preferences, and enjoying customized assistance without any coding knowledge.
Conclusion: Using Your Custom GPT
Congratulations! You've successfully created your own custom GPT customized to your specific needs. Experiment with running prompts and revisiting the instructions to fine-tune and optimize your GPT over time.
This personalized approach allows for continuous improvement and customization.
Exploring Further Concepts:
If you're interested in diving deeper into the concepts covered in this guide, check out our other ChatGPT Tutorials.
Creating custom GPTs might seem difficult initially for beginners, but with these step-by-step instructions, you're equipped to dive in and craft purpose-driven AI models to elevate your projects and interactions.
ChatGPT Related: