As you may already be aware, editing YouTube videos often involves costly software, manual editing, and spending hours meticulously detecting and removing unwanted elements such as bad audio, silences, and imperfect takes.
However, I have some great news for you today – an exceptional solution to address this very problem: Gling.ai.
Gling.ai is an AI-powered tool that removes silences and bad takes from videos. In a matter of seconds, this AI tool can transform your editing workflow, saving video creators a significant amount of time and effort.
So Let's explore the AI tool Gling.ai.
Gling AI
Let me take you on a journey of amazement that began just three days ago. I stumbled upon a hidden gem called Gling AI, and believe me, it's been an obsession ever since.
A Virtual Editing Assistant:
Alright, folks, let's cut straight to the chase. Gling AI is the closest thing you'll find to a virtual editing assistant right now.
Imagine an assistant that doesn't just cut out awkward silences, but also kicks those pesky bad takes to the curb.
Yes, you heard me right – Gling AI isn't just an editor, it's a guardian of your content quality.
What is Gling.ai?
Gling.ai is an innovative AI tool designed to simplify and enhance the video editing process for YouTubers and content creators. It is an AI tool that automates tasks such as detecting and removing silences and bad takes from videos, as well as recognizing patterns in footage to suggest suitable transitions and effects.
With Gling.ai, users can quickly and easily create professional-looking videos without spending excessive time and effort on manual editing.
The tool provides a user-friendly interface and supports integration with popular editing software like Final Cut Pro, DaVinci Resolve, and Adobe Premiere.
Additionally, Gling.ai offers flexible pricing options, including a free trial and a subscription-based plan, making it accessible to a wide range of users.
The Gling AI Experience
The setup is as smooth as a well-crafted edit. Drag and drop your footage, select your session's name and language, and hit continue.
The AI engine springs to life, reading and transcribing your audio with finesse.
But it doesn't just stop at silences – Gling AI is a master at discerning bad takes and repetitive sentences.
What Problem Does Gling.ai Solve?
Gling.ai addresses the common challenge faced by video content creators which is spending hours editing a single video.
One of the most significant problems in video editing is identifying and eliminating silences and bad takes, which can be tedious and time-consuming.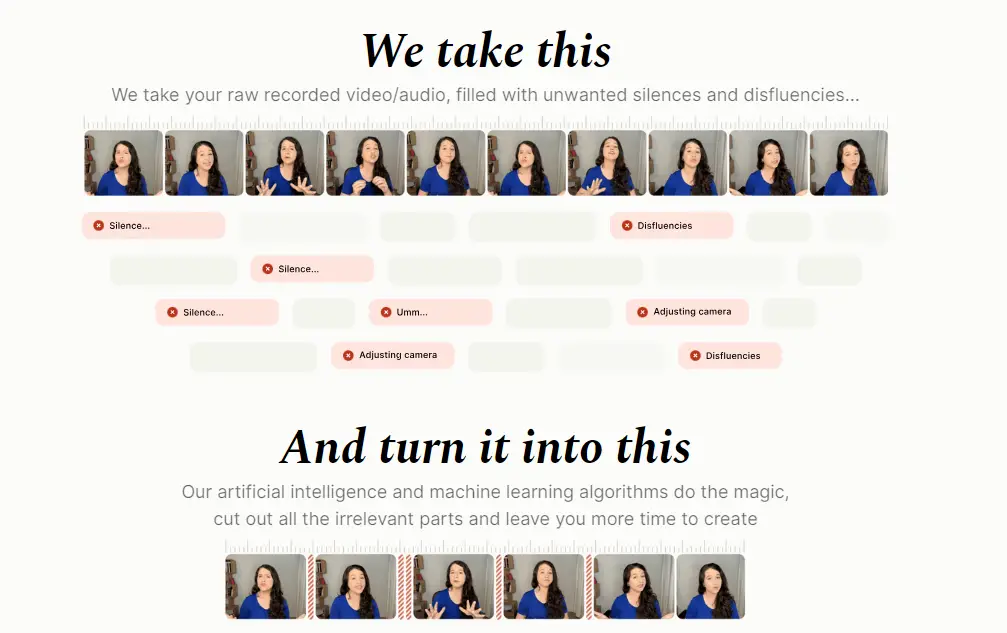 Gling.ai automates this process, accurately detecting silences and bad takes, and seamlessly removing them from your videos.
This feature alone saves content creators valuable time and energy that can be better spent on producing high-quality content.
From Raw to Refined
Once the AI has done its magic, you'll have the chance to witness the transformation.
Imagine peering into a mirror that reveals all your false starts, mums, and stumbles. It's a humbling yet enlightening sight.
Gling AI curates your content, leaving behind only the golden moments that deserve your audience's attention.
Who Should Use Gling.ai?
Gling.ai is a versatile tool suitable for a wide range of video content creators. Whether you're a YouTuber, a vlogger, a filmmaker, or even a business owner creating promotional videos, Gling.ai can significantly enhance your video editing workflow.
By automating repetitive tasks and providing intelligent suggestions, Gling.ai allows creators to their editing process and produce professional-looking videos effortlessly.
How to Use Gling.ai?
Using Gling.ai is a straightforward and user-friendly process. Here's a step-by-step guide to get you started:
1. Download Gling.ai:
Firstly, Go to the Gling.ai page and Download the Gling AI. It is available for both MAC and Windows.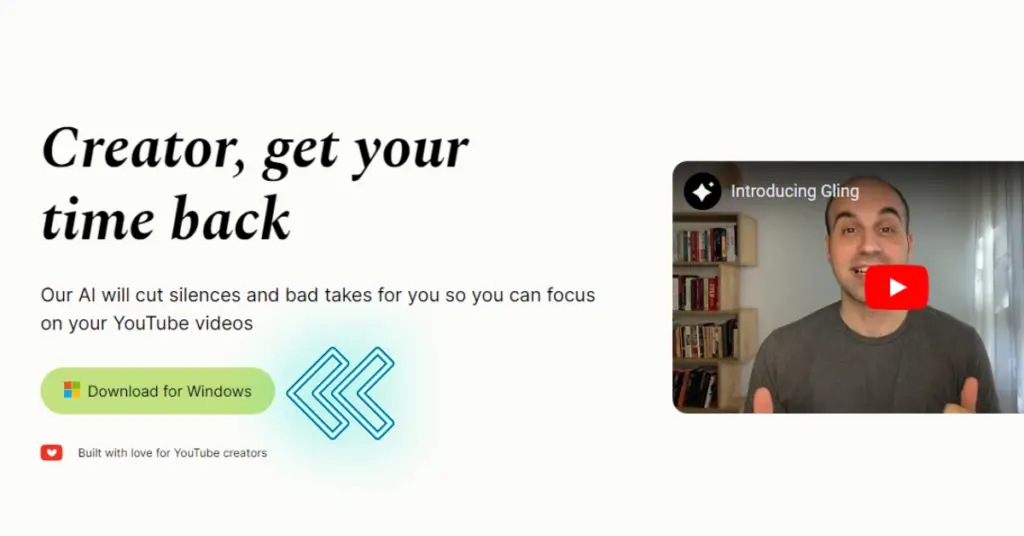 2. Sign up and Login:
Open the Gling AI App and Create a new account.
3. Upload Raw Recording:
Begin by selecting one or more video files and uploading them to Gling.ai. The tool will then send your videos for AI transcription and automatically remove any bad takes or silences.
4. Edit & Review:
Once the AI transcription and editing process is complete, you can review your edited video. Gling.ai provides an intuitive interface where you can further refine your video by removing parts of the text or clips from the timeline, ensuring your content meets your creative vision.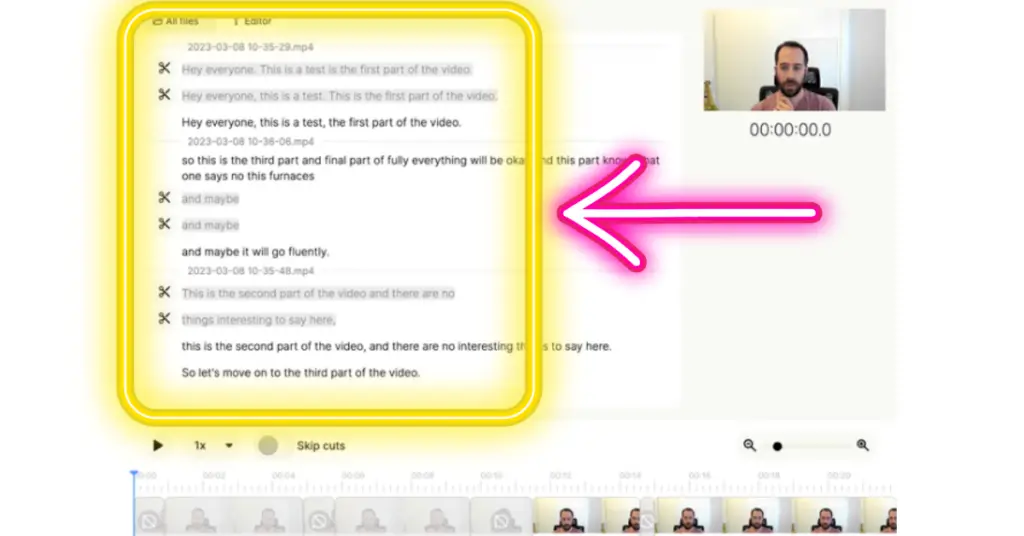 5. Export:
After you're satisfied with the edits, it's time to export your video. Gling.ai offers seamless integration with popular editing software like Final Cut Pro, DaVinci Resolve, and Adobe Premiere.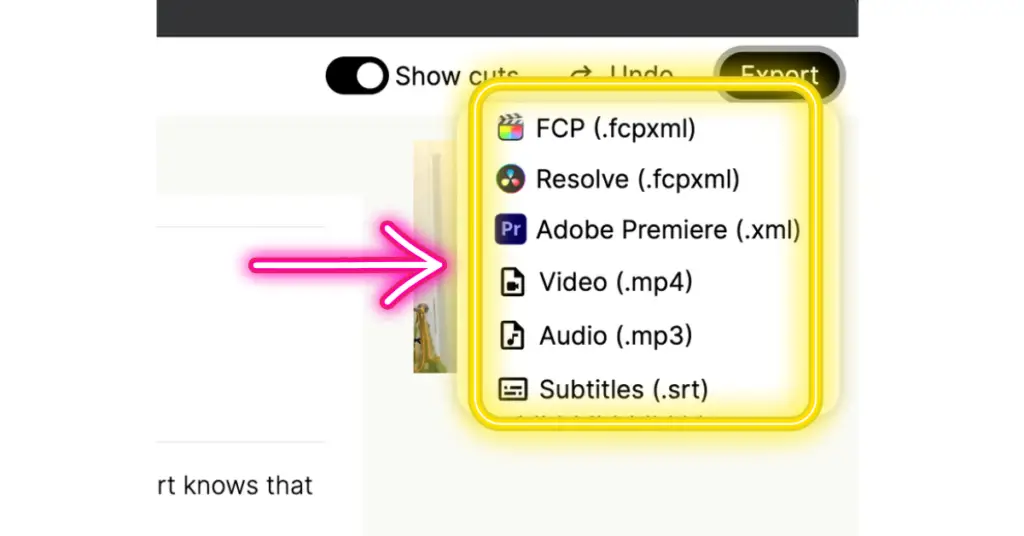 Alternatively, you can export your video directly as MP4 or MP3 media files, along with captions in SRT format, making it easy to share your content across various platforms.
Features of Gling.ai:
Gling.ai boasts several powerful features that set it apart as a game-changing tool for video content creators. Some of its notable features include:
Automatic Silence and Bad Take Detection:
Gling.ai's AI technology accurately detects silences and bad takes in your videos, saving you valuable editing time.
Pattern Recognition for Transitions and Effects:
The AI-powered system analyzes your footage, recognizes patterns, and suggests suitable transitions and effects, allowing you to create professional-looking videos effortlessly.
User-Friendly Interface:
Gling.ai provides a user-friendly interface that simplifies the editing process, ensuring both beginners and experienced creators can navigate the tool with ease.
Gling.ai Pricing:
Gling.ai offers flexible pricing options to accommodate various user needs. Here's an overview of their pricing structure:
Pricing Plan
Features Included
Price
Free Trial
– Upload and export one video
– Maximum length of raw video: 2 hours
Free
Paid Plan
– Process up to 10 hours of footage per month
– Additional charge for exceeding 10-hour limit: $0.04 per minute ($2 per hour)
– Prompt notifications when reaching usage limit
– Integration with popular editing software
$15 per month
Gling.ai: Helping YouTubers Take Their Content to the Next Level
If you're an active YouTuber with at least 100 subscribers and have connected your channel to Gling.ai, you can enjoy additional benefits that will elevate your content creation process. Here's how Gling.ai supports YouTubers:
Free Video Credit: By including the phrase "Edited with Gling: https:/gling.ai" in the description of your YouTube video, you will receive a free video credit in Gling.ai, allowing you to further enhance your video editing capabilities.
Credit Limit: The free video credit is capped at 2 hours per video, ensuring fair usage while still providing valuable support to YouTubers.
Verification Process: Simply provide the link to your YouTube video, and Gling.ai will verify that it was posted within the past 30 days to ensure eligibility for the free video credit.
Eligibility: Once the verification is complete, the free video credit will be added to your Gling.ai account, enabling you to explore and utilize the tool's advanced features to create captivating content.
Final words on Gling.ai
Gling.ai is an AI tool that automates time-consuming tasks, provides intelligent suggestions, and offers a user-friendly interface.
Gling.ai empowers content creators to produce professional-looking videos efficiently and effectively. Whether you're a beginner or an experienced video editor, Gling.ai is a valuable asset that will enhance your content creation journey.
Try Gling.ai today and take your videos to the next level!
Frequently Asked Questions (FAQs):
1. Is Gling.ai suitable for beginners in video editing?
Absolutely! Gling.ai's user-friendly interface and automated features make it an excellent tool for beginners to start editing videos effortlessly.
2. Can I use Gling.ai with my preferred video editing software?
Yes, Gling.ai seamlessly integrates with popular editing software such as Final Cut Pro, DaVinci Resolve, and Adobe Premiere, providing flexibility to work with your preferred tools.
3. What file formats does Gling.ai support for exporting edited videos?
Gling.ai supports exporting videos as MP4 or MP3 media files, ensuring compatibility with various platforms and devices.
4. Can Gling.ai help me with captioning my videos?
Absolutely! Gling.ai allows you to export captions in SRT format along with your edited videos, making it easier to engage a wider audience.
5. Is Gling.ai limited to YouTube content creators only?
No, Gling.ai is designed to assist a diverse range of video content creators, including YouTubers, vloggers, filmmakers, and businesses looking to create compelling videos.
6. Is Gling.ai free for users?
Yes, Gling.ai offers a free trial that allows users to edit their first video without any cost. However, for continued usage, a subscription is required.