Welcome to Techtelligence, where we've done all the hard work for you by curating the Top 100 AI tools available today.
These amazing AI tools are designed to revolutionize various domains, empowering users like you with the incredible capabilities of artificial intelligence.
If you're a student, influencer, blogger, content creator, business owner, freelancer, or AI enthusiast, then this post is going to save you 100's of hours by using these Top 100 AI tools.
You'll be more productive and efficient in your work after knowing these AI Tools.
From speech to text, music composition to business automation, chatbots to website optimization, and search tools to writing and copywriting, this toolbox has it all!
Let's dive right in and explore these game-changing AI tools.
1. Decktopus AI
– Experience the Future of Presentations:
If you're tired of the same old boring presentations, Decktopus AI is the answer. This all-in-one presentation software uses the power of advanced AI technology to bring your presentations to life like never before.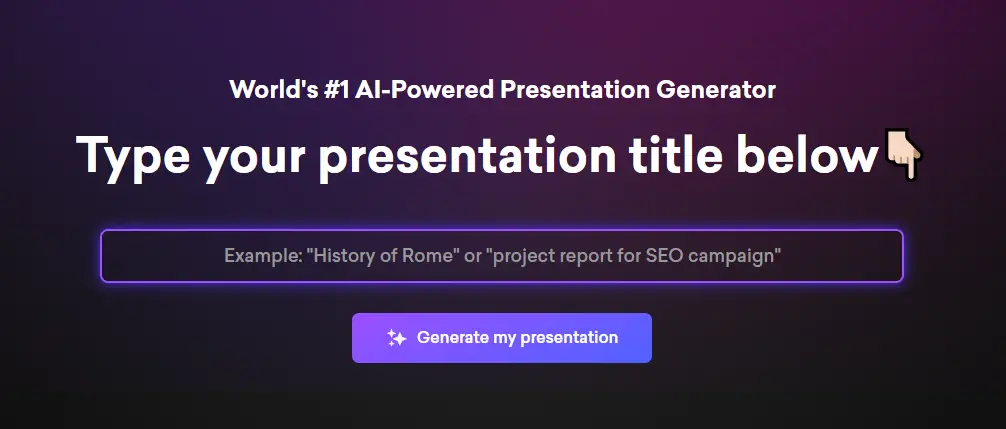 Get ready to wow your audience with dynamic and engaging slides that captivate their attention.
2. Tome
– Build a Powerful Story with Any Content
Creating a story or presentation can be challenging, but you can make it easy by using Tome AI ppt.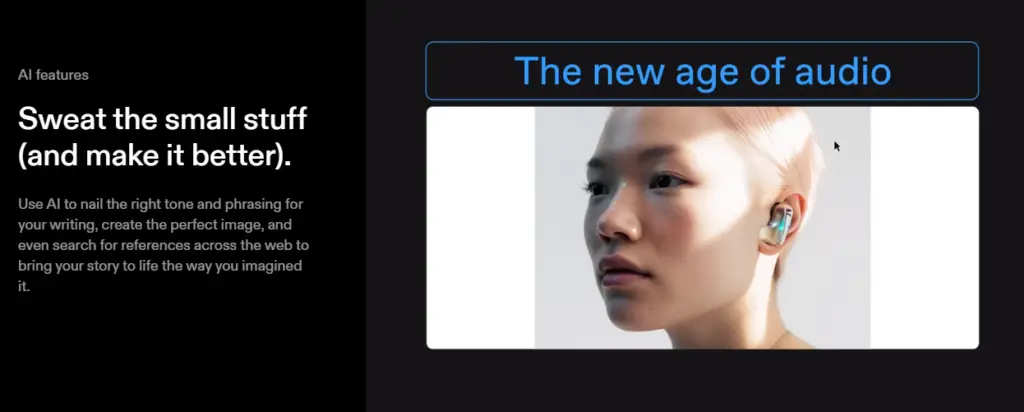 This AI tool allows you to create powerful stories with any type of content, from live embeds and prototypes to 3D renderings and more.
3. Beautiful AI
– Make Your Slides Stunning in Real Time
Creating visually appealing slides just got easier with Beautiful AI.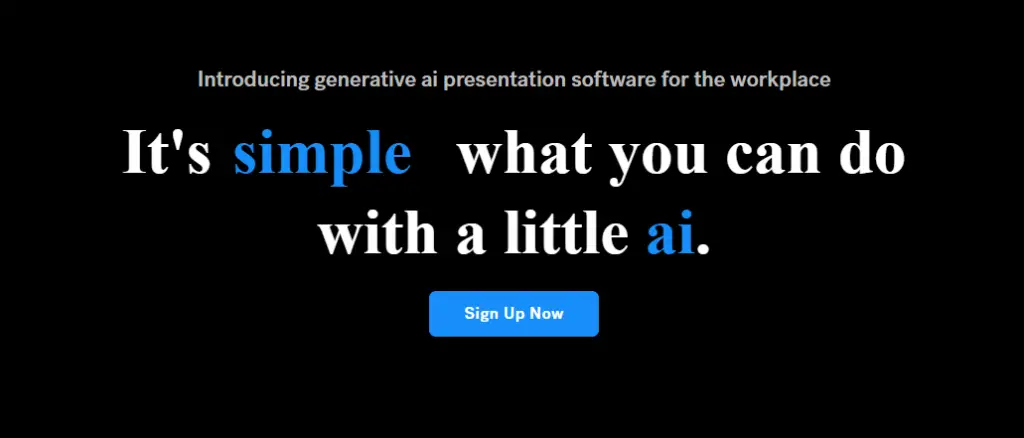 This tool applies the rules of great design in real-time, adapting your content like magic.
No more resizing text or images – let AI handle it, and watch your slides transform into works of art.
4. Pick 3 AI
– Transform Long-form Content into Engaging Videos
Got valuable but low-visibility long-form content?
Pick 3 AI has got you covered.
This tool converts your lengthy blogs, webinars, customer interviews, and more into dozens of short social video posts.
Now you can reach a wider audience with engaging video content.
5. Synthesia AI
– Create AI Videos with Just Text
Lights, camera, AI! With Synthesia, you can generate engaging videos simply by typing in the text.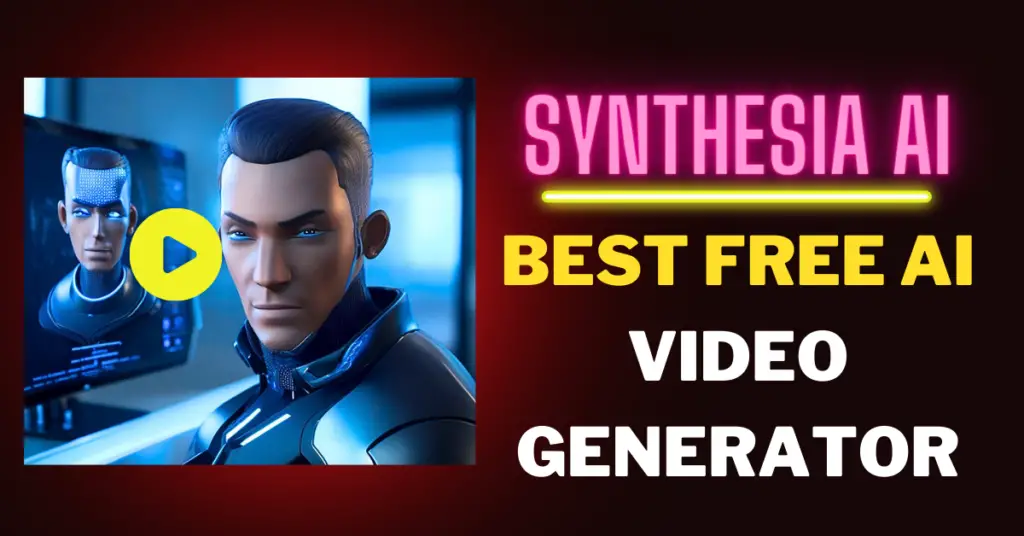 No need for actors, cameras, or audio equipment – AI does the rest.
It's perfect for e-learning, customer onboarding, and more.
6. Runway – Turn Your Imagination into Film
Let your creativity run wild with Runway, a new kind of Creative Suite where AI is your collaborator.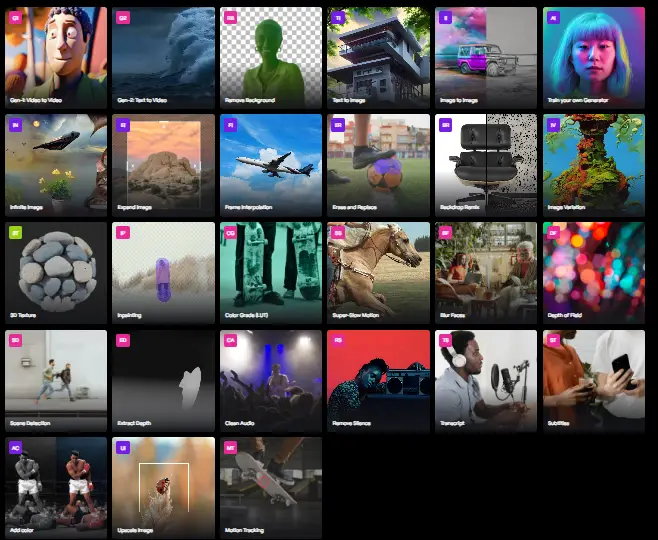 Turn any image, video clip, or text prompt into a compelling piece of film that leaves a lasting impression.
7. Unscreen
– Green Screen Made Easy(Remove Video Background)
Unscreen AI is the best and perfect background remover for your videos.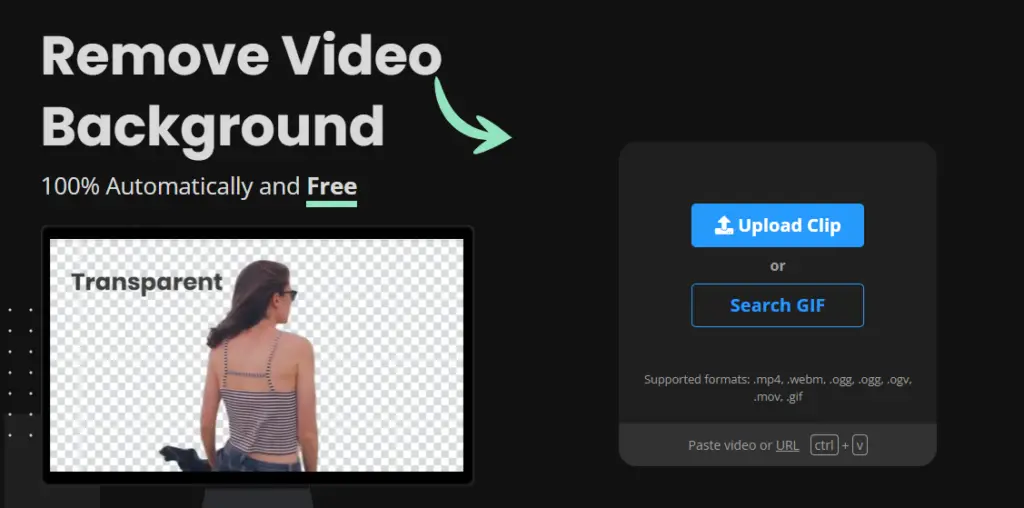 This AI tool makes producing background-free videos a cakewalk, saving you time and effort in the editing process.
8. Descript
– The Easiest Video Editor Powered by AI
Editing videos has never been this easy.

Descript's AI-powered features and intuitive interface make it a dream for YouTubers and TikTokers alike.
Effortlessly create and polish your content to perfection.
9. Quinvio AI
– Simplify Video Presentations with AI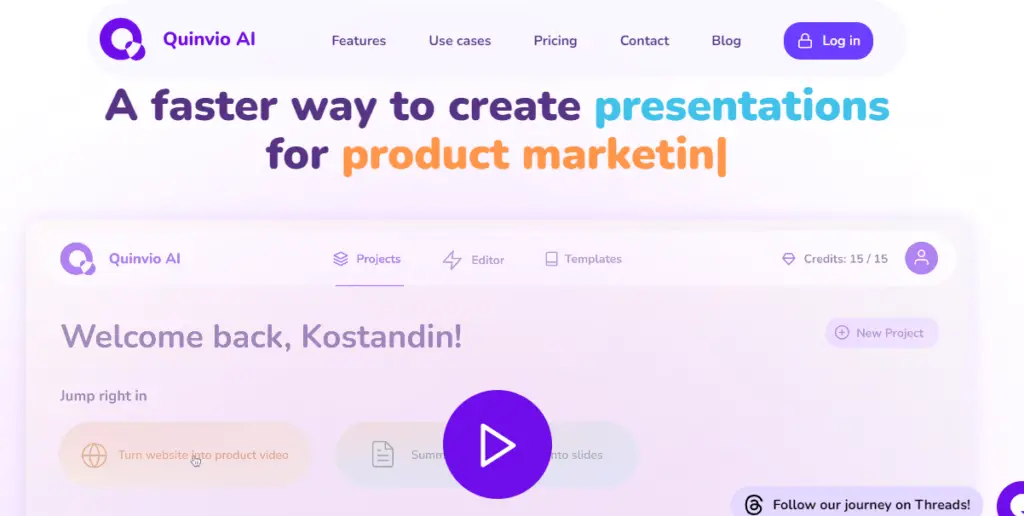 Preparing video presentations just got easier with Quinvio AI. Use AI to outline your ideas, review suggestions, and choose the perfect presenter style. It's like having a personal assistant for your video content.
10. Anyword AI
– Generate Persuasive Copy with Ease
Whether you need ad copy or sales-driven content, Anyword AI has your back.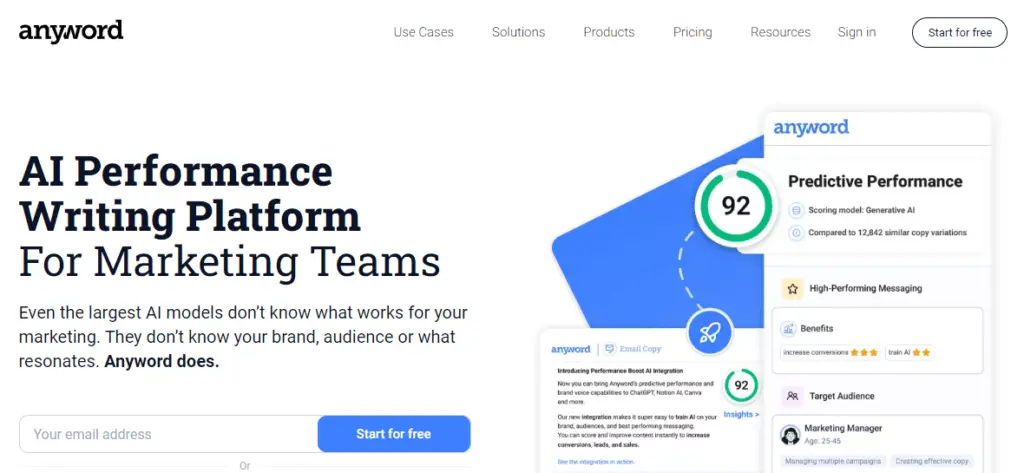 This AI engine is designed to generate persuasive copy that drives conversions and boosts your bottom line.
11. TLDR This AI
– Summarize Lengthy Texts in Seconds
Struggling with long articles or reports? TLDR is the perfect AI tool for you.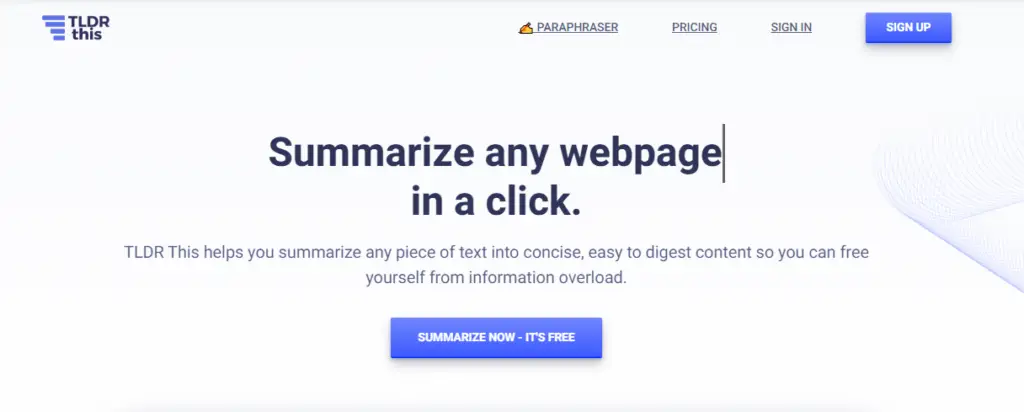 This web app uses natural language processing and AI to summarize lengthy texts into key bullet points, saving you valuable time.
12. Shortly AI
– Keep the Creative Juices Flowing
Need inspiration for your next story? Shortly AI is here to help.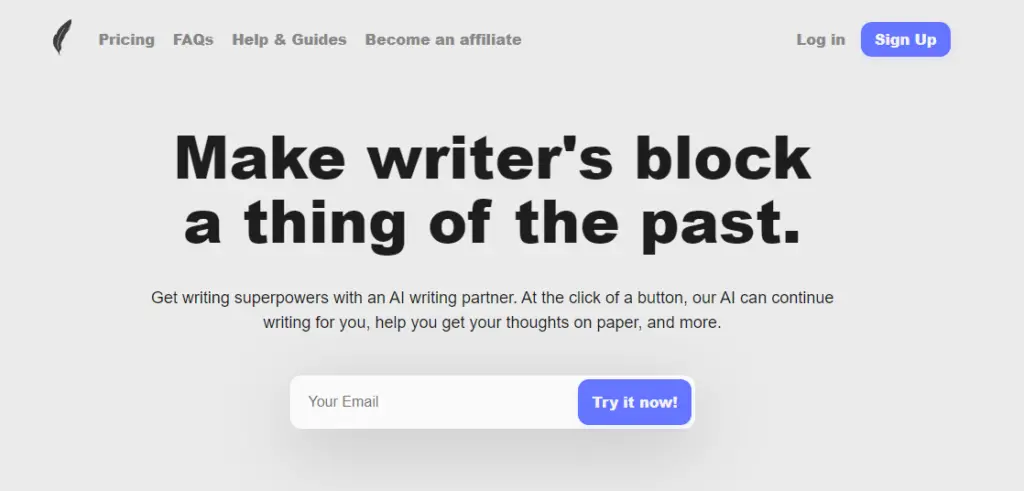 This AI tool continues writing stories and generates creative plots, giving your writing process a refreshing boost.
13. Copy AI
– Transforming Content Creation for Businesses
Copy AI is a content generator AI tool for businesses and individuals alike.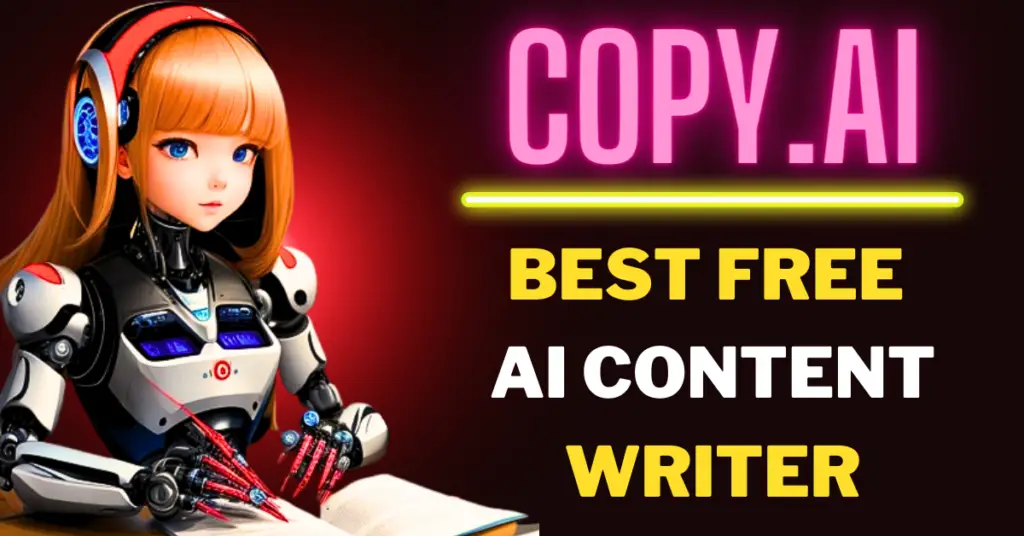 It can apply the power of AI to create high-quality content that resonates with your target audience and elevates your brand.
14. Inc AI
– Your Complete Content Suite
Maximize your content potential with Inc AI.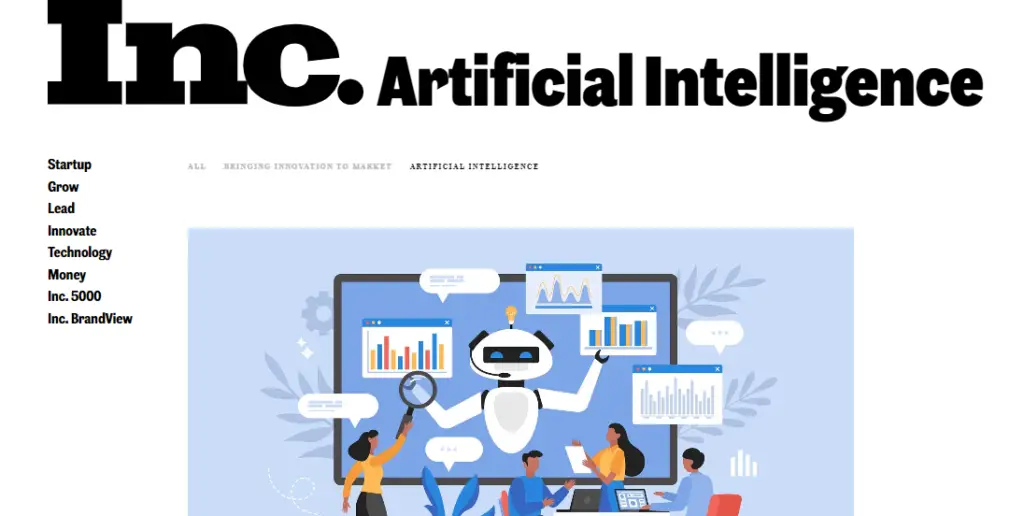 This tool comes packed with features, including a writing assistant, image optimization, SEO keyword research, and more, ensuring your content stands out from the crowd.
15. Phrase AI
– Transforming Content Delivery
Improve your customer engagement with Phrase AI.

This AI-powered tool enhances interactions through answers and conversations, making your content delivery seamless and efficient.
16. Grammarly
– Your Digital Writing Tool with AI
Grammarly has become a household name and for good reason.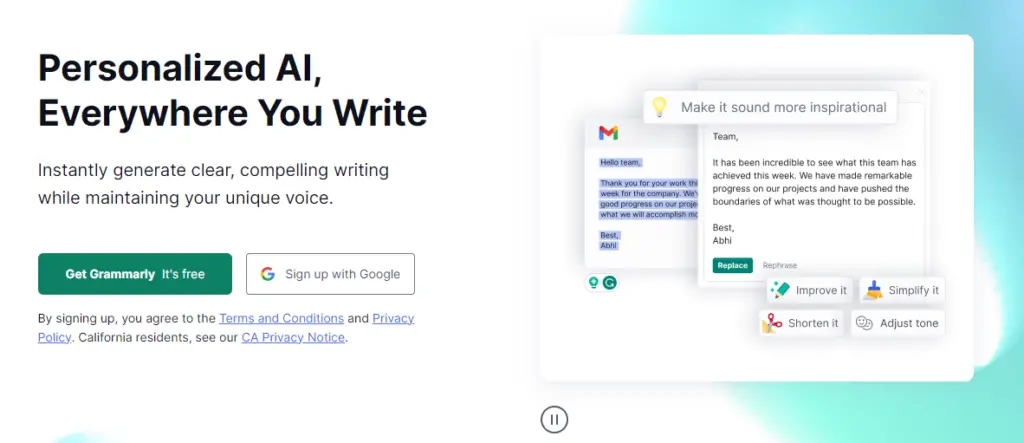 This digital writing tool uses AI and natural language processing to ensure your writing is polished, error-free, and impactful.
17. WriteSonic AI
– Your SEO Content Companion
Are you looking for high-performing SEO content? WriteSonic AI is the perfect solution.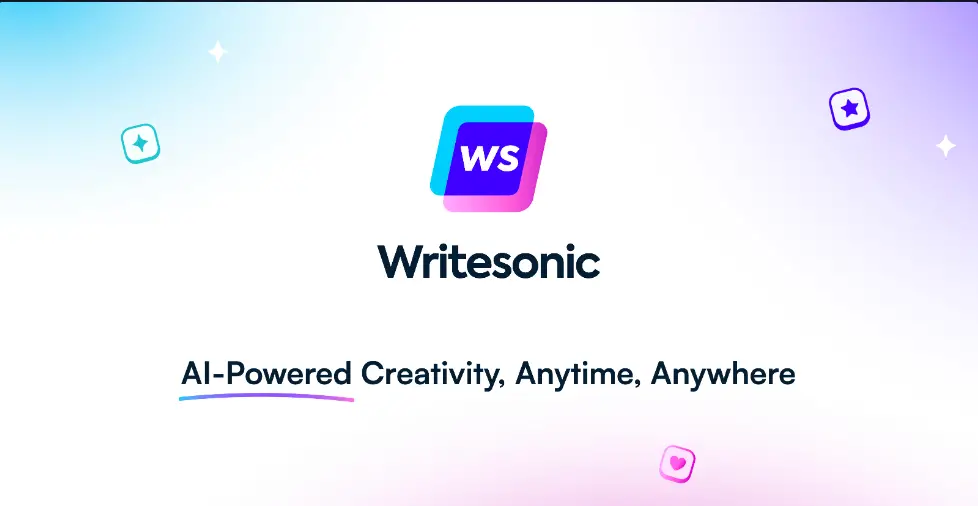 This AI writer is trained in top-performing SEO content and sales copy, guaranteeing content that drives results.
18. Cohesive AI
– Your Productivity Powerhouse
Stay on top of your productivity game with Cohesive AI.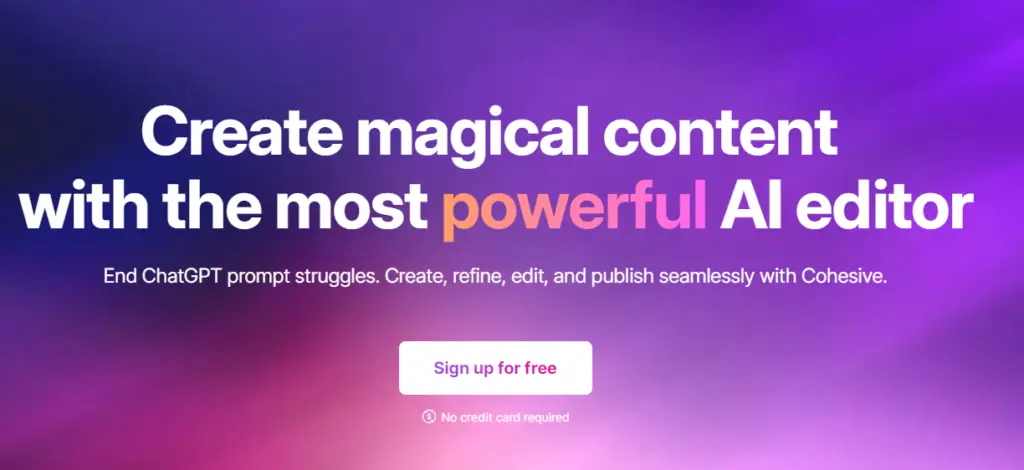 This tool is designed for creating, refining, editing, and publishing work efficiently, making sure you stay focused and productive.
19. Ghostwriter AI
– Your AI-Powered Blog Assistant
Need help with SEO text, blog posts, or marketing content? Ghostwriter AI is your go-to assistant.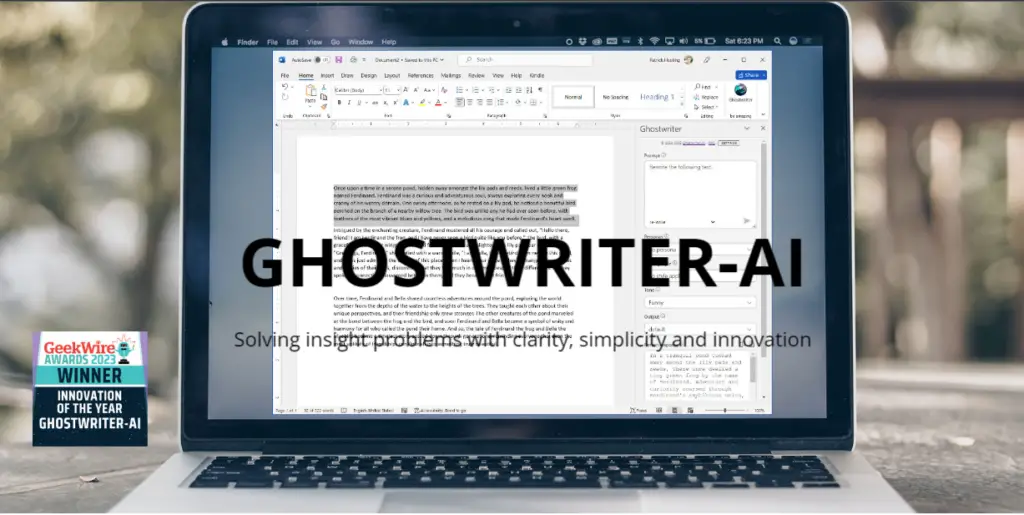 This AI tool streamlines content creation and ensures your writing is SEO-friendly and engaging.
20. Simplified AI
– Your Creative Marketing Assistant
Say hello to your creative assistant, Simplified AI.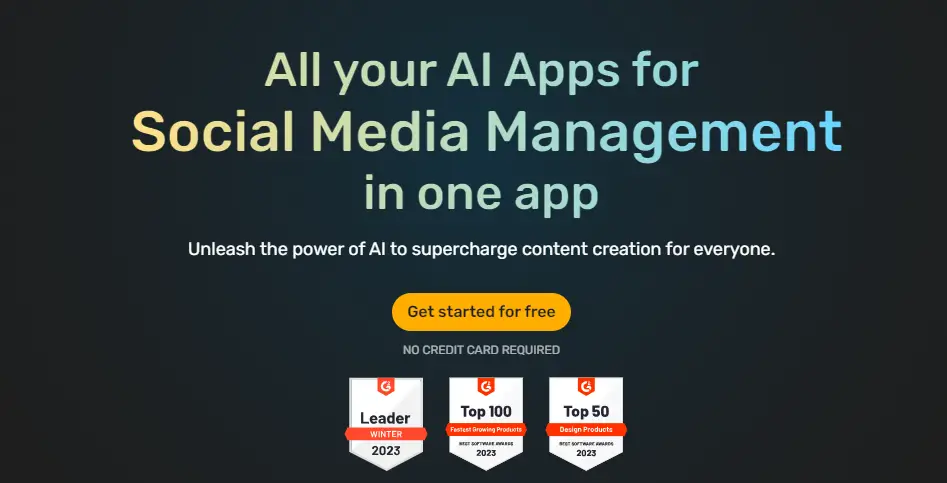 From marketing tasks to content creation, this AI-powered tool streamlines your marketing efforts and ensures your campaigns stand out.
21. Stability AI
– Ensuring Reliable Machine Learning Models
When it comes to machine learning models, stability is key.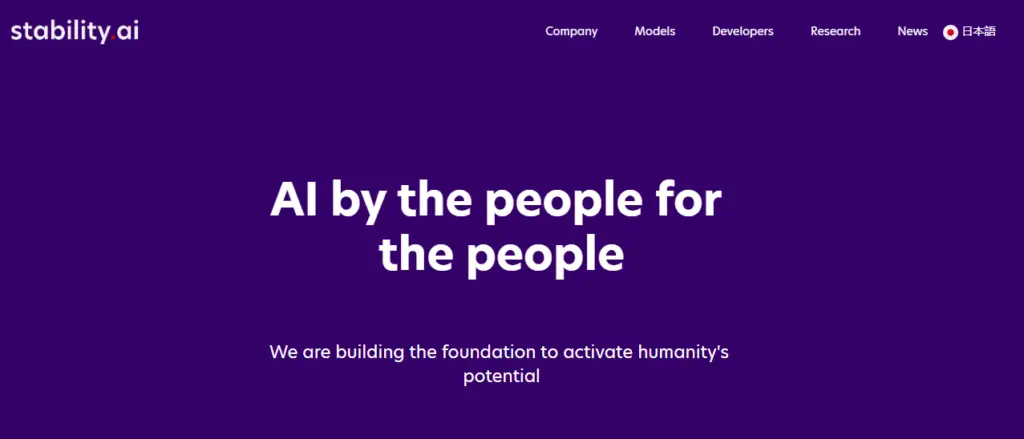 Enter Stability AI, an AI platform dedicated to ensuring the stability and reliability of your machine-learning models, giving you confidence in your data-driven decisions.
22. Word Tune AI
– Your Chrome Extension Writing Assistant
Enhance your writing experience with Word Tune AI, a powerful Chrome extension that provides writing assistance.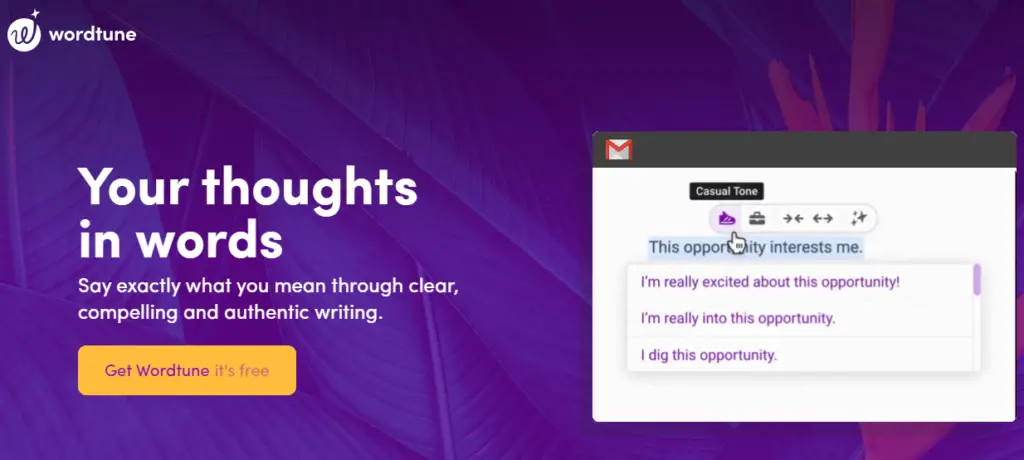 This AI-powered tool suggests improvements and rephrases sentences on the go, making your writing more polished and effective.
23. Leai AI
– AI website Builder
Create your online business website or blog in 90 seconds.

24. Nando AI
– Streamlining Copywriting and Boosting Sales
Elevate your copywriting game with Nando AI, an AI platform dedicated to streamlining copywriting and driving sales.

Harness AI to create persuasive and engaging copy that converts prospects into loyal customers.
25. AD Creative AI
– Your Platform for High-Performing Ad Creatives
Get the edge in the competitive world of advertising with AD Creative AI.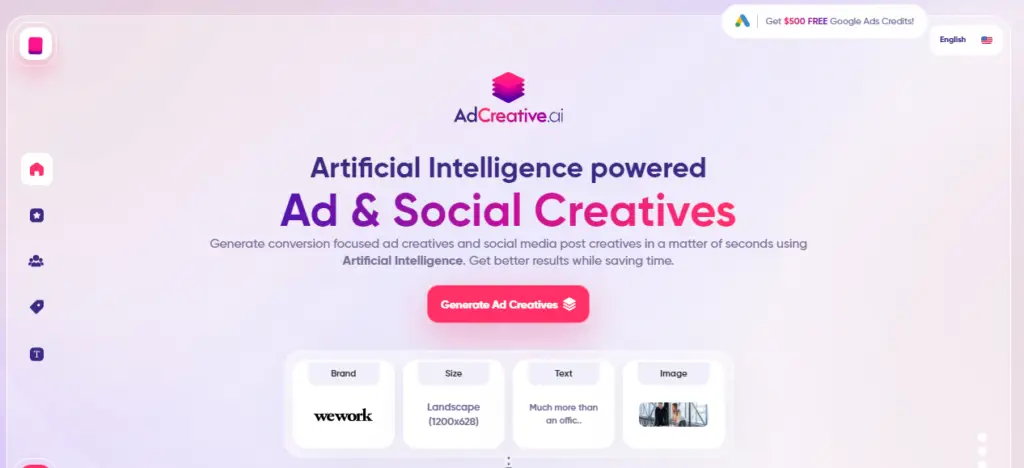 This platform harnesses AI to generate high-performing ad creatives that capture attention, drive clicks, and boost conversions.
26. SynCode
– All-in-One AI Platform for Content Generation
Need content, copy, and images? SynCode has you covered. This all-in-one AI platform is a content creator's dream, providing seamless content and image generation for various applications.
27. Get Genie AI
– Your Assistant for Content and SEO
Managing multiple apps for content and SEO can be overwhelming. Get Genie AI simplifies your workflow by providing a powerful assistant that combines various functions, making content creation and SEO a breeze.
28. Bertha AI
– Generating Unique Content for WordPress Websites
Stand out in the digital crowd with Bertha AI. This AI content generator creates unique content and stunning images tailor-made for your WordPress websites, giving you a distinct online presence.
29. Content at Scale
– Your High-Quality SEO Content Writer
Save time and costs with Content at Scale. This AI-powered SEO content writer optimizes your content production process, ensuring you get high-quality content that ranks well in search engines.
30. Hypotenuse AI
– Streamlining Writing and Image Generation
Boost your creative output with Hypotenuse AI. This AI-powered tool streamlines writing and image generation processes, making content creation a breeze for writers and designers alike.
31. Digital First AI
– Your Business-Centric Marketing Assistant
Take your marketing strategy to new heights with Digital First AI. This AI-powered marketing assistant delivers personalized strategies and execution, ensuring your brand stays ahead of the curve.
32. Woxo Tech AI
– AI Video Generator (Convert Idea to Video)
Woxo tech AI Transform ideas, text, spreadsheets, and templates into captivating videos effortlessly.
33. Murph AI
– Natural Sounding Voiceovers in Minutes
Creating voiceovers has never been easier. Murph AI Studio allows you to convert text into natural-sounding voiceovers in minutes, giving your content a professional touch.
34. Lovo AI
– Your Voiceover and Cloning Platform
Looking for versatility in voiceovers? Lovo AI Studio is your go-to platform. With its AI voiceover and cloning capabilities, you can explore various genres and artist styles for your content.
35. Speechify
– Listen to Books Anywhere
For book lovers on the go, Speechify is a game-changer. Snap a picture of any book page, and this app reads it out loud to you, allowing you to "listen" to your books wherever you are.
36. Kaiber AI
-Best AI Video Generator
Kaiber AI is an innovative AI video generation platform that creates amazing videos.
37. Buzzy
– Your No-Code Platform for Design and Apps
Got an idea? Buzzy turns it into reality with its AI-powered no-code platform.
From design to full-stack web or mobile apps, Buzzy does it all.
38. Stocking AI
– AI Image Generation Made Easy
In need of AI-generated logos, book covers, posters, and more? Stocking AI is your one-stop shop for creating stunning visuals in no time.
39. Blend
– Instantly Create Visuals for Products
Creating visuals for your products has never been easier with Blend. This AI tool allows you to create eye-catching product visuals in seconds.
40. AI Picasso
– Unleash Your Artistic Side
Explore your artistic potential with AI Picasso. This AI-powered tool helps you create amazing artwork, bringing your imagination to life with powerful AI.
41. Astria AI
– Custom Concepts with Generative Imaging
Astria AI takes your creativity to the next level. Combining generative imaging AI with your unique concepts, this tool brings your artistic visions to fruition.
42. Remove BG
– Edit Images Effortlessly
Editing images can be a tedious task, but not with Remove BG.
Thanks to its clever AI, you can remove backgrounds effortlessly and have more fun editing your visuals.
43. Neural.Love
– Enhancing Your Content with AI
Enhance your content with the help of Neural.Love.
This online AI tool provides content creation and enhancement services, taking your visuals to new heights.
44. Imogen AI
– The Future of Photo Editing
Lightroom presets are a thing of the past with Imogen AI.
Experience the future of photo editing with this advanced AI tool, bringing innovation to your creative process.
45. Dream Studio
– Create Images with Ease
Dream Studio is an intuitive interface that allows you to create stunning images using the latest version of the stable diffusion image generation model. Say hello to beautiful visuals!
46. Deep Dream
– Where AI Meets Art
Deep Dream combines AI technology and art to bring your imagination to life. Get ready to explore a world of creative possibilities with this unique platform.
47. Illustroke
– Transform Text Prompts into SVG Illustrations
Easily create stunning SVG illustrations from text prompts with Illustroke. This AI tool lets you unleash your creativity and turn words into captivating visuals.
48. Looka AI
– Your Logo Design and Branding Ally
Design a logo, create a website, and establish a brand identity you'll love with Looka AI. This powerful AI platform uses artificial intelligence to bring your creative vision to reality.
49. Canva AI
– Dream It Up, Add It to Your Design
Canva AI brings your ideas to life. Dream up your vision, and let AI add it to your design effortlessly. This tool empowers you to create captivating visuals with ease.
50. Flick AI
– Your Social Marketing Assistant
Revolutionize your content creation on social media with Flick AI. This social marketing assistant harnesses AI to create revolutionary and engaging content for your online platforms.
51. Public
– Your Virtual Social Media Superhero
Scheduling, analyzing, and collaborating on content just got easier with the Public. This virtual social media superhero provides all the tools you need to supercharge your social media game.
52. Munch
– Your AI video editor Tool
Create engaging clips from long-form video content.
53. Repurpose
– Multiply Your Content's Impact
Why stick to one format when you can have multiple?
Repurpose AI automates content repurposing, allowing you to turn one piece of content into various formats, maximizing your reach.
54. Marketing Blocks AI
– Business Assets in 45 Seconds
Save time and effort with Marketing Blocks AI.
This AI tool transforms your ideas into business assets, including keywords, landing pages, social media ads, logos, branding kits, and graphics.
55. Content Studio
– Effortless Content Curation
Finding and curating content for blogs and social media is a breeze with Content Studio.
This content discovery tool streamlines your efforts, ensuring you have a steady stream of engaging content.
56. Zopto
– Your Multi-channel Lead Generation Platform
Automate lead generation across multiple channels with Zopto.
From LinkedIn messaging to email sequences, this platform empowers you to nurture leads and grow your business.
57. Snov.io
– Your Outreach Automation Platform
Engage with leads efficiently using Snov.io.
This outreach automation platform offers tools for lead generation, email verification, sending, and tracking, making your outreach efforts seamless.
58. Flock Social
– Boosting Your Instagram Marketing
Get insights into your Instagram marketing efforts with Flock Social. This cloud-based social media analytics tool empowers you to improve your marketing activities on Instagram.
59. Go High Level
– Your Ultimate Marketing Tool
Maximize your marketing efforts with Go High Level.
This platform tracks inbound calls, texts, and leads, organizing them into a pipeline and providing proof of marketing results for your clients.
60. VWO
– Optimizing Customer Experience
Enhance customer experience and increase conversions with VWO. This all-in-one tool provides visitor behavior analysis, experimentation, and customer re-engagement strategies.
61. Suggest AI
– Personalization Engine for Businesses
Deliver a personalized experience to your customers with Suggest AI.
This machine learning-powered personalization engine curates customized product portfolios for your online business.
62. AI Business and Meeting Tools
– Streamlining Your Workflow
Running a business or managing meetings can be demanding. These AI tools simplify your workflow and boost productivity:
63. Fireflies AI
– Meeting Transcription and Search
Record, transcribe, and search calls effortlessly with Fireflies AI.
This tool facilitates easy meeting minutes and action item creation, helping you stay organized.
64. Mem
– Fast Information Capture and Sharing
Capturing and sharing information just got easier with Mem. Featuring a collaborative graph database, Mem allows for seamless data analysis and collaboration.
65. Otter
– Your Web Application for Speech-to-Text Transcription
Take the hassle out of transcribing with Otter.
This web application uses machine learning to provide accurate speech-to-text transcription for better data analysis and decision-making.
66. Hints AI
– Your All-in-One AI Assistant
Managing customer relationships, project prioritization, and progress monitoring is a breeze with Hints AI. This AI-powered assistant streamlines your daily tasks and keeps you organized.
67. Wand AI
– Your No-Code AI Solution
Empower your business with AI solutions through Wand AI.
This no-code platform allows you to develop AI solutions tailored to your business needs without any coding expertise.
68. Weightroom AI
– Boosting Focus and Productivity
Video meetings can be more productive with Weightroom AI.
This AI-powered tool enhances focus, accountability, and productivity during virtual meetings.
69. Magical AI
– Automating Data Movement
Move data between tabs effortlessly with Magical AI. This AI tool automates tasks with a simple keystroke, eliminating the need for complex integrations.
70. Browse AI
– Your Web Scraping and Monitoring Tool
Keep track of website changes with Browse AI. This web scraping and monitoring tool requires no code setup, making it adaptable to website changes.
71. Momentum AI
– Workflow Automation for Revenue Teams
Revenue teams can streamline their workflows with Momentum AI. This platform integrates with sales tools and provides a slack-first experience, boosting team efficiency.
72. AI Chatbot and Assistant Tools
– Providing Real-time Support
Engage with your customers seamlessly using AI chatbot and assistant tools. These tools ensure real-time support and assistance for your users:
73. Tidio
– Live Chat Service with Chatbot Support
Offer excellent customer communication with Tidio.
This live chat service comes with chatbot support, making it easy to engage with customers and provide timely responses.
74. Motion AI
– Automation and Motion Control Solutions
For businesses looking to automate processes and utilize motion control, Motion AI offers innovative products and solutions tailored to your needs.
75. AI Lawyer
– Your Legal Assistant
Simplify legal research, document functions, and contract drafting with AI Lawyer. This GPT-powered legal assistant takes the stress out of legal tasks.
76. Markbot AI
– Your Chatbot Development Partner
Enter the world of chatbot development with Markbot AI. This provider offers chatbot development services for enterprises, leveraging AI for various applications.
77. Humada AI
– A Versatile Tool for File Management
Manage different file types, including legal documents and technical papers, with ease using Humada AI. This platform is designed to handle various file formats efficiently.
78. Fliki.ai
– AI Video Generator
You can easily create AI videos by transforming Text to Video.
79. Durable AI
– Your Effortless Website Builder
Experience effortless website creation with Durable AI. This AI-powered website builder offers rapid site generation, ensuring you have a stunning website in no time.
80. Domain Wheel AI
– Your AI-Powered Domain Name Generator
Struggling to find the perfect domain name? Domain Wheel AI is here to help.
This AI-powered tool suggests domain names based on keywords, making your search for the ideal domain effortless.
81. Como AI
– A Private and Fast Search Engine
Enjoy private and fast search experiences with Como AI. This AI-powered search engine offers generative AI capabilities for enhanced search results.
82. Prompt Pal AI
– Elevating Professional Work
Enhance your marketing, writing, and design work with Prompt Pal AI. This AI tool provides prompts to elevate your creativity and productivity across various domains.
– AI Image Generator:
Generate High-quality realistic AI Images with this Free AI Image Generator Tool.
84. Rask AI:
– AI Audio Transcriber
The Rask AI Transcriber is an advanced AI tool designed to assist with video translation and dubbing.
85. Play.ht AI
– Free AI Voice Generator (Text to Speech AI)
Play.ht is an AI-powered Text-to-Speech (TTS) solution that uses the power of artificial intelligence to produce incredibly natural-sounding voices.
86. Kits AI:
– AI Music Generator (Voice to Music Converter)
Kits AI is an AI voice platform that empowers musicians to craft and utilize AI voices for producing their unique music.
87. SongR AI
– Free AI Song Generator (Convert Text to Song)
SongR AI is such a cool platform, powered by AI, that makes it super easy for anyone to create their own custom lyrics and music.
88. AI-coustics.com
– Free AI Audio Enhancer Tool(High-quality audio)
The AI-Coustics.com tool utilizes advanced AI algorithms to reduce background noise, eliminate room resonances, address issues with low-quality headsets, and repair digital artifacts.
89. Designs AI
– Logo, VideoMaker, Design, AI Writer
Designs.ai is a creative platform powered by AI, which assists businesses and individuals in crafting captivating visual content.
This AI tool enables the creation of stunning logos, videos, and marketing materials, making it an invaluable resource for enhancing visual branding and communication efforts.
90. RunwayML AI
– Best 26 AI Tools in one place
RunwayML is an AI online platform that empowers individuals to create captivating videos, stunning images, and various other types of content using AI.
91. Brandmark.io
– AI Logo Generator
Brandmark is an AI logo maker that enables you to design a professional logo in minutes. It simplifies the logo creation process, allowing you to create a unique and appealing logo for your brand with ease.
92. ProfilePicture AI
– AI Avatar Generator
ProfilePicture.ai AI provides an extensive library of AI-generated avatars suitable for various styles and preferences.
93. Playground AI
– Free AI Image Generator
Playground AI is a web-based AI image creator that enables users to convert their text descriptions into lifelike and top-notch images.
94. Character.AI
– Create your own AI Character
Character AI is an AI application driven by neural language models, allowing users to participate in contextual conversations and produce text responses that resemble human-like interactions.
95. MyAsk AI
– Build Your Own ChatGPT in 2 minutes
MyAsk AI is an innovative and powerful question-answering platform that is used to provide accurate and efficient answers to your queries.
-AI Image Generator
Generate AI realistic images just by writing the text or description.
97. Jasper AI
– Best AI Writer and Content Generator
Jasper AI serves as a robotic writer, capable of generating unique content, surpassing the capabilities of an average human copywriter.
– Write Emails like a Pro
Polite Post AI Tool is an AI tool that transforms your rough drafts into professional, well-written emails.
99. BigJPG AI
– Free Image Upscaler to 4K Quality
BigJPG AI is an impressive AI image upscaling tool.
100. DragGAN AI
– Powerful AI Image Editor
DragGAN AI Tool is an advanced and innovative photo editing tool that utilizes artificial intelligence to transform and modify images with ease.
Summary of Top 100 AI Tools:
| No. | AI Tool Name | Short Description |
| --- | --- | --- |
| 1 | Decktopus AI | Experience the Future of Presentations |
| 2 | Tome | Build a Powerful Story with Any Content |
| 3 | Beautiful AI | Make Your Slides Stunning in Real Time |
| 4 | Pick 3 AI | Transform Long-form Content into Engaging Videos |
| 5 | Synthesia AI | Create AI Videos with Just Text |
| 6 | Runway | Turn Your Imagination into Film |
| 7 | Unscreen | Green Screen Made Easy (Remove Video Background) |
| 8 | Descript | The Easiest Video Editor Powered by AI |
| 9 | Quinvio AI | Simplify Video Presentations with AI |
| 10 | Anyword AI | Generate Persuasive Copy with Ease |
| 11 | TLDR This AI | Summarize Lengthy Texts in Seconds |
| 12 | Shortly AI | Keep the Creative Juices Flowing |
| 13 | Copy AI | Transforming Content Creation for Businesses |
| 14 | Inc AI | Your Complete Content Suite |
| 15 | Phrase AI | Transforming Content Delivery |
| 16 | Grammarly | Your Digital Writing Tool with AI |
| 17 | WriteSonic AI | Your SEO Content Companion |
| 18 | Cohesive AI | Your Productivity Powerhouse |
| 19 | Ghostwriter AI | Your AI-Powered Blog Assistant |
| 20 | Simplified AI | Your Creative Marketing Assistant |
| 21 | Stability AI | Ensuring Reliable Machine Learning Models |
| 22 | Word Tune AI | Your Chrome Extension Writing Assistant |
| 23 | Leai AI | AI Website Builder |
| 24 | Nando AI | Streamlining Copywriting and Boosting Sales |
| 25 | AD Creative AI | Your Platform for High-Performing Ad Creatives |
| 26 | SynCode | All-in-One AI Platform for Content Generation |
| 27 | Get Genie AI | Your Assistant for Content and SEO |
| 28 | Bertha AI | Generating Unique Content for WordPress Websites |
| 29 | Content at Scale | Your High-Quality SEO Content Writer |
| 30 | Hypotenuse AI | Streamlining Writing and Image Generation |
| 31 | Digital First AI | Your Business-Centric Marketing Assistant |
| 32 | Woxo Tech AI | AI Video Generator (Convert Idea to Video) |
| 33 | Murph AI | Natural Sounding Voiceovers in Minutes |
| 34 | Lovo AI | Your Voiceover and Cloning Platform |
| 35 | Speechify | Listen to Books Anywhere |
| 36 | Kaiber AI | Best AI Video Generator |
| 37 | Buzzy | Your No-Code Platform for Design and Apps |
| 38 | Stocking AI | AI Image Generation Made Easy |
| 39 | Blend | Instantly Create Visuals for Products |
| 40 | AI Picasso | Unleash Your Artistic Side |
| 41 | Astria AI | Custom Concepts with Generative Imaging |
| 42 | Remove BG | Edit Images Effortlessly |
| 43 | Neural.Love | Enhancing Your Content with AI |
| 44 | Imogen AI | The Future of Photo Editing |
| 45 | Dream Studio | Create Images with Ease |
| 46 | Deep Dream | Where AI Meets Art |
| 47 | Illustroke | Transform Text Prompts into SVG Illustrations |
| 48 | Looka AI | Your Logo Design and Branding Ally |
| 49 | Canva AI | Dream It Up, Add It to Your Design |
| 50 | Flick AI | Your Social Marketing Assistant |
| 51 | Public | Your Virtual Social Media Superhero |
| 52 | Munch | Your AI video editor Tool |
| 53 | Repurpose | Multiply Your Content's Impact |
| 54 | Marketing Blocks AI | Business Assets in 45 Seconds |
| 55 | Content Studio | Effortless Content Curation |
| 56 | Zopto | Your Multi-channel Lead Generation Platform |
| 57 | Snov.io | Your Outreach Automation Platform |
| 58 | Flock Social | Boosting Your Instagram Marketing |
| 59 | Go High Level | Your Ultimate Marketing Tool |
| 60 | VWO | Optimizing Customer Experience |
| 61 | Suggest AI | Personalization Engine for Businesses |
| 62 | AI Business and Meeting Tools | Streamlining Your Workflow |
| 63 | Fireflies AI | Meeting Transcription and Search |
| 64 | Mem | Fast Information Capture and Sharing |
| 65 | Otter | Your Web Application for Speech-to-Text Transcription |
| 66 | Hints AI | Your All-in-One AI Assistant |
| 67 | Wand AI | Your No-Code AI Solution |
| 68 | Weightroom AI | Boosting Focus and Productivity |
| 69 | AI Chatbot and Assistant Tools | Providing Real-time Support |
| 70 | Tidio | Live Chat Service with Chatbot Support |
| 71 | Motion AI | Automation and Motion Control Solutions |
| 72 | AI Lawyer | Your Legal Assistant |
| 73 | Markbot AI | Your Chatbot Development Partner |
| 74 | Humada AI | A Versatile Tool for File Management |
| 75 | Fliki.ai | AI Video Generator |
| 76 | Durable AI | Your Effortless Website Builder |
| 77 | Domain Wheel AI | Your AI-Powered Domain Name Generator |
| 78 | Como AI | A Private and Fast Search Engine |
| 79 | Prompt Pal AI | Elevating Professional Work |
| 80 | Leonardo.AI | AI Image Generator |
| 81 | Rask AI | AI Audio Transcriber |
| 82 | Play.ht AI | Free AI Voice Generator (Text to Speech AI) |
| 83 | Kits AI | AI Music Generator (Voice to Music Converter) |
| 84 | SongR AI | Free AI Song Generator (Convert Text to Song) |
| 85 | Magical AI | Automating Data Movement |
| 86 | Browse AI | Your Web Scraping and Monitoring Tool |
| 87 | Momentum AI | Workflow Automation for Revenue Teams |
| 88 | AI-coustics.com | AI Audio Enhancer Tool(High-quality audio) |
| 89 | Designs AI | Logo, VideoMaker, Design, AI Writer |
| 90 | RunwayML AI | Best 26 AI Tools in one place |
| 91 | Brandmark.io | AI Logo Generator |
| 92 | ProfilePicture AI | AI Avatar Generator |
| 93 | Playground AI | Free AI Image Generator |
| 94 | Character.AI | Create your own AI Character |
| 95 | MyAsk AI | Build Your Own ChatGPT |
| 96 | Midjourney AI | AI Image Generator |
| 97 | Jasper AI | AI Writer and Content Generator |
| 98 | Polite Post AI | Write Emails like a Pro |
| 99 | BigJPG AI | Free Image Upscaler to 4K Quality |
| 100 | DragGAN AI | Powerful AI Image Editor |